The Couple: Allison and Michael
The Wedding: 11.25.12 – Point Reyes National Reserve and Manka's Inverness Lodge, California
The Photographers: Paco and Betty
Junebug: What three adjectives best describe your wedding?
Allison and Michael: Simple. Quiet. Bright.
Junebug: What inspired your decision to elope?
Allison and Michael: Eloping was a conscious decision against the anxiety and work that comes with planning a big wedding. It was important to us to be completely at ease and relaxed the whole day.
Junebug: Looking back, what are the moments, decisions or memories that you love the most about your wedding?
Allison and Michael: We had never been to Point Reyes before, so we had planned on going up the day before the wedding to explore and find a location for the ceremony. We arrived later than expected and as our car made its way to the lighthouse, a blanket of fog descended on the point. We couldnt see a thing. So on the day of our wedding, we still had no idea where we were going to do it. Luckily, Point Reyes is a place of such stunning beauty jagged ocean cliffs, flat sparkling bays, herds of wild elk that we didnt think it would be too hard. We got out of our car and headed up the trail to one of the beaches we had heard about. But we didnt even get that far. We came upon this amazing tree off to the side of the forested path. The sunlight was sliding through the canopy of green and we just stopped. We knew it was the right place.
Junebug: What specifically drew you to Paco and Betty and their imagery?
Allison and Michael: Finding the right photographer was very important to us. When we decided to elope, we knew we were doing a selfish thing not including the people who love us in our wedding day. Our hope was that having a photographer would allow the people we love to share the day in a small way, after the fact.
When we came across the Paco and Betty website, we just fell in love with the attention of the images. We loved the palette of each collection of photos and their ability to capture the natural intimacy of the moment in a way that didnt feel too staged. Their photos have a very organic relationship between subject and setting that we immediately responded to since we also wanted to find photographers who could document the natural beauty of the location, as well as us in it. We were so happy to have found them.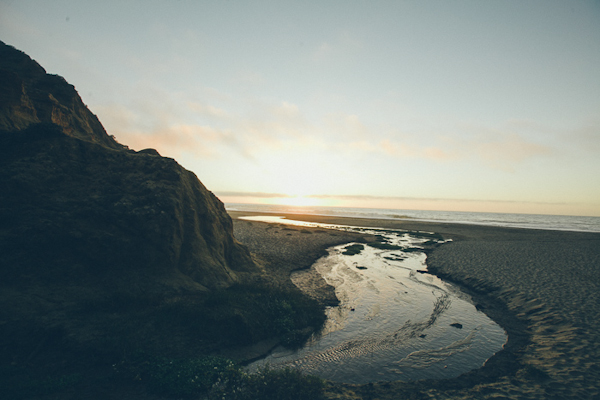 What a treat! Thank you for sharing your intimate wedding with us, Allison and Michael. To see more gorgeous photography, visit Paco and Betty's blog and Junebug member brochure.
The Wedding Team:
Photographer: Paco and Betty
Ceremony Venue: Point Reyes National Seashore
Reception Venue: Mankas Inverness Lodge
Officiant: Our friend Alexi
Florist: Crimson Horticulture Rarieties
Wedding Dress: Vintage.
Bridal Accessories: Jewelry – Vintage, Shoes – Linge
Groom apparel and accessories: Suit – Hugo Boss, Tie – Apolis, Shoes – Vans
Rings: Grace Lee Designs, Satomi Kawakita