Therea and In Hee credit the beauty of their Guatemalan wedding to their decision to opt out of a DIY approach and instead trust their day to an amazing team of professionals including the crew at Casa Santo Domingo and their photographers at AGAiMAGES. It is so lovely to witness the joy of a couple on their wedding day whose sole focus was celebrating each other and their loved ones.
Junebug: What three adjectives best describe your wedding?
Theresa and In Hee: Elegant, romantic, and beautiful.
Junebug: What inspired your personal wedding style, and how did you incorporate your style and personalities into your big day?
Theresa and In Hee: We knew that it was going to be a special day for us, so we wanted everything to be extraordinary. We hired people who were very good at what they did (the florist, the hotel and its event planners, the photographers, the bakery, etc) because we knew that was the only way we could have a beautiful and elegant wedding. While many people are very talented with DIY projects and putting together events themselves…we are not. We are over the moon at how everything turned out. It was a feast for the eyes and we think about it often.
Junebug: Looking back, what are the moments, decisions or memories that you love the most about your wedding?
Theresa: We were so happy with choosing Aga and Marcin to be our photographers. Looking at the pictures, it was such a dream and they helped make it come true. We also really liked our venue. Casa Santo Domingo was special to us and provided a beautiful, romantic setting. As for the moments during the wedding, it was such a blur! But I remember my father waiting with me before he walked me down the aisle and how much fun we had talking. I also remember how sweet my husband was during the whole day, we were so so happy.
Junebug: What specifically drew you to AGAiMAGES and their imagery?
Theresa and In Hee: Aga and Marcin are super talented. They have a great eye for artistic, romantic imagery and they are wonderful at capturing emotion. Without emotion, even the most beautiful people/venues would look flat and empty. They also have an uncanny way of making pretty much all of their subjects look attractive…a huge selling point!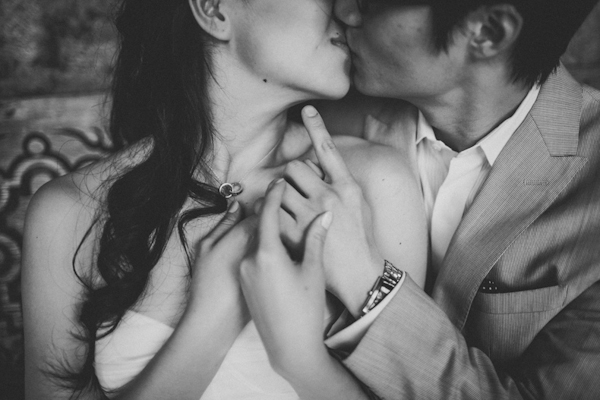 The Wedding Team:
Photographer: AGAiMAGES
Event Planner: Andrea Guerrero from Casa Santo Domingo
Ceremony and Reception Venue: Casa Santo Domingo
Catering: Casa Santo Domingo
Florist: Expressions by Adolfo Cojulun
Cake: Zurich Bakery
Wedding Dress: White by Vera Wang
Bridesmaids apparel and accessories: Ann Taylor
Groom and groomsmen apparel and accessories: Saul E. Mendez
Hair: Casa Santo Domingo
DJ and Live Music: Karribbeanband
Favors: Zurich Bakery
Rings: James Allen
Be sure to check out more stunning work by AGAiMAGES on their blog, website and Junebug brochure.