If you weren't already planning to extend your summer just a bit longer by catching the next plane to Hawaii, you certainly will be after you see these photos from Sandra and Jd's incredible Maui wedding! There are so many fun details within this wedding, including Sandra's drop-dead-gorgeous wedding dress that she and Jd designed together and a jaw-dropping hula and fire dancing performance during the reception. But I won't spoil it all for you; think of this as a mini-vacation and let yourself be transported into these lush and dramatic photos by Joy Marie Photography.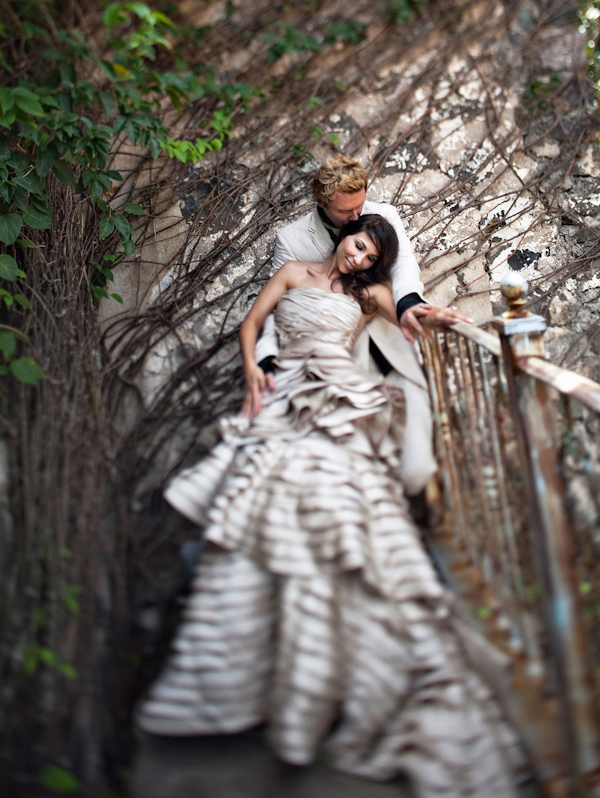 The Newlyweds: Sandra and Jd
The Wedding: Haiku Mill, Maui, HI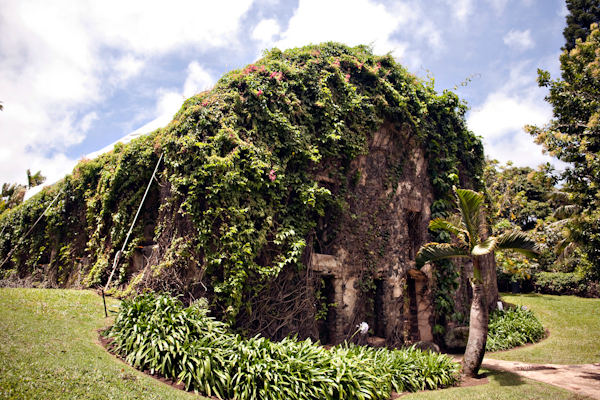 Junebug: What were your most important goals in planning your wedding?
Sandra and Jd: We wanted every detail of the wedding to have a purpose. We wanted our guests to be mesmerized by the whole experience, knowing that they shared in the most important day of our lives as a couple. We wanted to share the things we cherished and loved the most with our friends and family. From simple things such as our favorite flavor, lilikoi (passion fruit), which we used in our cake, our signature drink (lilikoi mojito), and our main dish (lilikoi buerre blanc on the fish). We also included our favorite scents in the tuberose chandeliers that hung throughout the venue and leis presented to our family members made of pikake and white ginger. It was important to share our creativity so JD made a silent film about our love with wonderful 20's music and I sang JD a love song as I entered the Mill and he and his "choir" sang to me at the end of the ceremony. We shared our culture through "Nachito" the Mariachi and the amazing hula and fire dancers the performed during the reception. We wanted to unite both of our cultures so for the lasso (which is a sign of unity in the Latino culture), we had it made of tea leaves rather than beads to symbolize Hawaii where Jd grew up and my Mexican heritage. It was also important that our family be involved so we had a lei presentation where, as a symbol of love, each of our immediate family members received leis which is customary in Hawaiian weddings. For our grandparents who have gone to be with the Lord, we wanted to remember them by having pictures of them hung from my bouquet. And lastly, we wanted to include our faith in the wedding and asked Jd's sister to sing a worship song during the ceremony to symbolize our love for God and His never ending love for us.
Junebug: How would you describe your personal wedding style?
Sandra and Jd: Creative and incorporating of everything we love.
Junebug: Where did you hold your wedding and reception, and why?
Sandra and Jd: I searched for venues for at least a year before Jd and I got engaged. I wanted it to feel romantic, organic, with a nod to vintage. I stumbled upon a picture of Haiku Mill and searched high and low to find it. To my surprise, it was in Maui which was perfect because Jd and I wanted to get married in Hawaii.
Junebug: What three adjectives describe your wedding best?
Sandra and Jd: Romantic, creative, extraordinary.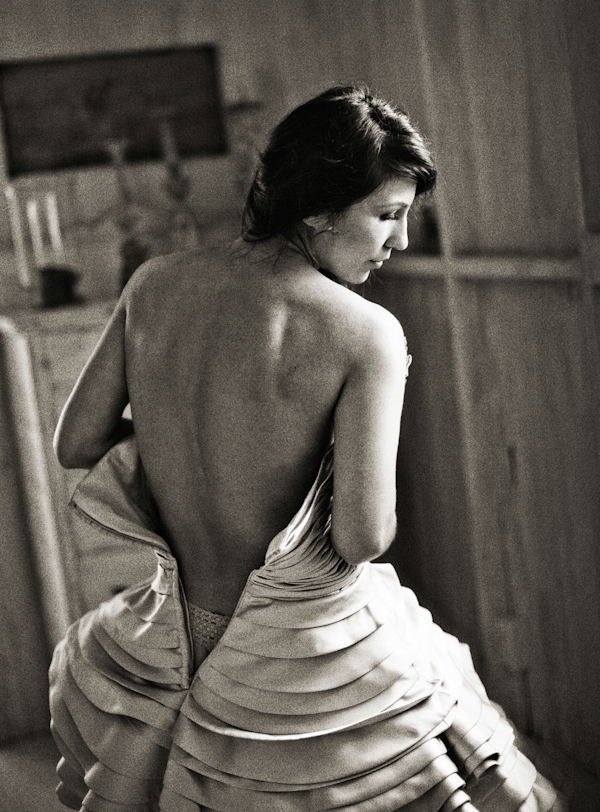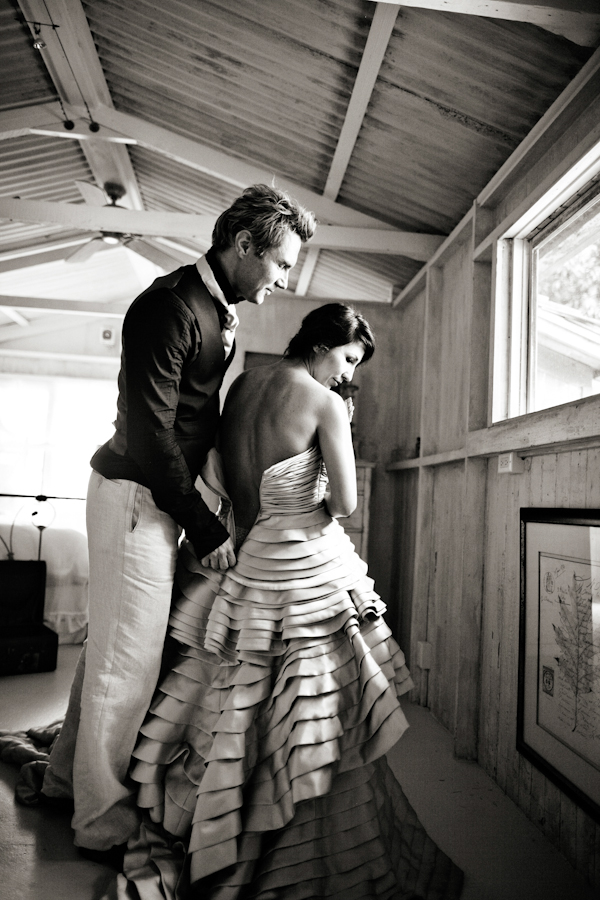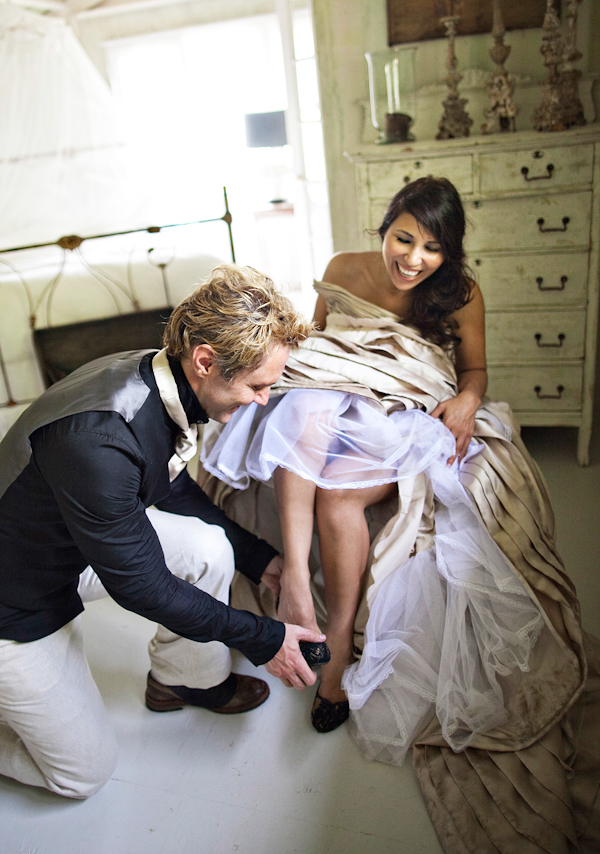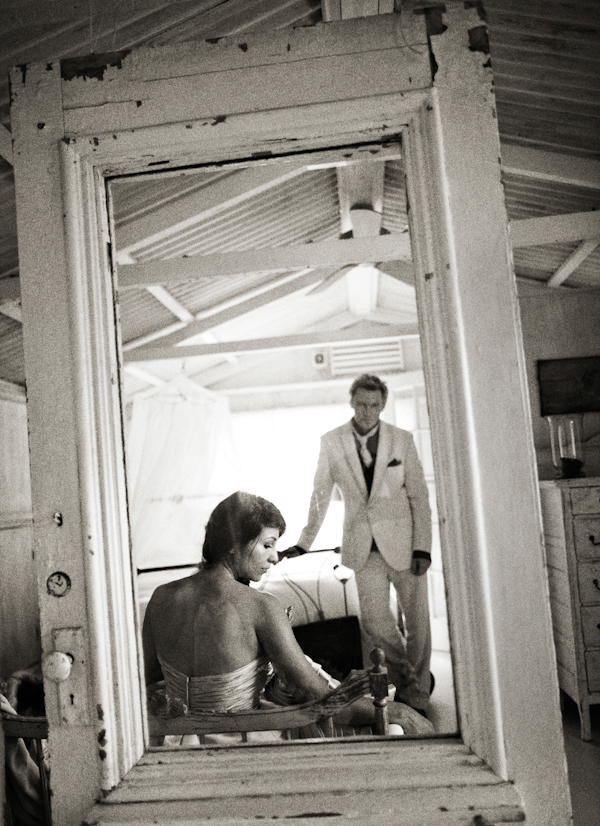 Junebug: What were you looking for in a photographer?
Sandra and Jd: We wanted to have photos that were beyond the norm. We knew that whomever we chose had to be creative. We wanted our photos to look like they came out of a creative fashion magazine.
Junebug: What specifically drew you to Joy Marie and her imagery?
Sandra and Jd: Joy is a friend of ours. We already loved her work, and we knew that her work did not fall into the wedding photographer norm. We were delighted when she agreed to be our photographer!
Junebug: What did you enjoy most about working with Joy?
Sandra and Jd: We love love loved the day after the wedding. We had an on location photoshoot where we jumped fences, slid down hills and climbed trees to get the perfect shots! It was soooo fun; rain and mosquitos included! We love when a photographer is fearless!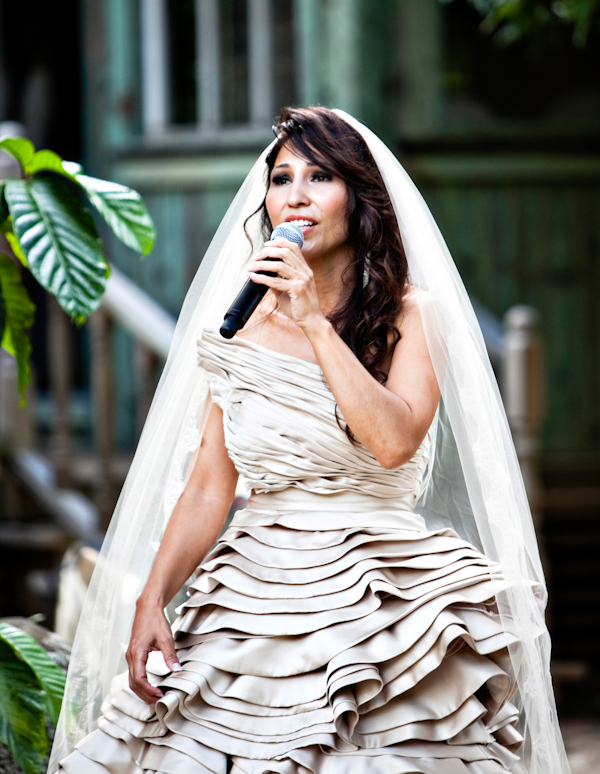 The Photographer: Joy Marie
Junebug: How did you approach Sandra and JD's wedding and what did you most want to capture during shooting?
Joy Marie: JD is actually from Hawaii and we wanted to make sure that we captured the true beauty of his native state. It was fun for me to capture a non-beach Hawaiian wedding. There is so much depth to the lush landscapes in Hawaii.
Junebug: Were there any special photographic requests from the couple that made this wedding especially exciting creatively or personally?
Joy Marie: There were a lot of special moments that JD and Sandy created for one another that made this day so special. Theyre both incredibly artistic, talented and spiritual souls. JD & Sandy both sang to each other during the ceremony (Sandys solo was a surprise), and Sandy also did a surprise hula dance for JD during the reception in a vintage hulu outfit.
Junebug: What was the most fun part of this wedding for you to photograph?
Joy Marie: There was so much artistic input from this couple that was put into every last detail. JD and Sandy designed her dress together, and also his tie, her earrings, even the leather thingys on JD shoes. It was just so beautiful to photograph them getting ready together…doing the finishing touches together of what they had worked so hard to create.
Junebug: How did the locations available to you affect the type of images you shot and how you shot them?
Joy Marie: Well the location that they chose, Haiku Mill, is pretty special. Its not your typical Hawaiian beach location. Its an old sugar mill ruins surrounded by lush gardens that have incredible depth and texture. The Haiku Mill was the perfect backdrop for JD and Sandy and the dramatic look they were going for.
Junebug: Were there any special locations you were able to choose that made for really great images?
Joy Marie: We were able to do a day after shoot and with JD being a native, found some incredible waterfalls, sugar cane fields and beautiful cliffs overlooking the ocean.
Junebug: What kind of equipment did you use while shooting this wedding?
Joy Marie: Mark II and prime lenses as well as 70-200 and 45 tilt
Thank you Sandra and Jd for sharing your wedding and story with us, and thank you Joy for the stunning photos!
To learn about all of the wedding professionals who contributed to this wedding day please visit Sandra and Jd's page in our Real Weddings Library.