In today's real wedding of Arlene and Danny we get to see a fabulously urban and creative vibe in the couple, the wedding design, and the amazing photos by Kitty and Craig Fritz of Twin Lens Images. Get ready for some fun!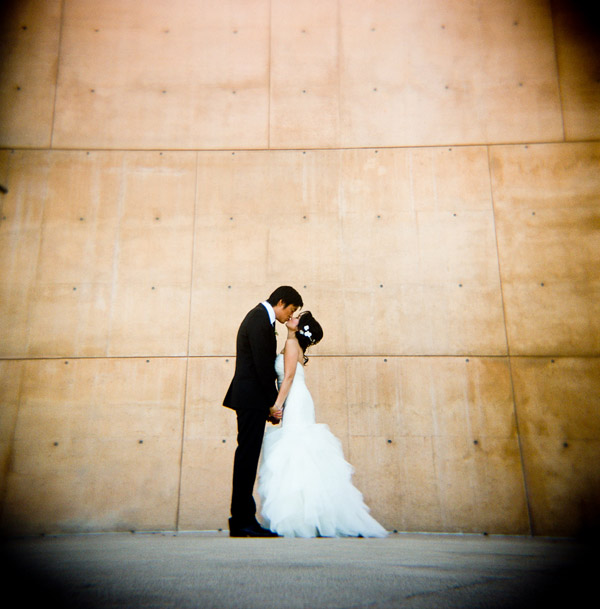 The Newlyweds – Arlene and Danny
Junebug: What were your most important goals in planning your wedding?
Arlene and Danny: Our goal was to survive the wedding planning process! Mission accomplished! All kidding aside, we wanted to throw an unforgettable celebration. We wanted everyone to not only feel welcomed, but happily full, entertained and comfortable.
Oh yeahgetting married, of coursethat was the main goal!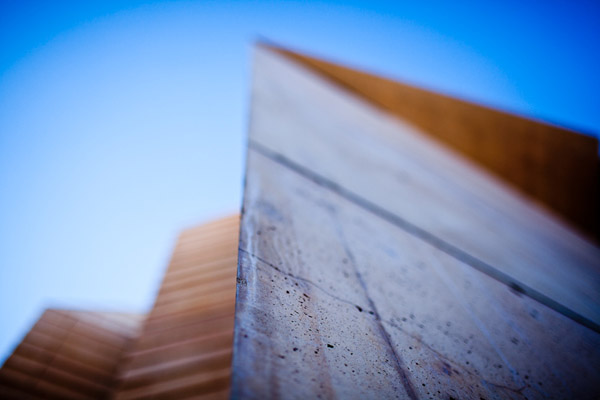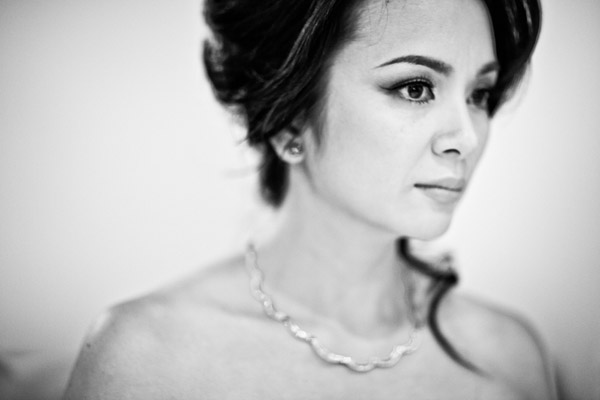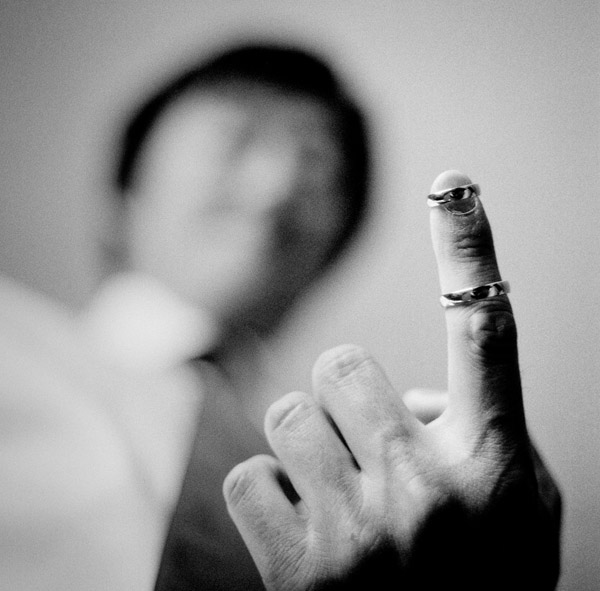 Junebug: Tell us about your wedding and personal wedding style.
Danny: Its no surprise that TV and movies played a major role in planning our wedding. While attending UCLA, I seemed to have met my match in couch potato supremacy in Arlene. After a few years together, we even planned a Hawaiian getaway where we visited the different sites of our favorite television show Lost. I even tricked Arlene into proposing to me while we were watching the Formula 1 Spa Francorchamps Grand Prix on TV — on Lap 28 to be exact.
The wedding ceremony was held at the Cathedral our Lady of the Angels – a stunning piece of contemporary architecture designed by Spanish architect Jose Rafael Moneo. The light in the Cathedral, from the color of the sandstone interiors to the downstairs mausoleum where Gregory Peck is interned, has a filtering beauty that is difficult to describe. Many Cathedrals in Europe give you a very heavy, very solemn sense when you're inside. This cathedral is the opposite of that.
I've lived in LA, NYC, Chicago, Hartford, Toronto and a string of places in between. Every place has something beautiful about it. For me, I love the visuals of LA at night. You know, like the LA driving scenes out of any Michael Mann movie (Heat, Collateral etc.). It was important to us that we were married in what could have been straight out of one of his movies, sans the gunfire and death of course.
The overall style of our wedding was modern and industrial, with a hint of Hollywood glamour, and a little somthin somthin of cultural flavor. Typical LA, you know? Arlene is an artist in both traditional and digital formats (as are her sister, uncle and grandfather) so most of the direction came from her with the help of her sister. Our design conversations usually started with Arlene asking "wouldn't it be cool"
Arlene: "Wouldn't it be cool if we had VIP passes on lanyards that could serve as escort cards, photo holders for the photo booth pictures, and party favors?"
Me: "Uhh, YEA."
So Ardith, Arlene's sister, designed the VIP passes with a logo incorporating Arlene and my Chinese Zodiac symbols and the Korean characters for my last name "Yoo", along with the name of the guest and their table assignment.
Arlene: "Wouldn't it be cool if we named all our tables after movies and TV shows we love?"
Me: "Uhh, YEA."
So Ardith and Arlene went about finding and recreating many of those logos and created the table signage based on those shows and films.
I got into the act as well in the one area I had free reign in – the invitations – and I wanted to do them in 3D. So I studied up, built a 3D rig using 2 canon digital rebel SLRs and after a few iterations it looked pretty decent. The shots we used had us watching television with a laptop, telephone and a remote control floating around. We displayed wedding info on the TV. I handed the photos off to Ardith who designed a one-of-a-kind movie-themed wedding invitation entitled When Danny Met Arlene complete with 3D glasses. (Check out some of their 3-D invitation process here and here)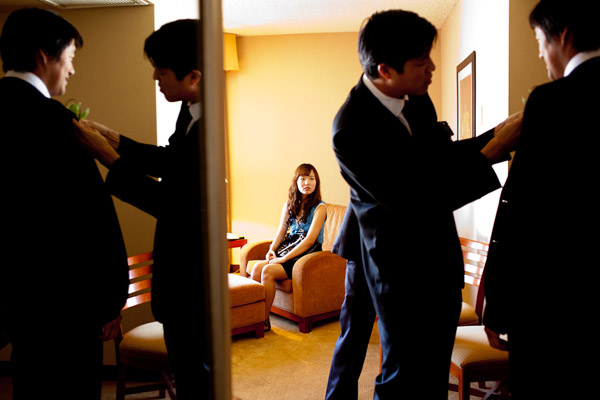 Our wedding coordinator, Ada Chan of Fresh Events also had some great contributions. Her input and suggestions were invaluable – from doing an outdoor lounge with white leather couches and live hedges, to using star-patterned gobos to decorate the walls and clear light globes hanging from the ceiling, to laying out a beautiful white dance floor for everyone to get down on – everything was perfect.
At the beginning of the reception we had a Filipino Rondalla string group playing traditional folk music as people entered the reception space. Arlene and I dressed in Korean Traditional outfits during the cocktail reception. My sisters-in-law did a Korean Samgo Drum routine that was incredibly intense and amazing. Jae Matthews and Teri Gooden of In Good Taste provided the delicious catering and Jae suggested the wonderful idea of having a family-style meal, which gave our celebration more of an intimate feeling (and a lot more food).
Once the band started to play, we knew that our guests would need a secondary energy source so we enlisted two higher end lunch trucks. The White Rabbit Food Truck for Filipino fusion and the Komodo Food Truck for Korean fusion. We tried over twenty-five different lunch trucks but ultimately chose these two because they were not only delicious but celebrated our roots as well.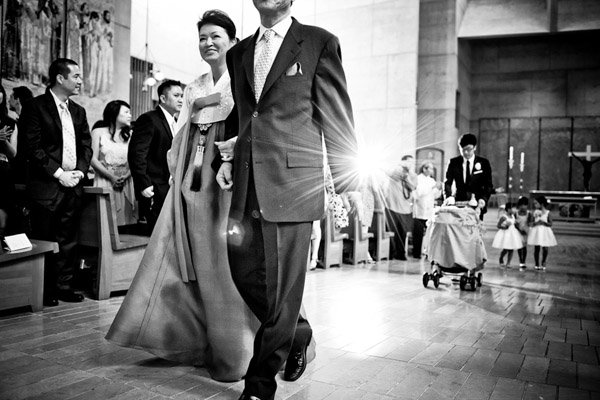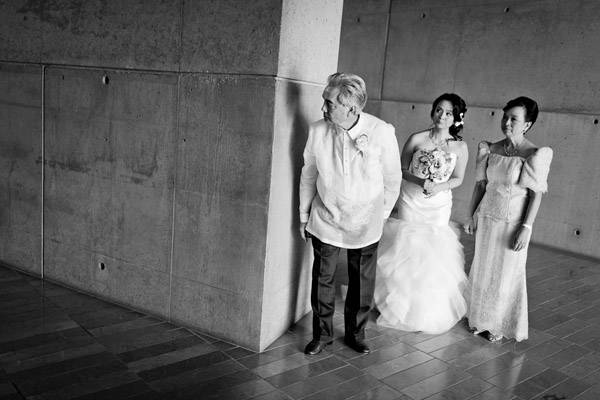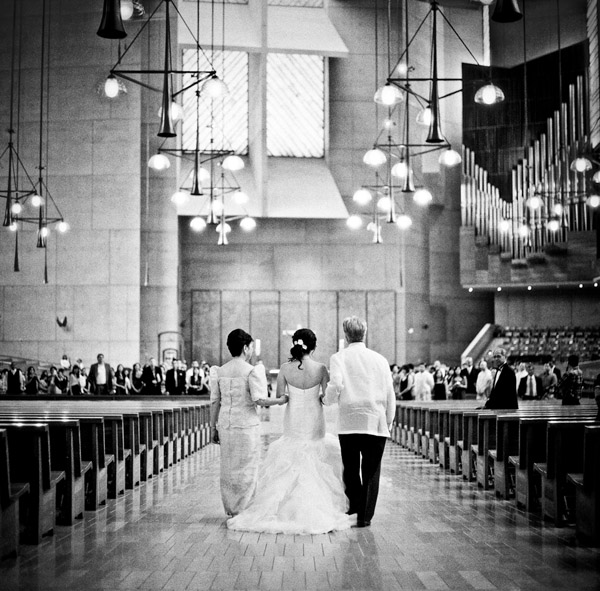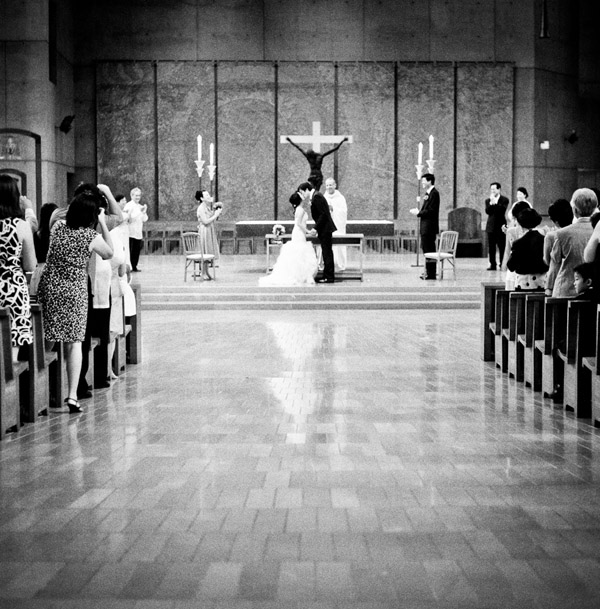 Junebug: Where did you hold your wedding and reception, and why?
Danny: We spent months looking for the appropriate venue. We needed a fairly open space with the ability to accommodate the lunch trucks. There are a lot of options in downtown LA: art galleries, hotels, restaurants, clubs. We checked out nearly all of them. In the end Lot 613 was the perfect choice for us – a blank canvas. Elle, of Lot 613, was a pleasure to work with, and the space consisted of two 5000 square foot warehouse-ish spaces connected by an asphalt lot, all enclosed by fencing. One warehouse was used for the main party (dinner and dancing) while the second warehouse was used for the backstage and prep. Since we were expecting over thirty kids we created a separate area for them with three baby sitters, arts and crafts, and a projector playing Studio Ghibli and Pixar movies. The kids were free to roam (some got their groove-on on the dance floor) but most of them were quite content being in their section – free from their parents!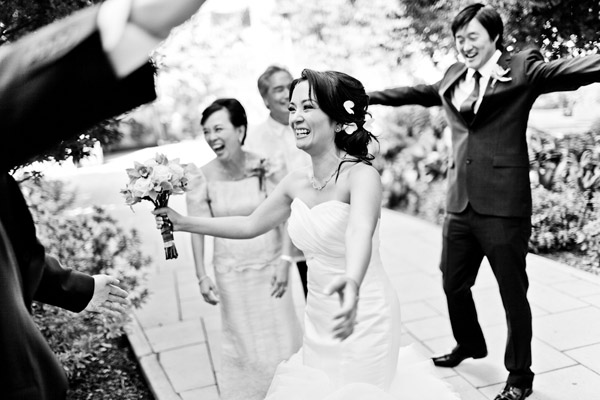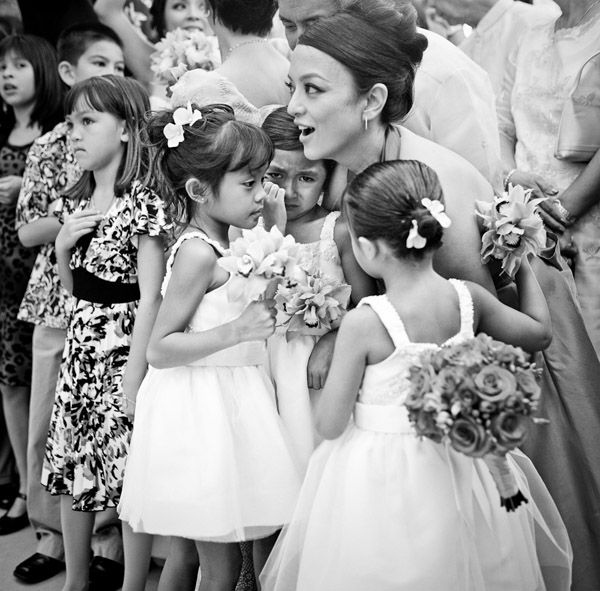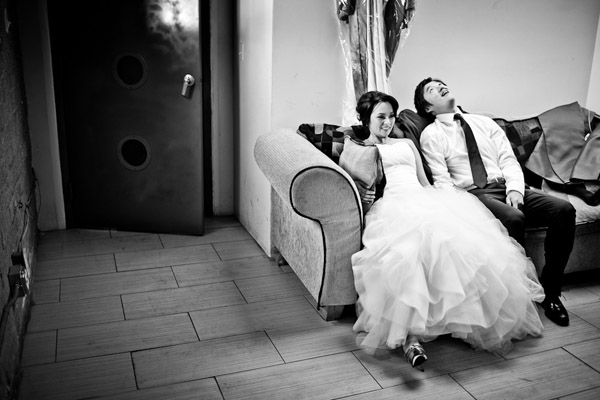 Junebug: What were you looking for in a photographer?
Arlene: We didnt know what we were looking for until we saw some wedding photographs taken by Kitty and Craig of Twin Lens Images. Up until then, we had come across many wedding photographers that were great, but they didnt show us anything we hadnt seen before. After we checked out the Twin Lens site, it became crystal clear that this is what we were looking for – no question. The search for the perfect photographers had ended. HALLELUJAH!!
Junebug: What specifically drew you to Twin Lens and their imagery?
Arlene: It was amazing the emotion that came over us as we looked at their pictures from previous weddings. You wouldnt think that we could feel so connected to the strangers in the photos, but we did. Their photographs were so sincere and genuine. Before we came across the Twin Lens site, we had never seen documentary-style wedding photographs. So many of Kitty and Craigs photographs caused me to shed a tear and something always managed to get stuck in Danny's eye when he looked at them. What is amazing about their work is that each picture captures the moment in its entirety. Their pictures are not only breathtakingly beautiful but each shot tells a story.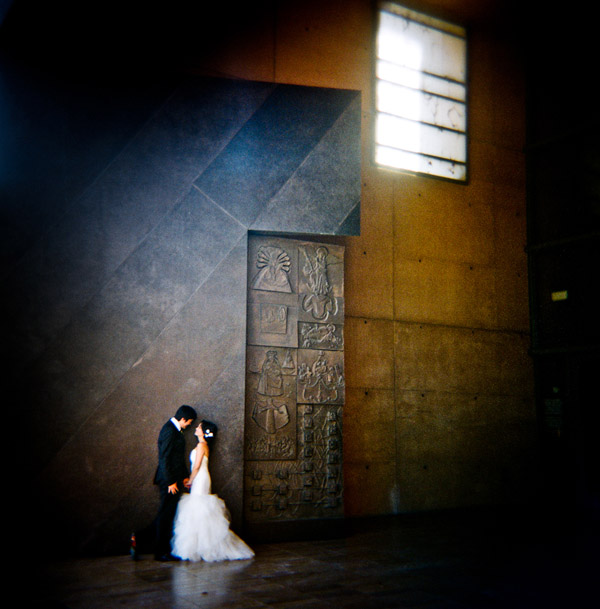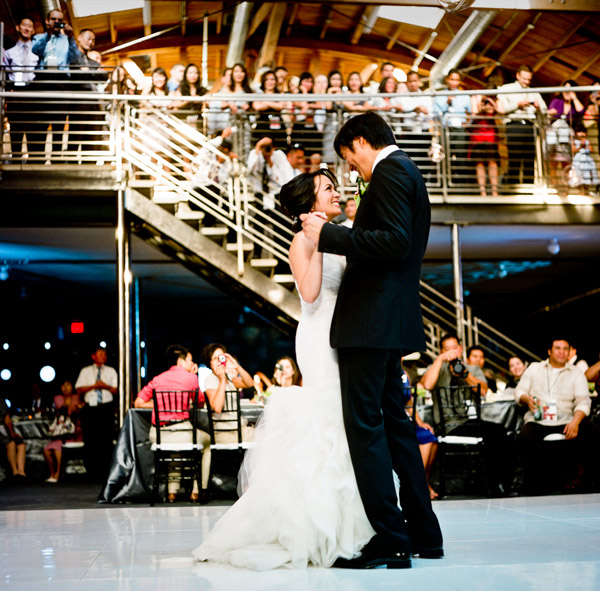 Junebug: What did you enjoy most about working with Kitty and Craig?
Arlene I had thought about the comfort that could come in knowing that someone you knew was being entrusted to document your special day, and thats the beauty of Kitty and Craig. Though we only met them the night before the wedding, they really felt like good friends. When I was having difficulty with my dress, I asked Craig "what do they normally do with this?" and he made some really good suggestions based on his previous experiences.
Its almost impossible to catch every detail of the day. But after looking at our pictures, not only did it remind us of everything we had experienced, but Kitty and Craig also showed us all the things that were happening that we didnt even know were going on – like this great shot of Danny and his brother getting ready through the bathroom mirror, one of our flowers girls having a cry after the ceremony, or catching my parents sharing a kiss in the photo booth. They let us experience our wedding from a lot of viewpoints that the married couple is normally not able to see.
Danny: I am a completely rank amateur photographer. More like a noob with an expensive camera. In this day and age, a lot of people can afford serious camera hardware and never learn how to use it. Looking at Kitty and Craig's work, you can clearly see their technical skill. Not only shooting digital but shooting on film, and their skill in post processing is very high. But being technical is only part of it. They have the unparalleled ability to "capture the moment." You have to be able to "see it" which is a skill that some are born with. Their background and current work as photojournalists undoubtedly helps them.
The funny thing is that you can have no knowledge of photography and you intuitively understand that what they shoot is different. You might not be able to explain how or why but you just know. Its like watching a good movie. You may not know what a cinematographer does or the role of the editor or the foley artist, but when it all comes together, its magical.
Another thing I really like about Kitty and Craig is that they're both really down to earth, salt of the earth types. They are not intrusive at all and very considerate. This immediately makes you very comfortable around them, less self conscious, and that translates into much better photographs.
They were the first vendors we booked and we were absolutely floored by the results.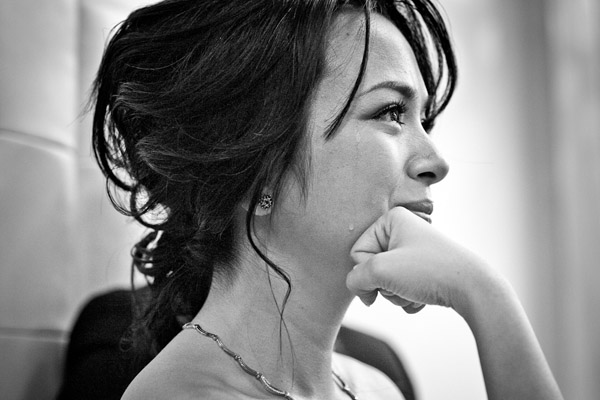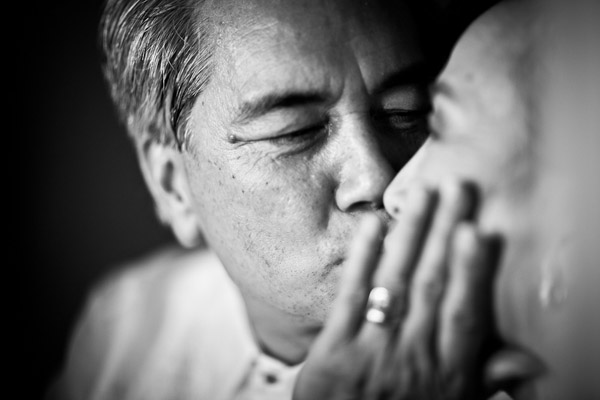 The Photographers – Kitty and Craig Fritz of Twin Lens
Junebug: How did you approach this particular wedding and what did you most want to capture during shooting?
Kitty and Craig: Arlene and Danny are two very fun-loving and creative people. It was evident from our first emails with them that they wanted creative photography which documented this day that was so important to them. We as photographers were the first vendors they booked, so this told us how important the images were to them. They are both very close to their families, and so the most important priority was capturing them with their families and recording the Korean and Filipino heritage that they infused into the wedding.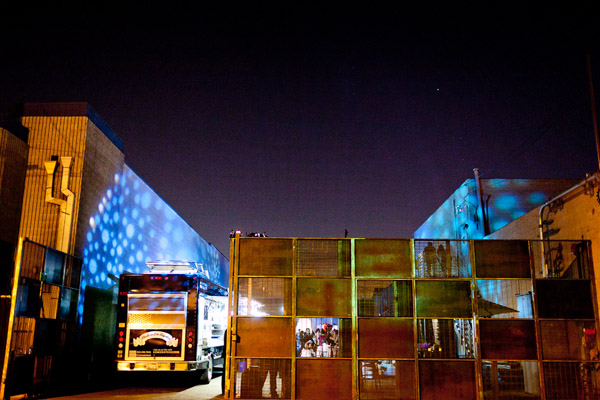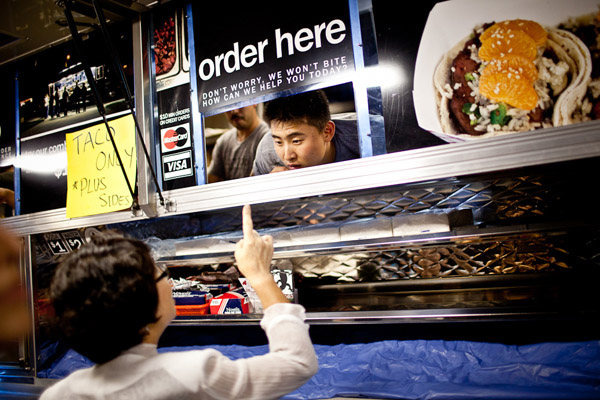 Junebug: Were there any special photographic requests from the couple that made this wedding especially exciting creatively or personally?
Kitty and Craig: Truly, no. They were very excited about our approach to weddings. Our goal is to document what is unique and beautiful about a particular wedding, not to fit the wedding into our own visual formula. Their only request was that we enjoy ourselves and be part of the fun of the day. It's very fulfilling when a client hires you and simply trusts you to "do what you do."
Junebug: What was the most fun part of this wedding for you to photograph?
Kitty and Craig: There was no pretense… the emphasis was on family and friends. Arlene and Danny made their wedding their own by incorporating their love for movies, films and ethnic food. There was a very casual vibe which encouraged mingling, fun and enjoying he entire event. One of the best things for us, as photographers, was the degree to which they included children into their wedding day. The kids added a great layer of fun and spontaneity into the wedding day and, by extension, to the images.

Junebug: How did the locations available to you affect the type of images you shot and how you shot them?
Kitty and Craig: This was the first time we'd shot at the Cathedral of Our Lady of Angels in Downtown L.A. It was such an epic, intriguing space. If you've never visited, take a trip to see it. The architecture is monumental, the natural light is inspirational; it is a very moving space. We did a quick portrait session with the two of them following the ceremony and placed them against the architecture, playing with the light and shadow. I loved the contrast between Arlene's very feminine, feathery dress and the hard, angular lines of the building.
The reception location, Lot 613, was a lot of fun…. a very urban, minimalist setting which served as great foundation for the movie/tv backlot theme that the couple envisioned for their wedding. We liked the open, multi-level reception area which allowed us to easily achieve different angles and vantage points. Ada Chan with Fresh Events did a great job creating mood with interesting lighting and elegant decor that very much reflected Arlene and Danny's personalities.
Junebug: What kind of equipment did you use while shooting this wedding?
Kitty and Craig: Our style of photography is at its core documentary. With that we aim to also incorporate our love for fine art. The outcome, ideally, is a balance between the two sensibilities, and so we use both digital and medium format film equipment to achieve this fusion.
What we have the most fun with are the film cameras – the Mamiya C330s twin lens reflexes and Holgas. Both of these shoot 6cmx6cm negatives. We feel they contribute greatly to the fine art, nostalgic feel of the images we deliver to our clients. For 35mm we use Canon 5dmkII bodies with either a 35mm f/1.4, 85 f/1.2 or an 70-200mm f/2.8. This gear allows us to capture fleeting moments as well as shoot in extremely low light situations without using intrusive flash. It never fails that the combination of the digital and film images, in the end, create a diverse, evocative narrative of the wedding day.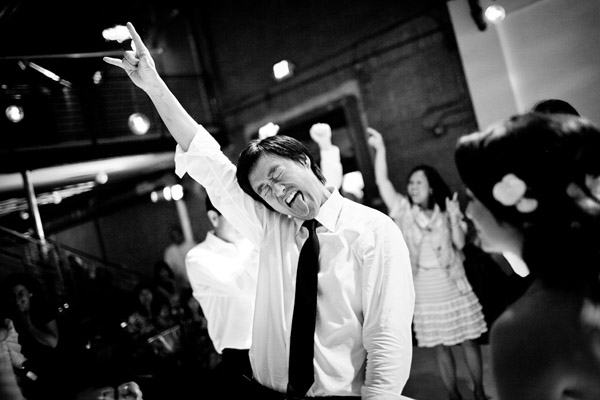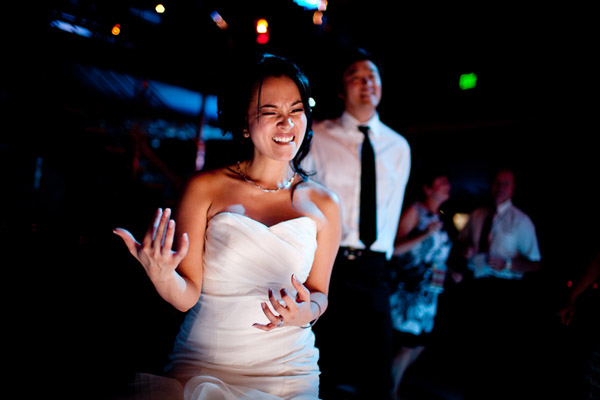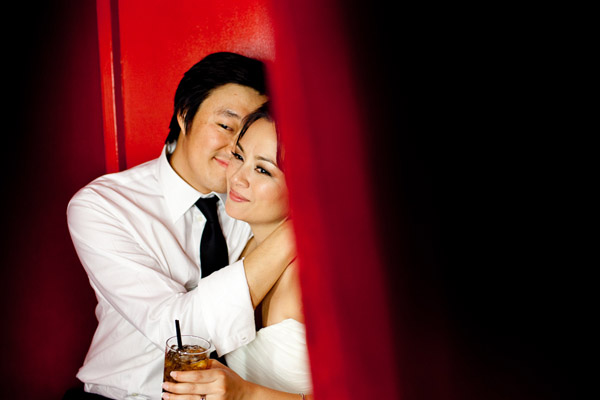 Thank you so much Arlene, Danny, Kitty and Craig!
To learn about all of the wedding professionals who brought this wedding to life, be sure to visit our Real Wedding library!
To learn more about Twin Lens and to find the perfect wedding photographer for your own wedding day, don't miss our World's Best Wedding Photographers Hotlist!