I am so excited to share with you the spectacular Real Wedding of Jag and Param with the show-stopping and jaw-droppingly gorgeous photos by Chris+Lynn. Jag and Param really wanted to "wow" their guests, and with their vibrantly dressed wedding party, abundance of peonies and roses, and the groom's hilarious yet impressive choreographed dance at the reception, I am certain their guests were blown away. This is truly one for the record books!
The Couple: Jag and Param
The Wedding: 6.30.12 – Royal King Palace, Surrey, BC
Junebug: What were your most important goals in planning your wedding?
Jag: I have been dreaming and planning my wedding since I was 12 years old. Ive always imagined a grand, spectacular wedding so my goal was to create a wedding that wowed my guests through vivid colours, great decor and amazing food. I also wanted to include elements that I knew my guests would not have seen before such as a dessert table and photo booth with props. I guess my overall goal was to plan a wedding that would be memorable for Param and I, and lots of fun for our family and friends.
Junebug: How would you describe your personal wedding style?
Jag: I wanted a Royal Indian Wedding with a modern twist that would exude elegance and attention to detail.
Junebug: Where did you hold your wedding and reception, and why?
Jag and Param: The wedding was held at a local Sikh temple, Dasmesh Darbar. We chose this temple because it is Params childhood temple where he has been attending service for years and its also where his dad is the head priest. Our reception was held at Royal King Palace. We chose this venue for many reasons. The venue boasted high ceilings, chandeliers and even a doorsmen dressed in traditional Indian attire. It offered ample room for all of our guests and had a huge dance floor which was important as we love to dance! It fit right in with our theme and was an obvious choice.
Junebug: What three adjectives describe your wedding best?
Jag and Param: Elegant, Fun and Crazy
Junebug: Were there any difficulties or hiccups throughout the wedding day?
Jag: Our wedding was one crazy rollercoaster! I was so emotional the entire week, it rained cats and dogs the day of the wedding, right before I was about to walk down the aisle one of the flower vases shattered, I had numerous wardrobe malfunctions and we encountered plenty of technical difficulties. However those are the things that made our wedding so great – all the memories and stories. And despite all the craziness, Param and I felt completely at ease and extremely happy because we had each other. It was the perfect beginning to the rest of our lives.
Junebug: What were you looking for in a photographer?
Jag and Param: We wanted a photographer who was unique, who thought outside the box and who would capture the essence of our wedding in a creative and fun way.
Junebug: What specifically drew you to Chris+Lynn and their imagery?
Jag and Param: Chris + Lynn simply create art with their camera. Their photos completely wowed us the first time we saw them – they were like something out of a magazine! They were exactly what we were looking for – their pictures were unique, they approached every shot from a creative angle and their attention to detail was immaculate.
Junebug: What did you enjoy most about working with your photographer?
Jag and Param: They are the most down-to-earth and fun people we have met! We shared plenty of laughs and enjoyed every minute with them. From our very first meeting in London, they knew how to put us completely at ease and make us shine!
The Photographers: Chris+Lynn
Junebug: How did you approach this particular wedding and what did you most want to capture during shooting?
Chris+Lynn: We love South Asian weddings because of all vibrant colors, the meaningful customs, and the intense energy & emotion. Jag and Param's traditional culture is so important to them, and yet at the same time they are such an international, contemporary couple – showing this in their wedding images was our goal.
Junebug: Were there any special photographic requests from the couple that made this wedding especially exciting creatively or personally?
Chris+Lynn: We were fortunate to have Jag and Param's full trust in photographing their events – their request to do their YOU+ME engagement session in their other hometown of London, England was a lot of fun!
Junebug: What was the most fun part of this wedding for you to photograph?
Chris+Lynn: Reception! Who can resist all that sparkle, the wild dance moves (plus a feature breakdance by the groom himself!), and of course, overflowing plates of delicious Indian food!
Junebug: How did the locations available to you affect the type of images you shot and how you shot them?
Chris+Lynn: Combining traditional and contemporary, we shot in the grassy fields of the local parks on the wedding day, and chose the modern architecture of downtown Vancouver for the couples reception day portraits. Timing is always tight during a wedding with so many different events, so you have to work with what you get! My favorite bridal image of Jag is a simple window-lit portrait taken in the room where she was getting ready.
Junebug: Were there any special locations you were able to choose that made for really great images?
Chris+Lynn: Though the wedding was in the summer, it was during Vancouvers summer of rain! We had threatening clouds, drizzle, and downpours throughout most of the wedding and reception day – but that weather can make for dramatic images. We had fun playing with shadows and reflections (and staying dry) in an underground parking lot with the couple and their perfectly restored vintage cherry red Mustang. The glass and concrete of Vancouver's cityscape also make for a great simplified backdrops for the vivid colors of Jag and Param's reception outfits and their amazing emotional connection to each other.
Junebug: What kind of equipment did you use while shooting this wedding?
Chris+Lynn: We probably used every lens in our bags for this multi-day wedding with so many events and locations, but Chris shot almost exclusively with his faves the 50 1.2 & the 16-35 2.8 for all the documentary coverage. I had fun using our new 40 pancake lens (so lightweight!) and loved the 135 for low-light party shots.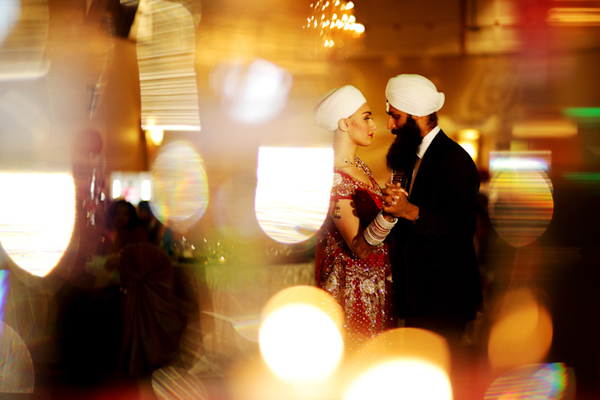 To learn about the wedding professionals who made this wedding possible, visit Jag and Param's page in our Real Weddings Library. Still wanting more? Check out Jag and Param's engagement session by Chris+Lynn on What Junebug Loves!