An engagement session is a terrific way for a couple and photographer to get comfortable with each other, but it is also a ton of fun! Jonathan Connolly captured these colorful and vibrant photos as Mishelle and John spent the day together enjoying their shared love for music and art. The perfect date, wouldn't you say?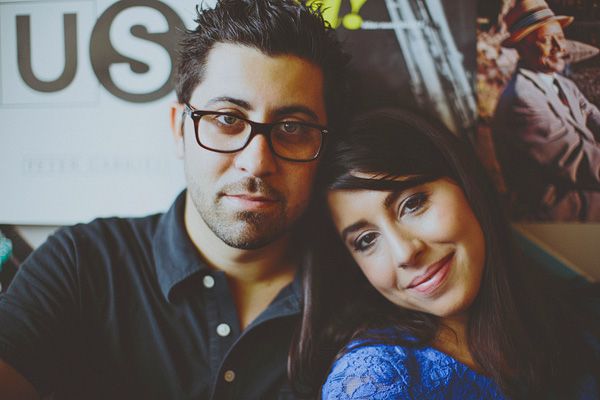 Junebug: What specifically drew you to Jonathan Connolly and his imagery?
Mishelle and John: While searching online and through referred photographers, it didn't take long for Jonathan's unique perspective and artistic style to catch our eye. For our personalities and theme of the wedding/engagement Jonathan is a perfect match. He can take things that you see in your everyday life and turn it into something personal and makes it feel "you".
Junebug: Where did you choose to have your engagement photos taken, and why?
John: Mishelle and I are both in the music field, radio and records. The first stop at Radio Active Records was a no-brainer for us. It matches our lifestyle and our passion for music. Add in Jonathan's touch and you've got some classic record shop shots. The second stop was Wynwood, Miami's Art District. We both have a love for art but especially for street/urban art. We did not have specific walls picked out prior to arriving on-site, it was sort of point and shoot, walk and be yourself just checking out the walls and shooting some candid photos as we enjoyed the scene. In both locations, it was all about being comfortable, being yourself and that will come out in the photos in the end.
Junebug: Is there anything else you would like to share with us about your love story or your lives?
Mishelle: We just want to stress the importance of FRIENDSHIP! John and I were friends for many years before taking the leap into a relationship which has now flourished into a marriage. Having a strong foundation in friendship is key. I look forward to spending the rest of my life with my Best Friend!
From the photographer, Jonathan Connolly: We love when couples come to us with ideas that totally fit their lifestyle and passions. For Mishelle and John they live and breathe music so what better way to begin their engagement session than at a hip record shop in downtown Ft. Lauderdale. Mishelle is a Promotions Director for Y100 while John is a Regional Promotions Manager for Atlantic Records. Both met and fell in love while working together in the music industry. John is also pretty passionate about street art so this one was right up his alley. I can definitely say that street art has always been a huge inspiration for me, so it was hard to get down there and not help but stare and just want to explore. Not going to lie, its kind of tempting to just want to capture all the awesome work in the background. But I had to keep reminding myself that were here for the engagement photos and telling a story about this time in their lives! We had such a wonderful time, enjoyed some great laughs and delicious food along the way.