Vibrant colors set the scene for Alana and Joel's Santa-Fe wedding, evident in bright margaritas and a truly epic mountain scene cake. But the wedding was so much more than just captivating hues, as the couple made certain to include sentimental touches like the lovely lace roses in Alana's hair that came from her grandmother's wedding gown and the chuppah made from Joel's grandfather's tallis. With so much love, happiness and even a Chicago style hot dog stand at the end, it was truly a wedding to remember. All of the energy and joy were creatively captured by Brett Butterstein's one of a kind style.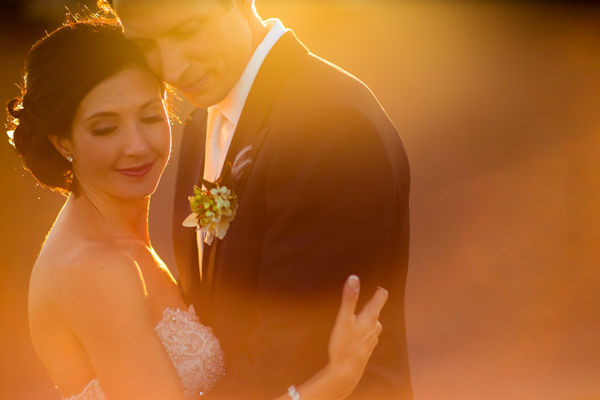 Junebug: What three adjectives best describe your wedding?
Alana and Joel: Memorable. Personalized. Heartfelt.
Junebug: What inspired your personal wedding style, and how did you incorporate your style and personalities into your big day?
Alana and Joel: Our wedding was very elegant…with a bit of a Santa Fe flare. The chandeliers hanging from the tent and other decor made the event very classy and tasteful.
Yet, we wanted our guests to embrace the unique location of our wedding. The ceremony and reception were outdoors, surrounded by beautiful mountains. Since thats what we love about living in Santa Fe, we wanted to share the natural beauty with our friends and family, mostly visiting from other places around the country. We had a Mariachi band escort the guests from the ceremony to the cocktail hour, with passed margaritas along the way. And our cake, depicting a mountain scene, was a work of art (and delicious)!
Our flowers were bright, funky and romantic. Our band was the best weve ever heard! We wanted our guests to experience Santa Fe, dance until their feet hurt and share in our most special weekend. It was perfect.
Junebug: Looking back, what are the moments, decisions or memories that you love the most about your wedding?
Alana: Many elements of our wedding were very sentimental, which made the occasion warm and loving. For example, I wore lace roses in my hair, made from my grandmothers wedding gown. The chuppah (Jewish wedding alter) was made with the Joels grandfathers tallis (Jewish prayer shawl). We also wrote our own vows, which were so beautiful and full of so much love.
The first dance was one of our best moments! We took dance lessons for months and surprised our guests with a very fun routine.
We ended the night with a Chicago Hot Dog Stand for guests to enjoy as they left the party. Joel grew up in the Midwest and still craves his favorite food. Even after such a delicious, gourmet meal, the hot dogs were a huge hit!
Overall, the entire weekend was incredible. We hosted our Welcome Dinner and Farewell Brunch at a beautiful estate near downtown Santa Fe. Sunflowers in cowboy boots decorated the already beautiful backyard. We took great care in every detail so the weekend would be one we, our families and friends would never forget.
Junebug: What specifically drew you to Brett Butterstein Photography and his imagery?
Alana: Brett Buttersteins photographs are captivating, bright, bold and creative. I am a news reporter/photographer so was immediately drawn to his journalistic style. His photographs arent staged. They are real and personalized. He has a unique way of framing pictures that result in photos that look more like works of art. He is extremely talented!
We couldnt have asked for a better photographer–who not only takes incredible pictures but is such a kind man. He was truly a delight to have as part of our most special weekend. He got to know our friends and family and was genuinely devoted to documenting the occasion.
Brett was there to capture every moment. He didnt just snap pictures, but captured the emotion, the energy and all the love surrounding us. It is an honor to have Bretts photographs framed around our home.
The Wedding Team:
Photographer: Brett Butterstein with Mallory Olenius
Event Planner: Heidi Mitchell of Soiree
Ceremony & Reception Venue: The Club at Las Campanas
Videographer/Film Maker: John Arnold, Moving Sky Cinema
Officiant: Rabbi Eric Siroka, Temple Beth El in South Bend, Indiana
Invitation Designer: Pennysmiths Paper with original artwork by grooms aunt, Cindy Cooper
Catering: Reception – The Club at Las Campanas, Welcome Dinner & Farewell Brunch – Marja Custom Catering
Florist: Andrea Soorikian
Cake: Maggies Cakes
Wedding Dress: Badgley Mischka
Bridal accessories: Shoes – Oscar de la Renta
Bridesmaids apparel and accessories: Monique Lhuillier
Groom apparel and accessories: Hugo Boss
Groomsmen Ties – Carrot and Gibbs
Hair: Debbie from When the Sun Reaches My Sister
Makeup: Monica Stark
Live music: Funkiphino and Mariachi band
Transportation: Follow the Sun
Dance instruction: Mike Garcia of Dance Station USA
Favors: Bag of Santa Fe specialized treats (green chili pistachios, Mexican wedding cookies, chocolate/red chili biscotti)
Rentals: Classic Rentals
Rings: Henry Dunay, Katherine Jetter
Dress Alterations: Laura Sheppard