I hope you are ready to experience some serious beauty because Nam and Quynh's wedding in Vietnam is beyond gorgeous! Each vibrant photo by Justin Mott of Mott Visuals Wedding reveals culture and tradition in a way that is fresh, modern and authentic.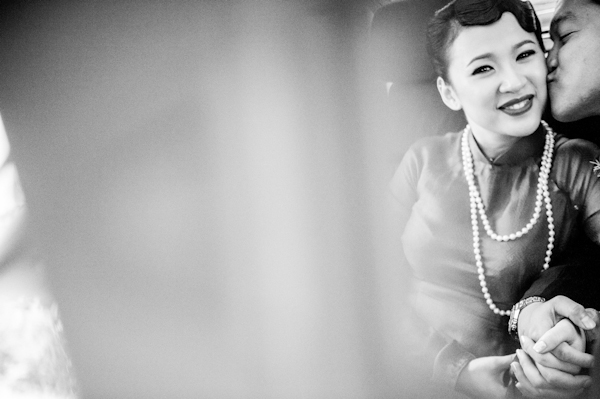 The Couple: Nam and Quynh
The Wedding: 9.25.2012 – Ho Chi Minh City, Vietnam
The Photographer: Mott Visuals Wedding
Junebug: What three adjectives best describe your wedding?
Nam and Quynh: Unique, Elegant and Fun
Junebug: What inspired your personal wedding style, and how did you incorporate your style and personalities into your big day?
Nam and Quynh: What inspired us was the fact that we were truly happy to have found each other and were able to tie the knot. We wanted to show the world that we were one of a kind and so was our wedding. For the ceremony in the morning, while keeping all the Vietnamese traditions in a wedding ceremony, we wanted to add some Western ways of doing it such as brighter colors beside red, creative decorations, and new ways of filming and taking photographs that could document our big day in the most natural way.
For the reception in the evening, we wanted it to be a real celebration and a fun party for friends and family so that everyone could enjoy every moment of it, find it worth their time and effort to be there, and would talk about it later as one of the most fun and memorable event they have ever attended.
Since my wife loves bright yellow color, I made it the theme all yellow. Since Im into music and performance, I made my wedding an entertaining show in which there were my own music video, funny behind the scene clips and of course the performances of famous musicians and singers, who were also my invited guests. Afterward, there was live DJ and a dance floor so people could dance.
Junebug: Looking back, what are the moments, decisions or memories that you love the most about your wedding?
Nam and Quynh: In the morning, it was very emotional for us and our family when we did the ceremony in our private home in front of my grandfathers altar with the witness of both sides family members and close friends. We all wish our father/grandfather were still alive to witness this. We could not hold back our tears when talking about our great and beloved father and grandfather. And at the ceremony, I realized how much our family and friends loved us. I felt really blessed.
At the reception dinner, I loved the moment when I looked down from the stage and saw all tables were filled with people. It was a Tuesday evening and it was raining hard. I knew people had to work and had little time to look nice for the wedding but they were all there looking beautiful and sharp. They have made their effort to be at our wedding. It meant so much to us and our parents. The evening couldnt be more perfect. Again, I felt so blessed.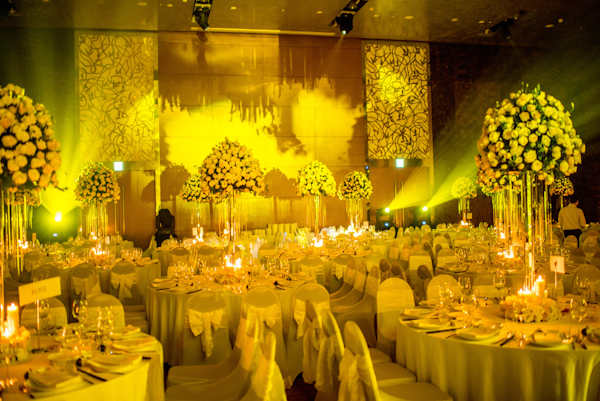 Junebug: What specifically drew you to Mott Visuals and their imagery?
Nam and Quynh: Again, we wanted to have a different kind of photography and film about our wedding. We love to see the natural moments of ourselves, family and friends. Those moments would be unique, special and fun for us. Justin and Alexis have done just that perfectly.
The Wedding Team:
Photographer: Mott Visuals Wedding
Event Planner: Misa Vu
Ceremony Venue: Private Home in District 2, Ho Chi Minh City
Reception Venue: InterContinental Asiana Saigon, Ho Chi Minh City, Vietnam
Videographer/Film Maker: Alexis Vu
Invitation, Floral and Dress Designer: Misa Vu
Catering: InterContinental Asiana Saigon
Cake: InterContinental Asiana Saigon
Make-up Artist: Vu Minh Hoang
Live music: Tran Manh Tuan
Rings: Tiffany & Co.