Utterly dreamy and romantic, Caroline Tran's photography was perfectly suited to capture Cassandra and Eric's classic tea-party inspired wedding. I love all the personal touches the couple included to represent their love for each other and their Chinese culture. Intimate and elegant, their wedding day at Kohl Mansion was a smashing success!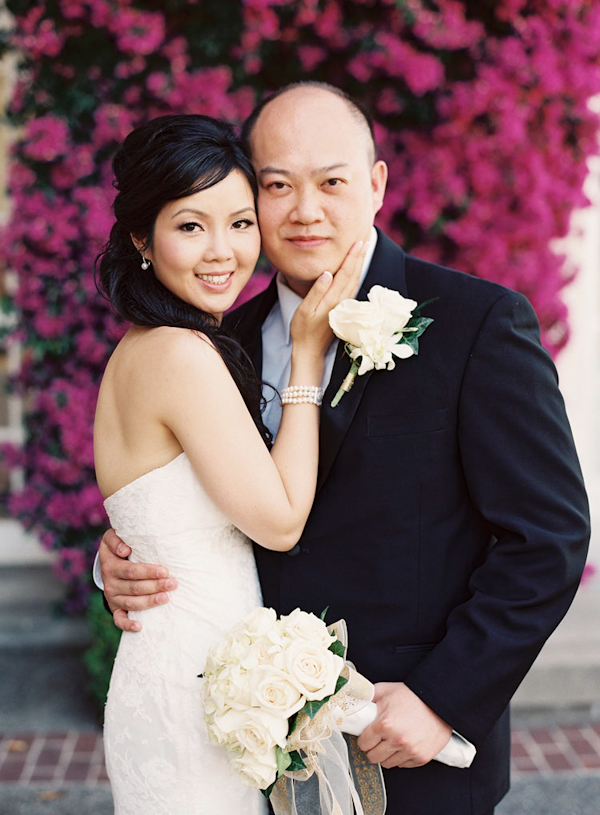 Junebug: What three adjectives best describe your wedding?
Cassandra and Eric: Classic, Dreamy, Intimate.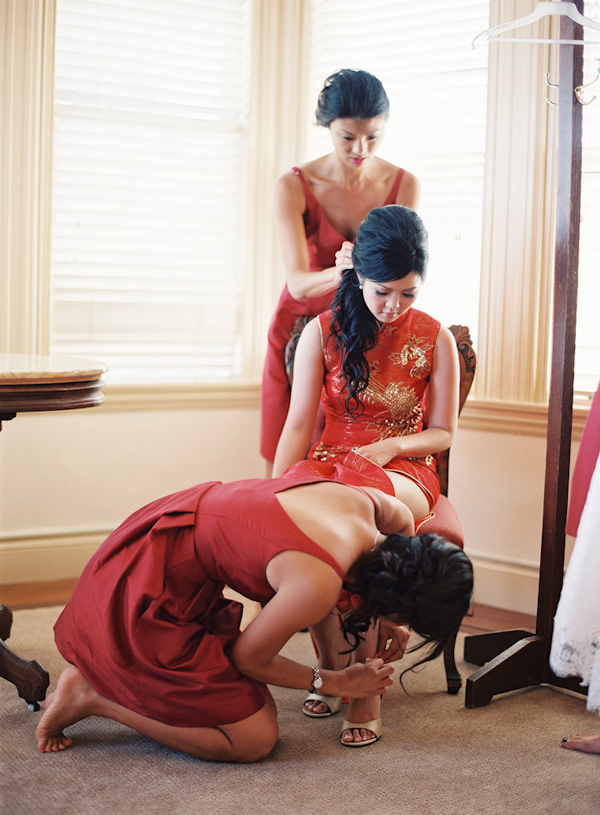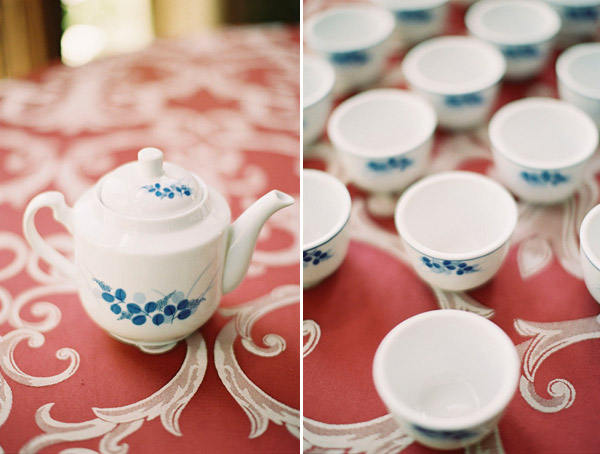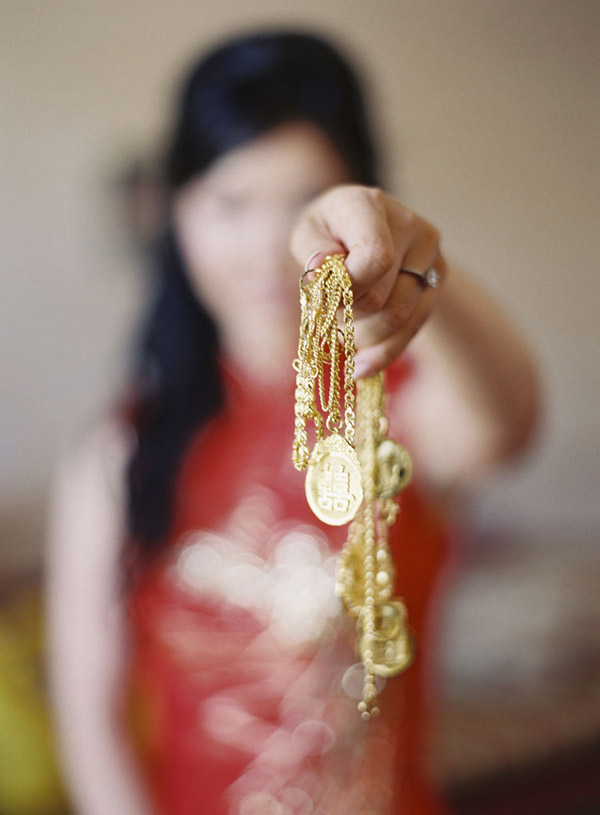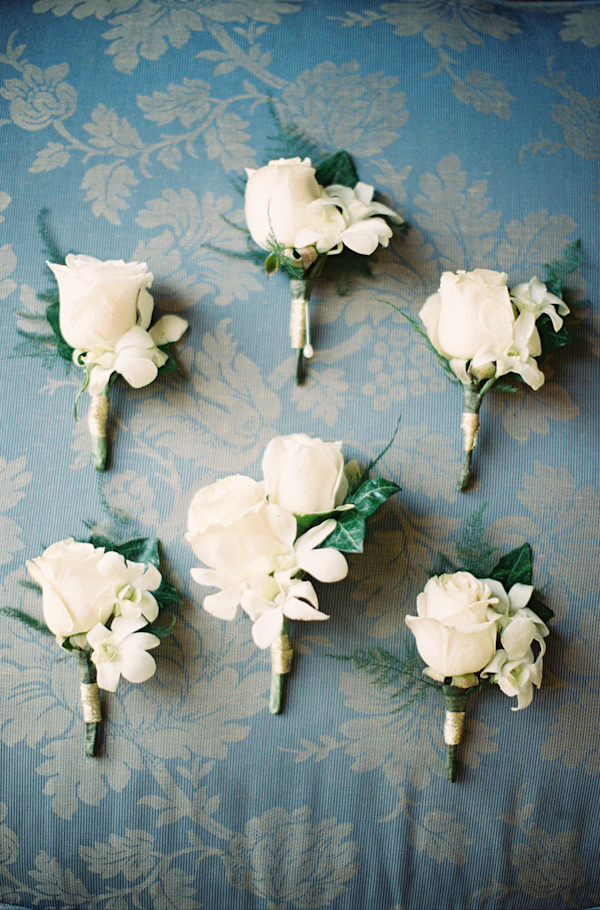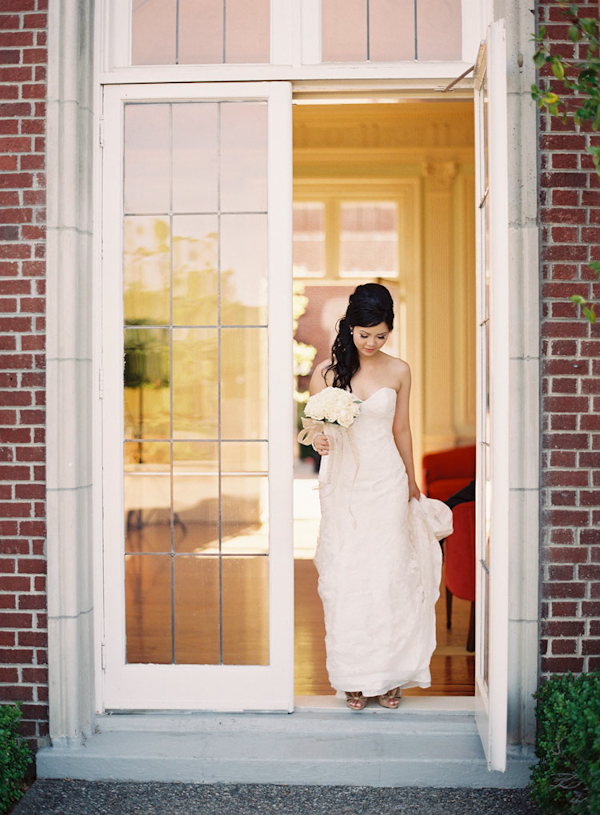 Junebug: What inspired your personal wedding style, and how did you incorporate your style and personalities into your big day?
Cassandra and Eric: Everything seemed to evolve from our love of tea and my dream to have a tea-party style wedding. Both of our parents are from Hong Kong, so our culture was heavily influenced by certain British traditions. So whenever my family celebrated a big event or simply wanted to enjoy the day together, we would go have afternoon tea or high tea. An estate-type venue seemed to perfectly fit the tea-party style and our desire for a place that felt like a secluded family gathering. When we saw Kohl Mansion, we fell in love right away and truly spoke to our unique style.
Eric and I not only really love drinking tea on a regular basis, but its also a huge part of Chinese culture. To incorporate our love for tea and Chinese background into our wedding, we became inspired to blend two teas together that would represent each of our families coming together. Eric's mom suggested a common, but very tasty, Chinese tea blend Rose Jasmine tea. My family became the Rose and Eric's became the Jasmine. As such, our wedding ceremony substituted the sand ceremony with combining both of our teas and serving it to one another to drink (a brilliant idea by our wedding planner!). We also created a tea bar for our guests to sample various teas that our families and us love, and named each guest table after different teas. In addition, our wedding favors consisted of jars filled with rose buds and jasmine tea. The two teas were bought and flown in from Hong Kong by Eric's relatives, so Eric and I really felt like each guest would be taking home a part of us.
Eric and I both love simple and classic aesthetics in pretty much every aspect of our lives. So, we knew that we would not have any overdone lavish decorations, but wanted the venue to speak for itself and incorporate simple pieces and touches that really represented us. For example, our cake was all white and very simple, but decorated with fresh roses and consisted of a Chinese-style sponge cake with fresh strawberries. We also served Chinese egg tarts for dessert as well small, understated cultural elements that all seemed to blend with our venue and theme well.
Eric's own personal style has evolved as a result of the wedding. He was in charge of deciding the music and in doing so, he started listening to a lot of Michael Buble and become obsessed with Frank Sinatra and the whole Rat Pack era. This, and with the estate, tea party style wedding in mind, we really embraced vintage styles and pieces for the wedding.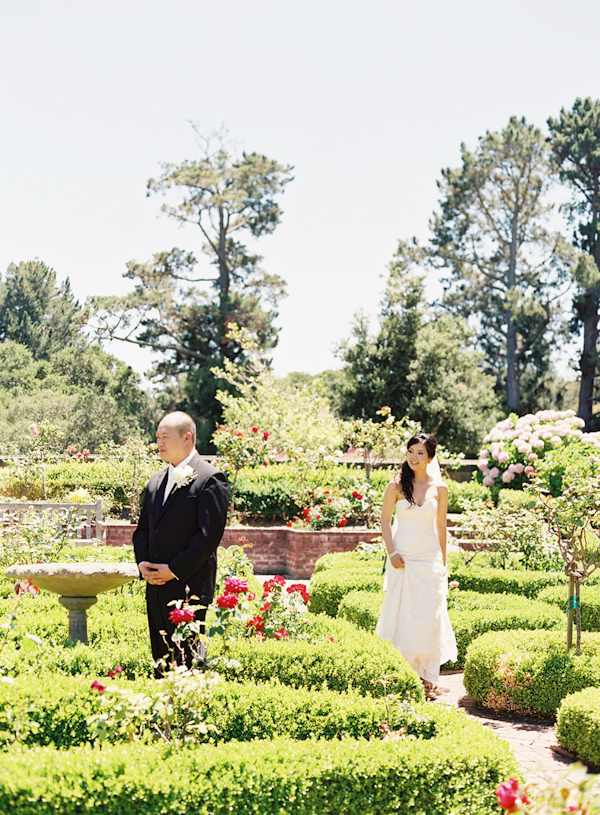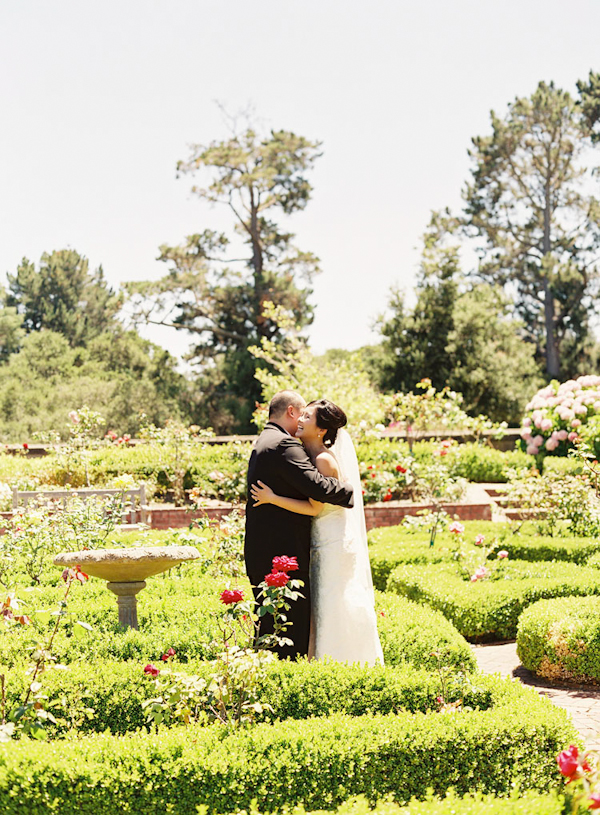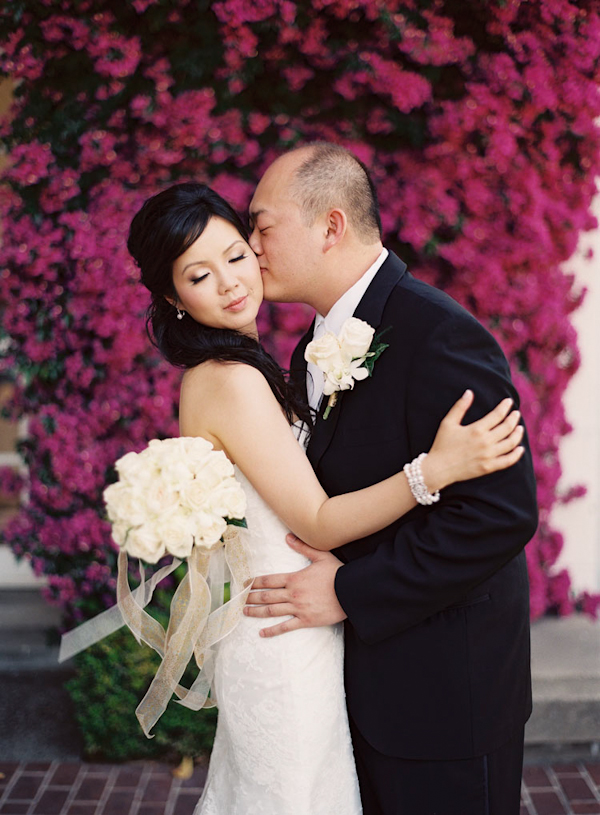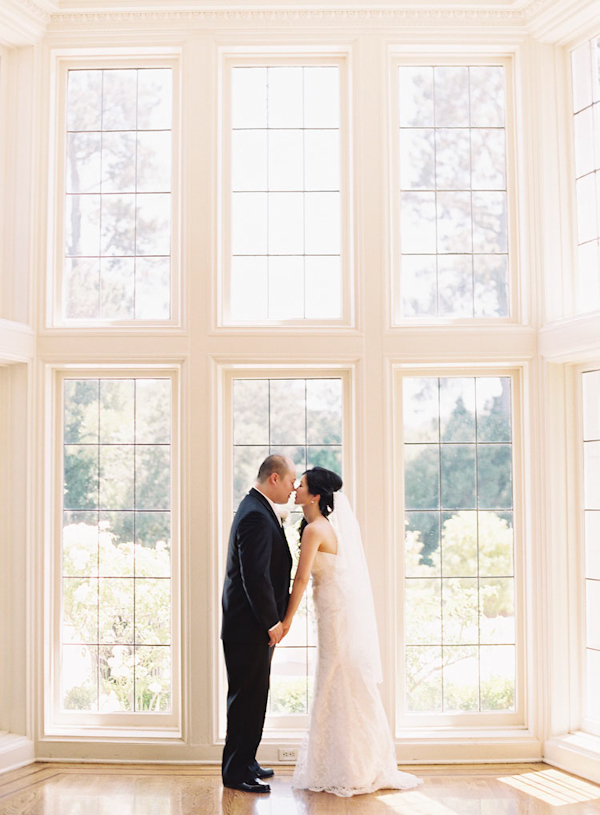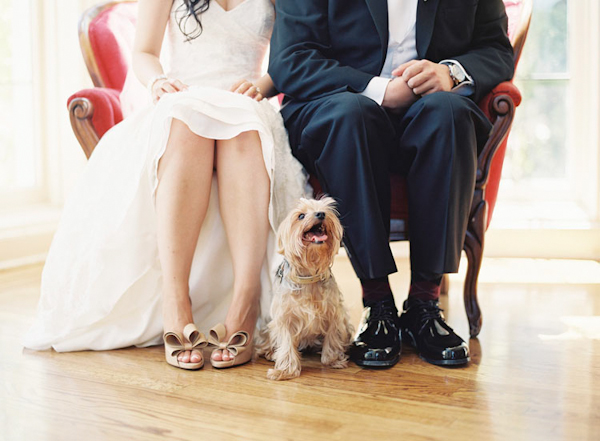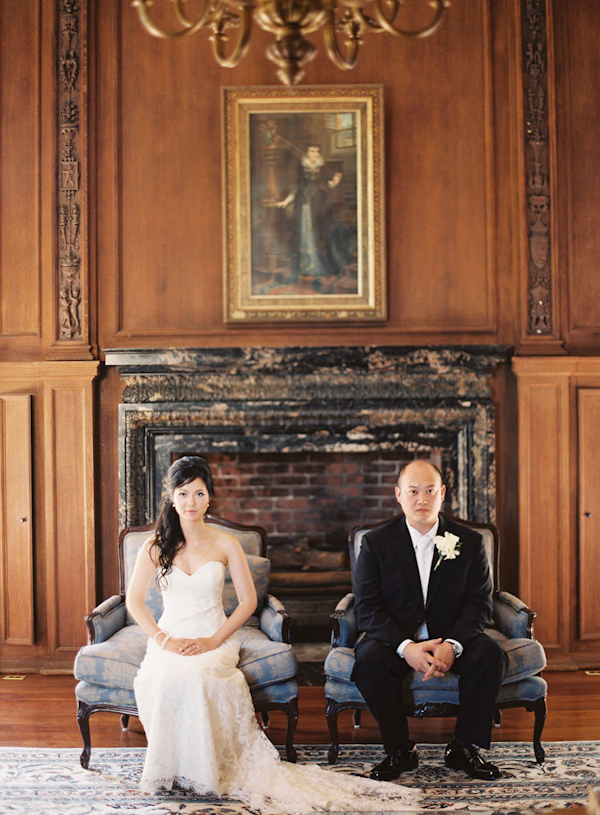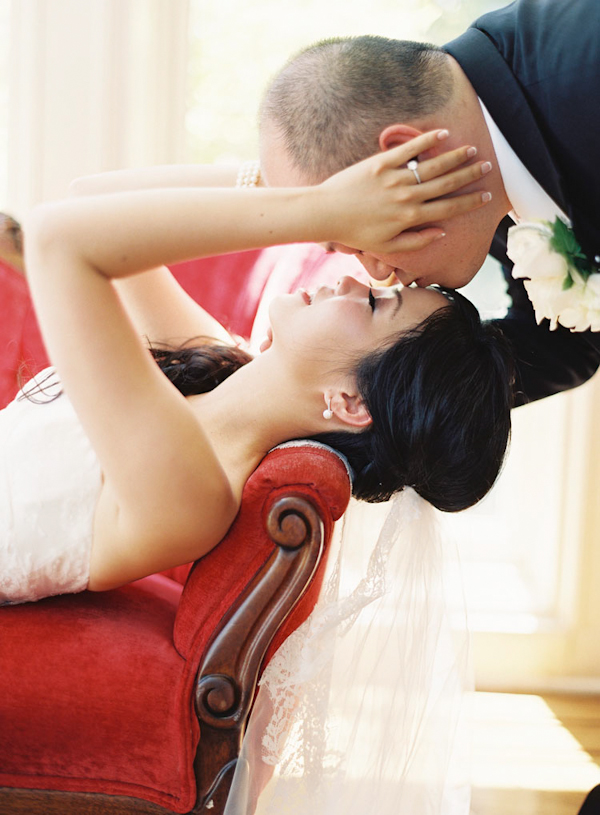 Junebug: Looking back, what are the moments, decisions or memories that you love the most about your wedding?
Cassandra and Eric: As stressful as it was, we loved so much of the wedding and the wedding planning! For me, one of the most memorable moments of the wedding was my first dance with Eric. During the ceremony, our officiant was so entertaining that we didn't really have an opportunity to absorb what was going on. Thereafter, Eric and I retreated to the bridal suite for the purpose of reflecting on being husband and wife, but we were so excited with adrenaline that it didn't really hit us then either. (Btw, we still laugh to this day about how much we enjoyed taking break from the wedding chaos to have a moment to ourselves. We ending up having really fun time watching guests through a window upstairs and seeing all of our guests interact with one another and enjoy themselves.) When we started our first dance to Lucky, Jason Mraz's duet with Colbie Caillat, I thought about how lucky I truly felt to be marrying my best friend. Eric and I got married on the 10th year of being together and at that moment of our dance, I was overcome with everything wed been through and how right it felt to spend the rest of my life with him.
Besides that, were both so happy we chose the tea theme as a part of our wedding and blending the two teas together to make our love blend. Even now, something so simple as drinking our rose jasmine tea fills us with fond memories of our wedding. Its something we've taken from our wedding that reminds us to appreciate one another on a regular basis.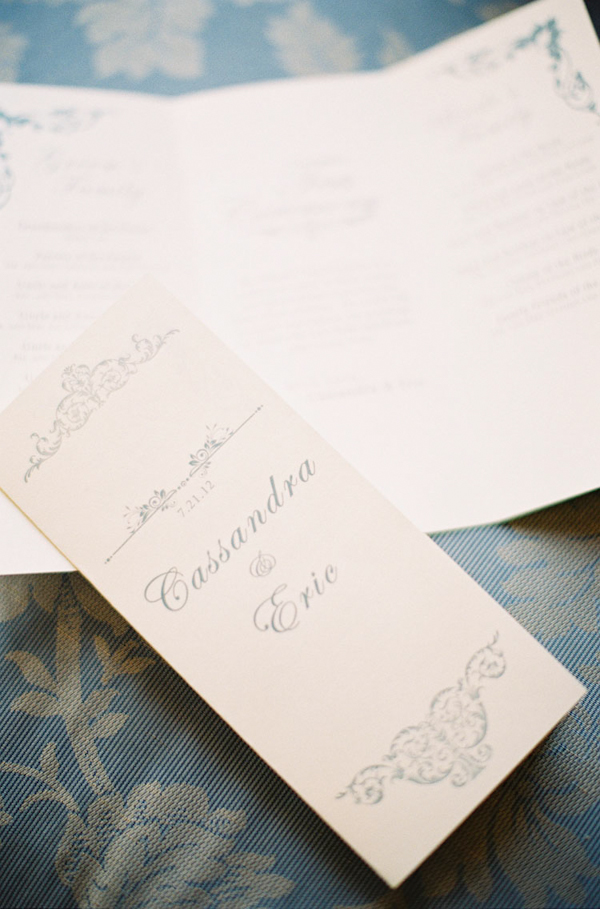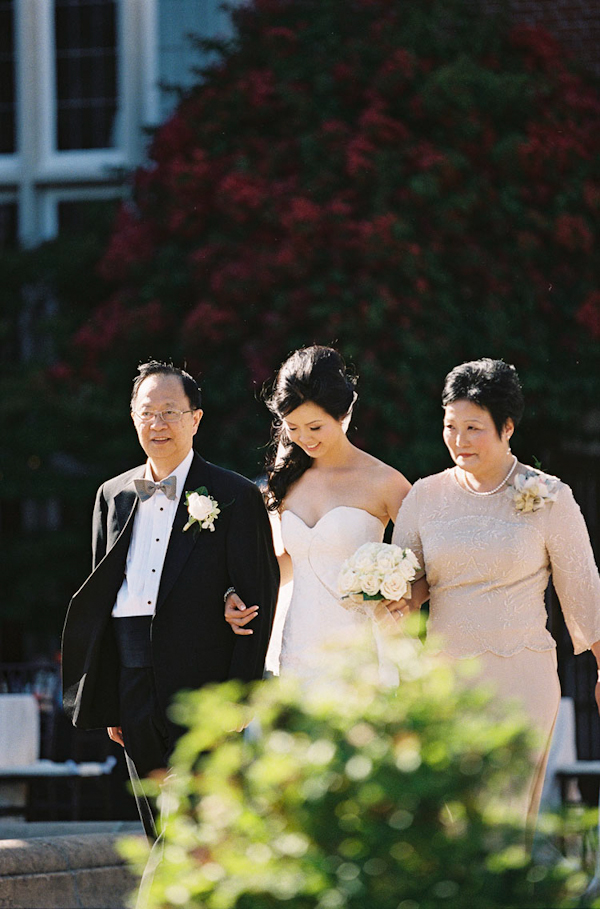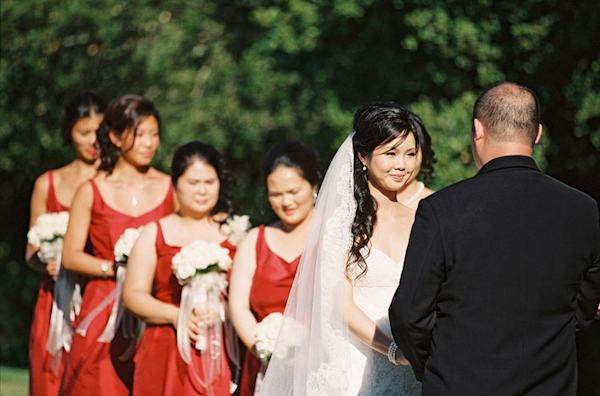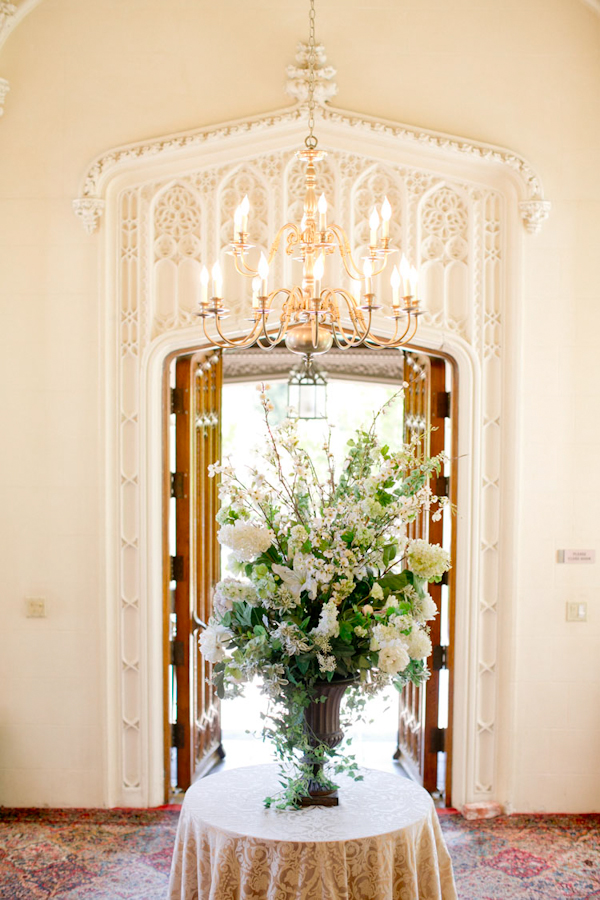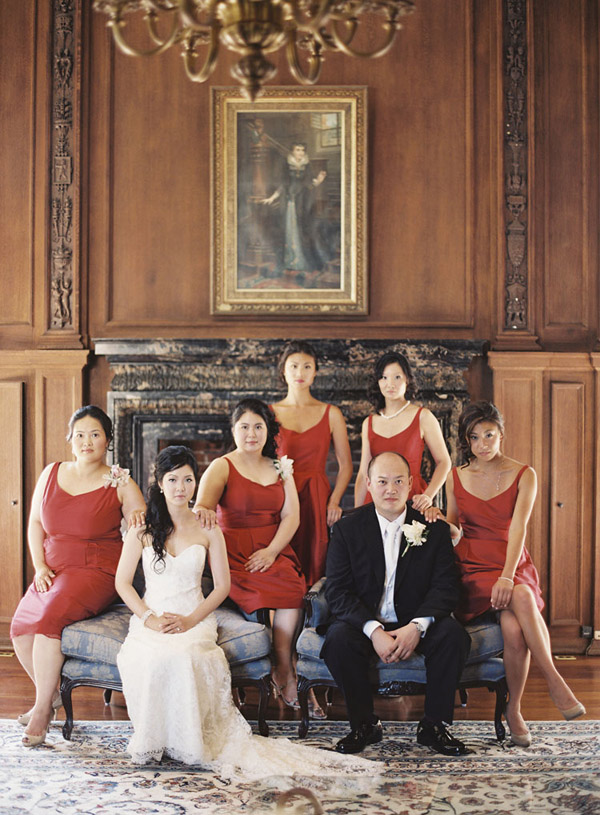 Junebug: What specifically drew you to Caroline Tran and her imagery?
Cassandra and Eric: Before Caroline, Eric was often drawn to photographers whose photos were sharp and edgy. Being new to the realm of wedding photographers, I was initially drawn to that aesthetic as well. We would admire the interesting angles, lighting effects or unique poses done by other photographers. However, when my maid of honor sent me Caroline's blog and I saw her portfolio, I didn't simply admire her work with my eyes but was able to really admire her work for the way it made me feel. Her pictures gave us that dreamy, romantic feeling that we didn't feel with other photographers. In addition, her photographs conveyed a playful innocence and effortlessness to them as if the couple just naturally fell into one another. After 10 years, sometimes Eric and I forget those butterflies we felt when we first met and the innocence of being so smitten with one another 10 years ago. When I browsed through Caroline's portfolio, I would feel the butterflies and playful innocence from the couple she captured. Especially after spending time with Caroline and loving our wedding pictures, were so incredibly grateful Caroline was a part of our wedding!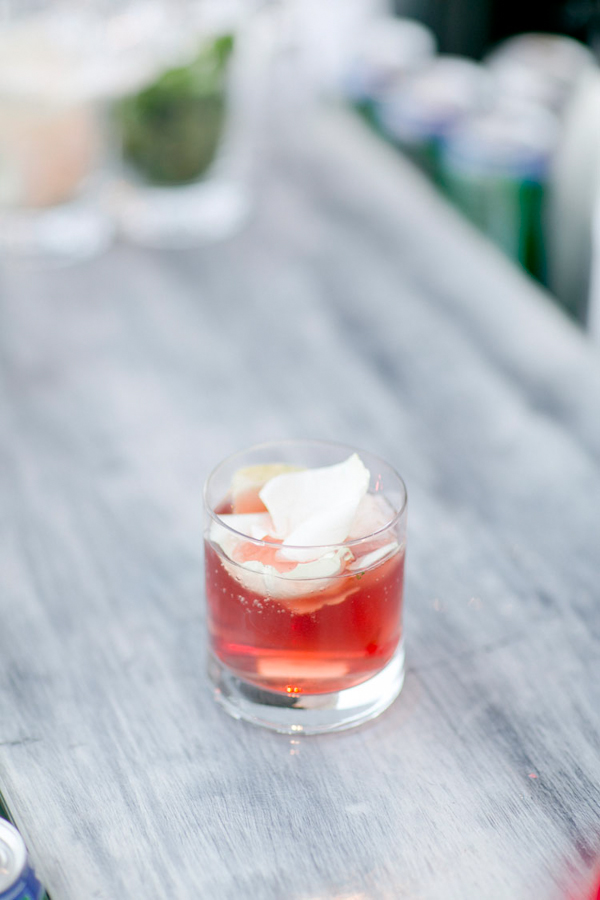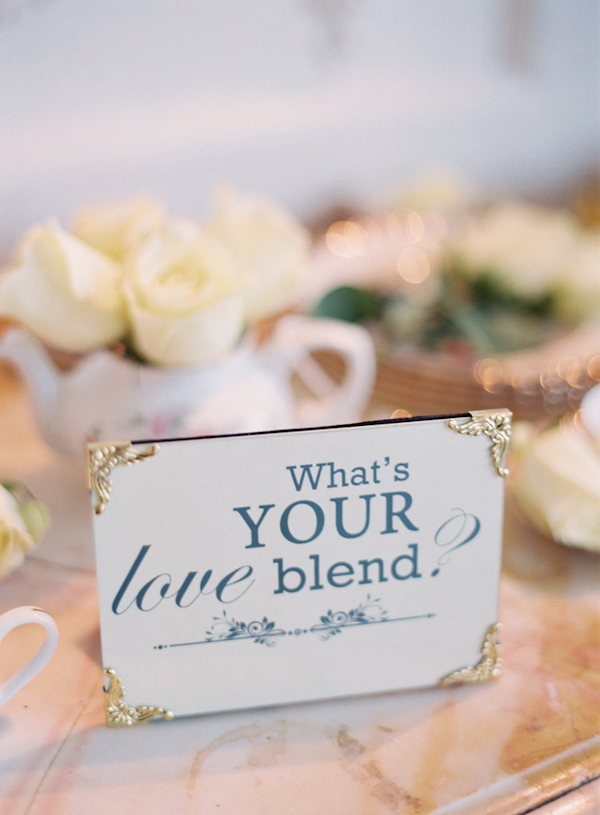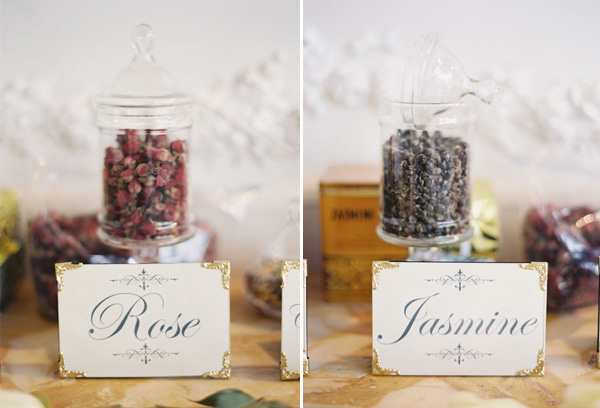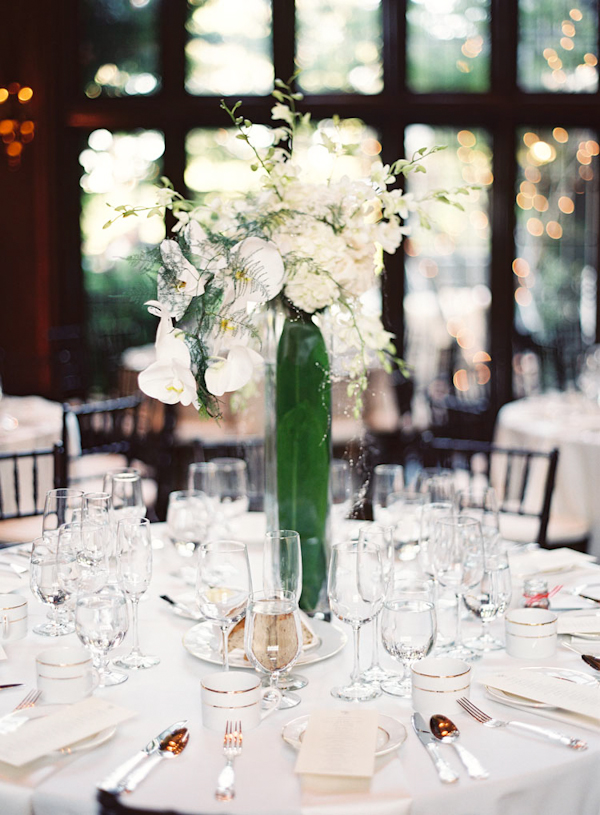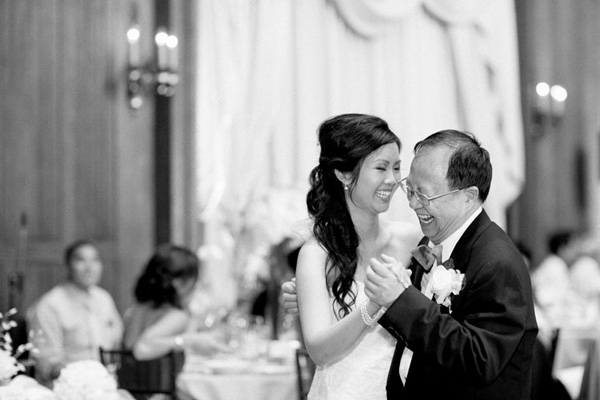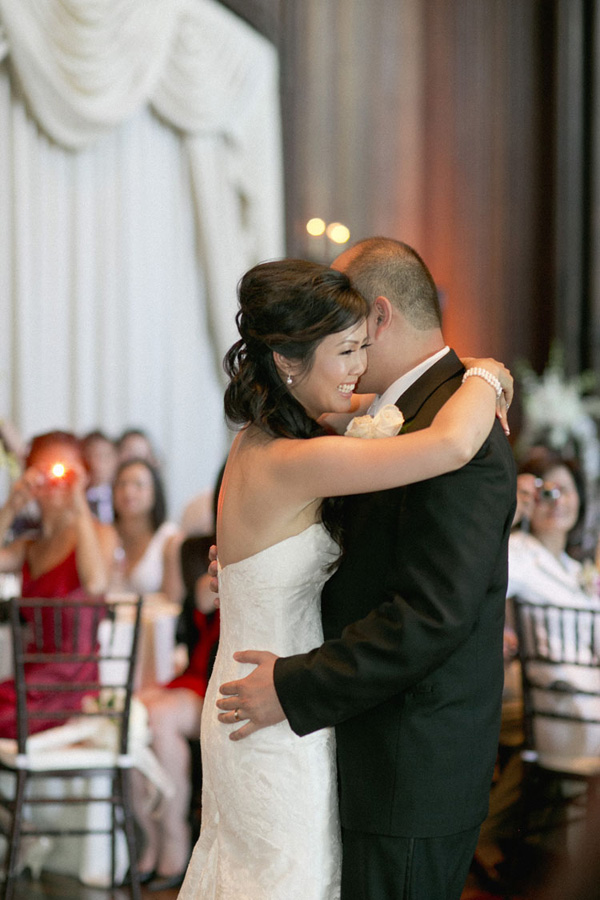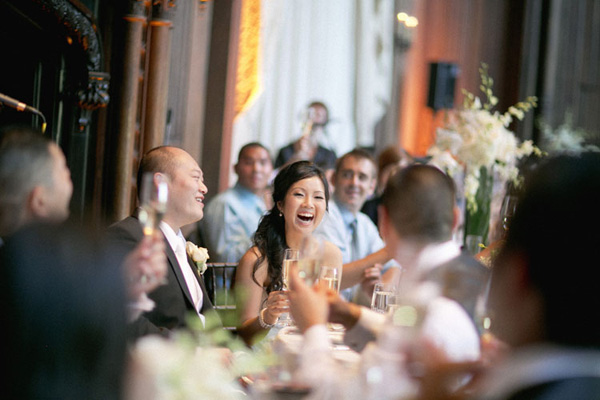 The Wedding Team:
Photographer: Caroline Tran
Event Planner: Janice Kim Events
Ceremony and Reception Venue: Kohl Mansion
Officiant: Pastor Tony Leung
Invitation Designer: Wedding Paper Divas
Catering: Thomas John Events; Mills Wine Group
Florist: Emily Kung
Cake: Alex Bakery
Wedding Dress: Custom designed by Ho Seok Seo of Shin Bu Bridal
Bridal accessories: Veil custom designed by Ho Seok Seo of Shin Bu Bridal
Bridesmaids apparel and accessories: Dress – Ann Taylor; Bracelet – Tiffany & Co.
Groom and groomsmen apparel and accessories: Men's Wearhouse
Hair and make-up: Christina Chen of Makeup by Quis
DJ: Big Fun Disc Jockeys
Live music: Golden Gate Music
Rings: Custom made wedding band by Yale Jewelers; Eric's wedding band by Cartier