Inspired by 1930's Art Deco, Dorota and Fred's wedding was stunning on its own but add in the quick-thinking and creative vision of photographers Davina+Daniel and then it truly feels as if you have been transported back in time to an underground New York jazz club. Absolutely glamorous and completely dazzling!
The Couple: Dorota and Fred
The Wedding: 5.26.12 – Le Cabaret Lion D'Or, Montreal, Canada
The Photographers: Davina+Daniel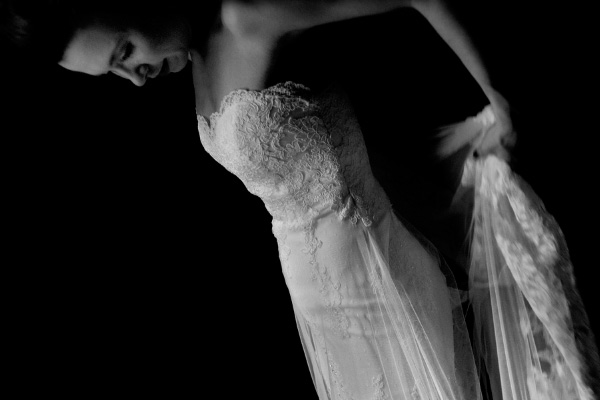 Junebug: What were your most important goals in planning your wedding?
Dorota and Fred: It was important to us to recreate an authentic period atmosphere in every way. Our main goal was to find an authentic 1930s Art Deco location for our wedding & reception to build upon. The wedding was a unique blending of Dorota's love for vintage and period aesthetic and Fred's love for cinema and photography.
Junebug: How would you describe your personal wedding style?
Dorota and Fred: Old Hollywood
Junebug: Where did you hold your wedding and reception, and why?
Dorota and Fred: We held our wedding at Le Cabaret Lion D'Or, in Montreal, one of the very few restored and still standing Art Deco (1930s) buildings in the city. It was the right size, had the right decor and atmosphere, which created a stong foundation to build our wedding concept on.
Junebug: What three adjectives describe your wedding best?
Dorota and Fred: Elegant, Stylish, Vintage.
Junebug: How were you able to incorporate your family and culture within your wedding?
Dorota and Fred: Being from Poland and having been raised by my grandparents for the first years of my life, my family and heritage back in my homeland is very important. Getting married in 2012 was just the year that worked for us, but it turned out to be the same year my paternal grandparents were going to celebrate their 60th wedding anniversary. It was going to be a wonderful opportunity to celebrate our wedding and their enduring union at the same. Unfortunately, my grandmother passed away 5 months before our wedding. And while visiting for her funeral, my grandfather gave us their wedding ring, as per my grandmother's last wish. To honor her death and their union, we had our wedding bands made out of their rings. I wanted them to be simple and plain, but with the following inscription inside: W&M – 1952 / D&F – 2012.
As a side note, the above wedding was one of two for us. We actually had a second religious wedding the following weekend, in my grandfathers hometown of Szczuczyn in Poland. We wanted to get married in the same church my paternal grandparents did 60 years before us in a little stunning Baroque Church. And just like our Montreal civil wedding, our Polish religious wedding was also period inspired, this time as per the BBC series Downton Abbey. The reception hall was a 17th century restored Prussian countryside mansion, 20 km from Szczuczyn, called Dwor Kaliszki.
Junebug: What were you looking for in a photographer?
Dorota and Fred: We were looking for non-traditional, artistic and non-intrusive photographers. We wanted the outcome of the photos to be an artistic documentation of the event, with the subjects being captured in the moment, rather than asked to pose for the camera.
Junebug: What specifically drew you to Davina+Daniel and their imagery?
Dorota and Fred: Davina and Daniel had photographed the wedding of our good friends. We had seen their work and loved it. Before even being engaged, we already know that a key requirement was to have Davina and Daniel photograph our wedding. Our wedding date was locked down based on knowing they were available for our day.
Junebug: What did you enjoy most about working with your photographer?
Dorota and Fred: Beyond being absolutely top-notch photographers, respectful, and professional, Davina and Daniel are young, relaxed and fun. They have a telepathy that allows them to capture all the key moments from the right angles. They are able to blend into the background and capture the moments without the guests noticing – making the photos natural.
The Photographers: Davina+Daniel
Junebug: How did you approach this particular wedding and what did you most want to capture during shooting?
Davina+Daniel: As with all the weddings we shoot, our main focus is on the emotions & relationships between the people. But we also knew ahead of time that this wedding was going to have a vintage, Art-Deco inspired theme, and we wanted that to be captured in the photos.
Junebug: Were there any special photographic requests from the couple that made this wedding especially exciting creatively or personally?
Davina+Daniel: They hired us because they trusted our vision, so it was all up to us!
Junebug: What was the most fun part of this wedding for you to photograph?
Davina+Daniel: While we were shooting the bride and groom getting ready at their condo, we noticed that they had a projector in place instead of a television. We quickly brainstormed and asked the groom to pull up some black & white photos of New York City (their favorite city), as well as some old B&W movies. After they got ready, we posed them in the projections, and created photos we had never done before.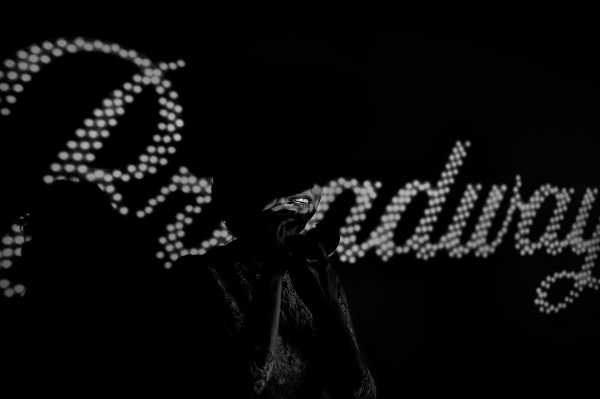 Junebug: How did the locations available to you affect the type of images you shot and how you shot them?
Davina+Daniel:The ceremony and reception took place at the Cabaret Lion dOr, which has kept a lot of its original look & charm. Its very ornate and colorful, and gave us really interesting backgrounds to work with. The wedding planner, Azar of Principal Planner, also did a great job emphasizing the location with lighting & decor, which also helped make every part of our frame interesting.
Junebug: Were there any special locations you were able to choose that made for really great images? (Great light, amazing backgrounds, interesting contrasts, etc)?
Davina+Daniel: The ceremony took place on a stage at the Cabaret, under stage lights with an old-school red curtain, which was a real treat for us. With access to a balcony, it gave us even more options to capture their wedding creatively.
Junebug: What kind of equipment did you use while shooting this wedding?
Davina+Daniel: Nikon D700 cameras, 35/60/85mm lenses. SB-900 flashes.
Thanks Dorota and Fred for sharing your lovely day with us and thanks to Davina+Daniel for taking such drop-dead-gorgeous photos!
To learn more about the wedding professionals who contributed to this wedding, please visit Dorota and Fred's page in our Real Wedding library.