Happy New Year everyone! As true photo fanatics this is one of our very favorite days of the year, the day when we announce the winners of our annual Best of the Best Wedding Photo Collection!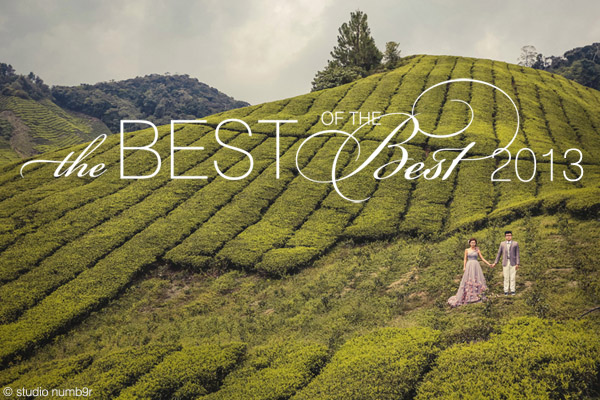 2013 winning wedding photo by Jimmy Tan aka Jimmyegg of Studio Numb9r
This unique collection of the 50 most outstanding wedding photos of 2013, was chosen from nearly 10,000 images submitted from photographers in 43 countries. We were seriously impressed by the quality of work we received, and delighted by the ever increasing creativity that has changed the art of wedding photography so dramatically over the last few years. We feel honored to see inside so many uniquely personal weddings, through the eyes of so many talented minds!
This year we looked at hundreds of rich, beautiful black and white portraits, and tons of imaginatively used landscapes, artistic silhouettes, beautiful reflections, and clever double exposures. We also received thousands of images of emotionally compelling moments that are no doubt priceless to the couples who own them.
We would like to send our heartfelt congratulations to all of the winning photographers, and a huge thanks to everyone who shared their work and their weddings with us over the years – we hope that you'll love the final collection as much as we do, and that you'll tune into Photobug and What Junebug Loves every day this week to see dozens of inspirational photographs that richly deserve our Honorable Mention.
Check out the amazing images in this post, then click here to CHECK OUT THE 50 BEST WEDDING PHOTOS OF 2013!

2013 winning wedding photo by Chris Stewart of Abby Photography

2013 winning wedding photo by Fer Juaristi

2013 winning wedding photo by Brett Butterstein of Brett Butterstein Photography

2013 winning wedding photo by Michael Segal of Michael Segal Weddings

2013 winning wedding photo by Daniele Vertelli Photographer
We can't wait to see what happens in the world of wedding photography this year, and we hope that you have your best year yet!