Travel Update- Monday, September 22nd- After four days at Chobe National Park, we're back in Livingstone, Zambia for two days exploring Victoria Falls. These falls are huuuuge and I'm just a short walk away. After seeing the falls for the first time back in 1855 Dr. David Livingstone (of the "Dr. Livingstone, I presume" fame) is quoted as saying, "No one can imagine the beauty of the view…scenes so lovely must have been gazed upon by angels in their flight."
Today's blog post is all about Blair's favorite wedding floral designs; simple, stylish and of course, romantic. They couldn't be lovelier. Take it away Blair…
When it comes to wedding flowers, I love simple designs that make a strong style statement. Tightly woven bouquets of rich red roses coupled with exotic orchids, or bunches of white gardenias that are as delightfully scented as they are stunning…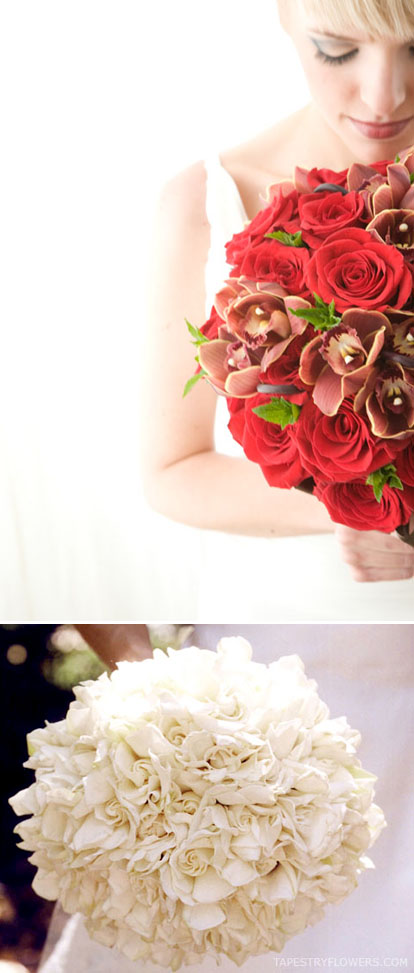 Top image by One Thousand Words Photography for Junebug Weddings, bouquet by Athena Flora.
Bottom image by Leslie Corrado, bouquet by Tapestry Flowers.
…and elegant bouquets of Calla Lilies, ranging from deep purple to ivory, always make me swoon.


Top image by La Vie Photography, bouquet by Connie Franco.
Bottom image by Vance Jacobs, bouquet by Tapestry Flowers.
When it comes to boutonnieres, I adore modern designs with cleanly wrapped stems that maintain a masculine look while still being all about beauty. The single chartreuse orchid shown below is perfect for a semi-formal spring or summer wedding, while the designs made of pine cones, berries, and ferns are just right for fall and winter affairs. Of course, being a lover of calla lilies, I think the boutonniere pictured on the bottom right, is perfect for any occasion.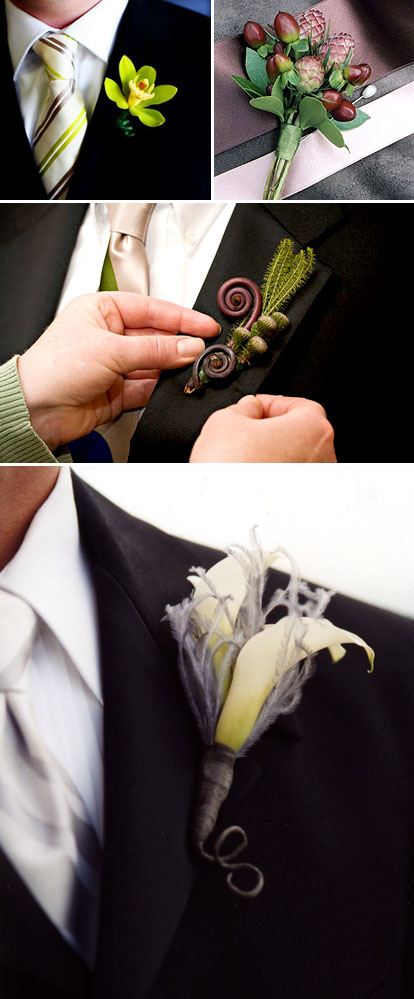 Top row: left image by John and Joseph Photography, boutonniere by Bella Rugosa, right image and boutonniere by Bella Rugosa.
Second row: image by In A Frame Photography, boutonniere by Down to Earth Flowers and Gifts.
Third row: image by Positive Light Photography, boutonniere by Fleurish.
Lately, I've been crazy about floral designs being used as fashion accessories. What could be cuter than your bridesmaids or flower girl wearing a belt made of sunflower blossoms, a nosegay bouquet of mums slung over their shoulders like a purse, or a simple crown of budding red roses? And what could be sweeter than a ring pillow made from complementary blossoms?



Images by One Thousand Words Photography for Junebug Weddings, floral accessories by Juniper Flowers.
What flowers do you love, and which ones have you chosen to carry on your big day?