James and Elizabeth met online and almost didn't meet in person, funny enough. After sharing their sentimental wedding with us last month, we wanted to share their adorable NYC love story with you today. Enjoy!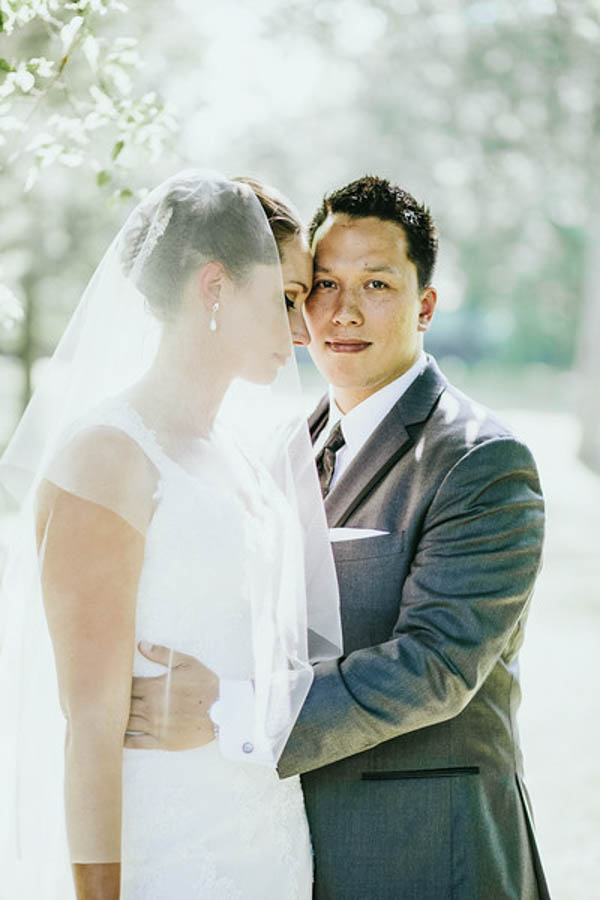 How They Met
Whenever asked this question, we always answer honestly – we met online. But, in reality, there was quite a bit involved in our meeting. Our date almost didn't happen. We almost missed each other. There was quite a bit of back and forth, rescheduling, and last minute hesitations. I seriously considered canceling my date with James. And, as it turns out, he was considering the same thing. We were both busy people and clearly the pattern of people we had been meeting was not entirely motivating. We agreed that we only had one hour or so to meet, it should be something quick, like coffee, and it should be on a Sunday morning. What we weren't saying to one another was that this was all in case it went badly, so we didn't waste the rest of our weekend and had an escape. But then on that Sunday morning, I finally anted up and hopped on a subway to meet him…
It is unlikely that, in a city like New York, we would have had another chance. It is not lost on me that there was a butterfly affect involved – so many variables leading us together, yet so delicately balanced. Everything could have been so easily interrupted and we would have never really known the full gravity of what was lost.
James was late to arrive to the coffee shop he had suggested meeting at. After waiting only a few minutes, I decided to wait only two more before leaving… just as he strolled up. He was darling (he still is), and has a smile that makes you realize you've stopped breathing for a moment. We bought coffee and decided to sit in a nearby park. What we originally agreed would only be an hour turned into four.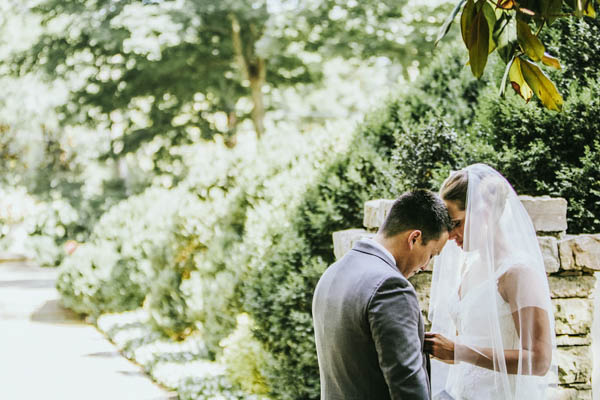 How They Fell in Love
We have talked about this quite a few times during our relationship and we struggle with identifying the exact moment. I think it occurred for us separately, at different moments and times. Or, maybe it was an accumulation of tiny, fleeting moments that we couldn't quite hold onto long enough to even realize what was happening. For me, it was love before I was willing to acknowledge it. James and I had been dating for only a couple of months, and we joined several of his friends at a bar. A song, I don't remember which one, came on. I, in typical fashion, began dancing in a goofy, unabashed, totally-having-fun-in-the-moment kind of dancing. And James joined. He didn't care who was there. And even though we were surrounded by a crowd of people, it was just us. Perhaps we were making fools of ourselves, but we were fools together.
What Makes You Think of Your Partner
When something is funny. James is the most positive person I have ever known and he has an amazing sense of humor. I love sharing those moments with him. He constantly cracks jokes and tries to make people laugh, tries to make people happy. His own smile is dazzling and his laugh is contagious. Even when I'm alone in the car and think of him, I find myself grinning like an idiot.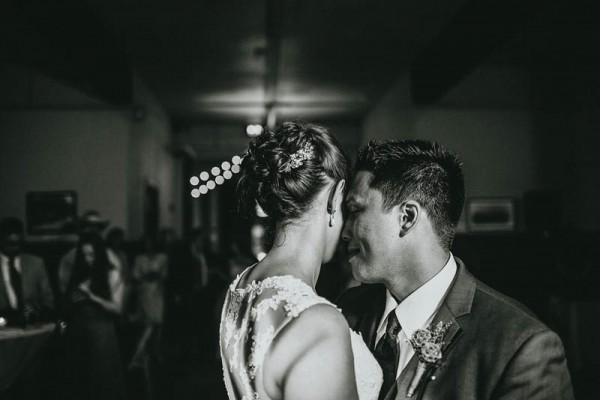 The Proposal
Among the many compatibilities James and I share, travel is certainly a major love for us both. Throughout our relationship, we have excitedly discussed places we hoped to visit, whether new explorations or familiar territories. California was always a top contender for us as I had never been, while James lived there as a child and hoped to return and visit several family members.
Last Spring, James surprised me for my birthday with a trip. He reasoned that business would send him to San Francisco in May and that we could make a trip of it for ourselves as well. I was elated, thrilled to be going on another adventure, and had no idea at the time that this was not just an extended business trip. He must have planned for months.
On May 1, 2013, we set off. Six hours, three movies, and one hostile flight attendant later, we arrived in beautiful, sunny California. The time difference allowed us to still take advantage of the day and we stopped in Pacifica for an excellent visit with James' aunt and cousin before heading to Big Sur.
James had rented a black convertible for the trip and we wound our way down the iconic Highway 1, hugging unbelievable coastlines on one side and lush green hills on the other. We stopped periodically to stretch our legs and to play with our new camera, taking turns in our attempts to capture that day.
As the sun set, it did not surprise me when James suggested we pull off one last time. He said we should take advantage of the last light as he pulled into a peak just past Bixby Bridge. There were a few others there, set up with tripods and impressive equipment. Apparently we weren't the only ones wanting to hold on to something so perfectly intangible. James anxiously clicked away each shot of the waning light, while I complained about the surprising cold and sat next to him on a rock trying to keep warm. I asked him to stop shooting, to just enjoy the moment with me, but he took photo after photo of the dwindling light.
When the sun tucked itself behind the horizon, I looked at James, still looking through the lens. I wondered what he saw as we were ourselves were becoming only silhouettes. He stood suddenly, getting dangerously close to the edge and took a few dark shots of a flower at the very edge of the cliff. I followed him, but he suddenly spun around and said, "I can't wait any longer, I have to do this now." Clueless and cold, I responded, "you mean…go back to the car?"
James got down on one knee and brought out a ring. He asked me to marry him. I was shocked. Truly, the memory is in slow motion. I couldn't even think to lift him from the rocks, but instead I got down on my knees to meet him, to kiss him. And so, there we were, kneeling on a precipice at what felt like the edge of the earth together, and I promised to stay with him forever.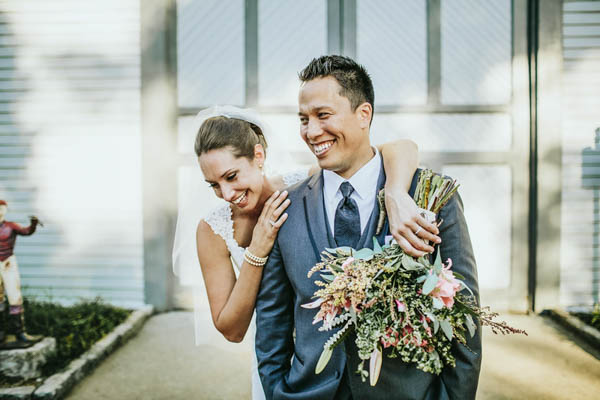 Thank you, James and Elizabeth, for sharing your lovely story with us, your words are so touching and sweet. We wish you the absolute best in your new life together! We would also like to thank Streetlight Republic for the gorgeous imagery.
Love Elizabeth and James? View their Vintage Southern Garden Wedding and you'll admire them even more!