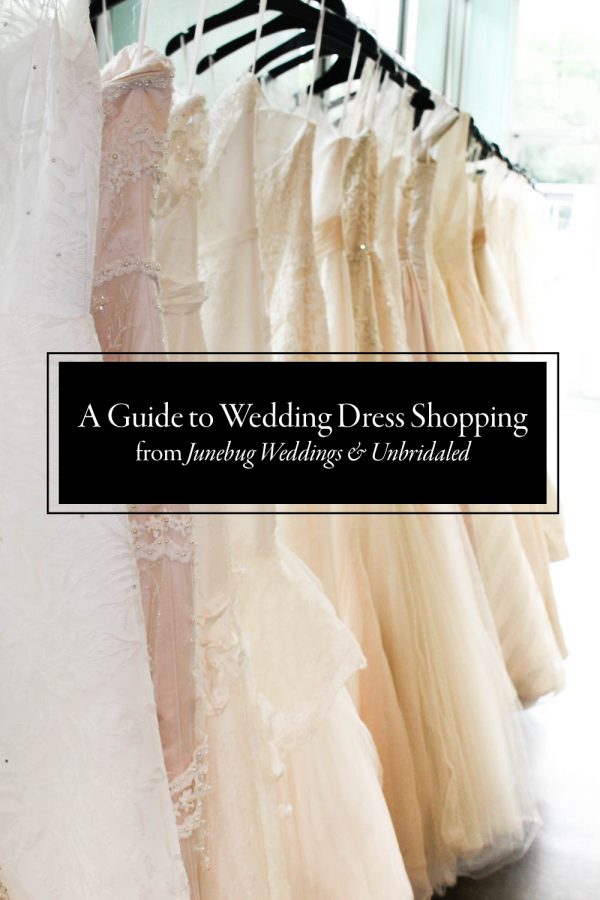 I bought my dress from Unbridaled, a local Austin boutique that specializes in the bride looking for a non-traditional dress (although they do carry many traditional and classic designs). I decided to interview the lovely ladies from Unbridaled to get their two cents on wedding dress shopping, and a few Junebug girls (including me) tried on some gorgeous gowns too! Whether you're purchasing your dress at a shop like Unbridaled or choosing an alternate route (like buying a dress online that costs under $200), I hope this From Blogger to Bride post will give you what you need to feel ready to conquer the wedding dress world however scary it may be!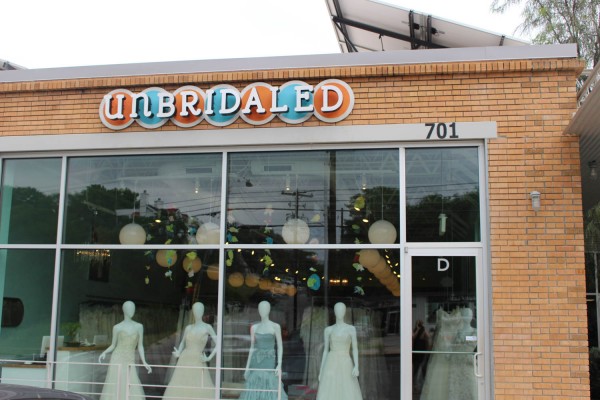 Junebug: When should you start your wedding dress search?
Unbridaled: About a year in advance. 6-8 months is ideal. Brides usually make 2-3 visits before saying yes to the dress!
***Junebug Tip: I ordered my dress in February (FEBRUARY) and it won't be in Austin until July. You don't want to be in a time crunch and miss out on ordering your dream dress, so be sure to tackle your dress early on in the wedding planning process!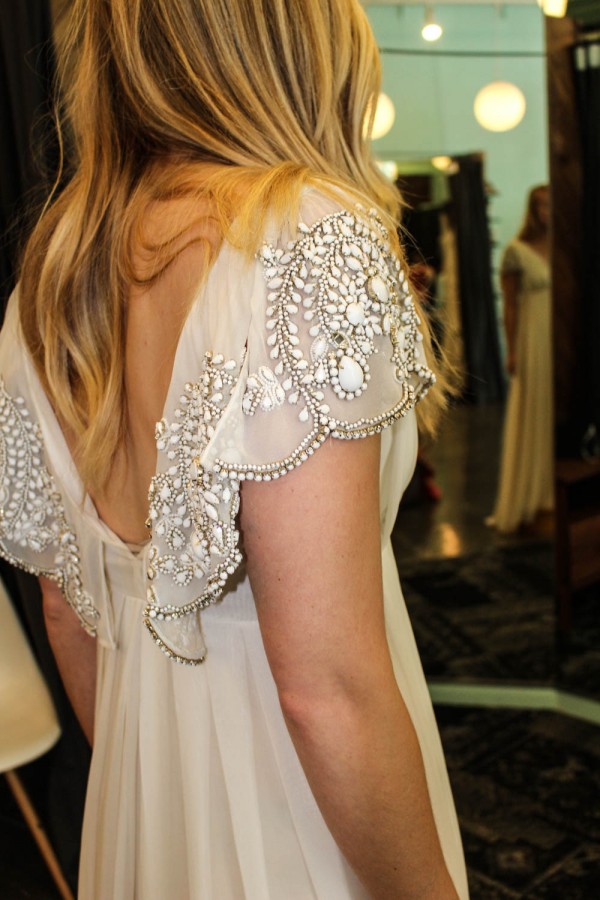 This is me rocking the Sadi gown from Rue de Seine's Young Love Collection.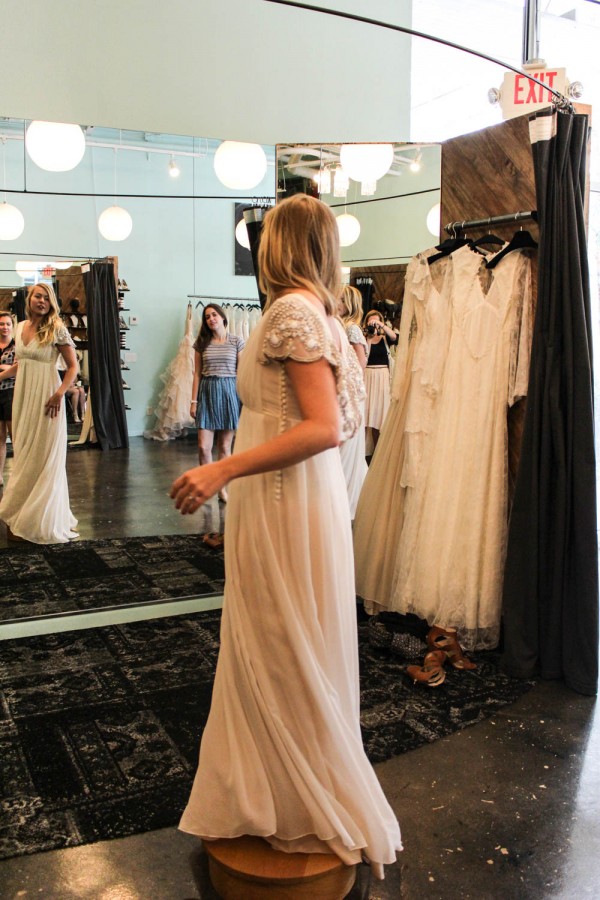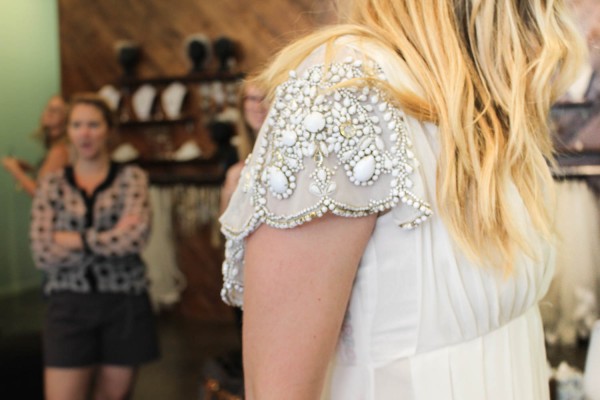 Junebug: What is a typical wedding dress budget?
Unbridaled: $1,500 to $2,500 is pretty average.
***Junebug Tip: Do your research and find a few designers you love (and that fit your price point) before you fall in love with a dress that's over your budget!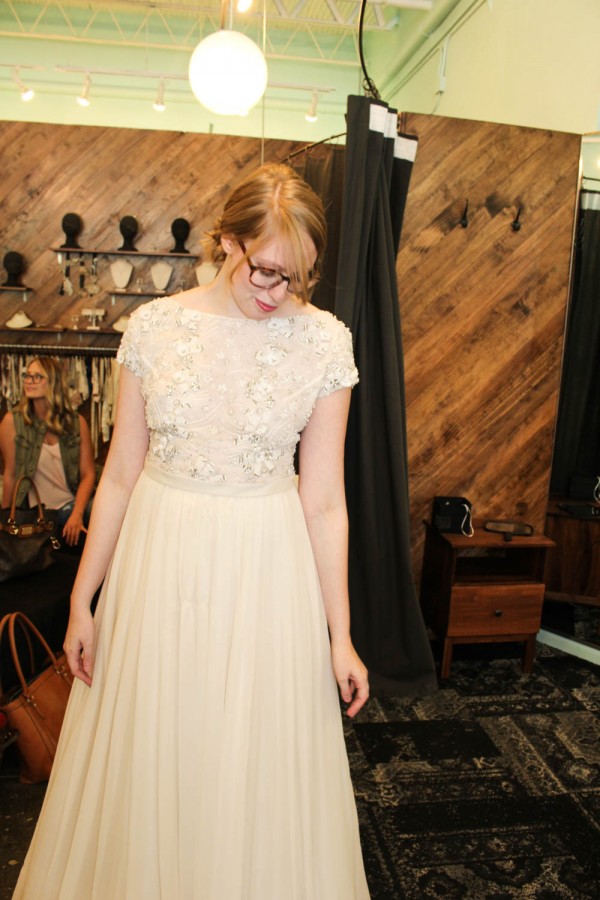 This is our lovely Editor, Nicole, rocking the Beloved gown by Anne Barge.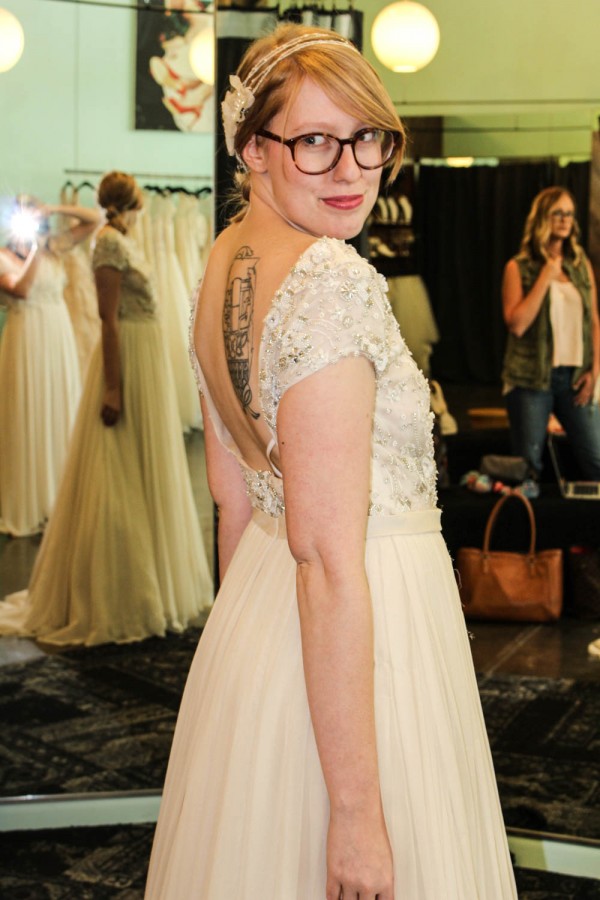 Junebug: What styles fit best with different body types?
Unbridaled:
Hourglass – A dress that accentuates your curves, such as a mermaid
Pear Shaped – A classic A-line silhouette with a skirt that flares out at the waist
Tall – Long, elegant, and simple silhouettes
Busty – Sweetheart necklines
Petite – Sheath and Trumpet styles
Plus-Sized – Empire
***Junebug Tip: Wedding dresses fit differently than regular clothing and it's difficult to tell what style will work best with your figure before you start trying on dresses, so we advise that you go into your first dress boutique with an open mind, because you might be surprised!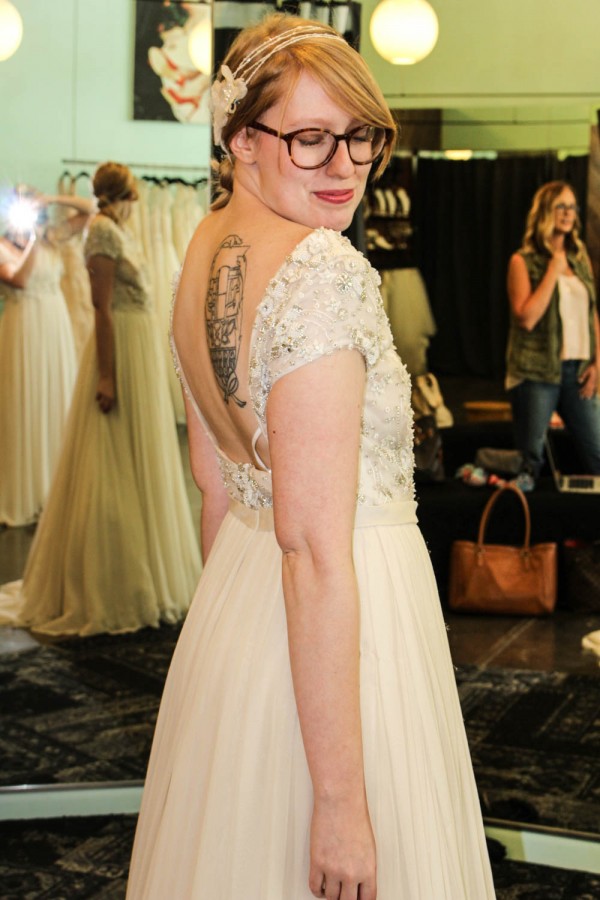 Junebug: What is one piece of advice you would give to a bride's family and friends when accompanying her during the dress search?
Unbridaled: Try and keep your emotions inside until you see what the bride thinks. It can be overwhelming as a bride if your party gives you commentary right away.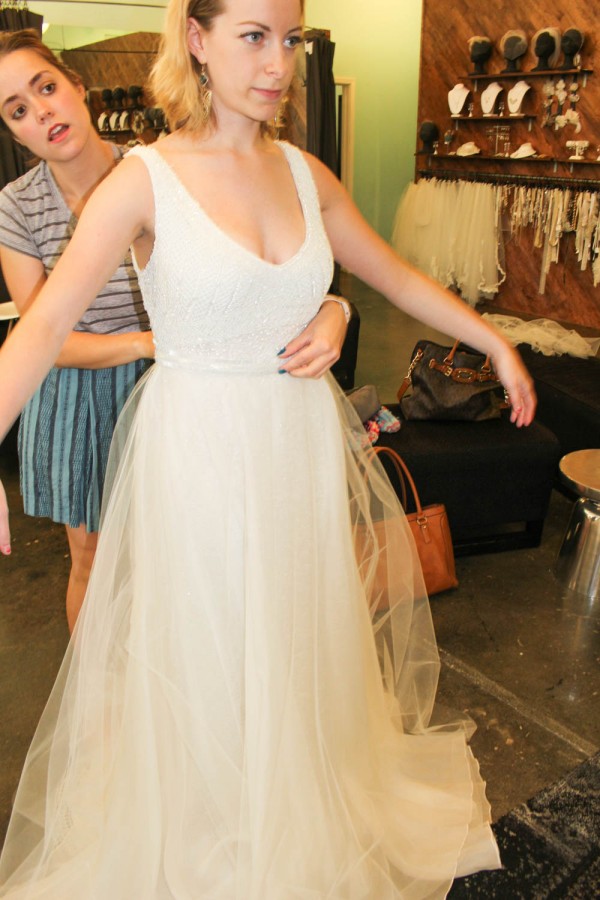 Marissa is trying on a fitted beaded gown by designer Theia White Couture. To add a bit more glam, she decided to pair the gown with a tulle skirt!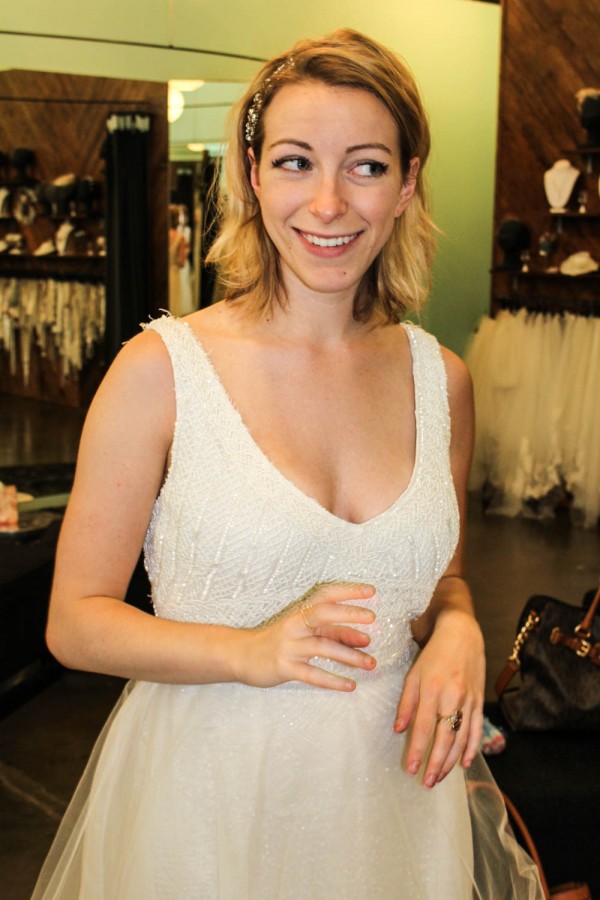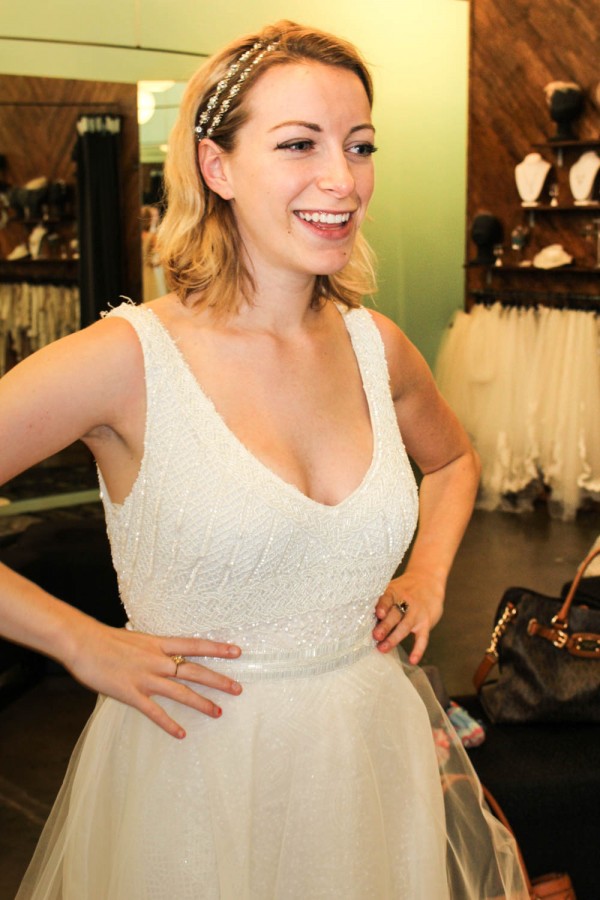 Junebug: What are popular wedding dress styles this season?
Unbridaled: A lot of brides are looking for a vintage look with lace and sleeves. Illusion necklines are also really popular, along with champagne and cream colors.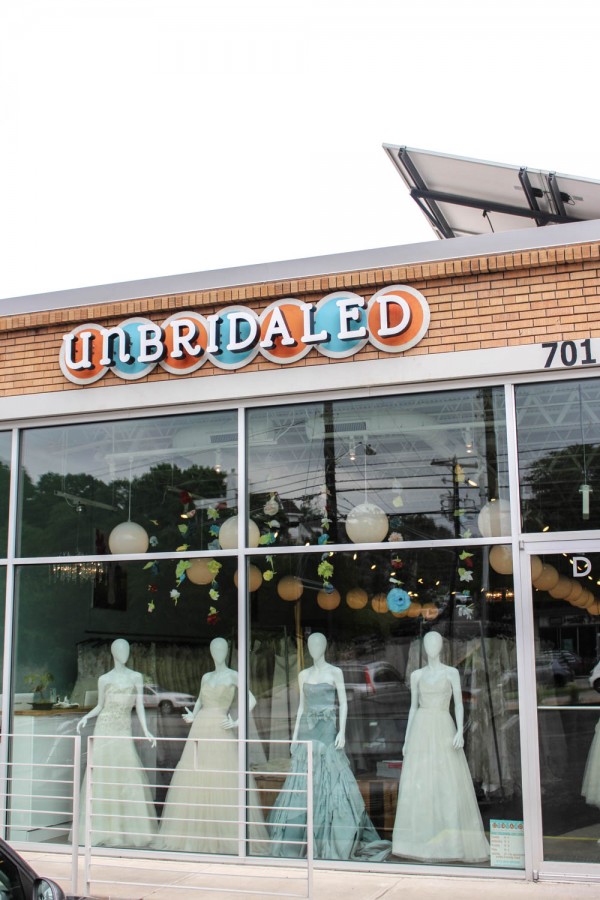 Thanks to Unbridaled for letting us play dress-up! For more wedding dress inspiration, you can find tons of stylish gowns in our Dress Gallery. Also, be sure to stay on top of bridal fashion trends by reading our Bridal Fashion Trends Forecast! Next time on From Blogger to Bride, I'll be talking hotel blocks! Happy wedding planning, readers!