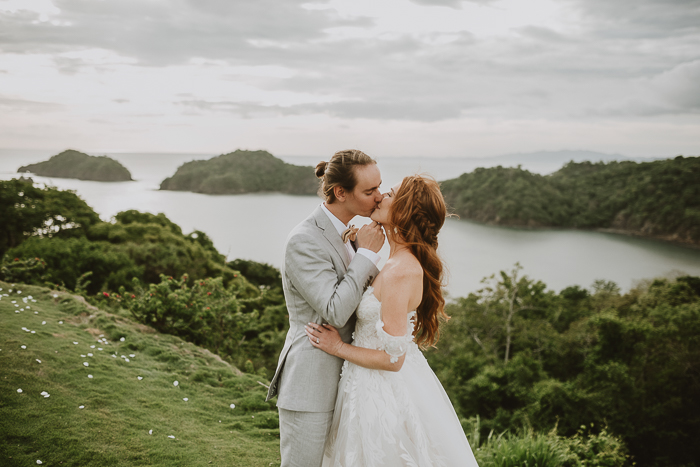 From pristine beaches and dramatic coastal views to exotic gardens and lush forests, it's easy to see why Anita and Patrick fell in love with Costa Rica the first time they went there. So when the time came to plan their big day, it's no surprise that the couple chose to have a Costa Rica destination wedding surrounded by their loved ones.
With their carefree attitude, a shared love for travel, and strong belief in the Pura Vida philosophy that celebrates living life to the fullest, it was fitting that they exchanged their "I dos" perched on the hillside with breathtaking views of the coast. Following the ceremony, they all enjoyed a catamaran ride to the Andaz Beach House for their stunning beachfront reception filled with gorgeous airy florals by Artflower and candles galore—all under a glittering canopy of fairy lights and a sky full of stars.
Everything about their vision–from the pre-wedding yoga class for guests to all the thoughtful and personalized details–proved that the couple put a lot of thought and love into every aspect of the day. If you and your partner are a beach-loving couple looking to get away, keep scrolling to see all the beautiful images of this intentional and elegant Costa Rica destination wedding as captured by Junebug member Adriana Mendez.
The Couple:
Anita and Patrick
The Wedding:
Andaz Papagayo Peninsula, Guanacaste, Costa Rica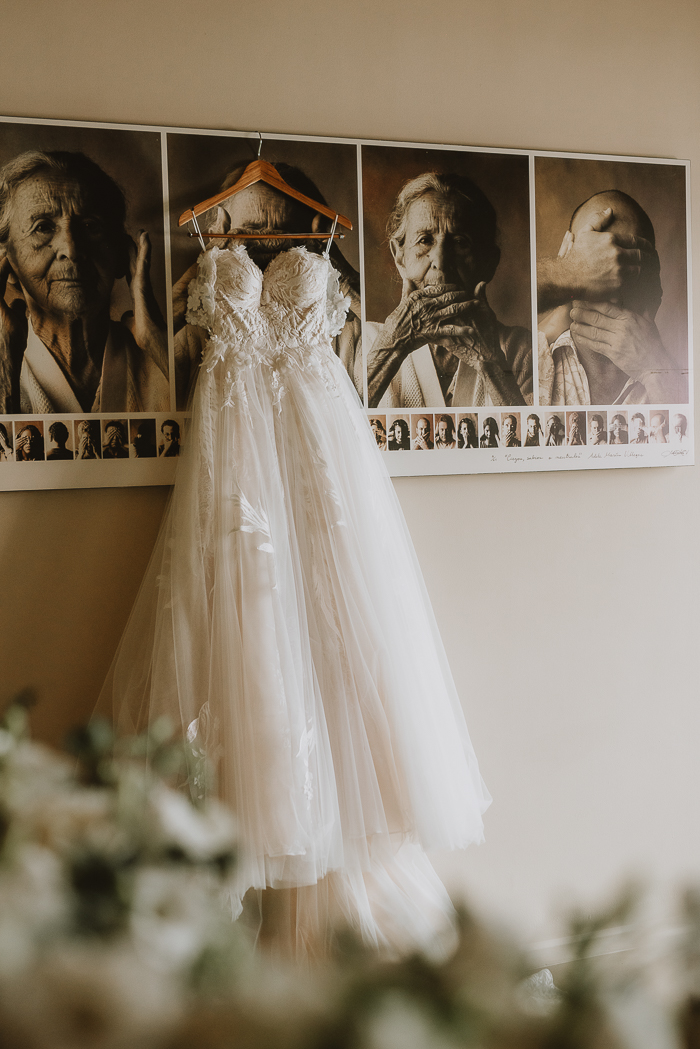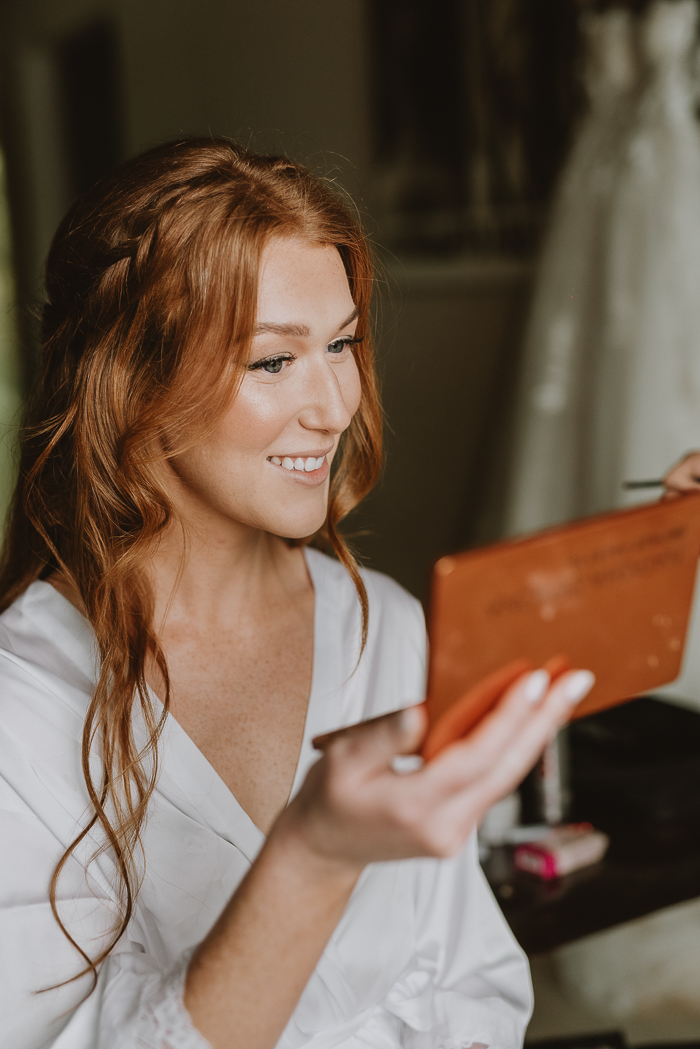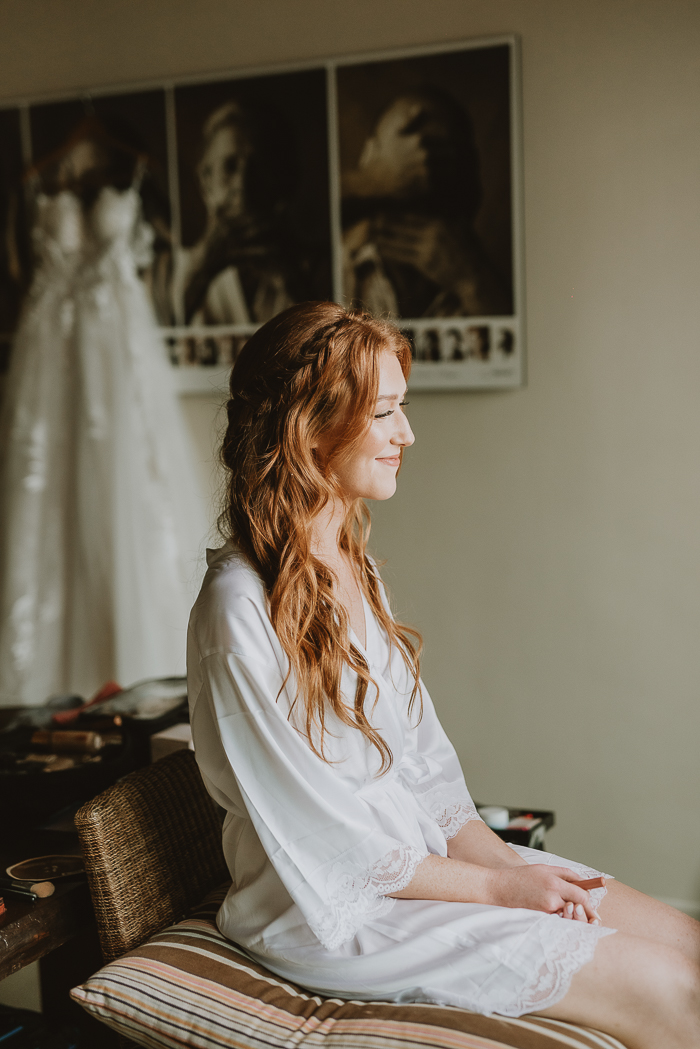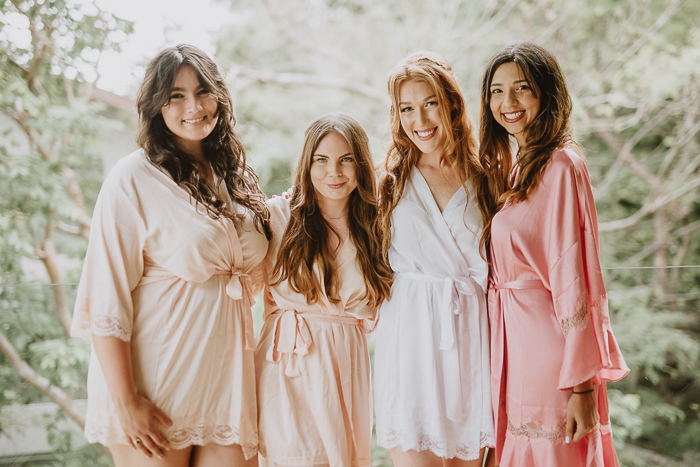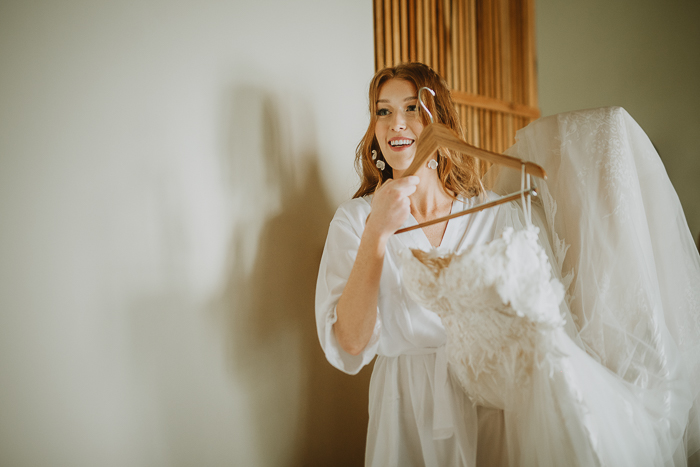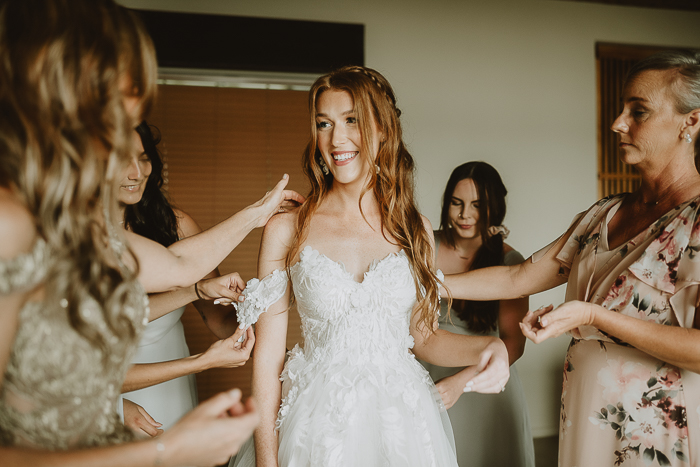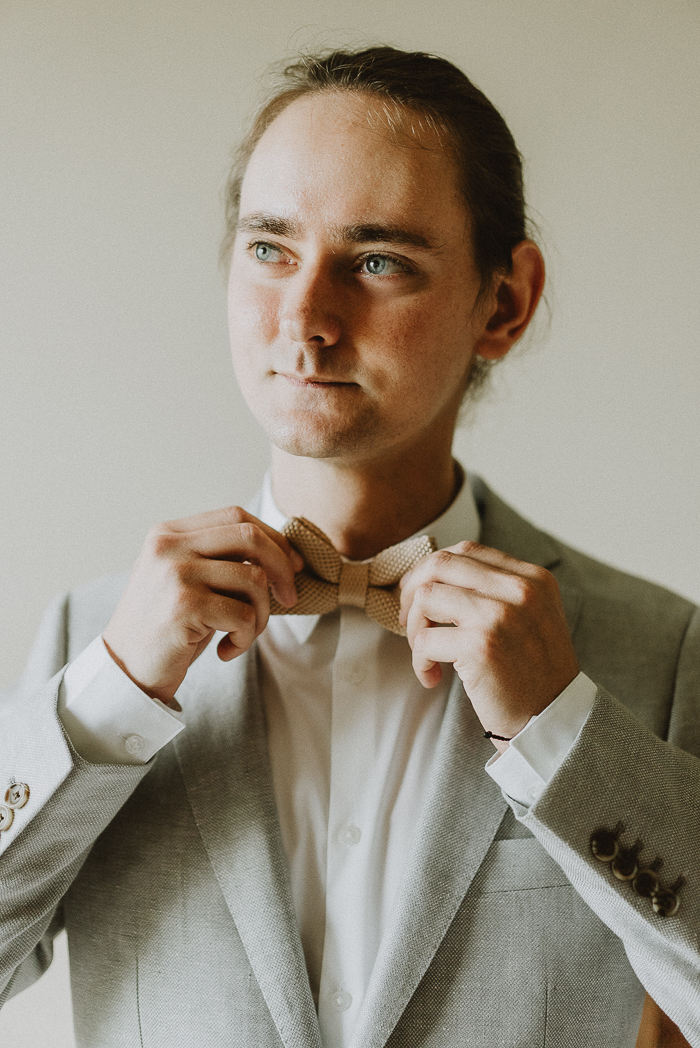 How The Costa Rica Destination Wedding Came To Be
While touring Andaz, we dropped through the rest of the Papagayo Peninsula and absolutely loved the views—the same views that have made us feel so blissful throughout many of our travels together. It represents an infinite future that we can make our own—one full of possibility. Unfortunately, this view was only seen from a few more forested areas. However, after talking to the super helpful and caring staff, they were able to find a spot on the edge of a golf course on the peninsula that had that view and some space for seats. With everything fitting together, we chose that as our ceremony venue. From there, we chose a catamaran that picked us from the peninsula's port for a cocktail hour on the water during sunset. The catamaran then dropped us off at the Andaz Beach House, where we had our reception.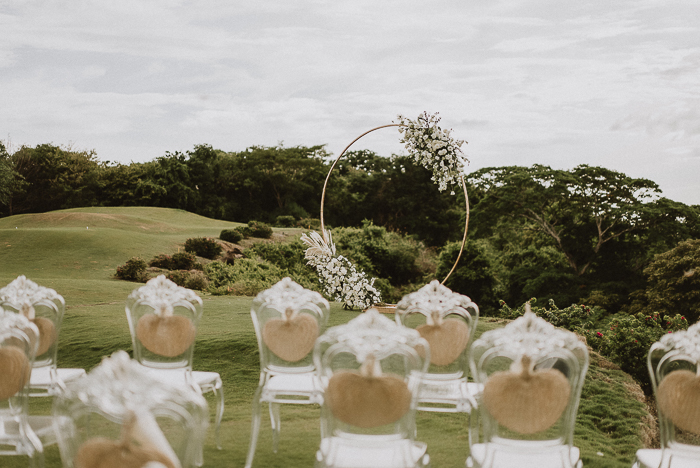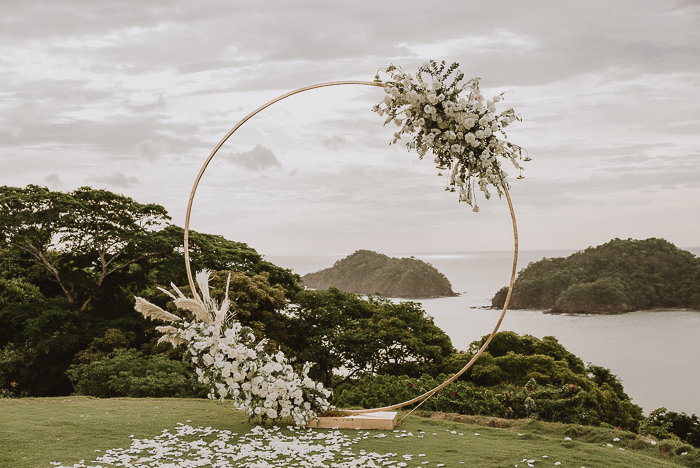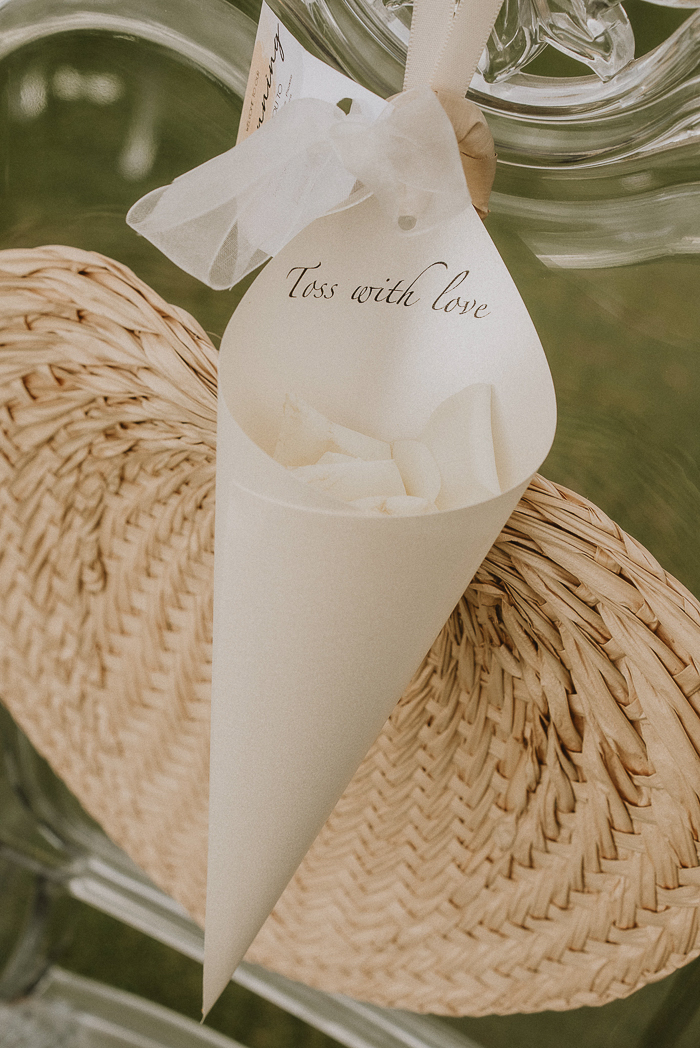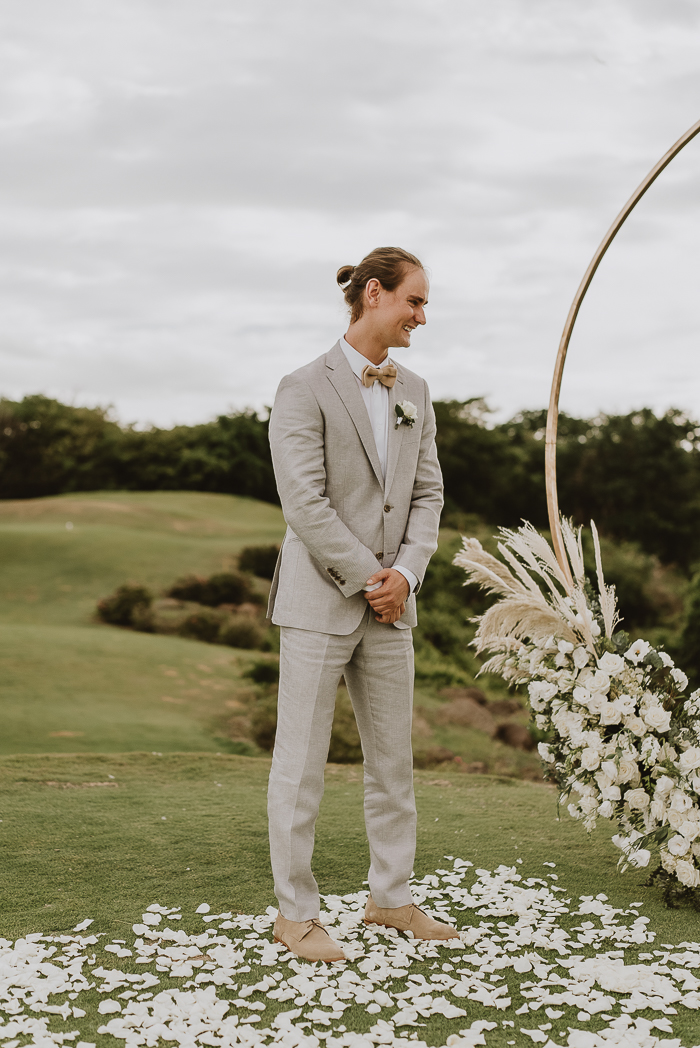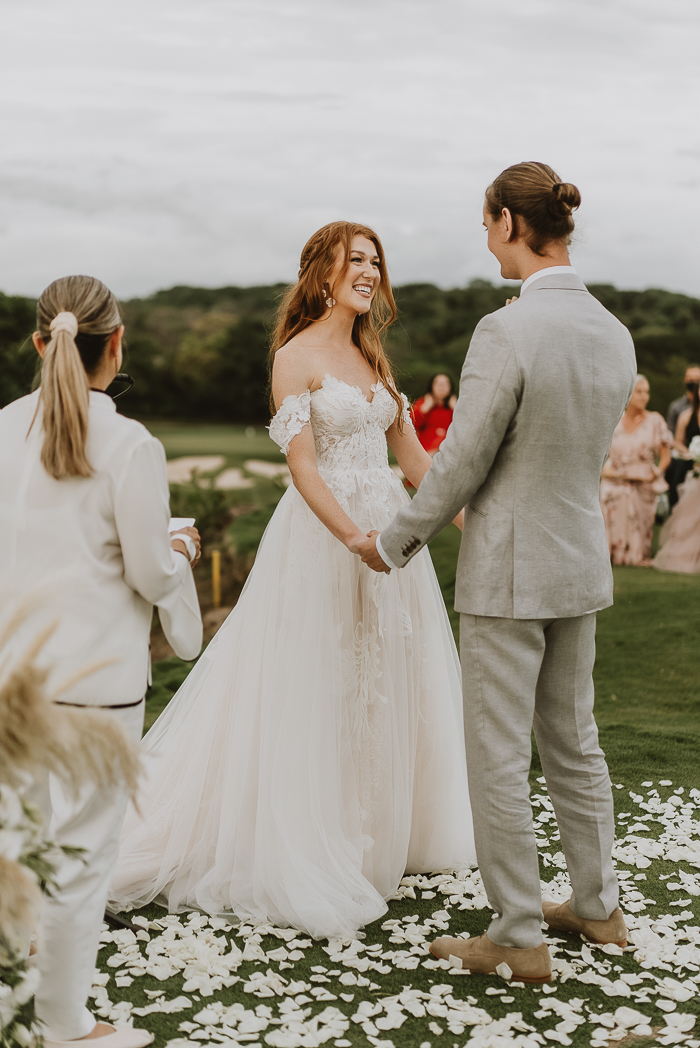 The Most Memorable Moments Of The Costa Rica Destination Wedding
We would say there were two main memorable parts during the day—the first being exchanging our own vows as we committed to forever with each other surrounded by our closest family and friends in a magical, meaningful setting. The second was when we all ran into the ocean to one of our favorite songs playing at the end of the night.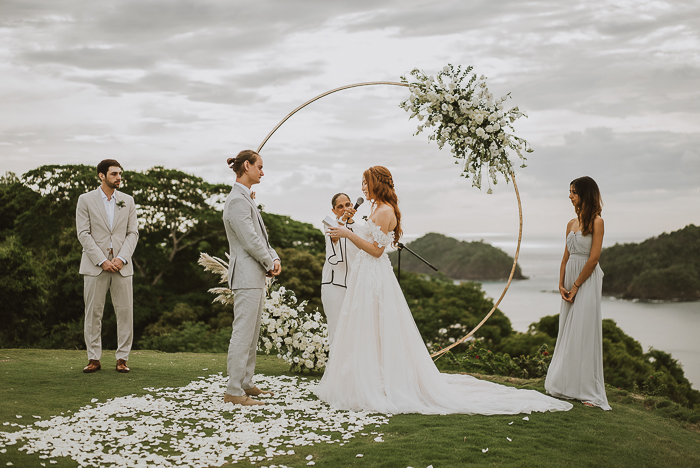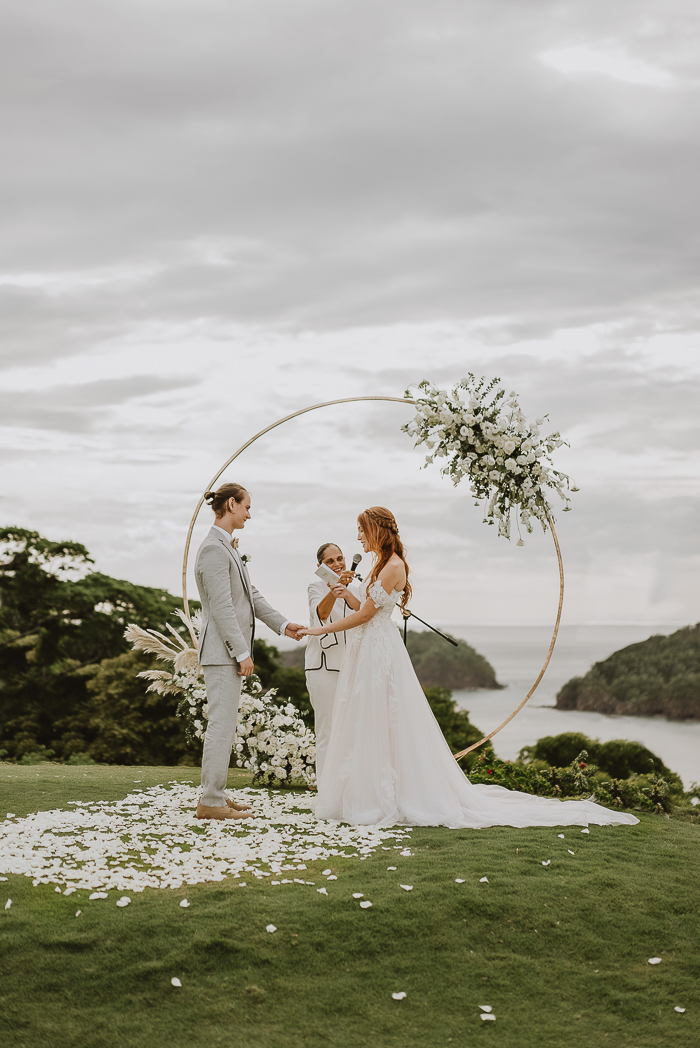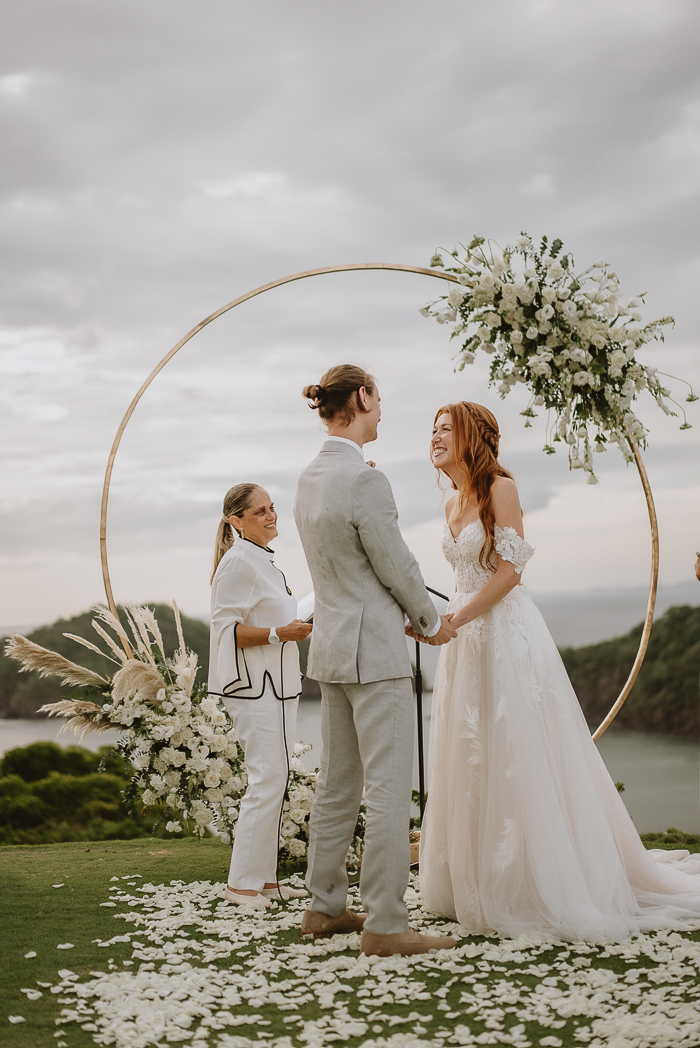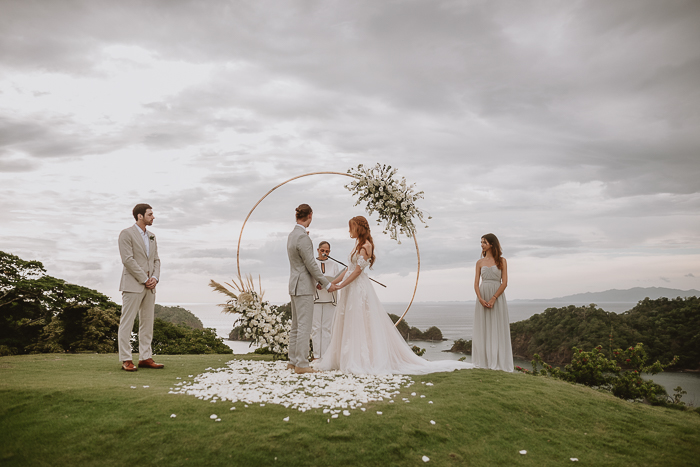 Bringing Pura Vida or "Pure Life" Into Their Own Lives
Costa Rica has always had a special place in both of our hearts. It was the first country we visited together, and the Pura Vida way of life perfectly describes the values we want to carry forward in our marriage. Pura Vida translates to "simple life." For us, it means that no matter the highs, lows, and in-betweens, making sure to appreciate the simple moments together is something that is really tied into the type of love and relationship we want to uphold.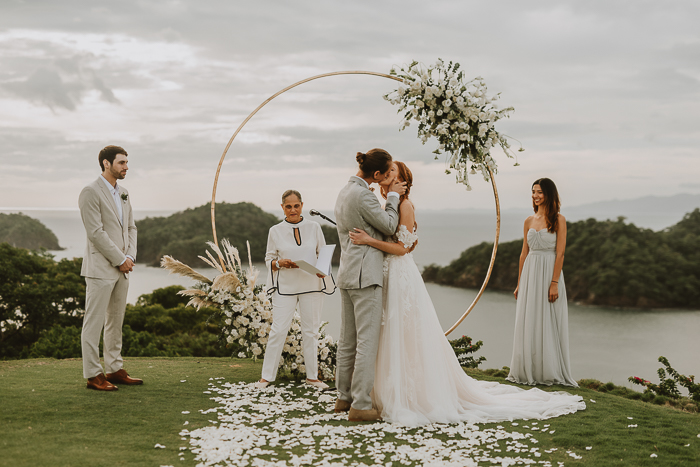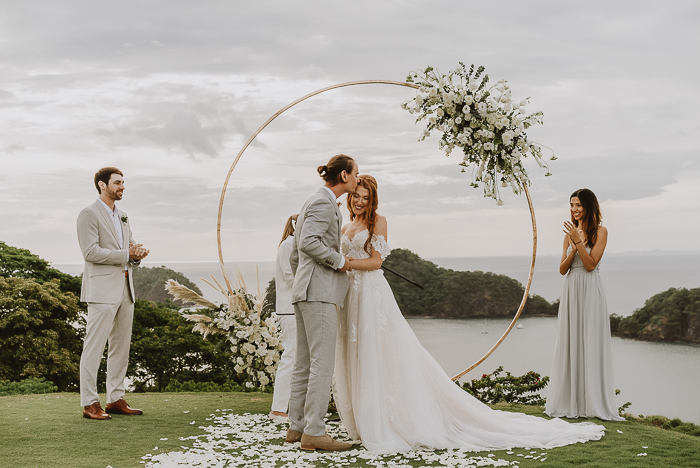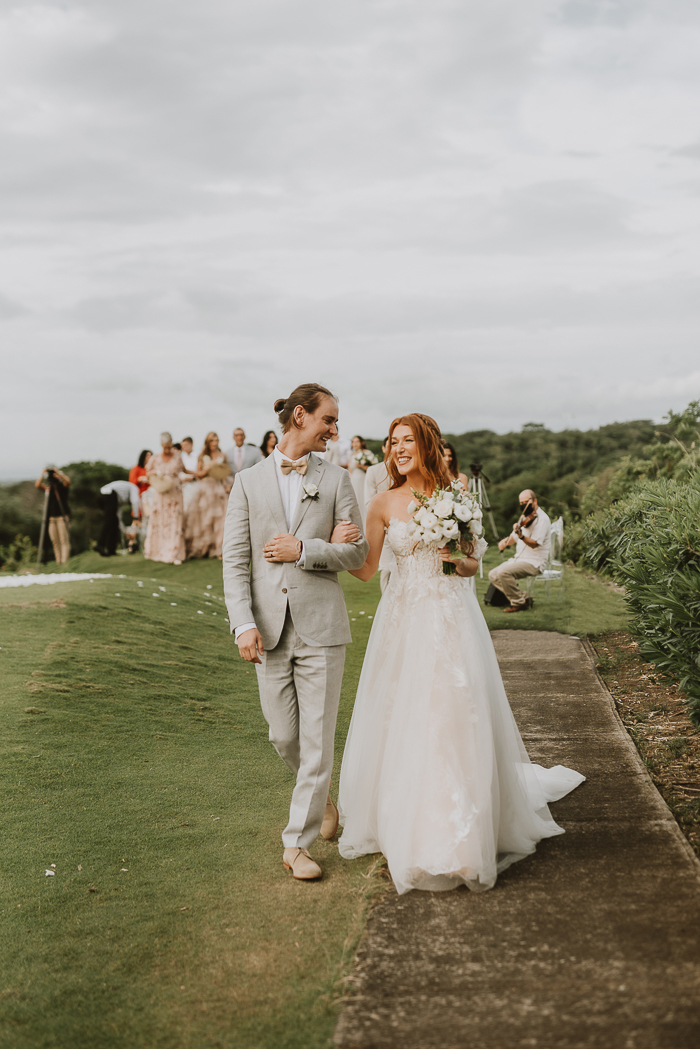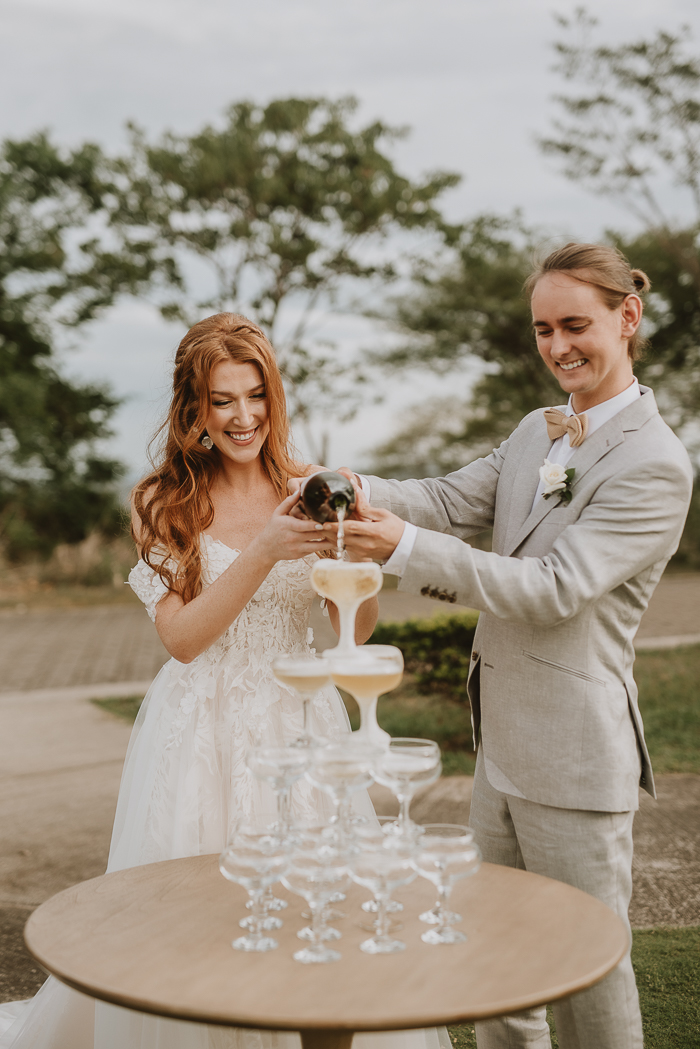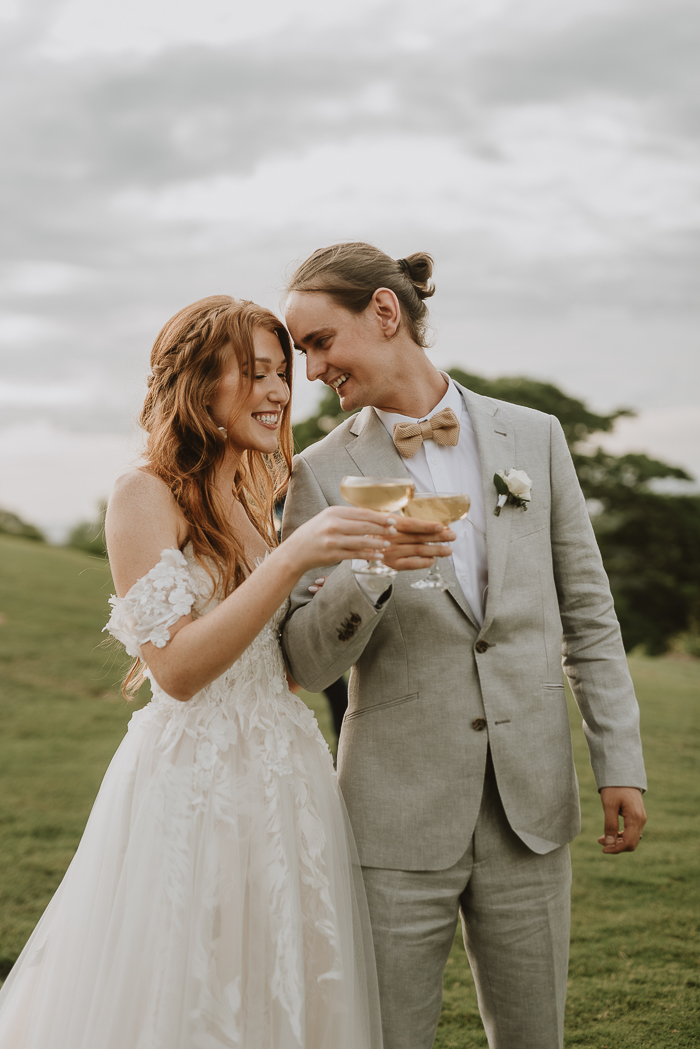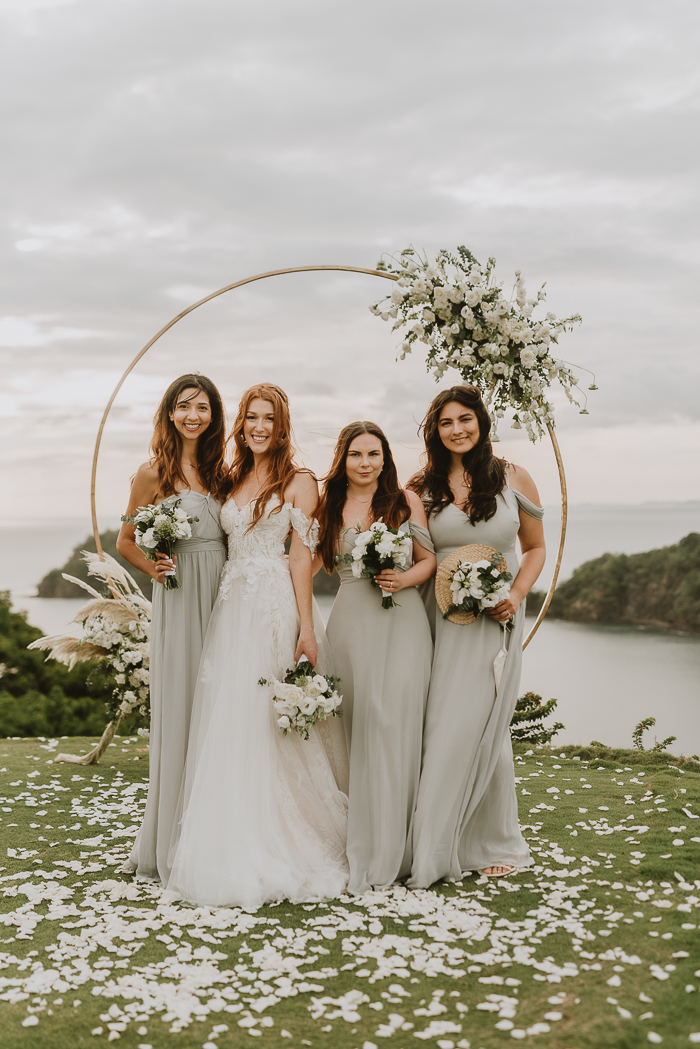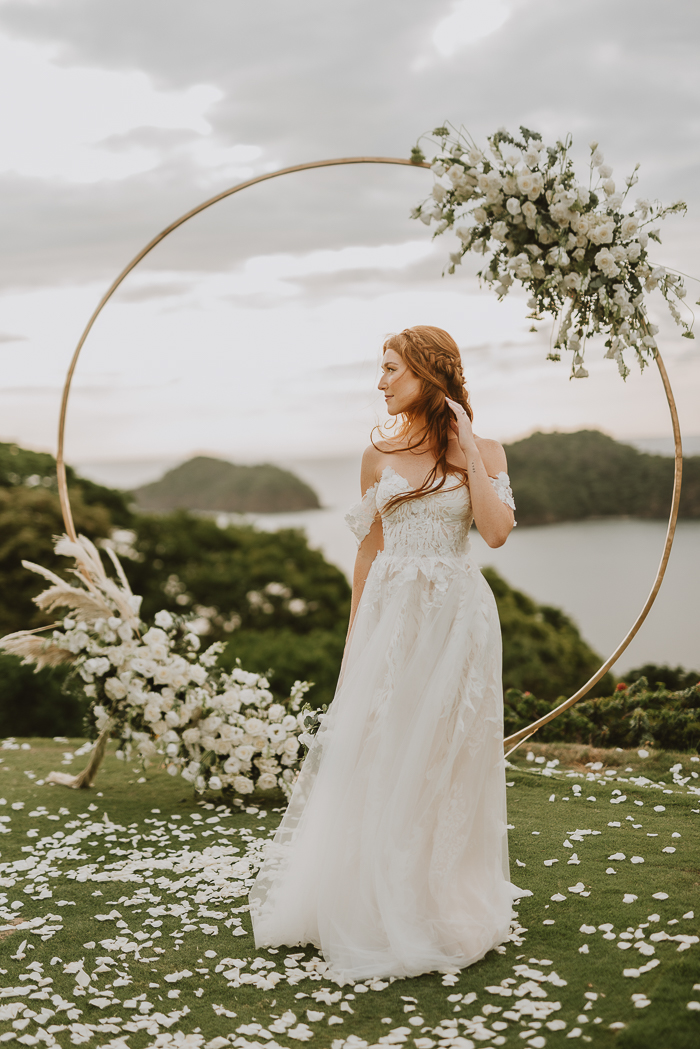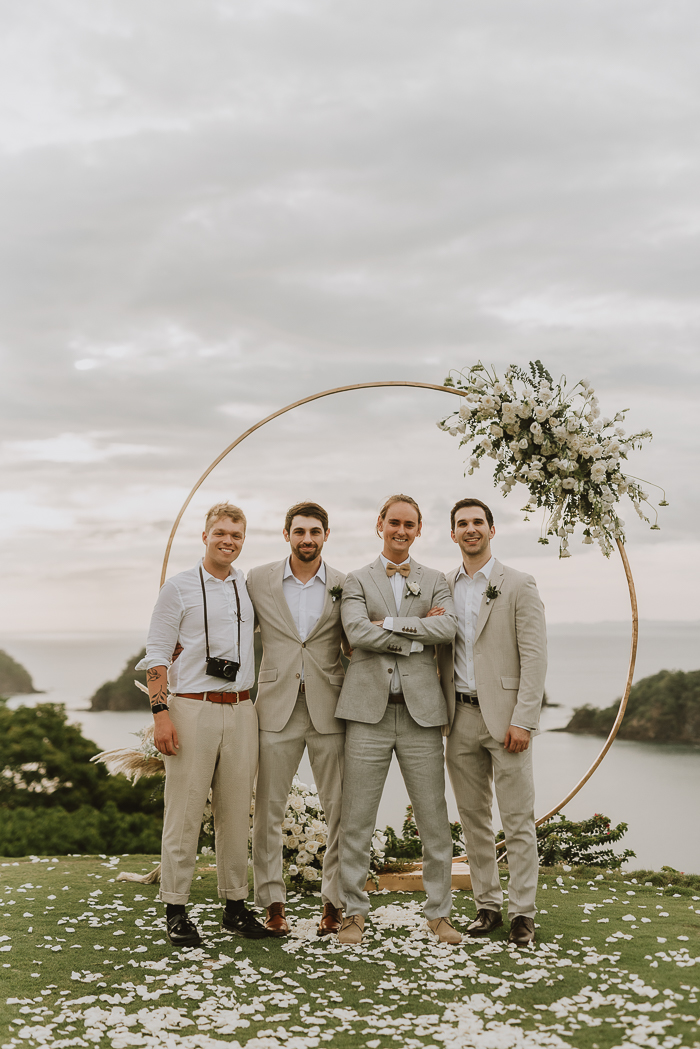 Beautifully Breaking Tradition
The traditional things don't matter if they are foreign to you. For both of us, having the core feeling of being carefree together (something we've cherished throughout our relationship) was key. With that in mind, certain things felt wrong for us. For example, things like formal gifts, speeches, having an indoor ceremony/reception, our first dance, and everything that didn't align with us melted away. It sounds cliche, but stay true to who you are as a couple. The opinions of others can get distracting.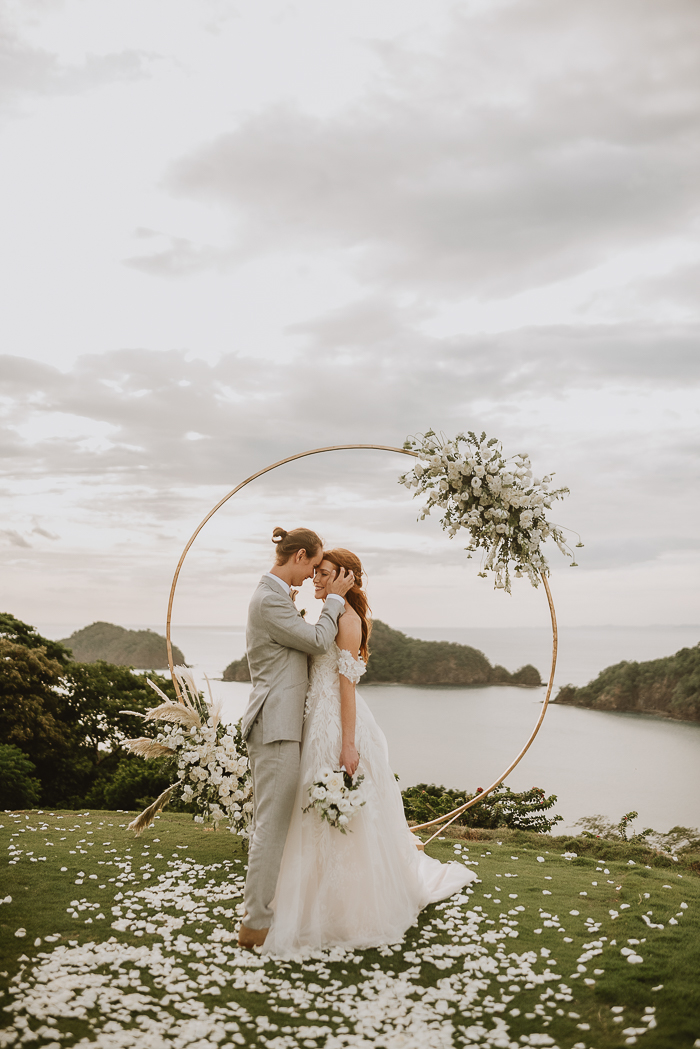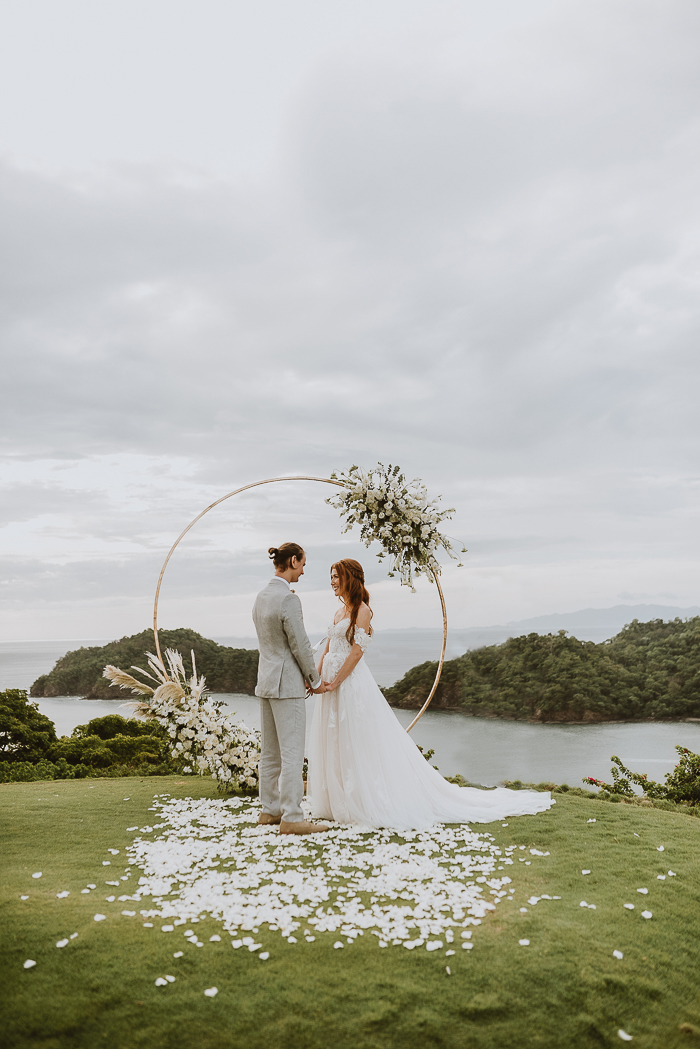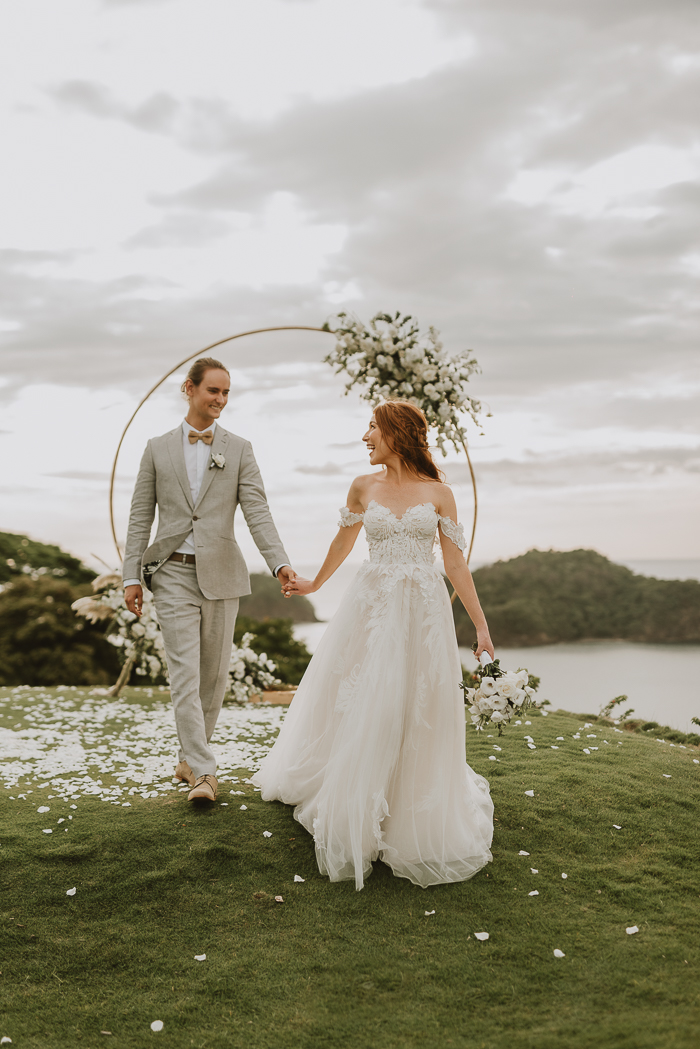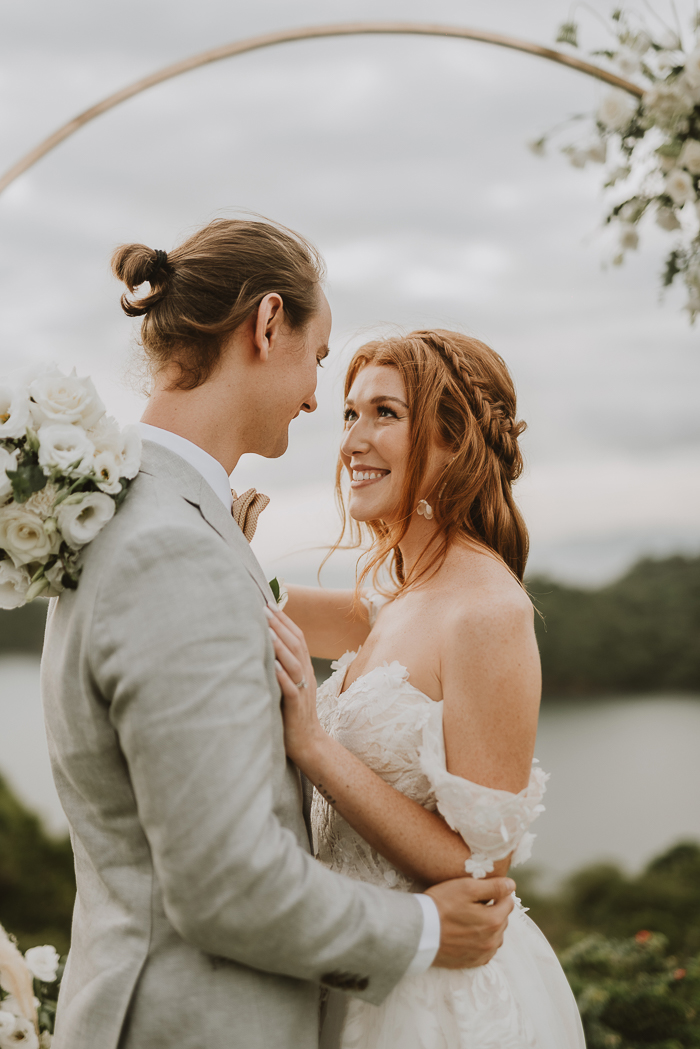 A Fun Pre-Wedding Yoga Class For Guests
Instead of traditional gifts, in the spirit of Pura Vida, we held a yoga class for our guests. It was really zen and hilarious watching everyone in 100-degree weather try getting into crazy poses.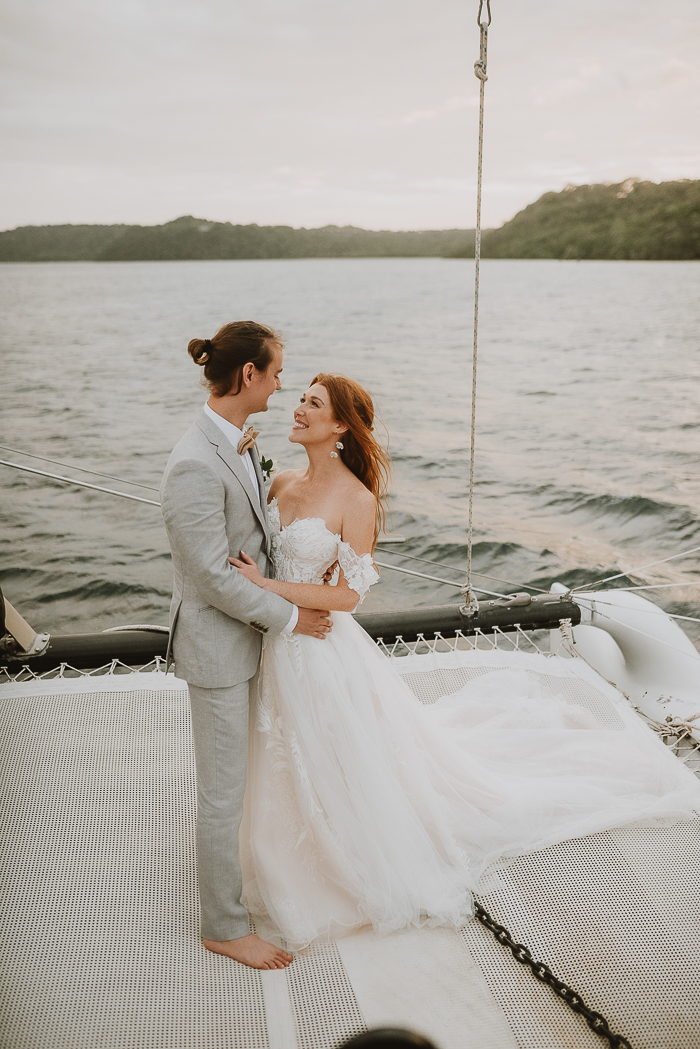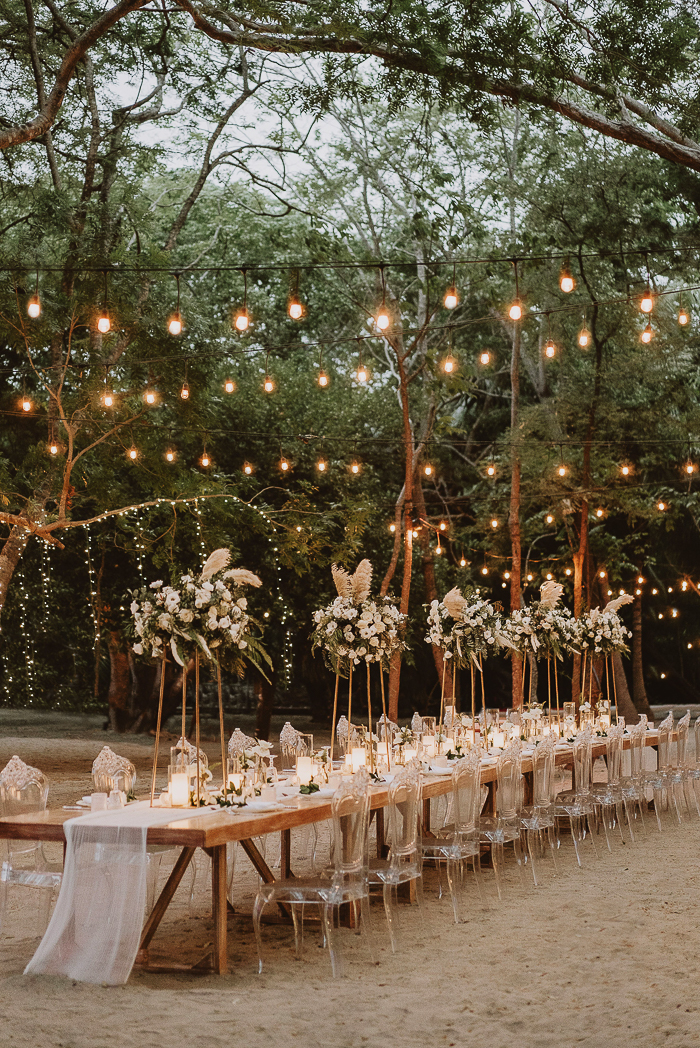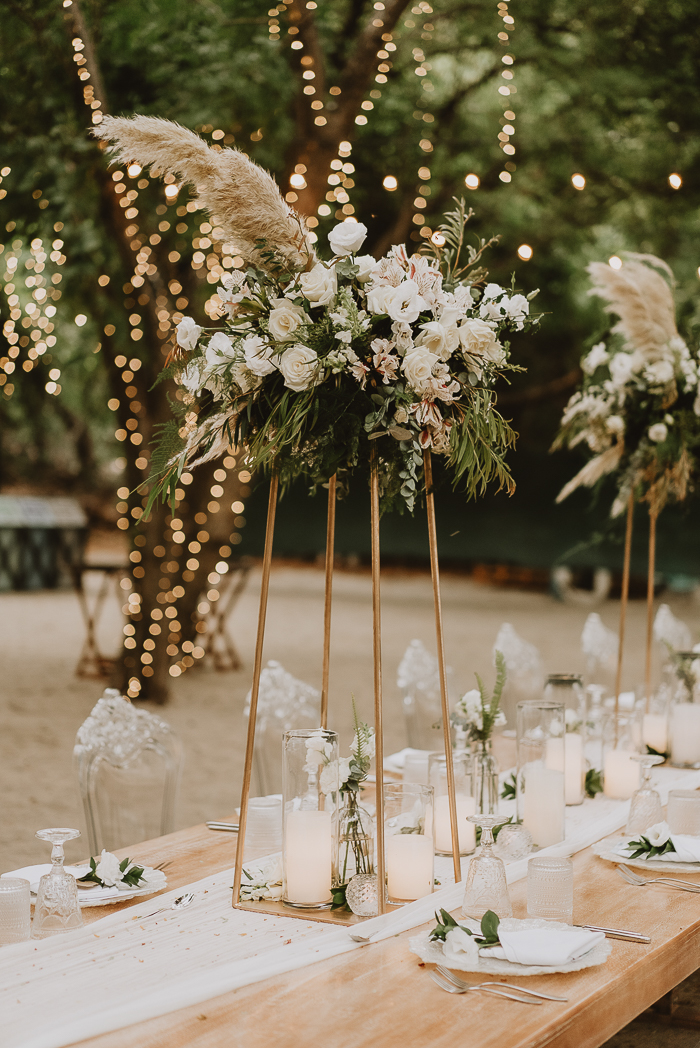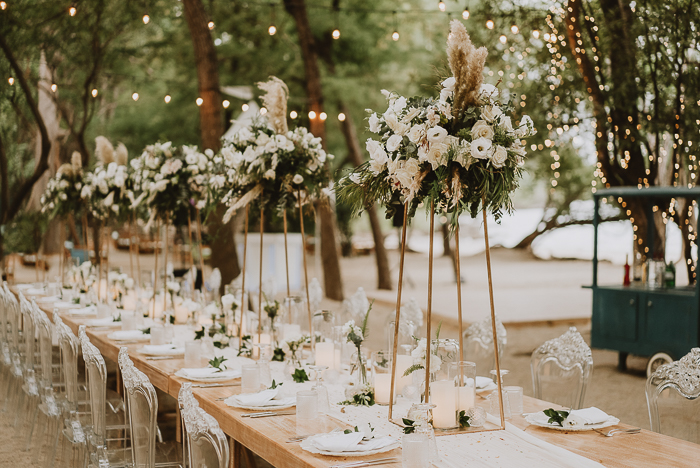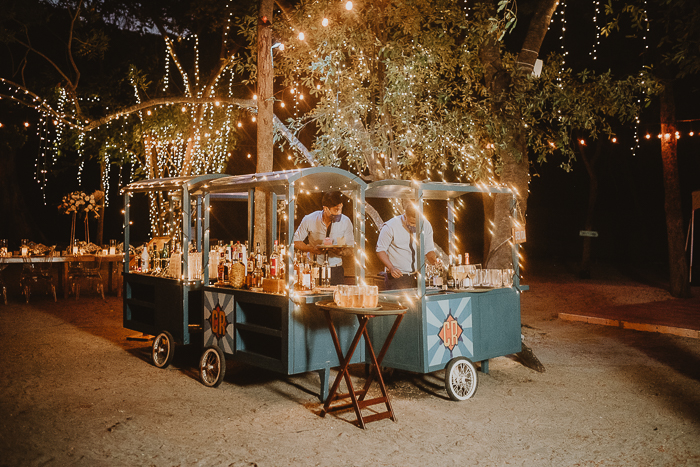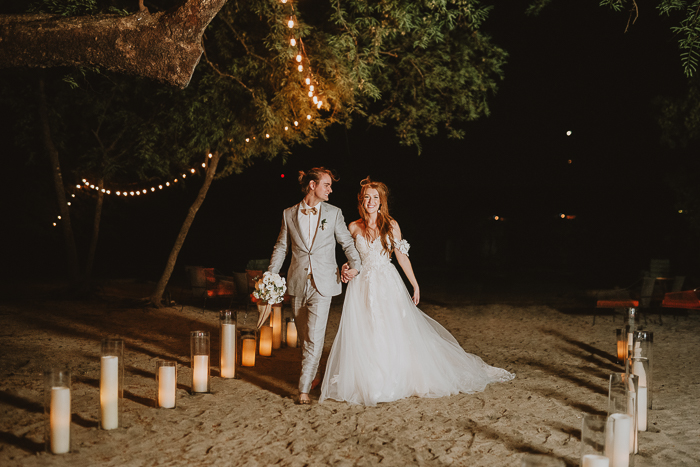 Personalized Wedding Day Gift Exchange
Patrick gave me a personalized compass with a letter. It symbolized our start as a married couple. After getting married, we traveled while working remotely, and although we didn't plan too much (it ended up being six months), we are each other's comfort zone in the uncertain but super exciting future! My gift to Patrick was a song created with a songwriter that encompassed our relationship's beginning, our love for each other, little things the both of us hold dear, and my excitement for our future together. I created a video that included bits of our relationship from our seven years together and played it along with the song during our wedding dinner.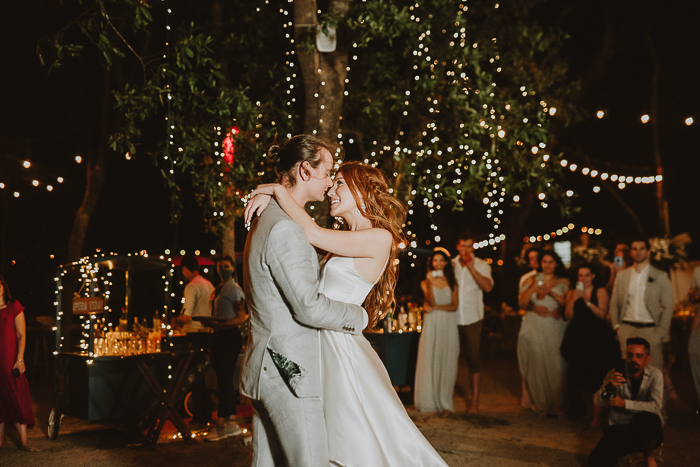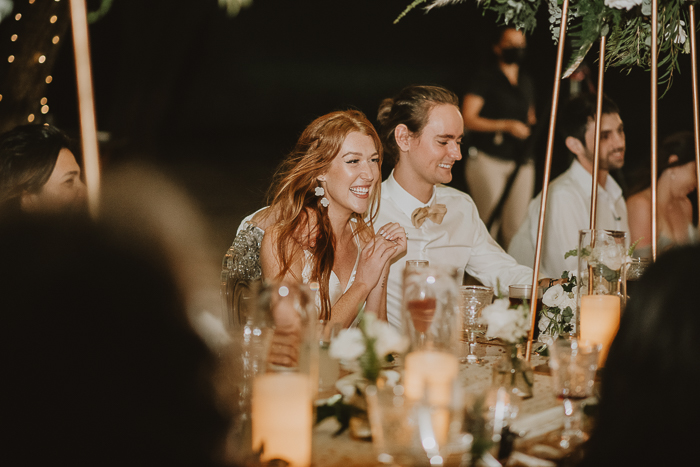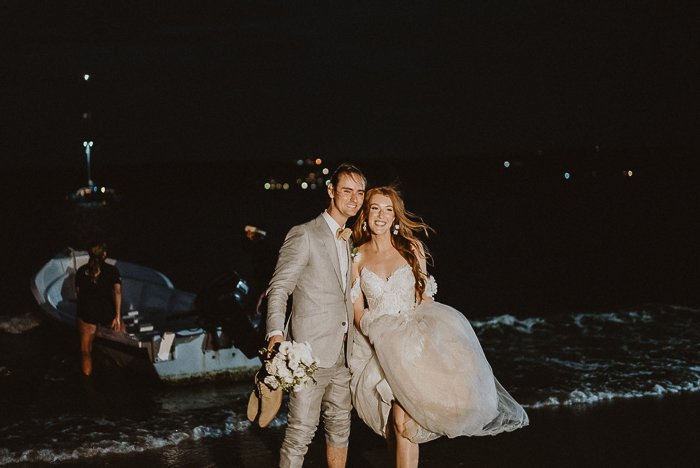 Congratulations to Anita and Patrick on their intentional and elegant Costa Rica destination wedding. Photographer and Junebug member Adriana Mendez truly captured the heartfelt emotions and beautiful memories of their special day. To see more of Adriana's work, check out her profile in our directory of wedding photographers from around the world!
Whether you are looking for breathtaking landscapes, incredible architecture, or simply hoping to infuse adventure into your celebration, a destination wedding can truly be a magical and memorable experience for you, your partner, and your loved ones. Take a stress-free journey to your dream getaway wedding by checking out our destination wedding planning and budget guides!