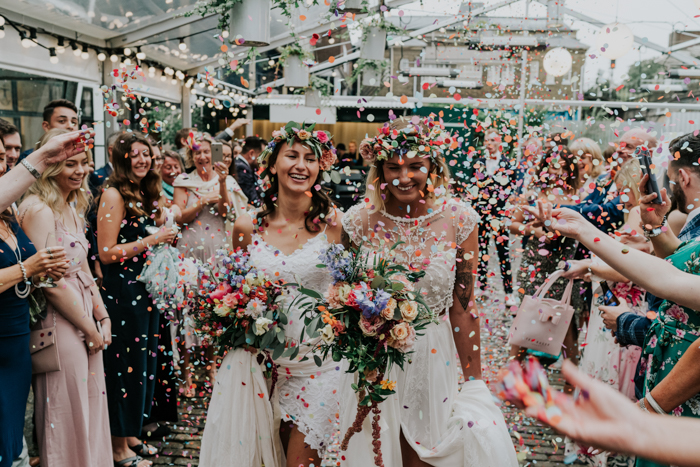 Francesca and Rachael's festive London wedding at Peckham Springs gives us all the lighthearted, good vibes! We dare you to look at these photos by Joasis Photography and not smile from ear-to-ear. The couple wanted to create a wedding day that felt like "them" from the moment you walk in the door. With the help of LoandBeholdBespoke, a rockstar decor and styling team, the day was everything they dreamed of and more. This colorful day had confetti, beer pong, smoke bombs, rad hand-painted jackets by The Mermaid Effect, and even more! If you're looking for inspiration on how to throw a fun and stylish day, Francesca and Rachael's wedding will not disappoint.
The Couple:
Francesca & Rachael
The Wedding:
Peckham Springs, London, United Kingdom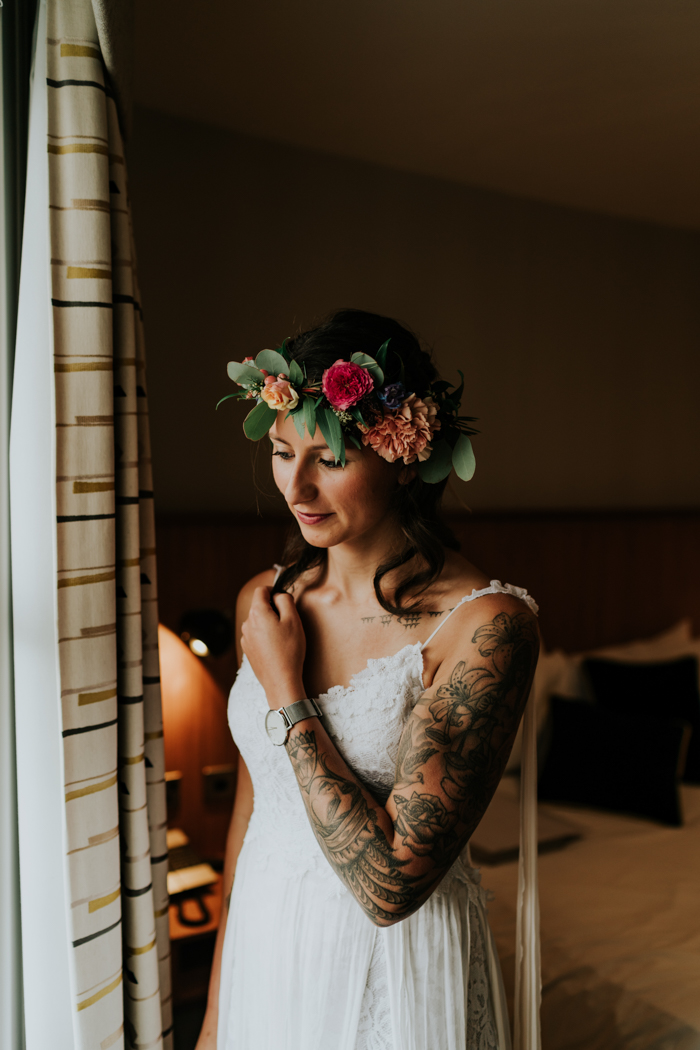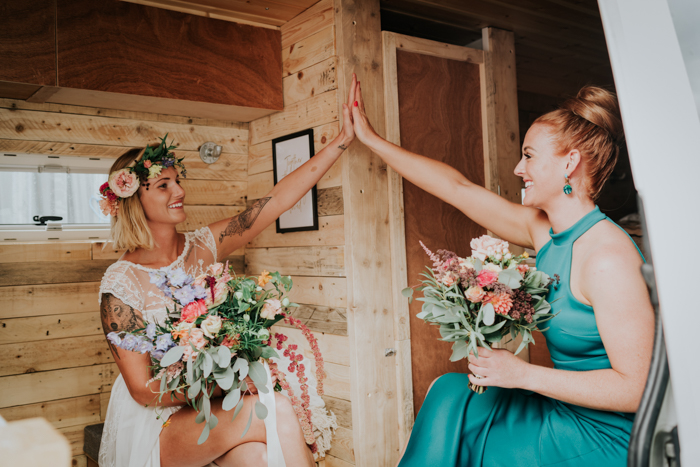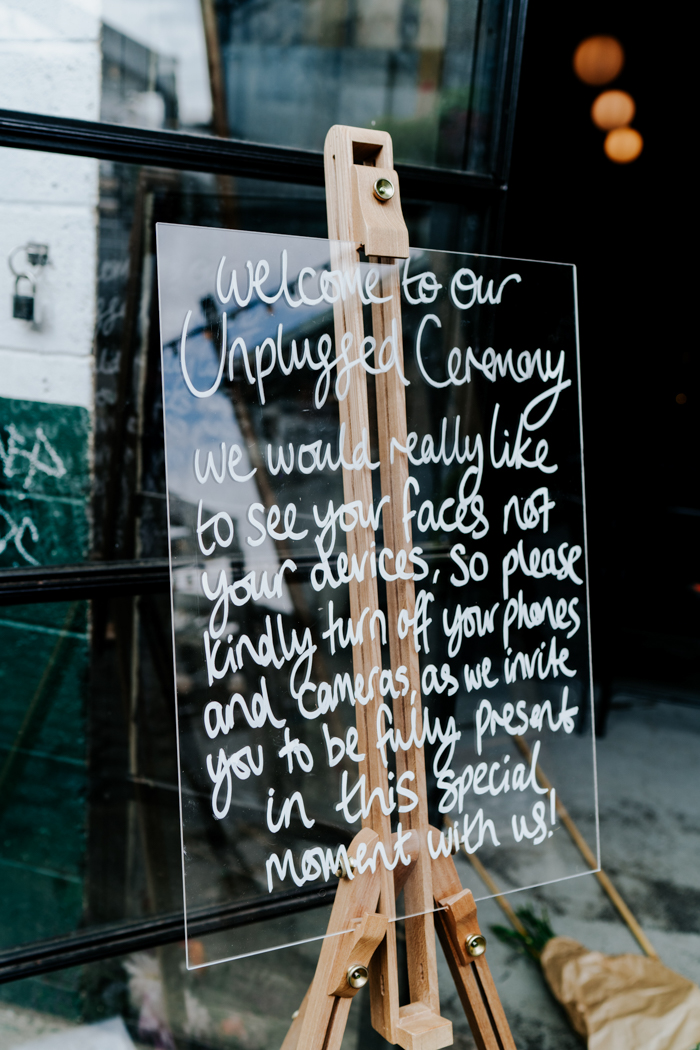 We wanted the ceremony to be relaxed so encouraged everyone to take a beer or glass of Prosecco in with them, although by the time I walked down the aisle, I noted a lot of already empty drinks!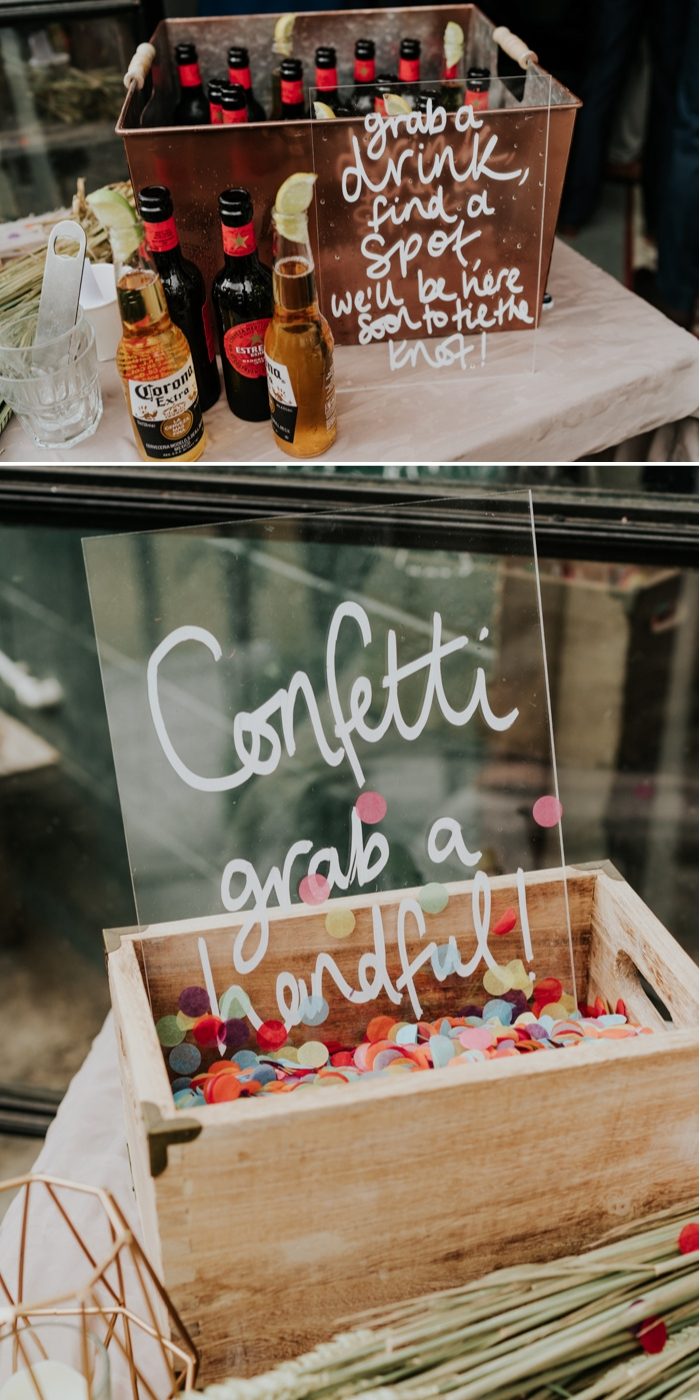 We love South East London! We were keen to keep our wedding venue in line with our personalities and things we enjoy doing normally. We always try to hang out with Hank our fur baby locally whether that be in a park, cafe or bar. It was important our venue was dog friendly. Francesca initially came up with the idea of Peckham Springs as it's edgy, urban and hosts street food vendors in their shipping container. As soon as we went to look around we could see our vision for the wedding come to life, it was a complete blank canvas for us to work with and the team at Peckham Springs were really flexible in accommodating our many requests. Also, selfishly we only live 5 minutes from the venue so could walk their many times with Hank during the planning process which helped to keep the stress away.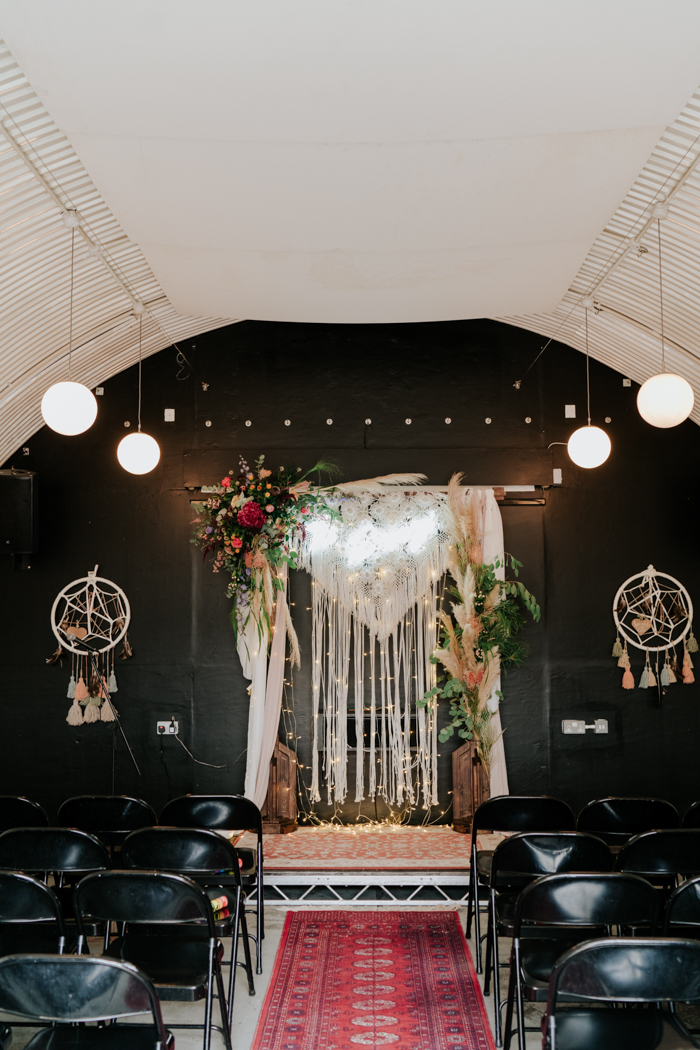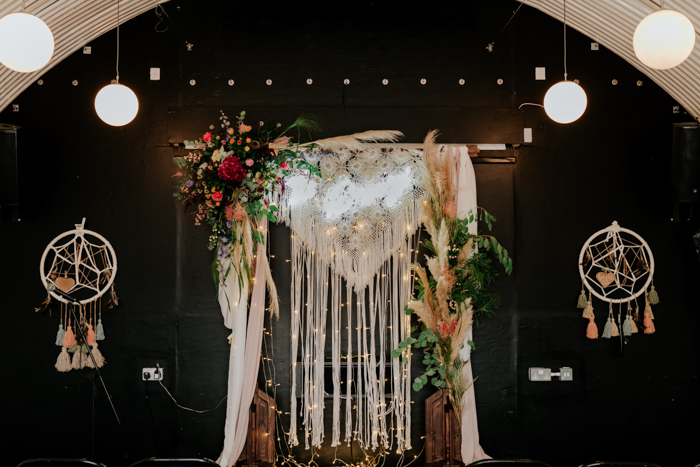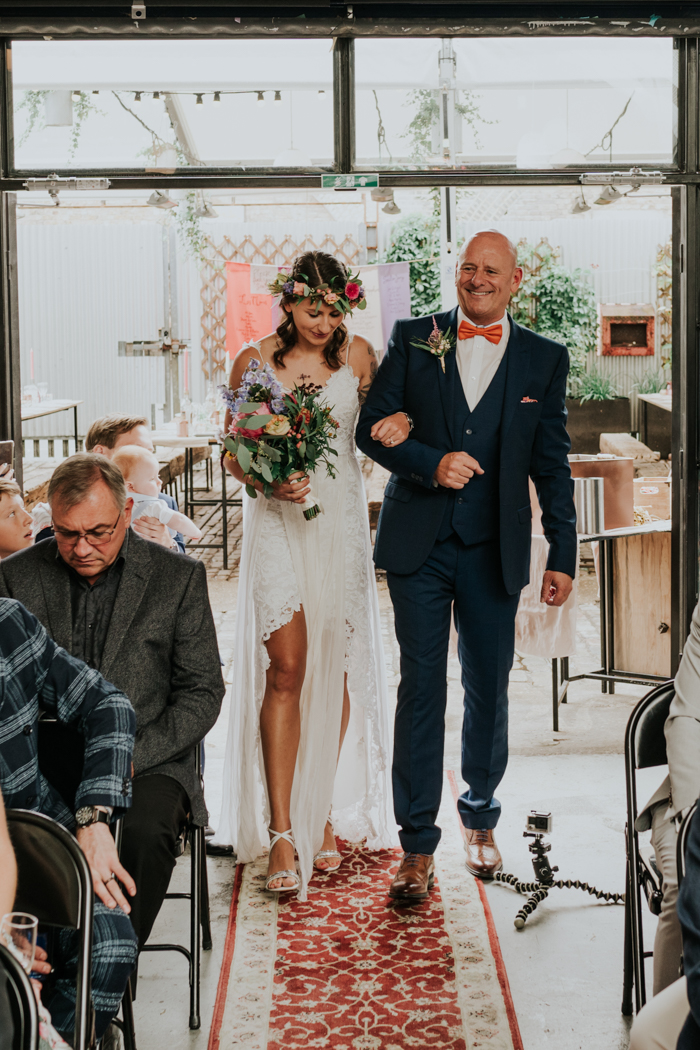 There were so many special moments on our day. For me, watching Francesca walk down the aisle towards me Is up there. She looked so stunning and was smiling, I was so nervous waiting under the ceremony arch but seeing her appear instantly made me relax and I couldn't have been happier in that moment.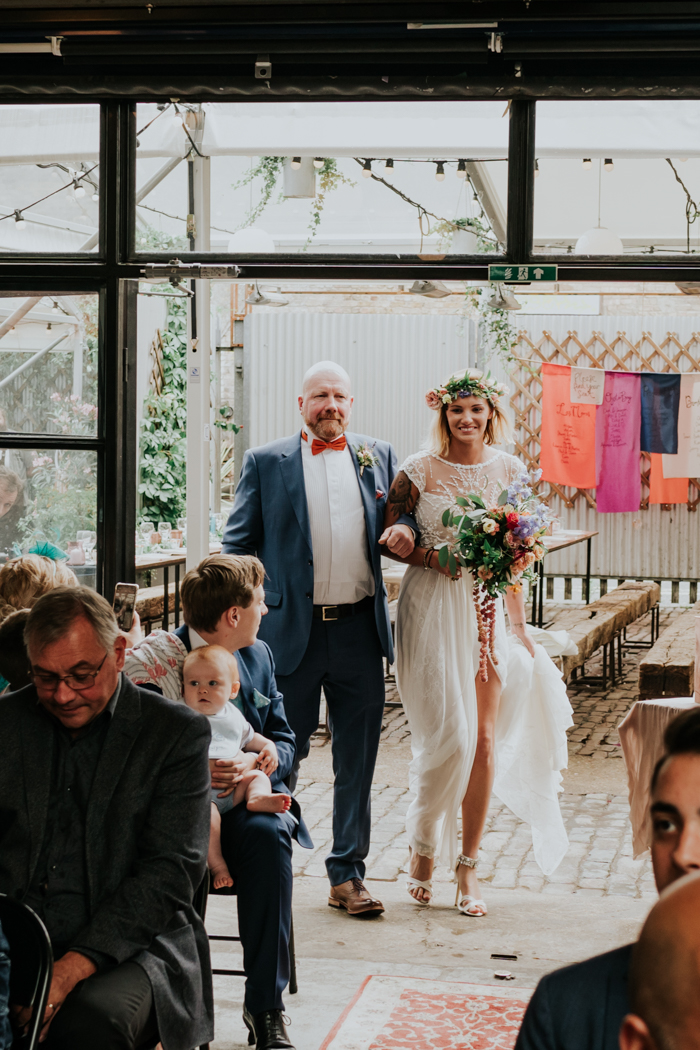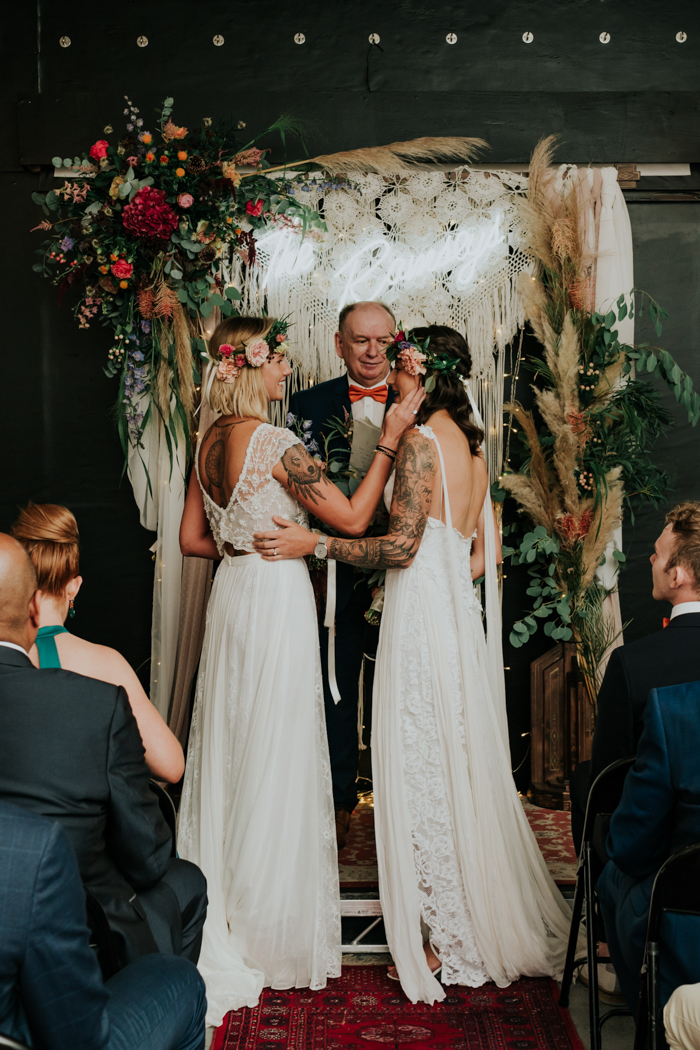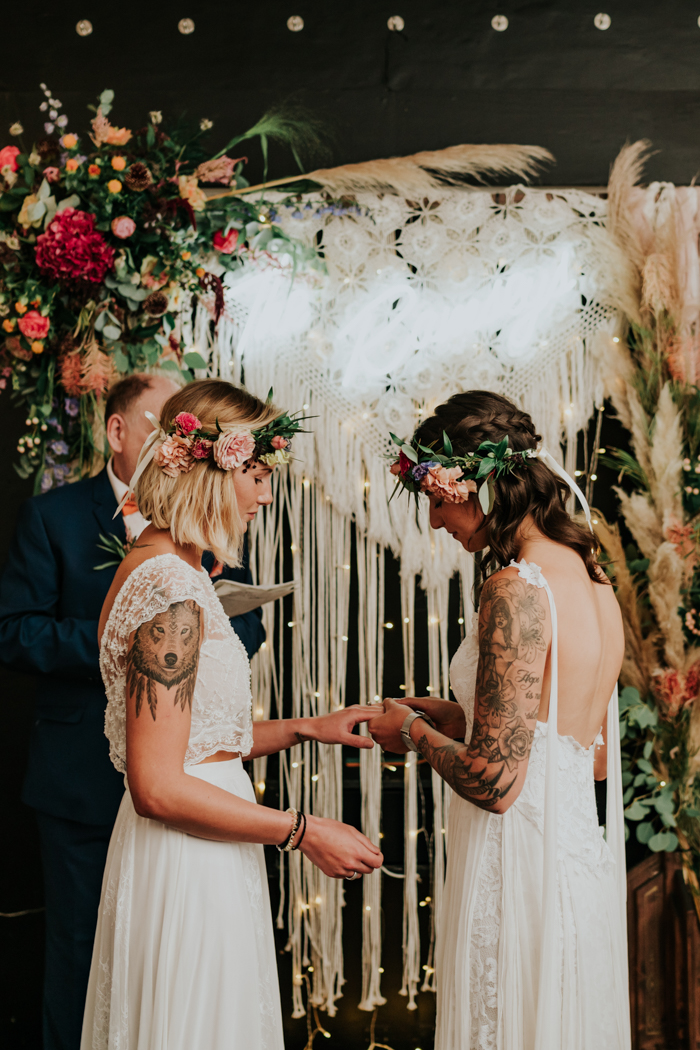 Francesca's uncle – Eamonn, acted as our wedding celebrant on the day. He perfectly executed the humanist ceremony with a script that we provided to him and allowed him to edit and put his own stamp on. He did amazingly well especially seeing as though the first time he read the script was one a couple of nights before the wedding. We had our best friends Kat and Laura get involved during the ceremony with a hand fasting element which was a really lovely touch and produced some laughter! Both of our mums had a role too- doing a reading each.
Lot's of people commented to us later on in the day about how nice the ceremony was, I think a lot of people didn't have any idea what to expect, especially from an LGBT wedding, and were pleasantly surprised.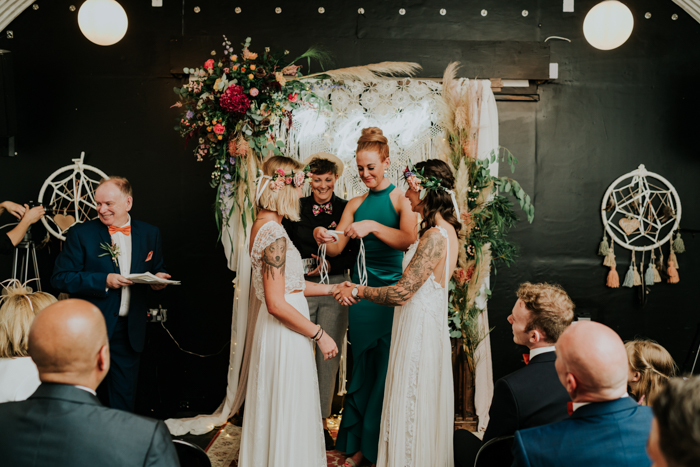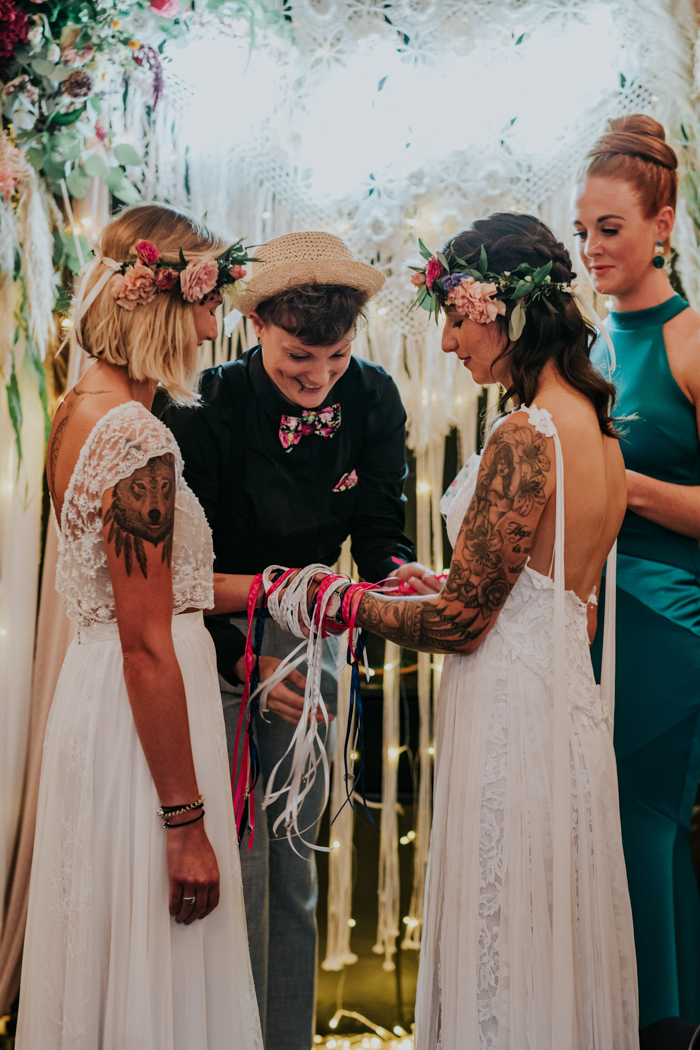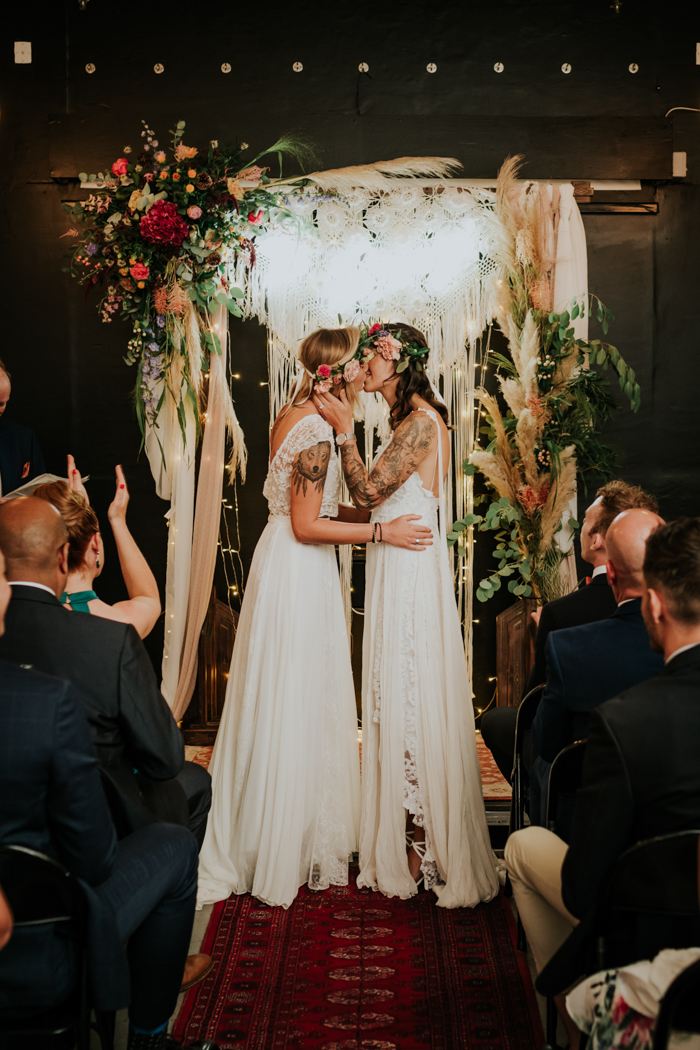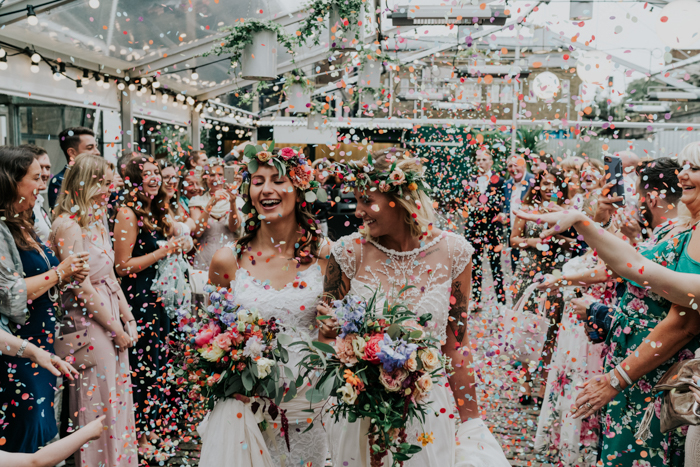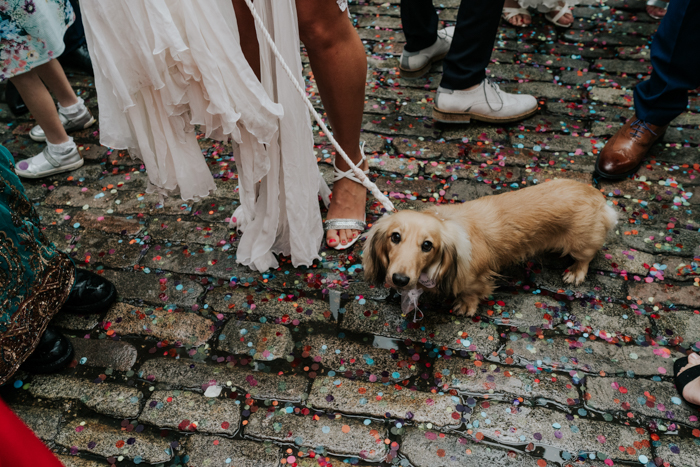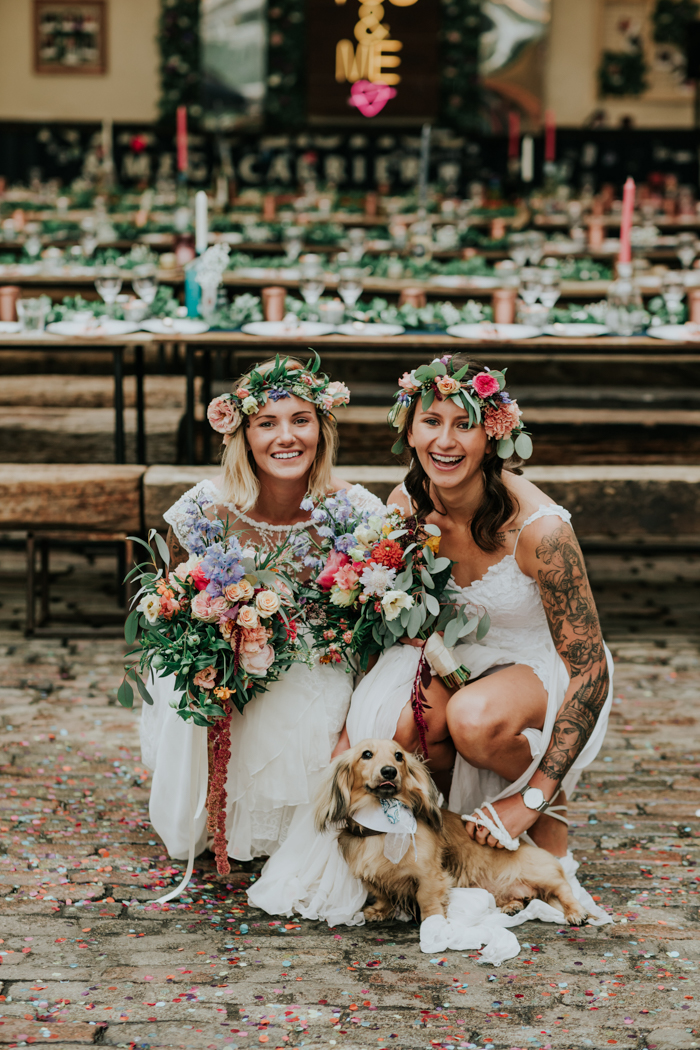 Wedding planning advice from the Rachael: It's your day so do it your way! You can achieve the wedding you want even on a smaller budget. We shopped around a lot before deciding on vendors and tried to save money wherever possible by getting creative and thinking outside the box! Also, family members love to be involved and are usually more than willing to lend a hand so don't be afraid to ask people you know with specific talents to help you out. For example, my brother made the wedding cake and all the mini cheesecake desserts because that's what he is good at and this was his wedding gift to us. It's really important to schedule some time on the big day just for yourselves to spend some time together. The day goes so quickly so having half hour or an hour to sneak away and share a quiet moment really makes a difference.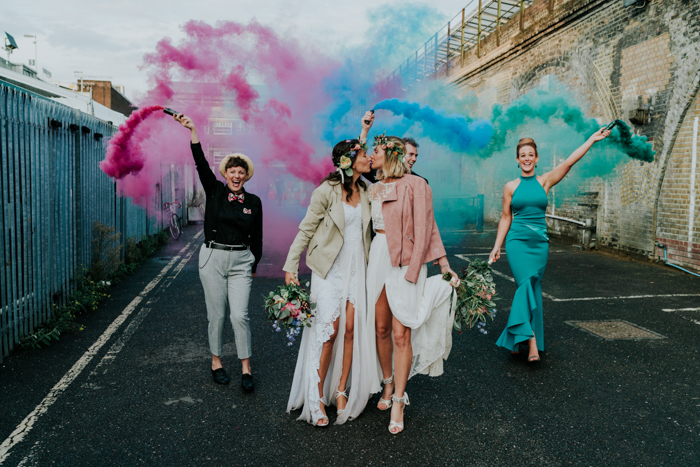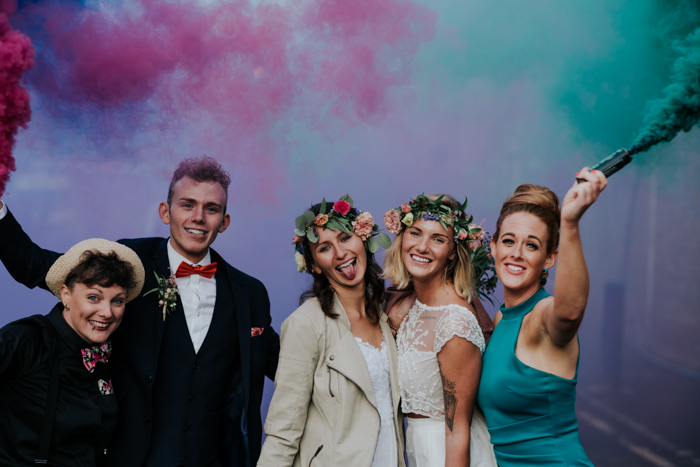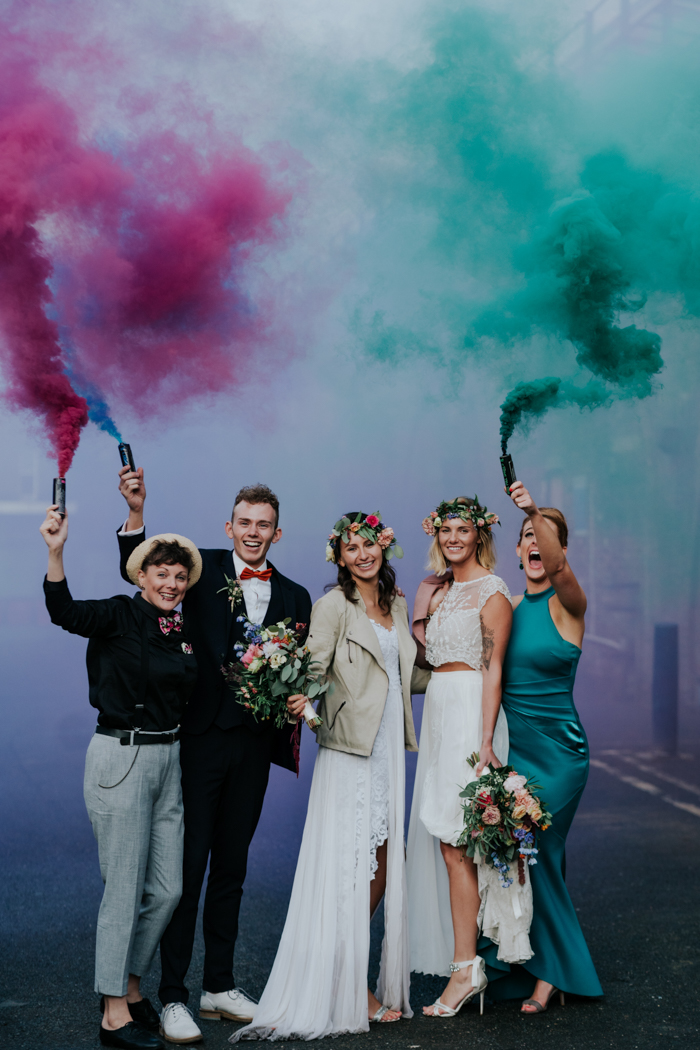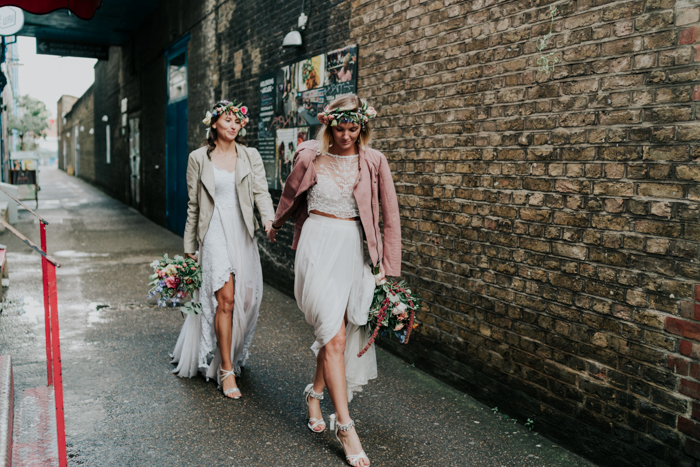 Jo is incredible to work with. We couldn't have asked for any more from our photographer. She captured our day so perfectly in a way that we can treasure forever. Jo was laid back and went with the flow which was really important to us. She was everywhere but nowhere all at once. She was there to capture every angle and candid moment but at the same time we barely noticed she was there and did not feel like we had a camera shoved in our face at any time. When we went off for our couples shoot after dinner Jo was amazing, she put us instantly at ease and we just had fun with it!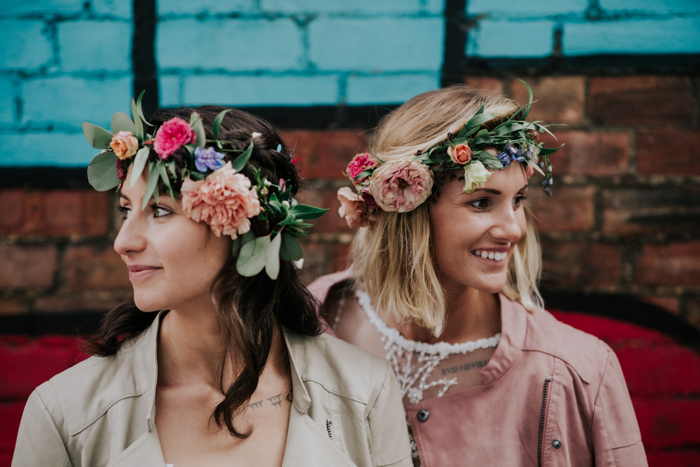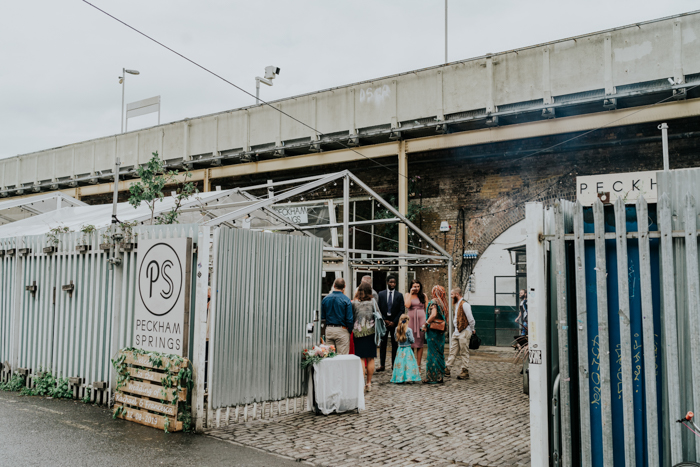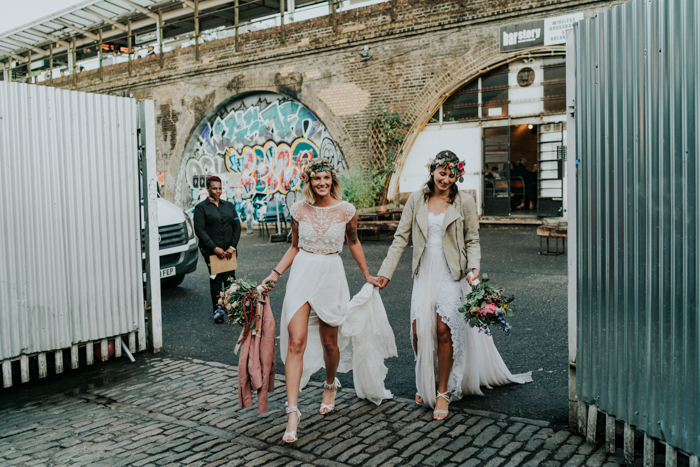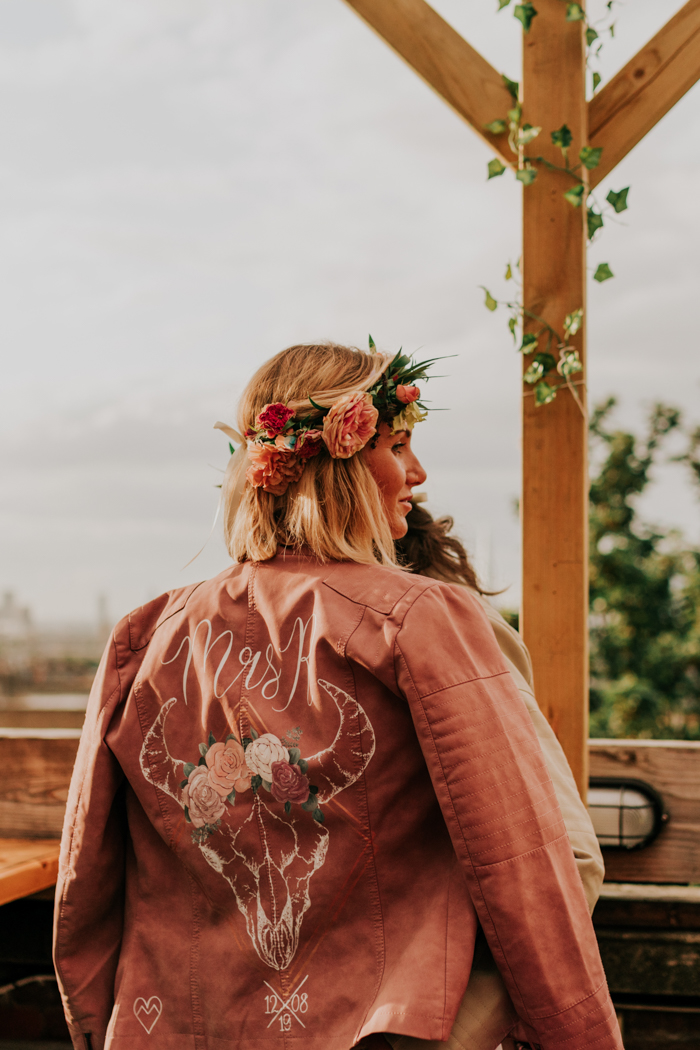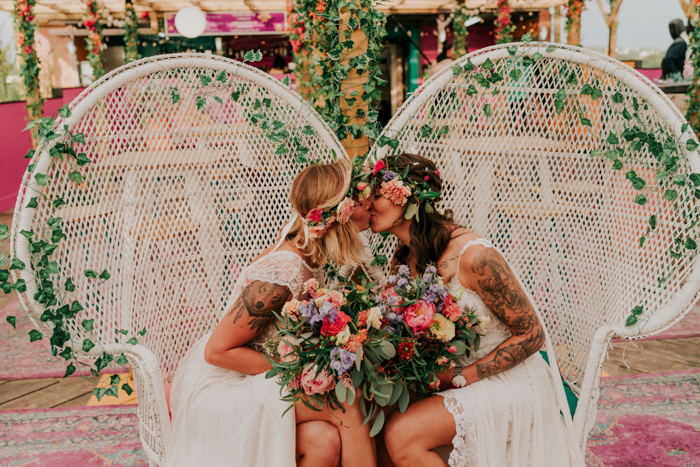 We chose to go across the road to Bussey Rooftop Bar on Copeland Road because we had one of our first dates on a rooftop bar in Peckham and this year they had decorated the rooftop so beautifully, it was like it was made for our day! Luckily for us because we got married on a Monday they allowed us in for our photoshoot and even congratulated us with a glass of Prosecco each on the house whilst we were there! I'm sure a lot of people thought we were there for a styled shoot actually which just makes me all the more proud!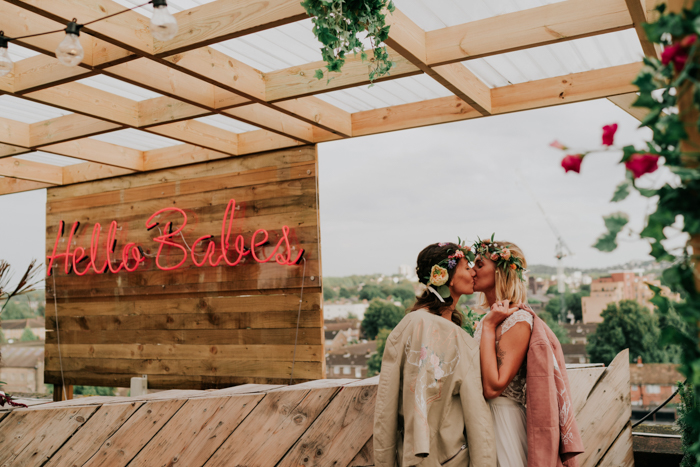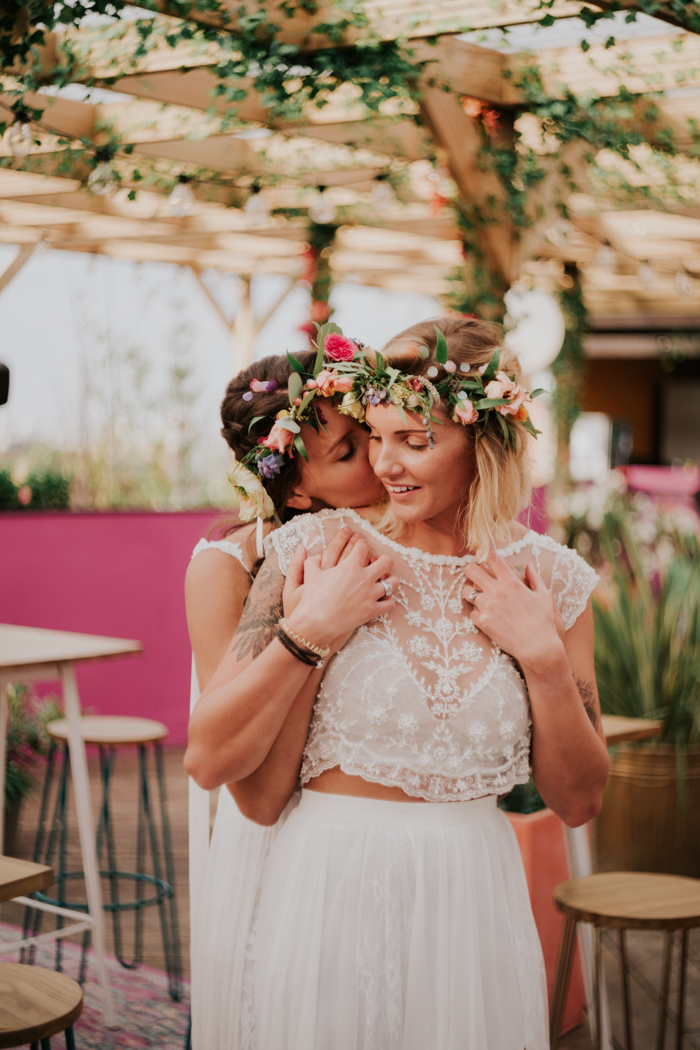 We didn't want our wedding to feel like any other wedding our guests might have been to. It was really important to us for our day to be personalized as much as possible so that our guests knew they were at Rachael & Francesca's wedding, not just…a wedding. Another important part of our planning was to ensure that we supported our local businesses in terms of picking vendors, we spend a lot of time eating and drinking out locally so why wouldn't we do the same on our wedding day?! We wanted to be able to have fun on our day and to be able to look around and see everyone laughing and smiling and ultimately just full of love. Francesca and I made lots of DIY decorations and every detail was chosen by us as opposed to being part of a package. It was also really important to us both to support our local businesses as much as possible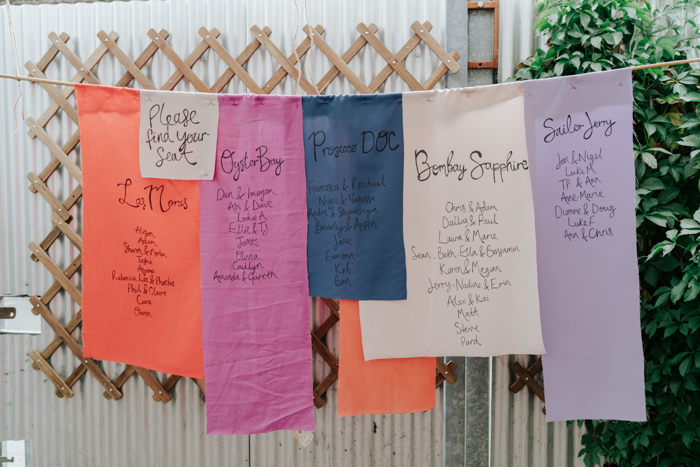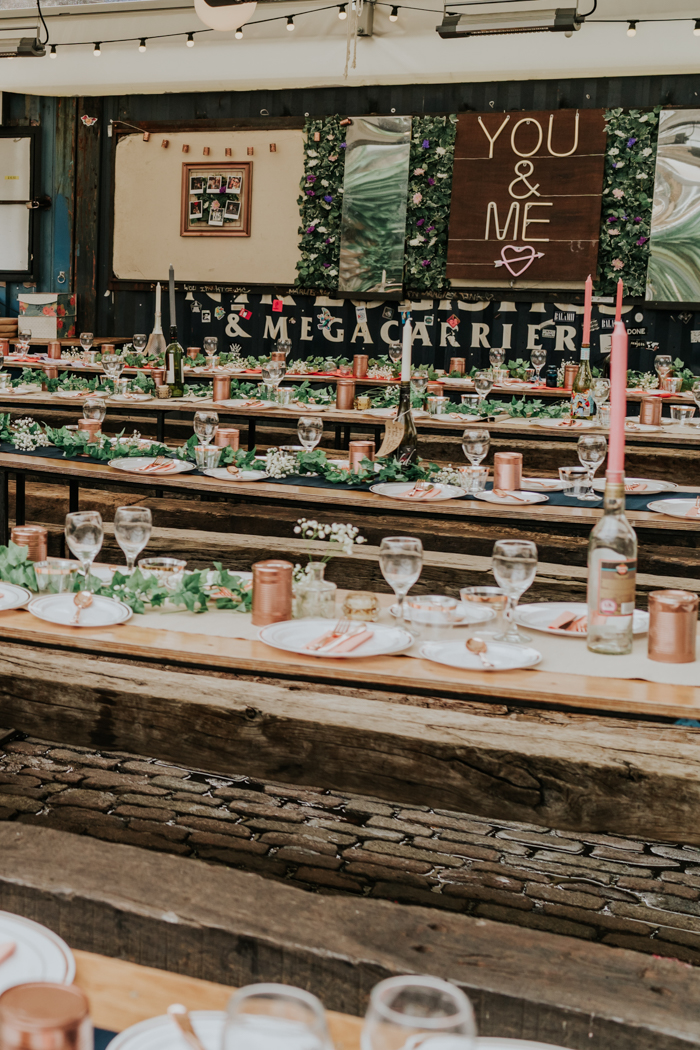 We wanted our main meals to be served on wooden food boards and in order to create more space on the tables we came up with the idea of elevating these on tin cans. This involved lots of family members collecting tins for us in the lead up to the wedding and many hours spent spray painting them rose gold and copper.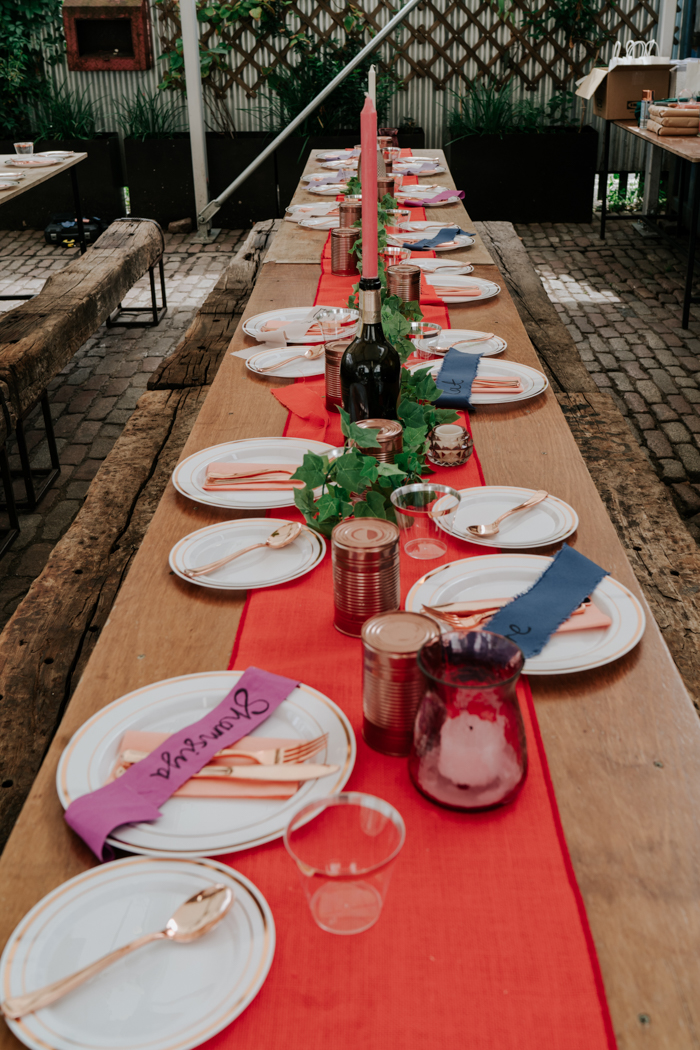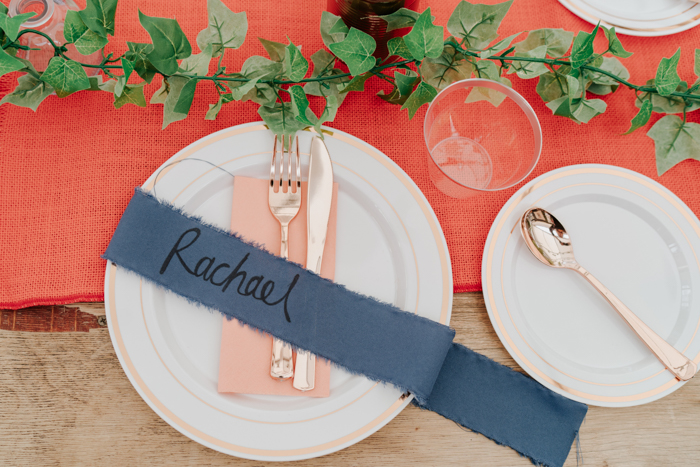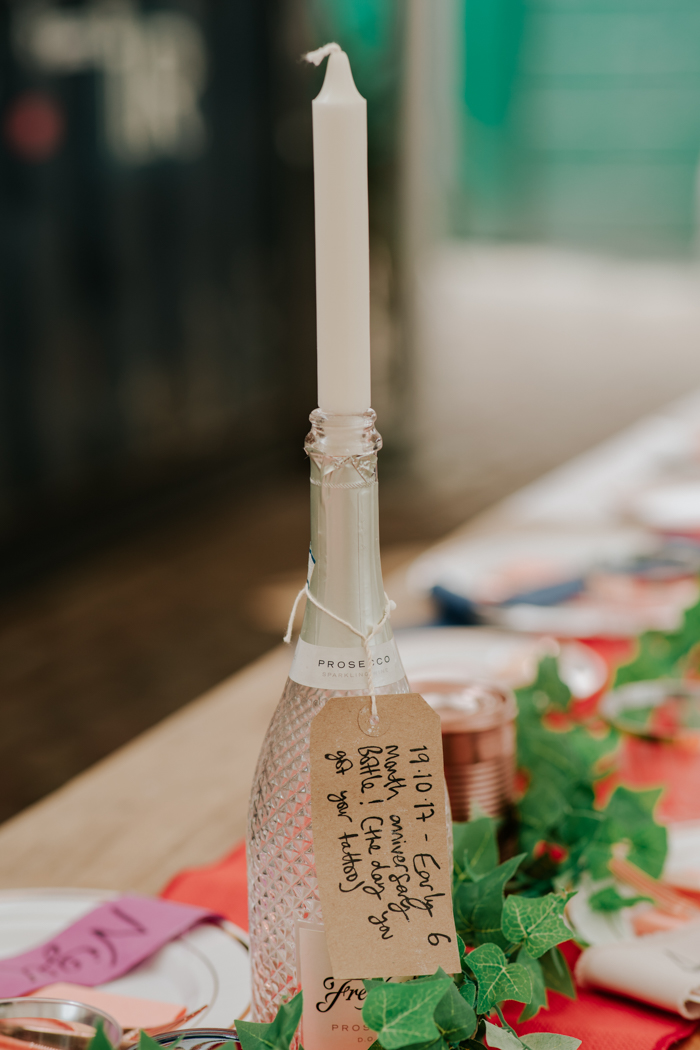 Ami from LoandBeholdBespoke is a dream to work with! She helped style my proposal to Francesca a year before the wedding and I couldn't wait to get her involved in our wedding day. Herself and her husband couldn't have been more helpful on the day with the set up and in the lead up the wedding with nailing down all the finite details. I recommend them to anyone looking for a unique wedding with bohemian touches. They have a great range of props to hire and Ami is so creative, even if they don't have a specific prop you want Ami is able to create something unique for you instead.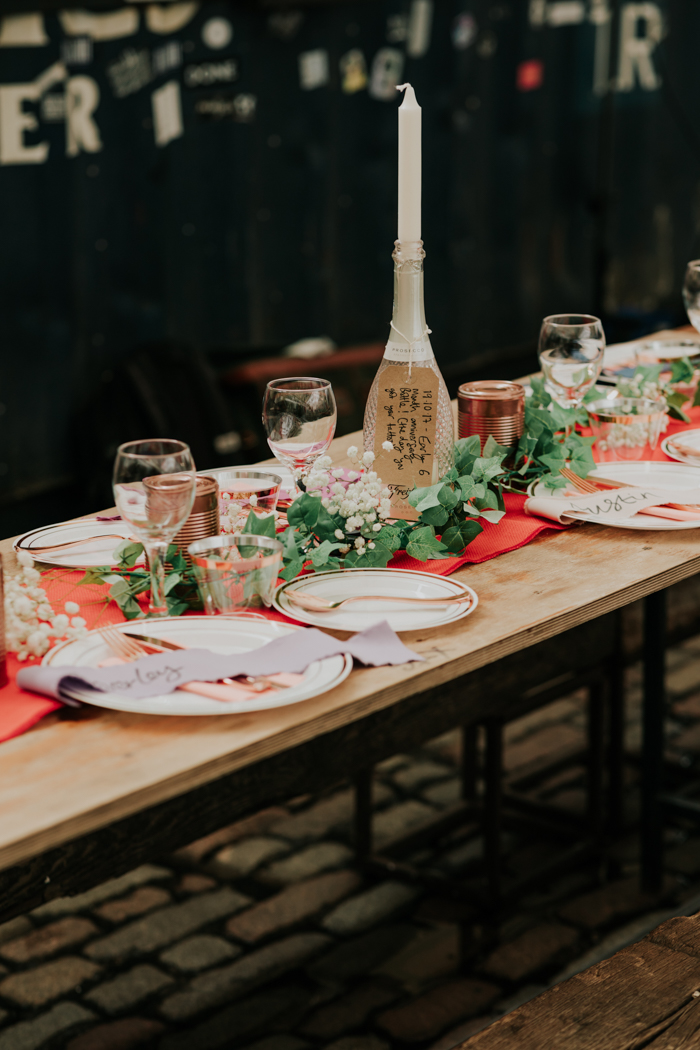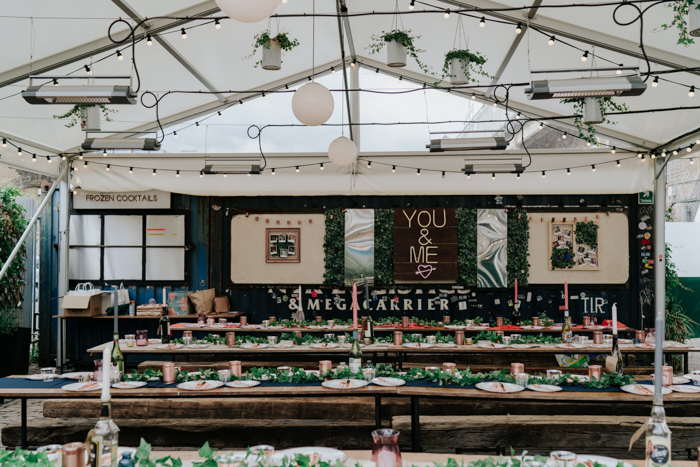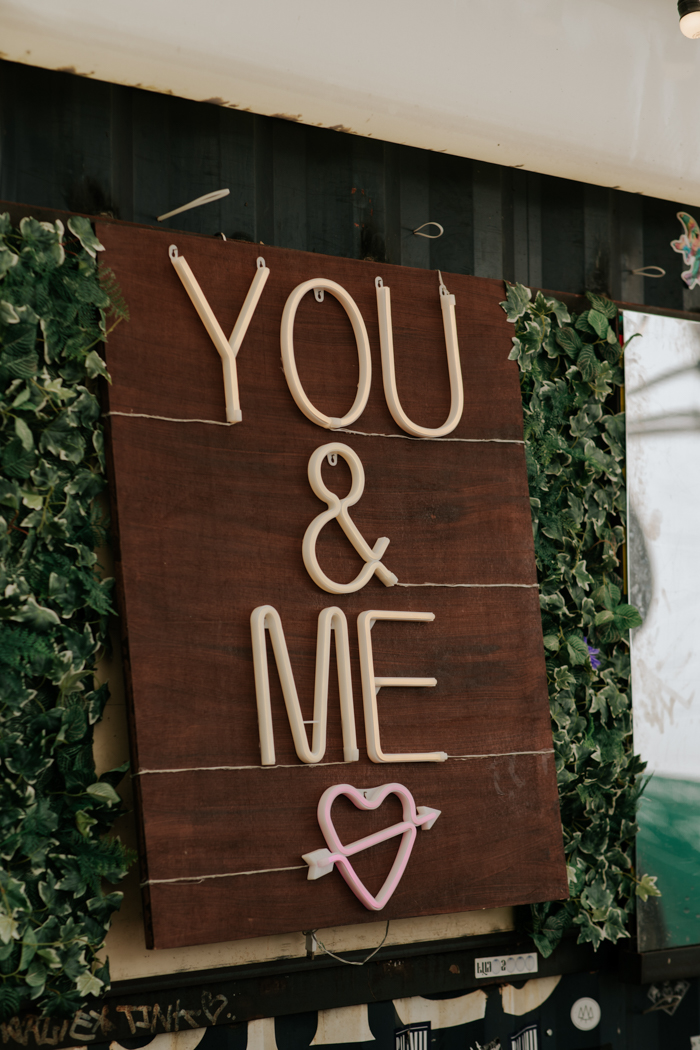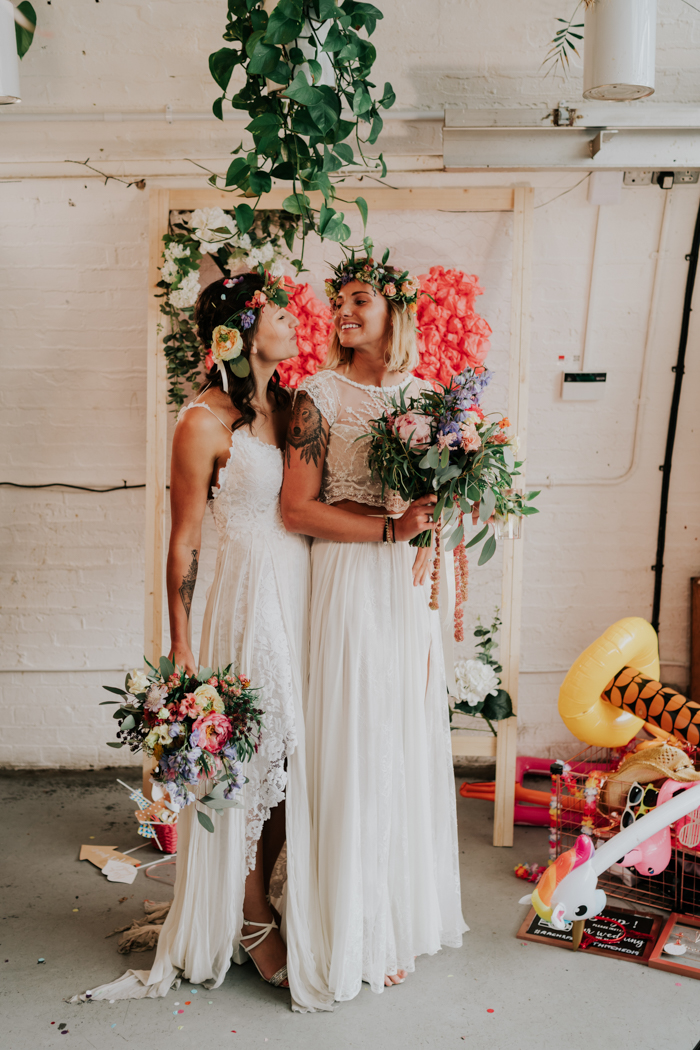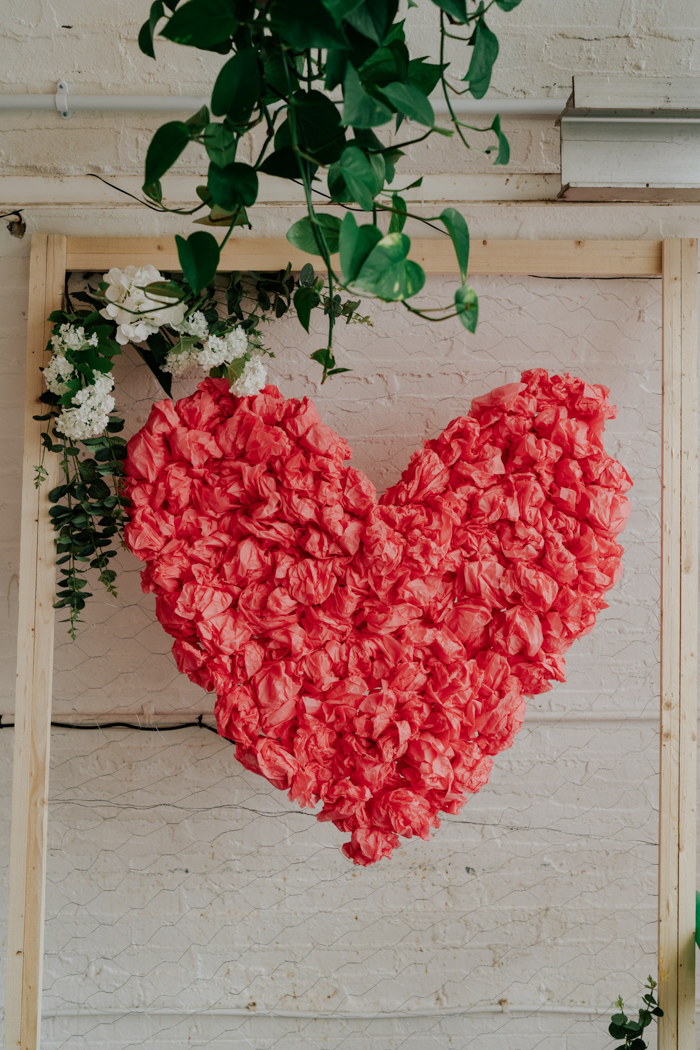 We trawled the internet for Photo Booth backdrops but Francesca found some inspiration on Pinterest and made our DIY photo booth backdrop out of a few wooden battens, chicken wire and a lot of coral coloured tissue paper that was shaped into a heart! This was a massive hit with our guests and looks great in some of our photos.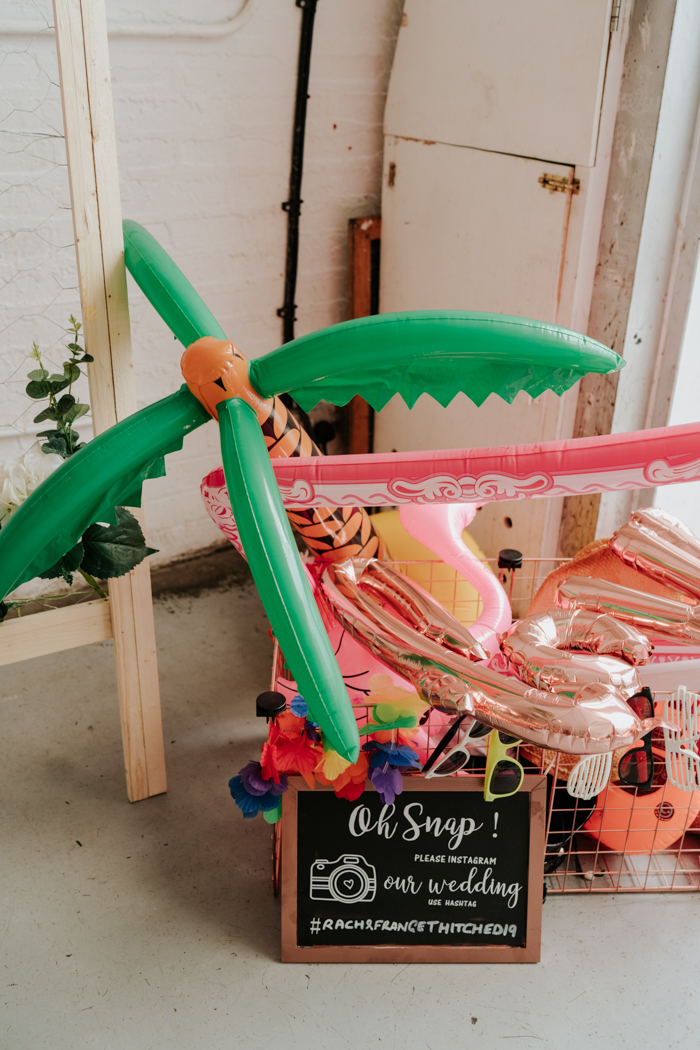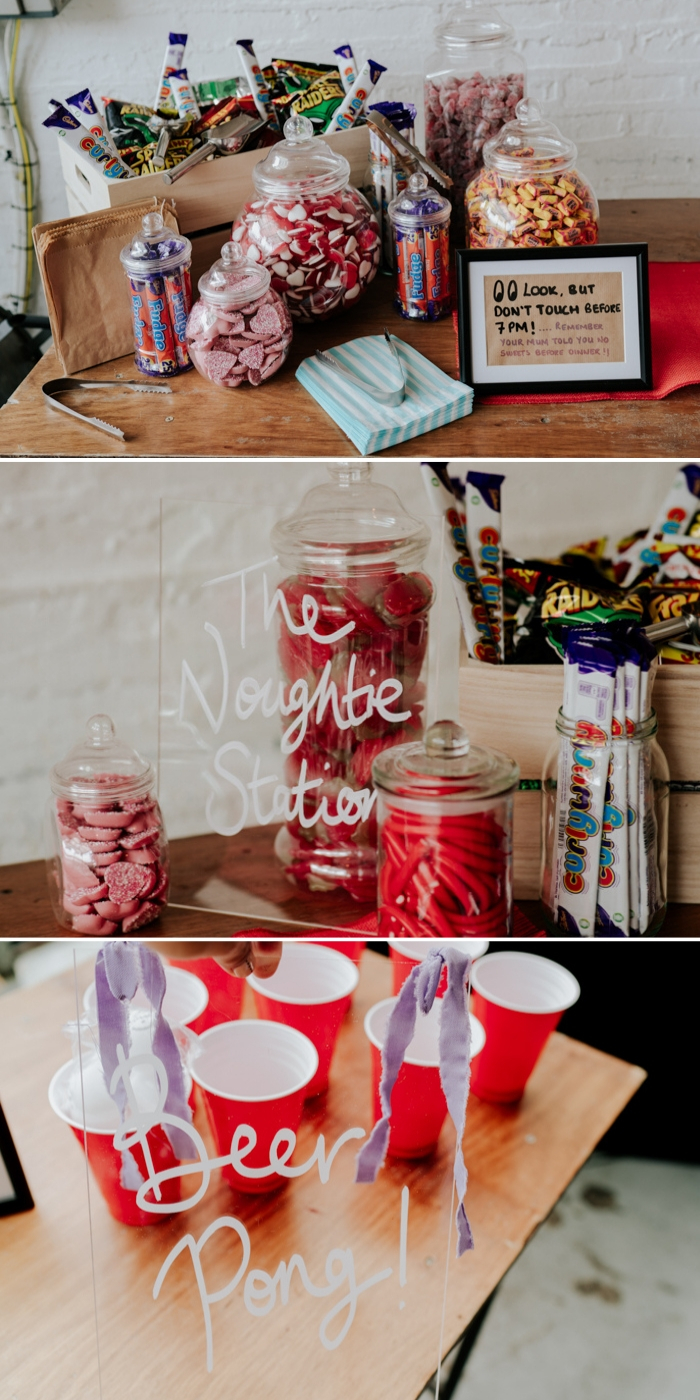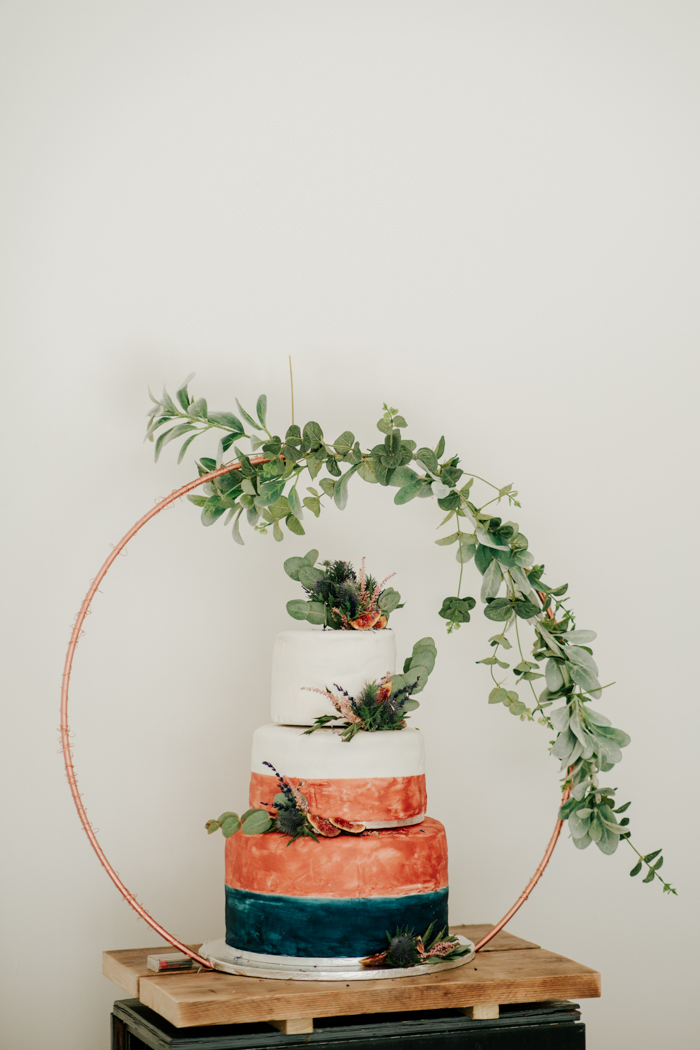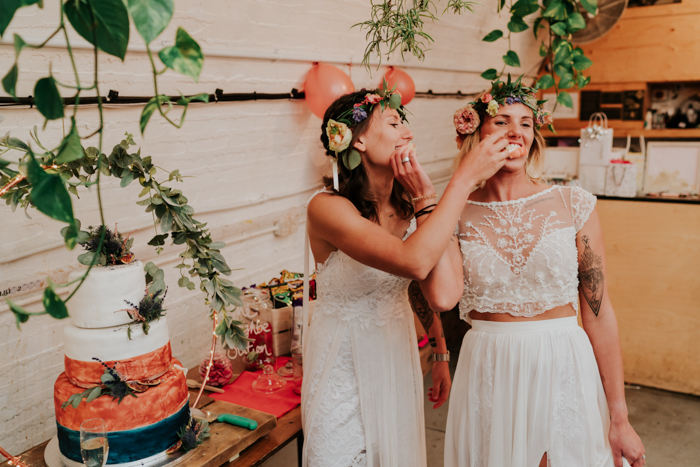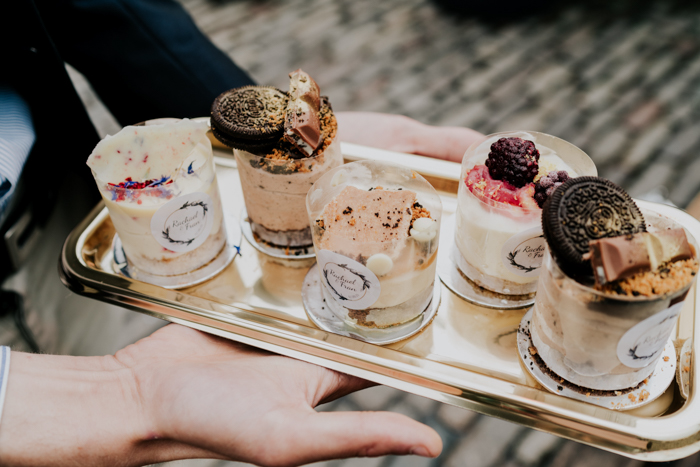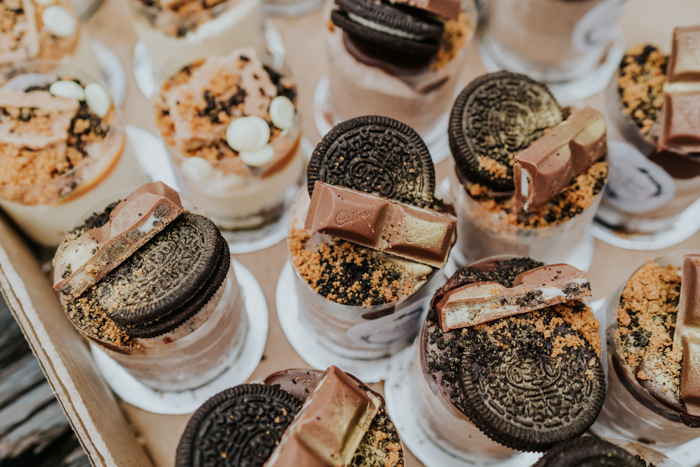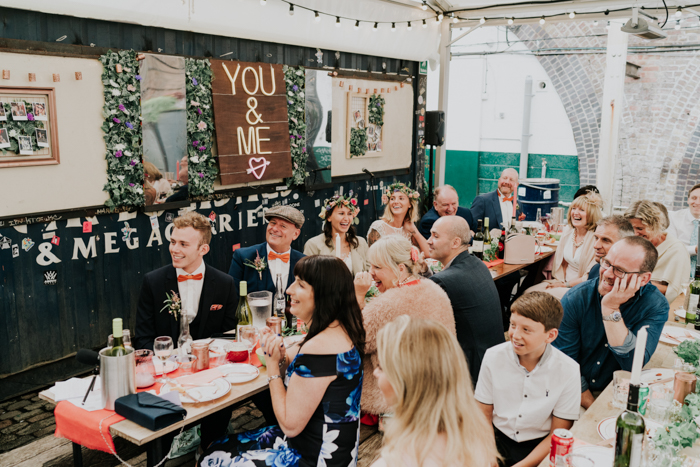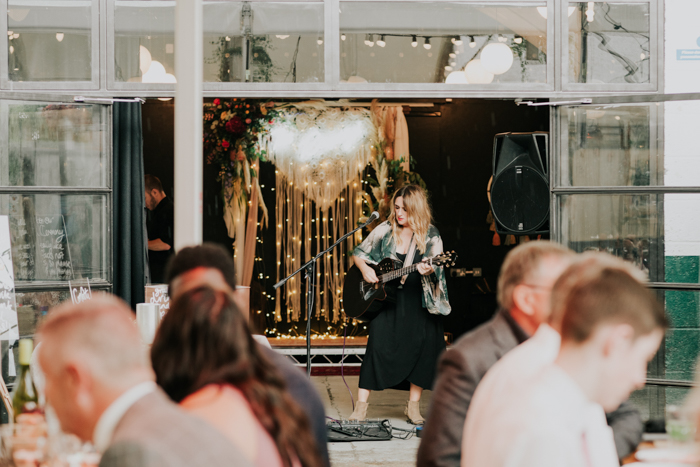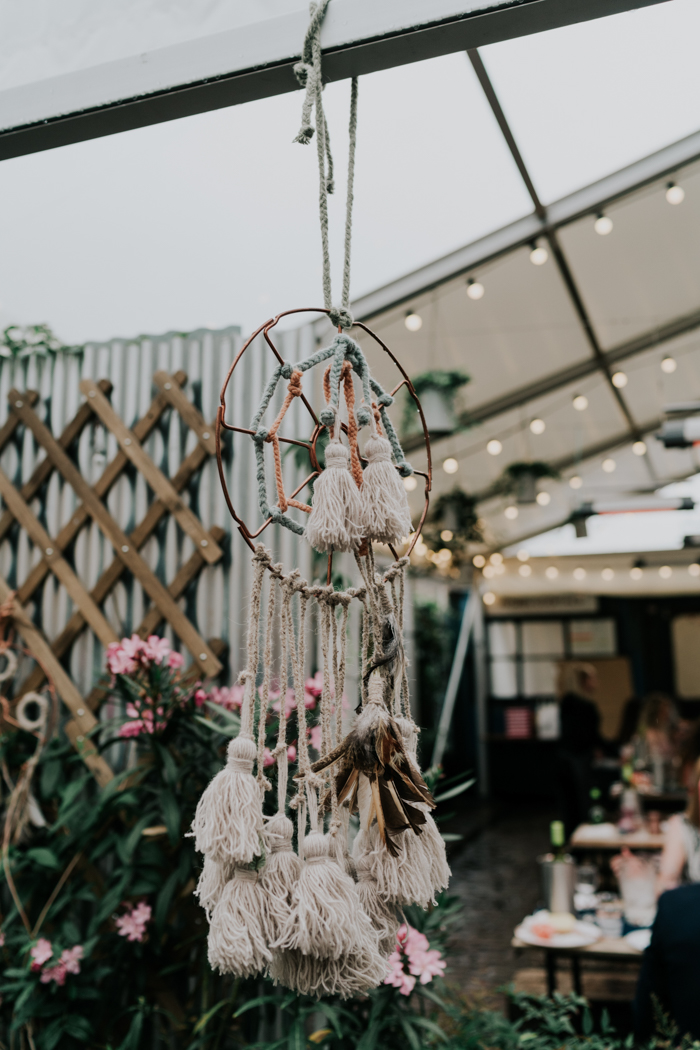 SHOP THIS LOOK: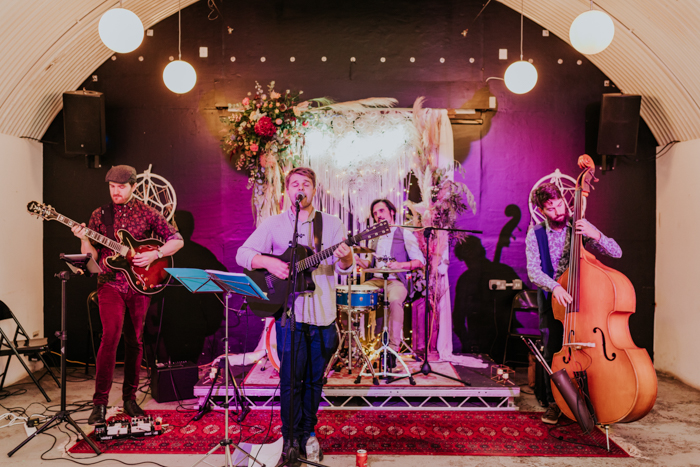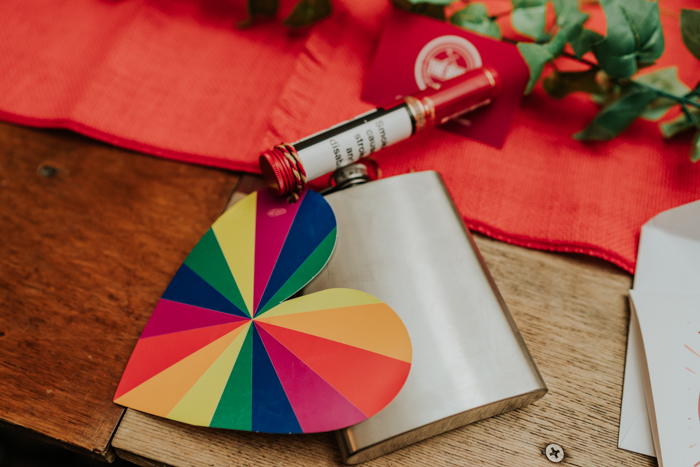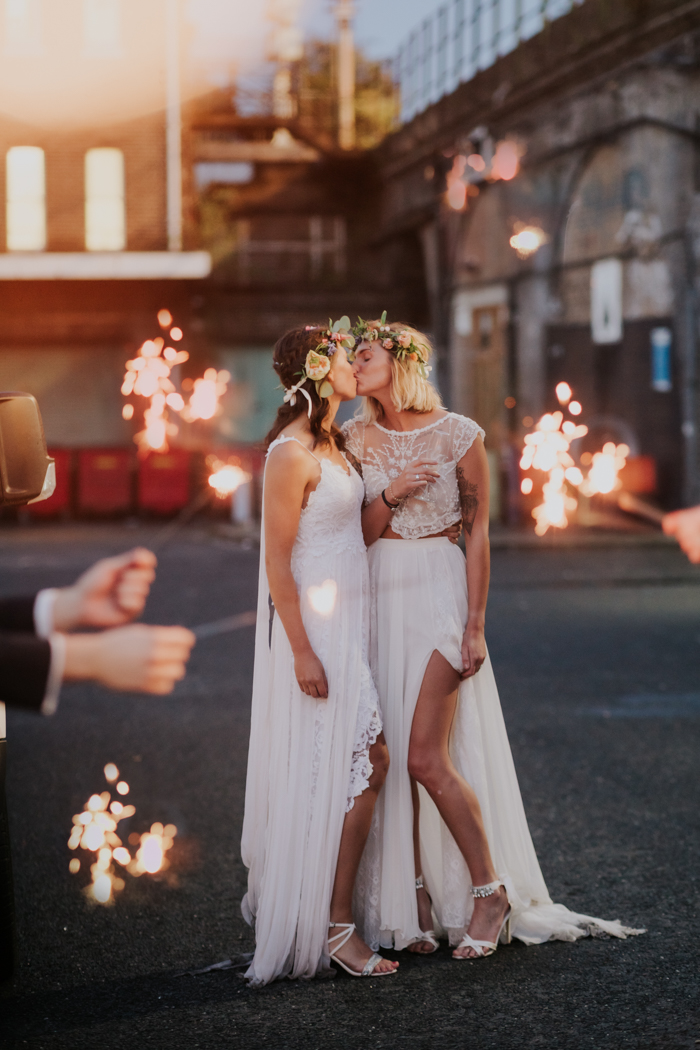 Cheers and congrats, Francesca and Rachael! We're positively obsessed with their Peckham Springs wedding and feeling oh-so grateful that Joasis Photography chose to share it with Junebug. If festival vibes and colorful decor is your thing, you're going to want to see this laid-back Spanish fiesta wedding at Casa del Rio.