While Christina and Joseph certainly planned an elegant, beautiful wedding, they never lost sight of the momentous meaning of their day. They surrounded themselves with their closest family and friends, and joined together in a ceremony full of symbolism that spoke to their beliefs and love. The perfect beginning to a new life together!
The Goals: From Christina – Our first thought was choosing a photogenic location! Joseph is a photographer and we knew if we were going to get great photos we would need to choose a location that would have naturally beautiful backgrounds and great natural light. Our wedding and reception were just around the corner from each other in downtown St. Augustine, Florida. The ceremony was at the Oldest House and the reception was at the Llambias House. Both were beautiful locations with lots of foliage and history.
We believe that a marriage takes God, husband, and wife to be strong and successful, and chose to have a symbol of this in our ceremony. We chose to use a cord of three strands for our ceremony. It was made up of a gold, purple, and white cord which represented God, husband, and wife, and the strands were braided together during the ceremony.
The Design: We had about 85 guests at the wedding and reception; both of which had a vintage, romantic, rustic feel. Joseph and I always say that we are old souls, and we wanted a color palette that reflected this. We chose ivory, blush, and black – colors that are timeless and classic! We want to love the look of our wedding when we look back at the photos 50 years from now just as much as we loved our wedding day. We used soft burlap underlays with ivory lace overlays. Each table was decorated with various sized bud black vases and a couple of blush flowers. We used love birds as a reappearing element throughout the decor, including two black love birds that my Dad cut out of steel to top our cake. We saved the cake toppers and turned them into Christmas ornaments.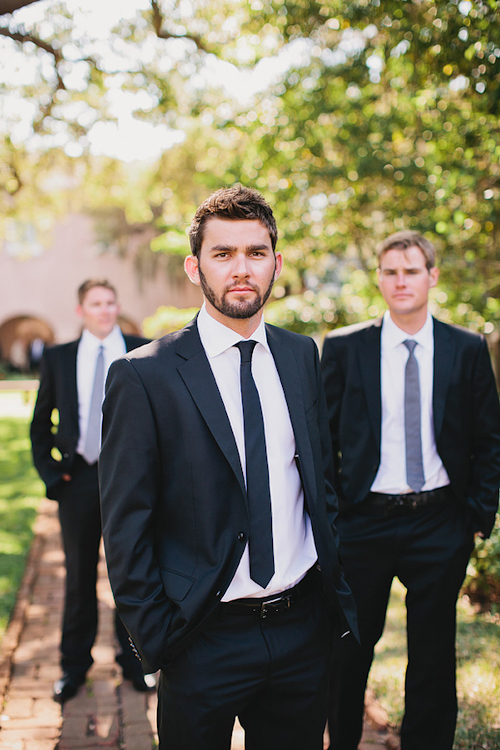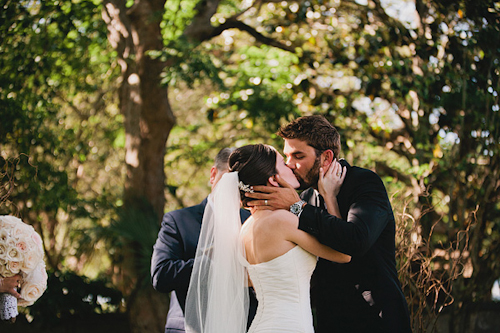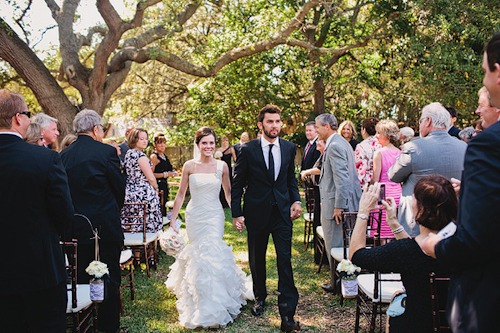 The Moments: Christina – Our first dance (to Jason Mraz's "I Won't Give Up." The lyrics were perfect!), driving off in an antique car, and walking down the aisle with my Dad. Joseph – Christina's beauty, and all of the love and support of our family and friends.
The Pros: Please visit Christina and Joseph's page in our Real Weddings Library for all of the details on their talented wedding team!