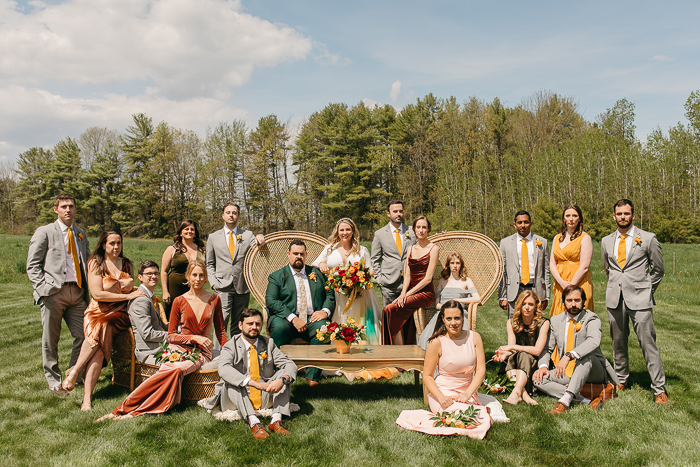 Lucie and Dave's Flanagan Farm wedding radiated a joyful, easygoing atmosphere that perfectly mirrored their personalities. To create a sense of familiarity and comfort, they used a warm and bright color palette, lots of greenery and house plants, and even some playful touches. The whole style mixed nature and modern elements, with a fun twist added in. It was just like them—comfy, a bit silly, laid-back, and relaxed.
They chose to say 'I do' with the woodland sanctuary as the backdrop. They kicked off the celebration with a ceremony surrounded by towering trees, followed by a reception featuring a unique mix of lounge seating and food stations scattered all over the property. The party then moved to the barn, filled with sparkles and disco vibes. The festivities continued with all-night karaoke and a delicious pizza feast.
You might think that's hard to beat, but wait till you see the outfits. Lucie was stunning in a Leanne Marshall wedding dress with a hand-dyed skirt that had pops of blue, green, orange, and yellow, perfectly matching the wedding colors. Dave rocked a custom green suit with special messages and important dates embroidered inside. Even their dog Kiefer suited up for the big day! If you're looking for ideas to make your wedding fashion exciting or want to turn your backyard into a whimsical space, these photos by Henry and Mac have all the inspiration you need.