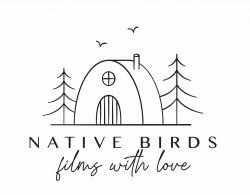 Best Wedding Videographers in Spain and Southern Italy
Native Birds Films
6 REVIEWS
About
MEMBER SINCE 2021
We are a full-time team and that makes everything easier. We live with Gaspar a good-looking dog. Edgar likes to cook and Rita loves to keep up with all the new trends. Edgar is able to talk without breaking a sweat. For him, it's a sport activity. Rita is not able to laugh without closing her eyes and that's why her friendliness is her biggest asset.
We like to get the balance between a good audio and a good quality image. We know that gives a different trait to all our videos. However, we prefer to make it simple and not have too much equipment that can make us miss genuine and spontaneous moments. The more aware we are of what is happening, the better the emotions of those around us and the moments of that day can guide us. People that matter, the embrace of the reencounter, the free unrestricted laugh as if no one was watching, and the dance movements like there was no tomorrow. This freedom felt by the guests is essential for us, that's why we look for the necessary discretion. But we don't say no to a few dance steps at the party.
Why couples love Native Birds Films
Diana M.
Aqueduto Eventos
Reviewed on Jun 02, 2022
The perfect choice for us ! We couldn't have chosen better. Native Birds captured the soul of the party, the day was magical, and now, every time that we see their work, we relive it all over again. We are really happy, they are a super loving ...&nbsp &nbsp Read More
Margarida e João
Portugal
Reviewed on May 20, 2022
Há tanto para dizer sobre esta equipa inacreditável. Para além de criativos e profissionais, são atentos aos detalhes, preocupados connosco a nível pessoal, foram uma presença super positiva e atenciosa no dia do casamento. Sentimos que eram co...&nbsp &nbsp Read More
Ilaria L.
Puglia, Italy
Reviewed on Nov 17, 2021
We "challenged" Edgar and Rita 15 days before our wedding and it has been the best choice we could make. They packed all their enthusiasm and skills to follow us to Italy. The result was the most emotional memory we have of our special day. They mana...&nbsp &nbsp Read More
Erwin d.
Quinta da Arriaga, Colares, Sintra, Portugal
Reviewed on Oct 26, 2021
We are from Ireland and have chosen Rita & Edgar to be our videographers at our wedding in the Quinta da Arriaga, Colares, Sintra, Portugal. From the moment we discussed our plans and venue, we felt the passion in their work and commitment to deliver...&nbsp &nbsp Read More
Andreia R.
Douro, Portugal
Reviewed on Oct 13, 2021
Rita and Felix exceeded our expectations. Our wedding video was the most original and beautiful we have seen. The production was top quality. The drone photography really made a difference. They captured special little moments and sound that highligh...&nbsp &nbsp Read More
&nbsp + See More Reviews
Request Information
Thank you for your submission. We will be in touch soon!
X

Email Sent.