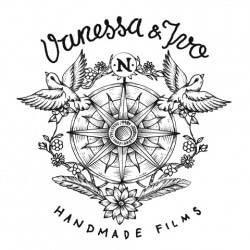 Best Wedding Videographers in Portugal and South of France
Vanessa & Ivo
About
MEMBER SINCE 2017
We are Vanessa and Ivo. We're made of sun, sea and love. We've started making wedding films in 2012, and our style has been changing and getting mature. We're looking for the story. We add some beautiful images, the proper music and we have your wedding film.
We have a dog (Kira!) and two (!) cats , Rorschach and Baunilha. We listen to a lot of music and we watch lots of movies (specially those that go well with popcorns). Vanessa worked in a theater company, Ivo worked in film. We love cooking together and spend our evening in the sofa. Vanessa is organized, Ivo not so much.
On your big day our goal is to capture, in a simple way, the essence of what happened. We're not looking for poses or staging. We won't upset your guests with strong lights. We'll try to be discreet and mix with your guests. Most of the time we have just one camera on our hands. You can find us picking an appetizer, easily or dancing during the party. And we always eat cake! The wedding day is a big party and we want you to have fun. That's why we ask for little of your time so we can some beautiful images of yours. We want you to have fun " talk, laugh, eat, drink and dance. We honestly believe that's what makes our films unique.
Who you are
You're madly in love. You're relaxed and have a great sense of humor. Possibly you have pets and like to travel. You love the films we make and you want one like it for you. You're willingly participating in your wedding film, but you also trust us and on what we can do. You want to tell your story ou write sweet words for each other and record them for the film. You'll get married in a beautiful and special place. You'll get envolved on the decoration and arrangements. On the big day, you'll be surrounded with family and close friends.
If you relate to what we have written, we'll love to do your wedding film.
Why couples love Vanessa & Ivo
Request Information
Thank you for your submission. We will be in touch soon!
X

Email Sent.