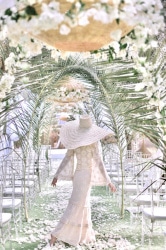 Best Wedding Venues in Marrakech, Morocco
Taj Villa Marrakech
11 REVIEWS
About
MEMBER SINCE 2019
Marrakech Weddings at Taj Villa Marrakech the best wedding venue in Morocco.
Taj Villa Marrakech is a unique venue to rent, dedicated to weddings with an integrated wedding planners service. Perfect location in Morocco for destination wedding, Taj Villa can hosted your wedding day, bohemian ceremony or traditionnal wedding, dinner and party but also rehearsal dinner elopement and day after brunch around the 25 meters pool.
The villa is located 20 minutes from Marrakech airport and can house up to 53 guests in the 19 rooms and from 20 to 200 guests.
Incredible view of the Atlas mountains and countryside from the rooftop terrace with a sundown on the Agafay desert dunes.
Marrakech Villa Rental
your Marrakech wedding dream wedding comes true.
Recently voted one of the most beautiful wedding venues in Marrakech, Taj Villa Marrakech provides a truly magical setting for birthdays, weddings and corporate events. The property holds the largest private pool in Marrakech, accompanied by a pool house facing the Atlas mountains.
Other features include 19 rooms for up to 54 overnight guests, wedding ceremony spaces to host up to 250 guests, 100-year-old olive trees to provide a gorgeous backdrop to your day, and a tent filled with over a thousand lights. The events team at the Villa offers unparalleled organization in every aspect of your day, allowing you to sit back and relax as you enjoy every moment in the present.
Why couples love Taj Villa Marrakech
Isabelle D.
Reviewed on May 25, 2020
This villa is the wedding specialist in Marrakech. An impeccable wedding organization: superb ceremony, amazing location, wonderful reception, outstanding professionalism, memorable dinner, dazzling animations... What more can I say? We highly recomm...&nbsp &nbsp Read More
Helene M.
Villa Taj
Reviewed on Apr 20, 2020
Best Marrakech weddings I've ever seen! Everything is perfect, the place is sumptuous and the organization incredible.
Patrice T.
Villa Taj Marrakech
Reviewed on Apr 18, 2020
Real specialists for Marrakech weddings. Everything at the villa was incredible with a special mention for the work done on the ceremony. I was a bit afraid of the result of a non denominational ceremony, something without specific rules, and all the...&nbsp &nbsp Read More
Sandra Lisa
Reviewed on Apr 17, 2020
This place is amazing as the photos show...what a great idea to organize Marrakech weddings in such an environment !
Alexandra F.
Reviewed on Apr 17, 2020
Invited to a wedding with my boyfriend, the only idea that came to me was : if Marrakech Weddings are all like this one, I want to have the same one. Tasty, beautiful, staff so nice, weather so incredible, I loved Marrakech and I loved Villa Taj. Def...&nbsp &nbsp Read More
&nbsp

+ See More Reviews
Request Information
Thank you for your submission. We will be in touch soon!
X

Email Sent.