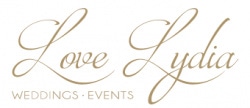 Best Wedding Planners in London
Love Lydia Weddings & Events
About
MEMBER SINCE 2018
Our aim at 'Love Lydia Weddings & Events' is simply to exceed your expectations at every step and to produce a sensational event for you and your loved ones to cherish. No two couples are the same and everyone wants their wedding to be utterly unique. Along with my team and fabulous suppliers, we work closely with you to produce an individual wedding celebration or special event that is absolutely 'you'.
We are experienced in creating unique wedding events and executing them flawlessly to ensure your day is as beautiful and magical as you envisioned. We aim to crystallise your ideas, define your vision and make planning your event fun. From start to finish, my professional, reliable staff and I, will make your special day unfold just the way you envisioned. The results will be unique and spectacular.
We do not like packaging our services as it implies restrictions (of which there are none) and we really do treat each of our clients personally. We strive in offering a personal and committed service to our couples and can be there for assistance with even the most trivial of things.
Your wedding day is one of the most important days of your life. A moment in time that should be anticipated with excitement, experienced with joy and remembered with fondness. When you ask us to plan your wedding, you can relax while we handle the finest of details, from the way the tables are set to the menus that are served, from the flowers, the music and the beautifully intimate atmosphere to the final farewells and the lasting memories.
Please view our most recent publications here:
http://strictlyweddings.com/blog/2019/01/regal-wedding-day-romance-hedsor-house/
https://www.elegantwedding.ca/regal-wedgwood-blue-wedding-ideas
Why couples love Love Lydia Weddings & Events
Request Information
Thank you for your submission. We will be in touch soon!
X

Email Sent.