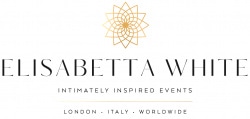 Best Wedding Planners in Italy
Elisabetta White • Intimately Inspired Events
1 REVIEW
About
MEMBER SINCE 2020
Intimate weddings and elopements in the most breathtaking settings, for sunset chasers and soulful couples.
As an Italian wedding planner based in London, I look after international couples looking to get married in Italy, the UK and beyond.
My full wedding planning services are devised to relieve you from the overwhelm couples often experience when they first start planning their wedding. You will be involved as little or as much as you want to, but will have the peace of mind that comes from knowing every detail is being taken care of. With my support you'll make educated, smart choices, maximise what's achievable with your budget, and build a team of suppliers that is always on your side, working hard and collaboratively for the success of your wedding.
Coco Chanel once said: "Some people think luxury is the opposite of poverty. It is not. It is the opposite of vulgarity."
My couples and clients are not driven by ostentatious display of their wealth. They are sophisticated; they have good taste and express it by making their wedding or event a celebration of love and joie de vivre. They appreciate the small things in life; they put family and friends first, always. They love details and timeless elegance, but they're not looking to impress anyone. And they come to me to help them plan their definition of a luxury event - be it a boho-inspired masseria wedding in Puglia, a rustic-chic celebration in the rolling hills of Tuscany, an intimate bash in a Moroccan desert camp, or a beach elopement in Egypt.
If this is you, I'd love for you to get in touch!
xo Betta
"My daughter's dream was to be married in Ostuni, Italy and our family is from the states. We knew we needed an awesome wedding planner and we could not have been happier with Elisabetta. We believe "The difference is in the details" and Elisabetta did not fall short! She is so talented and is also is one of the kindest, most genuine, and most trustworthy people we have ever met. She has a great business accumen, but also has a beautiful taste level and is very creative. From our very first meeting in Ostuni and throughout the journey, she made it fun. We felt very confident in her ability, and never second guessed that she would not deliver a spectacular wedding for our daughter. Because all of our guests were traveling to the venue, we had a series of events for them to enjoy. A Welcome Dinner, the Wedding and Reception and a Bon voyage Brunch. So really it was three events built into one! Elisabetta worked with us to perfectly capture my daughter and son-in-law's love story, their personalities, and their vision. Each of our guests shared that it was the best wedding that they ever attended and that we created such a beautiful memory. " - Barbara, Britt + Jude, Masseria Moroseta 2019
Why couples love Elisabetta White • Intimately Inspired Events
Bianca T.
Italy
Reviewed on Jan 31, 2021
Elisabetta is an extraordinary wedding planner. After I got engaged two years ago, I interviewed multiple wedding planners and while they were all lovely, I felt a connection with Elisabetta and that I could trust her. Picking Elisabetta to be our we...&nbsp &nbsp Read More
Request Information
Thank you for your submission. We will be in touch soon!
X

Email Sent.