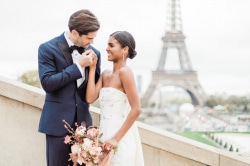 Best Wedding Planners in Paris, France
Dream Paris Wedding
11 REVIEWS
About
MEMBER SINCE 2020
Our design expert team will create an outstanding and elegant look that suit your style. Our experience with designing wedding decor, our extreme attention to details and flawless execution are what makes us different from the rest and this is how we create unforgettable "one-of-a-kind" experiences that your guests will remember forever!
Why couples love Dream Paris Wedding
LORENA B.
Paris
Reviewed on Sep 23, 2020
Our guests are still talking about how beautiful everything was, we couldn't have done it without Audrey and her team. Coming from the event world I can tell you it was hard to let go and have someone else's hands in charge but I am glad I did......&nbsp &nbsp Read More
Erica H.
Paris
Reviewed on Sep 21, 2020
If you are looking for a magical wedding, Audrey at Dream Paris Wedding is the person to make it happen. She was there from beginning to the end. More than anything we loved how much we communicated before and during the wedding, and how easy she und...&nbsp &nbsp Read More
Celia W.
Paris
Reviewed on Sep 15, 2020
Don't wed in Paris without Audrey! I was eyeing her instagram for months and finally was able to have the opportunity to work with her. Once I decided she was my girl everything started falling into place. She gets me, she has made my vision start to...&nbsp &nbsp Read More
Larry W.
Paris
Reviewed on Sep 03, 2020
Audrey is such a pleasure to work with! She's detail-oriented, incredibly caring and committed to making her client's dream and vision a reality. She made everything work in perfect harmony throughout the planning process and on the day-of. Love her!
JENNIFER W.
PARIS
Reviewed on Aug 29, 2020
Audrey is brilliant. Dream Paris Wedding was such a pleasure to work with. To have the perfect planner, one who's personable and genuinely caring was important to me. Audrey is a blessing; She got to know us and worked diligently to ensure everythi...&nbsp &nbsp Read More
&nbsp

+ See More Reviews
Request Information
Thank you for your submission. We will be in touch soon!
X

Email Sent.