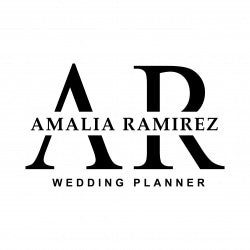 Best Wedding Planners in Costa Rica
Amalia Ramirez - Wedding Planner
About
MEMBER SINCE 2021
Hello!
I am Amalia, creator of dreams from the soul, Certified WEDDING PLANNER and specialist in accompanying and guiding you step by step through the process of transforming and materializing your ideas into a beautiful wedding; yes, from your innermost desires, so that we can turn the wedding you always dreamed of into a great unforgettable day!
I faithfully believe that we are all born with a mission in life, and I found mine in 2010 here, in the country of "Pura Vida"! I am passionate, creative, a true perfectionist, and love customized weddings: I fight every day to fulfill my dreams; my family means everything to me! I decided to travel the world more often and casually, collect sunsets, and do only what makes me happy!
Desserts, coffee, passion fruit, and sleep are my weaknesses; I believe in training and that is why I constantly educate myself in different areas both nationally and internationally. Also, different network media, magazines, newspapers, and digital media have recognized my work as a wedding planner throughout my career.
I founded this company in 2010 to provide professional, exclusive, personalized services that could leave a mark through unforgettable experiences. If you are looking for a different and loving wedding to get married to in some corner of Costa Rica, CONGRATULATIONS! You have come to the right place!
Planning a wedding requires a lot of time, dedication, and sacrifice, that is why I only accept a very select number of weddings per year to guarantee a high level of service. I supervise the design, planning, execution, and closing of your big day.
​I have the best team of suppliers and that is why the weddings I plan always stand out for their authenticity and perfection.
​I work with dedication and passion in small and personal weddings, even large formal weddings! I provide my services throughout the year, whether on the beach, in the city, or the mountains. I do not have fixed rates, I prepare a budget according to your needs, so I hope to meet you soon and make you incredibly happy!
SERVICES
Goodbye worries and stress!
Live, take risks and enjoy what is different!
Small, intimate, and exclusive!
Pack suitcases and getaway!
Why couples love Amalia Ramirez - Wedding Planner
Request Information
Thank you for your submission. We will be in touch soon!
X

Email Sent.