Eager Hearts Photography Co.
Best Wedding Photographers in Seattle, Washington
About
Now booking PNW weddings for 2020! Moving from NYC back to the Best Coast!

I believe in:
Happy and authentic over perfect
Your wedding, your way
The beauty and joy found in the simple moments
My Strengths:
Relaxed, affectionate, natural portraiture 
Uninhibited, joyful, emotional candids of you, your family and friends
Intentional, design-minded photos of the details that pull it all together
What to expect:
Honest, kind, responsive communication 
Support through the planning process 
Strong direction when needed
Photos that feel like you
The result:
MODERN, CLASSIC, EMOTIONALLY RICH PHOTOS OF YOUR LIFE & LOVE.
My clients aren't afraid to say yes, be silly, try new things, make out on command and belly laugh until it exhausts them. They know that life is about getting dirty, diving deep, and loving with your full heart. And I'll make you look good doin' it.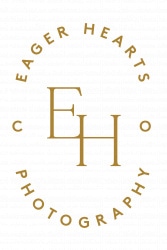 Request Information
Thank you for your submission. We will be in touch soon!
X

Email Sent.