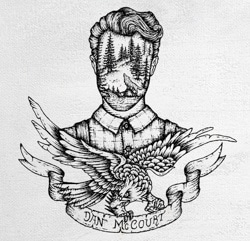 Best Wedding Photographers in Northern England
Dan McCourt
16 REVIEWS
About
MEMBER SINCE 2018
Hey! I'm Dan - based in the North East of England & still pinching myself that this is my job (even after years in the business).
How do I shoot? Well the best way to find out is to have a look around. I've got a thing for natural light, negative space and and a dark, analogue feel with a cinematic twist. I'm always taking inspiration from everything around me, always taking pictures in my head - everyone does that, right?
Marriage is amazing, adventure is amazing. I'm just here to document the journey in the best possible way. There's nothing that means more to me than capturing natural emotion, tiny moments between your family an friends
Outside of weddings music is my vibe, I'm a huge fan of all things Bon Iver, City & Colour and The Black Keys. I don't think I'd could function without it" Along with good coffee, good coffee is an essential. I lay faith in trusty pairs of Redwings and appreciate a good denim.
Getting married? Fancy a chat? Feel free to get in touch - I'm availble in the UK or all around the world.
Why couples love Dan McCourt
Rebecca C.
County Durham
Reviewed on Apr 15, 2020
I searched the Internet and social media for hours trying to find a photographer that caught my eye. Someone who truly captured the finer details of the day and not just your run of the mill traditional photographer with the same old boring photos! ...&nbsp &nbsp Read More
Emma J.
Woodhill Hall
Reviewed on Apr 14, 2020
My partner and I had been following Dans work from the very beginning, a few weddings he shot came up on our feed and we knew instantly that we had to hire him as our wedding photographer. We met Dan for an initial chat and he ticked all the boxes, h...&nbsp &nbsp Read More
Rosie B.
Wylam Brewery
Reviewed on Apr 13, 2020
We still get butterflies when looking back at our wedding photos! Our family and friends all comment that they're not just photographs but works of art, and it's all down to Dan's meticulous eye for detail. Thank you again Dan!
Charlotte W.
North Shields
Reviewed on Apr 13, 2020
Dan went above and beyond to capture the special moments of our day. It wasn't a conventional wedding, small and intimate. Dan managed to capture moments that will stay with us through generations. He's a true talent. No matter how big, small, el...&nbsp &nbsp Read More
Amy L.
Reviewed on Apr 13, 2020
I recently attended a friends wedding where Dan was the photographer. The pictures we're beautiful and so unique to other photos I had seen taken at weddings before. His pictures are quirky and capture the bride and grooms personality's! Dan was ...&nbsp &nbsp Read More
&nbsp + See More Reviews
Request Information
Thank you for your submission. We will be in touch soon!
X

Email Sent.