Natan Fotografia
Best Wedding Photographers in Morocco and South of France
About
Specialized in passionate storytelling of weddings with powerfull authenticity, capturing the real emotions with an unique artistic&cinematic style. Based in Barcelona, We love photographing weddings in Mallorca, Morocco, France, Costa Rica, USA, Italy, Greece, Switzerland, China...worldwide.
First video below is a selection reel, others are complete weddings in different locations worldwide. Enjoy! ;-)
_________________________________________________________________
Idia & Will's Testimonial :
"We cannot recommend Esther and Natan highly enough; – particularly when shooting as a couple – they covered our wedding in Marrakech and really captured the detail of our wedding. We were particularly impressed with the preparation work they made in Marrakech, flying out a few days earlier to scope out the different venues and consider the best places for after wedding shots in the Medina and the Palmerais, nothing was too much.
They are an excellent team – firstly Natan has boundless energy – he captured a lot on camera. Our abiding memory was Natan leaping from a vehicle to take photos of the wedding party as they went by caleche (horse and carriage) from the church to the wedding venue. Whilst Esther is Natan's foil, in the background, she picked out some really beautiful detail of our day.
Would we recommend Natan and Esther as photographers? ABSOLUTELY. They were brilliant, a pleasure to work with and in the end they ensured our wedding experience was recorded from beginning to end."
_________________________________________________________________
Sonia & Mirko's Testimonial :
"Thank you Natan!!!! You guys are a great team!!!! We had a logistically complex wedding since people came from all over the world speaking different languages with different customs but you managed to capture it so effortlessly. We love your style, it was worth the long search!! We will forever look at your images with warm and smiling hearts!"
_________________________________________________________________
Dani & Matt's Testimonial :
Natan & Esther, WOW what amazing photographers you both are… We are from the UK, and having planned our wedding to be in the beautiful village of Deia, from a distance, it was always going to be based a lot on trust, but when we saw your website and your previous work we just KNEW you were the photographers for us!! For the evening before the wedding, then the wedding morning right through to the end of the partying at the end of the night, you and Esther were fantastic! I dont think you missed a thing! You were always there but not obtrusive and so kind when I was a little camera shy, with Esther even wiping my brow and redoing my hair when we came out of the church. THEN, we got the photos back… they took our breath away. We have so many to chose from to print and keep forever as precious memories. Thankyou so much for capturing our special day and creating art out of every shot. We would recommend you over and over again to anyone looking for a photographer, you will not be disappointed!! Thankyou Natan and Esther, we are eternally grateful to you. All our love,
Dani & Matt
_________________________________________________________________
Ginger & Matt's Testimonial :
Natan , these pictures are absolutely AMAZING! Thank you for sharing your incredible talent with us and making our pictures dream come true!. I love the bright colors you captured and there are some shots that I was hoping to get and you got them!!. Ha! We couldn't be happier to see our story in these images. It looks so magical. Fantastic Job!!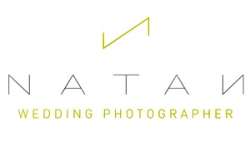 Request Information
Thank you for your submission. We will be in touch soon!
X

Email Sent.