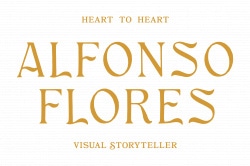 Best Wedding Photographers in San Miguel de Allende, Mexico
Alfonso Flores Destination Wedding Photography
About
MEMBER SINCE 2018
Hi, it's good to find you here!
Let me introduce myself and the gang between storytellers and dogs (our best friends).
Picture a little Alfonso imagining the world was there to see, to explore, to touch, to discover; and guess what? I discovered that IT WAS, IT IS.
And that's what I do now... i see, explore and collect memories. I see the world through photos, love, care, passion, tenderness, hope and inspiration; that comes of my family, my friends, my love Amelia, and yes, our two doggies: Agustus and Morty. As you can tell, we are back on the top of the story: Our gang. The four crazy ones passionate about wedding photography.
What do we love beside photos?
A cup of coffee in the morning, long conversations, good food, one or two beers :)
But who runs all the structure and let me be creative all the time? Amelia, she gives every couple time, patience and care; she is my other half (the one that talks so much more than me), my best friend (feel free to trust her hundred percent).
Let's make it simple…. we just love weddings, so much fun, so many people, the chance to put a little madness in a couple's story, to make memories come alive, to keep moments and know we are doing our best, there are no words.
Our style it's documentary most of the day. I try to go unnoticed to capture true feelings, emotions, details, families, hugs and the main thing: LOVE. When we know a crazy lovers and we feel that awesome click, then everything comes easy. That's why we are more than a supplier, we have fun, we enjoy, we feel like friends and our go it's to make you happy, and we you see the final result you have the sense that you are in your wedding again and again.
Together, we make possible to know wonderful love stories, awesome couples and to be passionate about weddings.
So, this is us, our little story.
Why couples love Alfonso Flores Destination Wedding Photography
Request Information
Thank you for your submission. We will be in touch soon!
X

Email Sent.