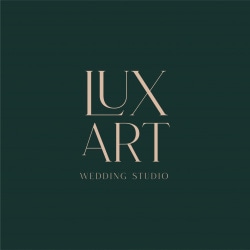 Best Wedding Photographers in Mexico, Italy and New York
Luxart Wedding Studio
25 REVIEWS
About
MEMBER SINCE 2021
We're Abi & Gon, partners in life, girl & boy duo who decided to live their life sharing our way of seeing things through out photography. Destination wedding photographers, Pretty big fans of love stories, bold couples, rock the dance floor on a wedding day and also tiny elopements in hidden spots. 
When we aren't barefoot on the beach shooting a wedding you can find us wearing swimwear on our way to the sea or riding the scooter downtown with our two chihuahua pups. If it's a grey day some cuddles on the couch and a nice coffee is the best plan ever!
Candid style and becoming into "Friendors" is the goal for us + make you fell comfy and your best "you" in front of a camera. 
I remember as if it were yesterday that Gon said, "I want to travel all over and do what I really love…take pictures! Let's share with people our world's perspective, let's be witnesses. I want to live the joy as much as possible…everyday!"
Why couples love Luxart Wedding Studio
Jackie L.
Mayakoba
Reviewed on Jun 27, 2022
We could not have asked for a better duo to capture our most special day! Abi & Gon were an absolute pleasure to work with - they made the entire experience so fun & care free! They are so beyond talented & their joy for what they do shines through i...&nbsp &nbsp Read More
Lotty B.
Royalton Riviera Cancun Mexico
Reviewed on Jun 20, 2022
Me and Luke were over the moon that we got to work with Abi and Gon, as soon as we met them it felt like we knew them years, we instantly clicked, they are both so talented and creative and they made us feel so at ease infront of the camera, they had...&nbsp &nbsp Read More
Megan C.
Jardin del Mar
Reviewed on Jun 09, 2022
Abi & Gon are a dynamic duo! We found them via our planner, Mango Weddings. After reviewing their Instagram we knew that they were our first choice photographer! Working with LuxArt was easy from the start - they were prompt in their communication, a...&nbsp &nbsp Read More
Chelsea and Bree C.
Live Aqua Cancun
Reviewed on May 21, 2022
My husband and I cannot say enough amazing words about Abi and Gon. They share a great chemistry and passion for being behind the camera together. They truly captured every intimate detail of our wedding and we couldnt be happer. We would choose our ...&nbsp &nbsp Read More
Jessica H.
Royalton Riviera
Reviewed on May 18, 2022
From the minute I saw Luxart's Instagram profile I knew I needed to use them and I knew the photos would be incredible, but nothing could have prepared me for the amazing experience they provided. Abi and Gon were the cutest fun-loving couple and ...&nbsp &nbsp Read More
&nbsp + See More Reviews
Request Information
Thank you for your submission. We will be in touch soon!
X

Email Sent.