LeeAnn B Stephan Photography
Best Wedding Photographers in Louisiana
About
Hi! LeeAnn, here. Currrently living in South Louisiana with my lovey dovey husband, Nick and our two sweet chugga beans, Evangeline and Arlo. We make a lot of really lame jokes with each other and none of us mind being each other's best friends. I have a passion for vintage decor and clothing. Mrs. Maisel is my spirit animal. On the weekends when we aren't working, you can find us scouring garage sales and estate sales looking for little treasures and bits and bobs. I can feel music in my bones and one of my only regrets in life is missing Radiohead at the Woodlands during their In Rainbows tour in 2007. Most days, I immerse myself in podcasts, trying to learn anything that will be useful to me during my tenure on Jeopardy. (one day...you'll see.)

How do I work? Well....

I find people to be incredibly interesting. I love finding the real emotions; the real real. I wanna see you. I wanna know who you are, what your love is, what it can be, where you'll go, and what makes you, as a couple, tick. I strive to give images that transport you to a time and a moment. I want you to be able to hear the laughter and feel the tears. My favorite moments are always the ones you didn't even know I captured and most of the time, those are the ones you'll love the most too. I connect greatly with people who are down for whatever...people who say, "let's just do this and see what happens." I'm always on the lookout for interesting light and cool angles, even when I'm not shooting. So, let's hang! Let's make some cool stuff together and see where it all goes.
p.s. I have chosen to opt out of social media so you won't find those links on my Junebug page. If you would like to see my work, please click on my website, browse through, and if you like my work, fill out my contact sheet!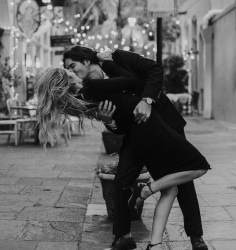 Request Information
Thank you for your submission. We will be in touch soon!
X

Email Sent.