In Bianco e Nero
Best Wedding Photographers in Central Italy
About
Hello everyone!! We're Emanuele and Federica, a couple in real life and work. We're based in Rome. We live here after 9 years spent around the world. We lived in the Canary Islands, in Cuba, and in the Dominican Republic.This gave us a chance to get know a lot of people and learn how to relate to them.
We started with a small print shop in 2012 but soon we realized that our road as another and so we've dealing with weddings for three years now.
We love to tell stories in alternative and unconventional way. and being original.For our shots we are inspired by the plantings of Caravggio and his plays of light and shadow.
Before the photograph, however, comes the human side. For us is very important , and we keep that it is for you too. We like to forge new relationships and create new ties with the couple we meet. This the basis of our work, because when we've created a good alchemy, the result will be visible also in the photographs .
Before we are photographers, we're people.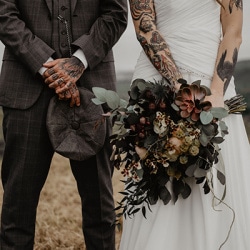 Request Information
Thank you for your submission. We will be in touch soon!
X

Email Sent.