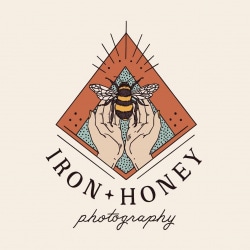 Best Wedding Photographers in Chicago, Illinois
Iron + Honey Photography
5 REVIEWS
About
MEMBER SINCE 2021
Hey! My name is Melissa Ferrara and I'm a documentary lifestyle photographer specializing in portraits, weddings, and travel.
Melissa is Greek for "honey bee" and Ferrara is a Latin derivative of "ferrum" meaning "iron." Boom. There you have Iron + Honey.
My favorite part about photographing weddings is all the unique ways there are to celebrate. Also, it's so exciting being able to document all the emotion on such an important day knowing that people will be looking back on these photos for years to come. Photography is such an important part of a wedding. After the food is eaten and flowers are wilted, the photographs will be the only thing you have to remember the best day of your life.
Why couples love Iron + Honey Photography
Sandra C.
Lake Geneva, WI
Reviewed on Oct 17, 2021
We were so happy to hire Melissa for our wedding. We just felt that it was stress free and the pictures came out amazing. She made taking photographs feel natural.
Emily N.
Chicago, IL
Reviewed on Sep 15, 2021
We worked with Melissa for our engagement and wedding photos. On the day, she was calm, cool, and fun to work with! She made us feel like our best selves in front of the camera and they resulted in the best photos. Looking back on them, we can feel t...&nbsp &nbsp Read More
Kayla W.
Greenhouse Loft
Reviewed on Aug 13, 2021
Melissa did a great job capturing love and joy in our wedding pictures. I appreciated how accommodating she was when we had to reschedule our wedding due to the pandemic. My husband and I are not super comfortable in front of the camera, but Melissa ...&nbsp &nbsp Read More
Brynne M.
Cantigny Woodside Pavilion
Reviewed on Aug 03, 2021
Melissa was referred to us by one of my co-workers who had had her engagement photos done by Melissa. Those photos were so gorgeous and intimate, that I knew that I had to book Iron and Honey for our wedding. After our first meeting with Melissa, I k...&nbsp &nbsp Read More
Lauren H.
Chicago, IL
Reviewed on Aug 03, 2021
Melissa from Iron + Honey was a dream to work with! We booked Melissa for our October 2020 wedding, which turned into a June 2021 wedding, and we did an engagement session with her beforehand. Melissa was highly responsive, professional, and we appre...&nbsp &nbsp Read More
Request Information
Thank you for your submission. We will be in touch soon!
X

Email Sent.