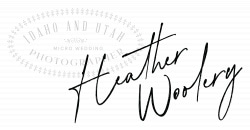 Best Wedding Photographers in Idaho
Heather Woolery Photography
About
MEMBER SINCE 2021
Transfiguring your life's moments into art...
Leave room for imagination and read a good old book once in a while. Dance in the kitchen with a glass of wine and pack a box of donuts before you hit the road for goodness sake...this is, at least, my motto in life.
I'm an Idaho-based artist and storyteller, or photographer as it were, who loves to travel near and far to be there for my couples capturing those small moments against big landscapes and cozy backyards.
Specializing in elopements and intimate weddings, with a passion for the outdoors and an art background, I will capture your day for all that it is so that for generations to come you will be able to relive this magical day and share the memories with those you love. Having such a heart for the arts and the great outdoors, I am a No Trace Left Behind photographer and strongly advocate the use of outdoor spaces responsibly. I also donate 5% of all booked weddings to various trail preservation foundations and local art programs.
I absolutely LOVE coming into those special spaces on the day of your wedding and capturing the feels of that day. The way the light shines through a window, the mud on the bottom of your dress after an incredible day of "I Do's" and adventures. Of you both, hearts so full, against the grand landscape or huddled in a family garden. Your wedding day shouldn't be a production, but a celebration of your love and commitment to one another. And I'm here to celebrate with you wherever you want to get the party started.
So, let's make sure we capture the magic feels of your backyard wedding or your intimate adventurous elopement the old-fashioned way - in good photographs.
Can't wait to hear from you soon.
-Heather
Why couples love Heather Woolery Photography
Request Information
Thank you for your submission. We will be in touch soon!
X

Email Sent.