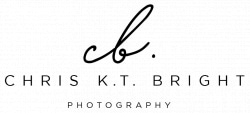 Best Wedding Photographers in Hawaii
Chris K.T. Bright Photography
About
MEMBER SINCE 2020
I'm Chris. I'm a wedding and elopement photographer in the beautiful islands of Hawaii.
And I believe in the power of storytelling.
As a photographer, I believe each image we take (I say "we" because you're part of the process too) tells the story of your relationship. And that's what I care most about: You guys.
At the end of the day, this is all about you. This is about capturing your unique and amazing love. I want to go the extra mile. I want to set up a gorgeous composition that encapsulates both your connection and the beautiful location you're in, but I also want to get the silly moment right after where you're giggling at how happy you both are - about how wonderful this day is. I want to get out in the rain for that perfect shot, or help clean up the trash when you need it, or be there to pray with you when need it. It's all the work that goes into every moment. The preparation, the detailed execution, and the compassion with which it's realized. That's what I want to do for you. That's what I love doing most.
I want the curated and the raw. The composed and the organic. I am committed to showcasing an authentic and unique representation of who you are.
Why couples love Chris K.T. Bright Photography
Request Information
Thank you for your submission. We will be in touch soon!
X

Email Sent.