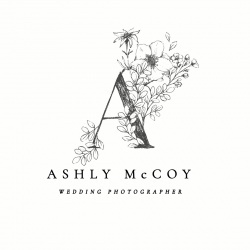 Best Wedding Photographers in Georgia and South Carolina
Ashly McCoy - Wedding Photography
About
MEMBER SINCE 2022
Are you a dreamer? The kind of person who has envisioned their wedding day since they were a child, surrounded by stunning peonies and garden roses as soft natural light washes down over you, the sounds of nature warming your soul. The land around you as exquisite as you. Maybe you're standing on a beach on the Amalfi Coast in Italy as the sounds of the ocean brush the shore, or the church bells of the Notre Dame Cathedral ring out to your love in the heart of France, or you're under a large Spanish Oak in Savannah, Georgia, as you look your special someone in the eyes and say "I do".
If this is you, then Ashly McCoy might be your perfect fit.
With an outright devotion of service to her clients, Ashly not only captures her couples in her stunning dreamlike yet natural style, but she guides them every step of the way. From the moment of first contact, Ashly becomes interwoven into the wedding process and is often lending a gentle hand to all of her couples to ensure that they have the best wedding day possible.
It's for these reasons and her mesmerizing work that she was voted Best of Wedding Photographers of Georgia for 2021.
But, her work extends much further than Georgia. Having traveled all over the United States in the decade in which she has been capturing weddings, she grown accustomed to travelling to wherever a client might need her - be it an engagement overlooking the majestic Cliffs of Dover or a luxurious event in Highlands, North Carolina. She is always ready to go the extra mile for her client, whatever their needs might be.
Though, she does still call Savannah her home. Luckily, she brings a little bit of home with her wherever she goes.
Why couples love Ashly McCoy - Wedding Photography
Request Information
Thank you for your submission. We will be in touch soon!
X

Email Sent.