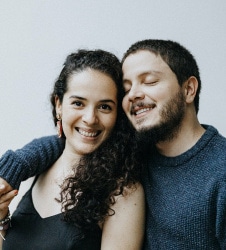 Best Wedding Photographers in Costa Rica
Treehouse 1987 Photography Company
6 REVIEWS
About
MEMBER SINCE 2018
Our Philosophy
Since we moved to Guanacaste area to be closer to our couples every time that we get the privilege to work in a wedding or couple session to document their day, we pour all our strength into successfully capture a story through photographs. Using creativity, We apply an emphasis on emotions and details. This focus allows for the photographic outcome to be a romantic and authentic. Our aim is to capture as many emotions, warm hugs, smiles and tears of joy as possible.
Why couples love Treehouse 1987 Photography Company
Linda R.
Punta Islita CR
Reviewed on May 22, 2020
We had a super spontaneous beachwedding on the peninsula Nicoya. Only some days before the wedding we fixed the location and got in contact with our photographer. We were super happy and thankful that Chris was this spontaneous and told us to join th...&nbsp &nbsp Read More
Anjali S.
Hacienda La Pacífica, Cañas
Reviewed on May 20, 2020
Chris did an amazing job of our wedding photos! As we live in New Zealand, Chris went the extra mile to meet us online ahead of the wedding and to learn about us as a couple. We also met in person a few days before the wedding to discuss our plan...&nbsp &nbsp Read More
Pablo jimenez J.
Guadalupe
Reviewed on May 16, 2020
Chris did an amazing job with the photography at our wedding. He was fun to work with and helpful with all his advices. We highly recommend him.
Graciela R.
Punta Leona, Costa Rica
Reviewed on May 16, 2020
We had so much fun! He's so creative and easy to work with! My family & friends loved him! The results of the photos were way better than we expected. We felt seen and cared for. He has an eye for the little details and he captures them so uniquely...&nbsp &nbsp Read More
Kali T.
Guadeloupe de Carmen
Reviewed on May 14, 2020
Thank you, Chris, for our incredible photos!! They are so beautiful and just get better each time we look at them!
&nbsp + See More Reviews
Request Information
Thank you for your submission. We will be in touch soon!
X

Email Sent.