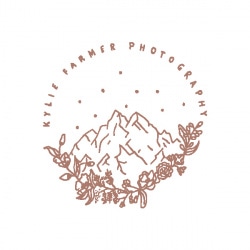 Best Wedding Photographers in Arkansas and Montana
Kylie Farmer Photography
6 REVIEWS
About
MEMBER SINCE 2019
I am a firm believer in really knowing the service that you're investing in, photography included. This little business of mine is extremely important to me for so many reasons. I first picked up a camera as a way to cope with the loss of my dad. I quickly realized that my soul craved this creative outlet more than I ever thought possible. I fell in love with the ability to pause moments full of laughter and love that seem to happen quicker and quicker as the years pass by. When I'm not holding a camera, you can find me tackling grad school, volunteering within the community, traveling, or working as a freelance social media specialist. My husband and I are both from West Virginia, but Arkansas is home to us now. If there was ever an award for the biggest supporter and all around funniest dude, my husband would win it. He is hands down my best friend and together, we own and operate this small business. I am so thankful to do something that truly is my passion. This life has allowed me to cross paths with some of the most amazing, beautiful people and for that, I am forever grateful. <3
Why couples love Kylie Farmer Photography
Faith M.
Glacier National Park MT
Reviewed on Oct 20, 2020
My Husband and I got married in GNP in MT. We had never been before, and Kylie captured our day perfectly. She sent me a timeline two days prior to inform me of how the day would play out. She also did her own research in the park several days prior ...&nbsp &nbsp Read More
Savannah B.
The Barn at Sleepy Hollow
Reviewed on Sep 22, 2020
Everyone knows that good photography is essential to a successful wedding. When booking KFP, I had no idea just how amazing Kylie and her team would be! Kylie easily became more than a photographer- she filled the role of a supporter, confidant, go-t...&nbsp &nbsp Read More
Madison H.
Petit Jean State Park
Reviewed on Sep 13, 2020
Kylie is so incredibly talented! We booked with her and drove 2 1/2 to make these pictures happen. She is great and so fun to work with! We will definitely hire her again!
Shanleigh P.
Hot Springs
Reviewed on Aug 20, 2020
Kylie was so wonderful to work with for our wedding! Selecting a photographer was top on my list and I'm so glad we chose her for our special day. She made everything so easy and natural and worked so well with us and our families. Kylie captured e...&nbsp &nbsp Read More
Kiara P.
Mount Nebo, Arkansas
Reviewed on Jun 22, 2020
I found Kylie Farmer while searching for elopement photographers in Arkansas. Immediately upon viewing her work I knew she was the perfect photographer for my intimate wedding on Mount Nebo. Kylie goes above and beyond to make sure the work she does ...&nbsp &nbsp Read More
&nbsp + See More Reviews
Request Information
Thank you for your submission. We will be in touch soon!
X

Email Sent.