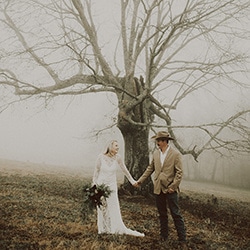 Best Wedding Photographers in Alabama and California
DSmithImages
16 REVIEWS
About
MEMBER SINCE 2020
Greetings!

My name is David A. Smith, and I'm the person behind the lens at DSmithImages. Since 2010, I've provided natural, beautiful, and authentic photography for couples during their wedding + elopement celebrations. I've also done with a laid-back, relaxed, and stress-free approach. Based in Birmingham, Alabama but available throughout the United States, I've documented celebrations and engagements in all over the country and would love to come and document yours!
Why couples love DSmithImages
Dakota P.
Magnolia, Texas
Reviewed on Oct 04, 2021
David was absolutely amazing! I found him online and he was so personable since the beginning! He was reassuring, funny, excited and passionate about getting the best shots and making sure everything we needed was taken care of. I truly cannot recomm...&nbsp &nbsp Read More
Megan R.
Rindge, NH
Reviewed on Aug 06, 2021
What an amazing addition to our wedding! David went above and beyond before, during and after our wedding. He was able to perfectly guide the day and keep us on a schedule without coming across as demanding. He was phenomenal at getting everything we...&nbsp &nbsp Read More
Nichole A.
Onalaska, Wa
Reviewed on Jul 16, 2021
We hired David to take our wedding photos and he went above and beyond what we ever imagined. David was kind, creative, and very passionate! He answered every question we had and dealt with my crazy disfunctional family like a pro! My aunt is getting...&nbsp &nbsp Read More
Megan W.
Wisconsin
Reviewed on Jun 25, 2021
We hired David to do an engagement shoot in Alabama and were so pleased that we booked him to photograph our out of state wedding in Wisconsin. His communication is EXCEPTIONAL and he was professional and fun to work with. The value of his photograph...&nbsp &nbsp Read More
Courtney R.
Pinedale, Wy
Reviewed on Jun 11, 2021
David and his amazing skills and ability to not only capture the moment but to arrange and prepare for them truly makes the difference. We've been Blessed to have him. I highly recommend him!!! He's amazing!!!
&nbsp + See More Reviews
Request Information
Thank you for your submission. We will be in touch soon!
X

Email Sent.