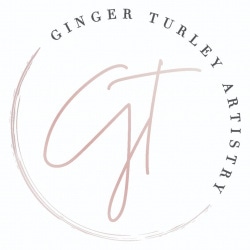 Best Wedding Hair and make-up in Vancouver, British Columbia
Ginger Turley Artistry
About
MEMBER SINCE 2019
An award winning Best of Kamloops 2019 recipient, Ginger Turley is a certified Professional Makeup Artist and Instructor based in Kamloops, B.C. She is also a certified Lash Technician, Henna Brow Stylist, Laser/Cosmetic IPL Technician and a certified MAC Cosmetics Artist. For the past 3 years, since its opening, Ginger has been the MAC Cosmetics Retail Manager in Kamloops but recently moved to an on call position upon opening her very own downtown Kamloops studio to best serve her clients, providing in studio or on location services.
Her extensive experience with both makeup artistry and skincare spans over 18 years and Ginger loves nothing more than sharing her skills and knowledge with others to help them look and feel their very best.  She knows what an impact makeup can have on someone's self-esteem and having the opportunity to positively impact someone's self-esteem is truly a gift.
Ginger is always ready to support businesses and non-profit organizations by donating her services when needed as well. She is a community volunteer and a proud mother of two. She is also the founder of the Kamloops Cinderella Effect, which is a community initiative designed to recognize deserving women in our community.
Ginger believes in supporting her colleagues and working collaboratively with them and she is fortunate to have a reciprocal referral system with her colleagues so that hopefully all clients looking for services can be helped.
She stays on top of all current trends, is always perfecting her techniques and adding to her skillset through continued education. She is constantly looking to advance her skills to maintain her high standards in the industry.
So whether it's a photoshoot, graduation, a special night out, or you are a bride to be, put your trust in Ginger to create a perfectly tailored look to enhance your unique features, bringing your vision to life. 
If you or your friends would like to learn more about how to apply your own makeup, whether natural, glam, or anything in between, Ginger can uniquely customize personalized one on one lessons, group lessons or parties.
Ginger is also an experienced instructor to those individuals wanting to pursue makeup artistry as a career and offers custom training packages to best suit your needs. Her training packages all include social media support as well to help you get your work featured and attract your ideal client.
Why couples love Ginger Turley Artistry
Request Information
Thank you for your submission. We will be in touch soon!
X

Email Sent.