Claire Juliet Paton Photography
Best Wedding Photographers in Scotland
About This Artist
Telling stories, that's what I do best. Love stories mostly, captured with cinematic beauty & heartfelt authenticity. I travel around Scotland, photographing couples, elopements and weddings, but there's no place too far away for me to take my camera.
My name is Claire, and I was born and currently live just outside of Edinburgh, Scotland. I've worked as a photographer for the past 4 years, but my love affair with photography goes back much further. I'm a romantic at heart, so there is really no other job in the world I'd rather do than capture the love shared between two souls - it's more than a privilege. For me, there is nothing better than being able to capture emotive moments in a way that words couldn't quite express.
When not behind the camera, you'll probably find me out in the fields with my little dog Daisy, or on the sofa watching a movie with my childhood sweetheart and husband Tim (we're quite the movie buffs!). I also love riding on planes, trains and boats, as they take me to new places and offer a new story.
Maybe that story is yours. If it is, I'd be honored to capture it for you, with all the creativity and sincerity it deserves. Please get in touch...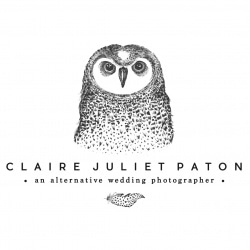 X
Your request for information was sent to
CONTACT
---