ISRAEL WEDDING PLANNING
Israel's Best Wedding Professionals
Come plan your stress-free wedding using our highly-vetted Israel wedding planning guide.
We feature only the most trusted and talented wedding professionals available for your Israel wedding.
Real Weddings in Israel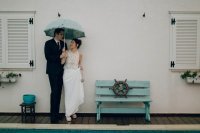 March 5, 2015
Mika and Anton's wedding in Israel is a little off the beaten path while remaining absolutely elegant. The bride created her own wedding day look with a lace crop top and long skirt. Inspired by fresh flowers, the couple decided to fill their Tel Aviv venue Arugot Bosem with pretty petals in soft pink and yellow hues. Despite a forecast of rain, the brilliant photographers behind We Are Red captured romantic outdoor portraits of the
more...