INDIANA WEDDING PLANNING
Indiana's Best Wedding Professionals
Come plan your stress-free wedding using our highly-vetted Indiana wedding planning guide.
We feature only the most trusted and talented wedding professionals available for your Indiana wedding.
Real Weddings in Indiana
July 16, 2016
We can't believe how naturally beautiful Caitlin and Eric's DIY wedding is! This very talented bride and her family handcrafted DIY projects for the whole year leading up to the wedding including ring boxes, whimsical tablescapes, all of the signs, and the entire wedding's floral design. If that's not enough to totally impress you, Caitlin even baked her own wedding cake! It may have rained on the day of Caitlin and Eric's Mounds State Park wedding, but The Colagrossis' photography team captured this happy
more...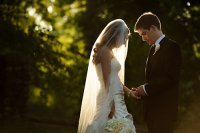 September 20, 2012
Sara and Daniel had quite the story leading up to their wedding (a courtship while students at Notre Dame, a cross-country move, and a tree-falling-through-the-roof adventure on the night before Daniel's proposal), but their wedding day was sunny, sweet, and full of love for each other and their alma mater! Debbie Sprague, of Browne Photography, beautifully captured all the special moments and the gorgeous setting. Enjoy!