Inspired by the aesthetics of the Pacific Northwest's industrial culture and the groom's Southern roots, New Yorkers Ashley and Chad wanted their wedding to be a melding of meaningful style and traditions, and they wanted to have a photographer with a bold, cinematic style on hand to capture it. Seattle based wedding photographer Laurel McConnell couldn't have been a better creative match, and with stunning event and floral design by Sweet Pea Events and Willow and Bloom in Herban Feast's fabulous Sodo Park venue, Ashley and Chad's wedding was just the right blend of rustic charm and industrial elegance.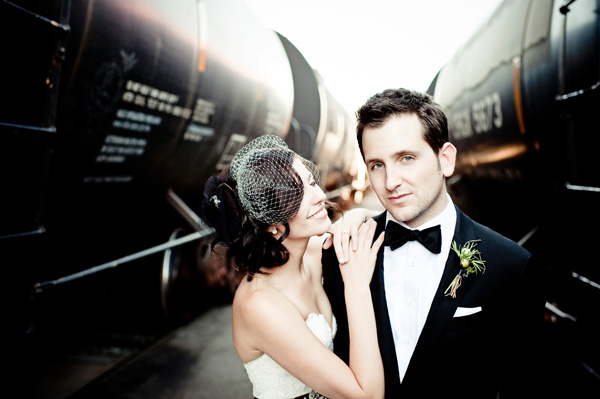 The Newlyweds: Ashley & Chad
Junebug: What were your most important goals in planning your wedding?
Ashley and Chad: We wanted our celebration to feel timeless, personal, and full of detail. Once we decided to get married in Seattle and not New York (where we live), we knew we wanted to incorporate the groom's southern roots and the bride's love for the Pacific Northwest.
Junebug: What three adjectives describe your wedding best?
Ashley and Chad: Industrial, classic, meaningful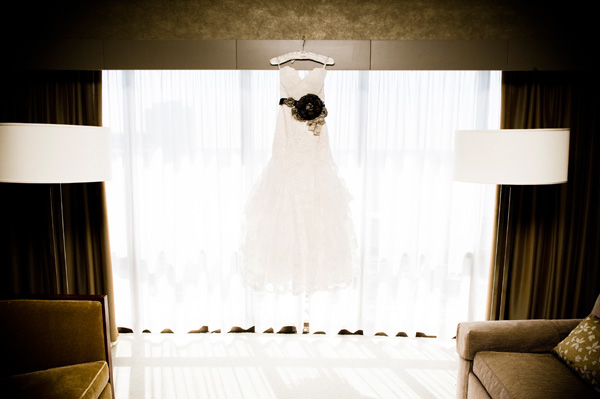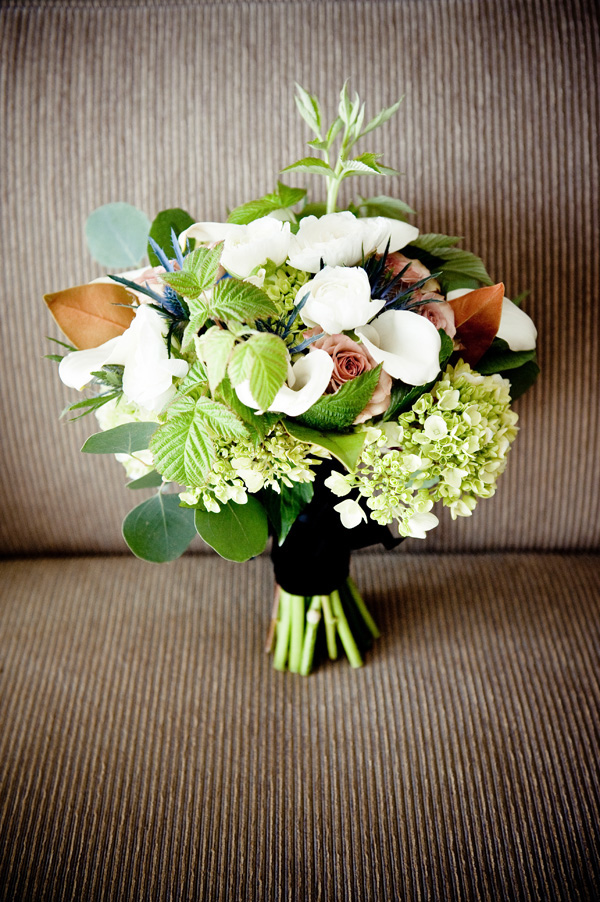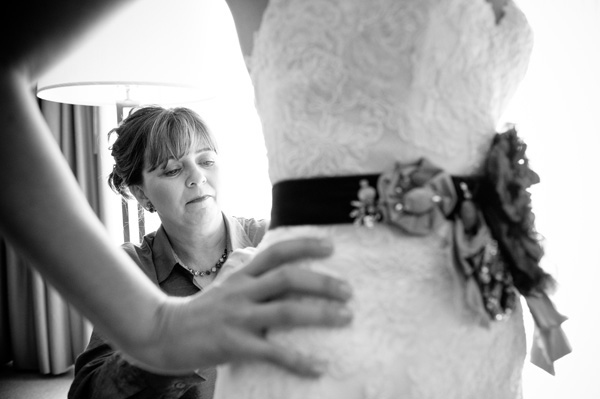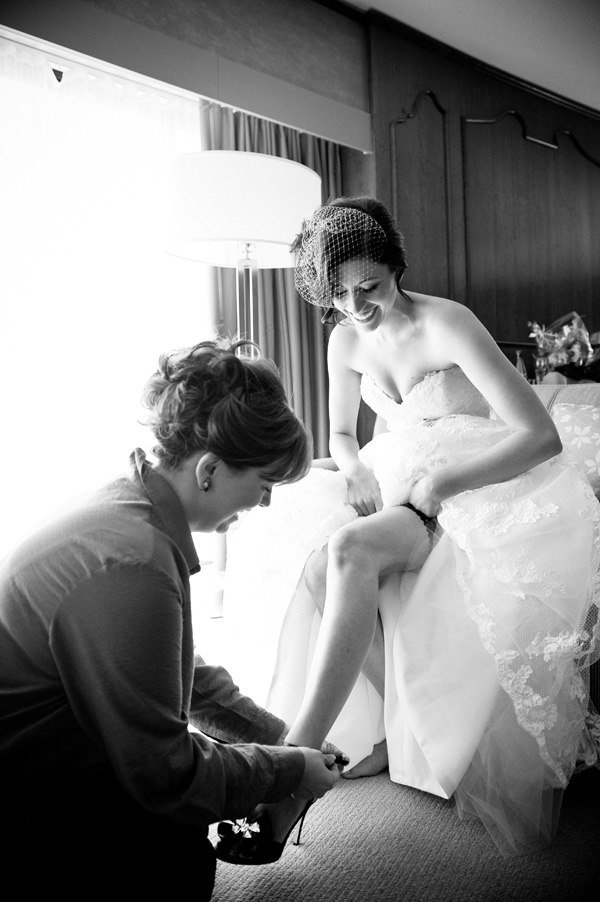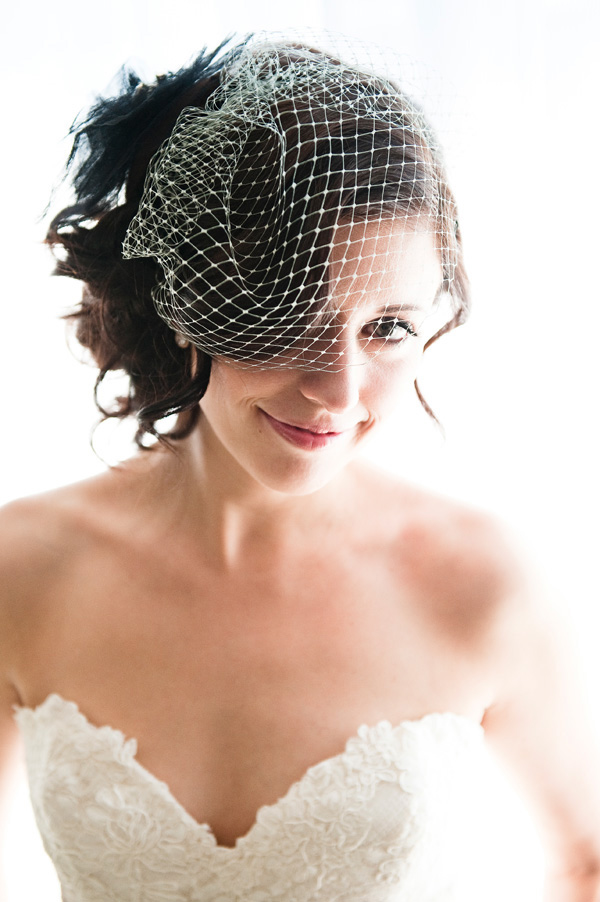 Junebug: How would you describe your personal wedding style?
Ashley and Chad: We wanted to give our guests a glimpse of our personalities while still making the event special for our families. The bride wore a handmade hat with bobbles from each of her grandmothers, the groom wore his father's custom fighter pilot watch by Breitling. The escort cards were tagged mini Bonne Maman honey jars with a classroom anecdote from Ashleys mom: Aerodynamically, The bumblebee cannot fly. Its body is too heavy and its wing span too small. But nobody ever told the bumblebee, and so it flies. We labeled our tables with significant places from our lives: different New York boroughs, cities where we traveled together, and cities where we grew up. In lieu of favors we gave a donation to Cancer Research in Seattle to honor our loved ones who were with us in spirit.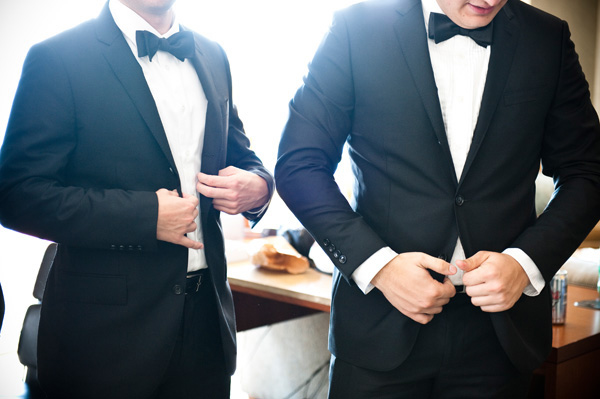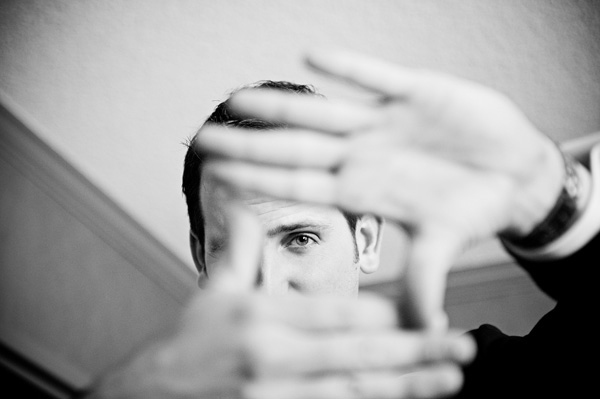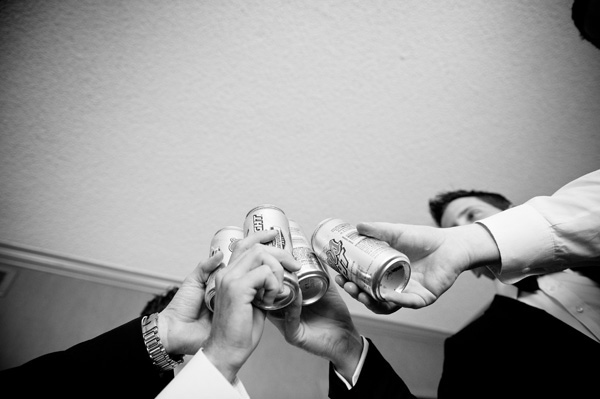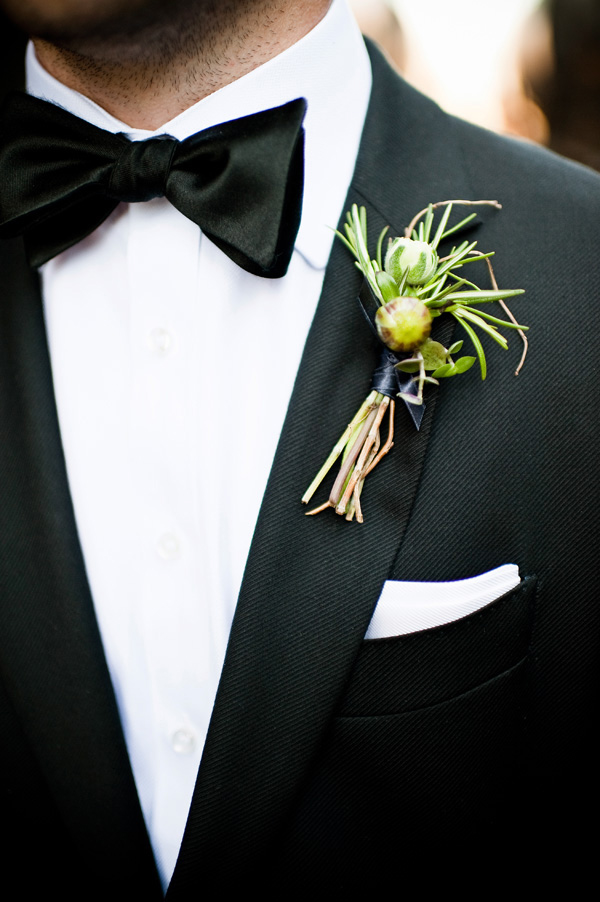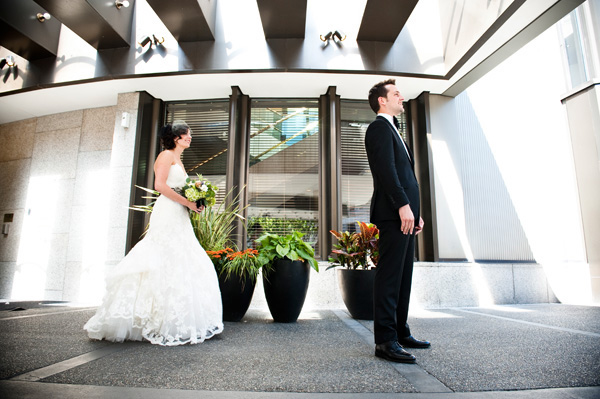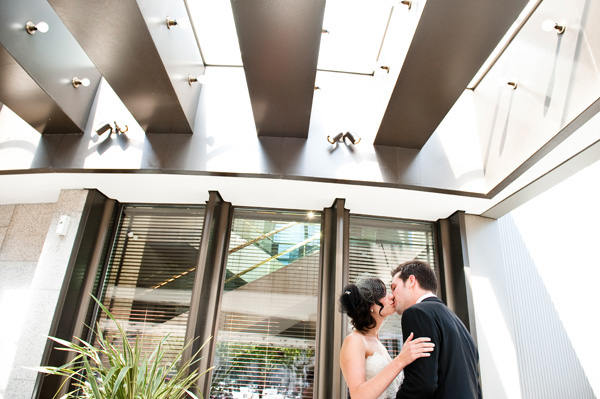 Junebug: Where did you hold your wedding and reception, and why?
Ashley and Chad: We were inspired by the Port of Seattle and its rustic elegance. The iconic red cranes that tower over the Puget Sound and the containers that litter the train tracks surrounding the sea port make a unique backdrop for a wedding, however when we found Sodo Park – a refurbished factory in the neighborhood from the early 1900's who manufactured airplane parts – we knew the combination of Pacific Northwestern industry with Southern farmhouse charm was the perfect setting for both our ceremony and reception.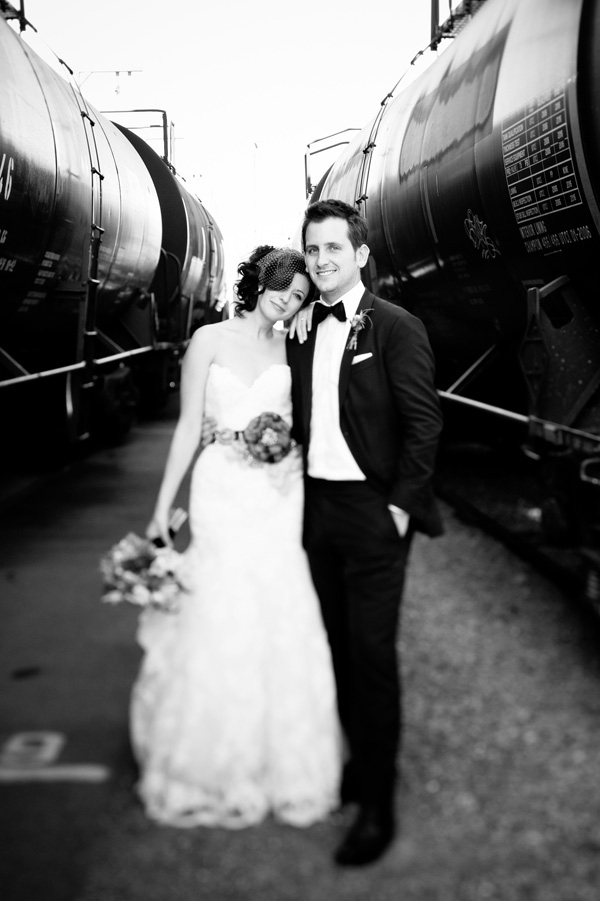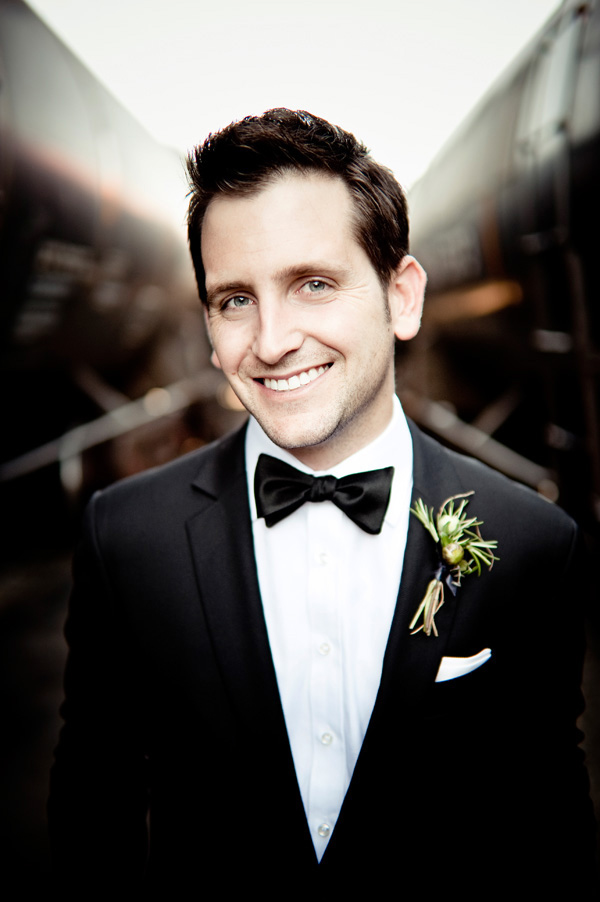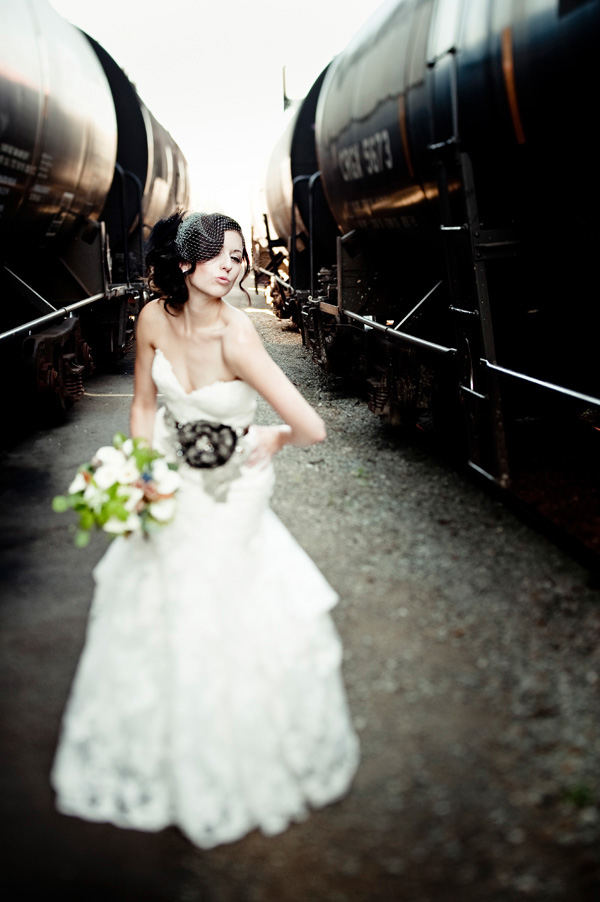 Junebug: What were you looking for in a photographer?
Ashley and Chad: We wanted someone with a cinematic style. We didn't want posed shots and were looking for someone to capture all the little moments as they happened – a verite style. We also wanted a shooter with a bold visual style who wasn't afraid to push things a bit stylistically.
Junebug: What specifically drew you to Laurel McConnell and her imagery?
Ashley and Chad: Laurel's daring compositions and uniquely framed shots impressed us from the beginning. We love her ability to add life and laughter to customary wedding pictures (ie. shoes, dressing, ceremony, first dance, toasts, cake, etc) and make them feel not so standard!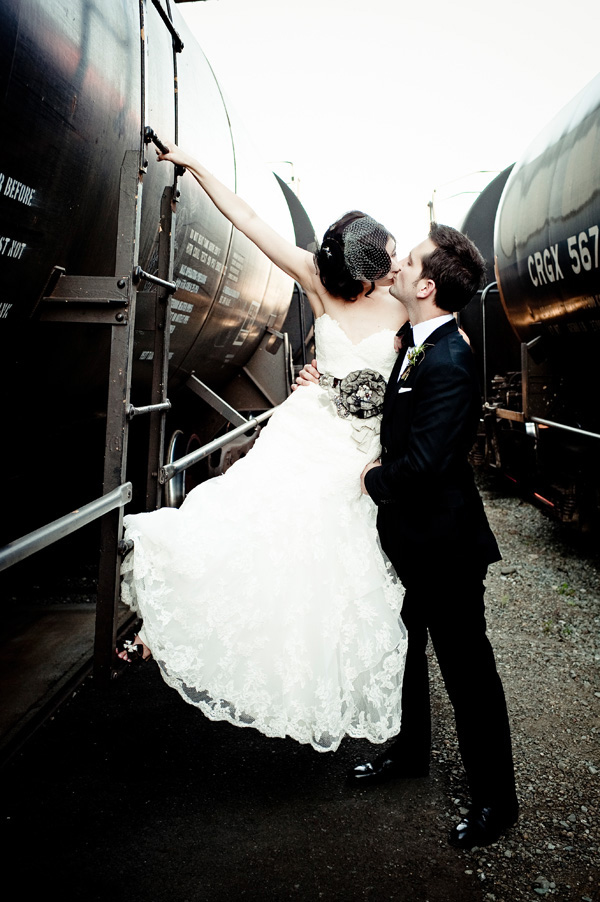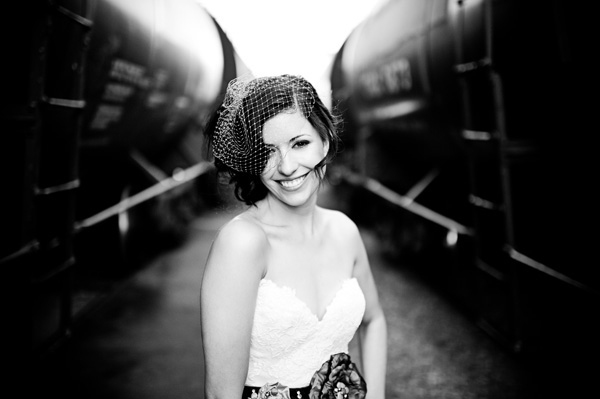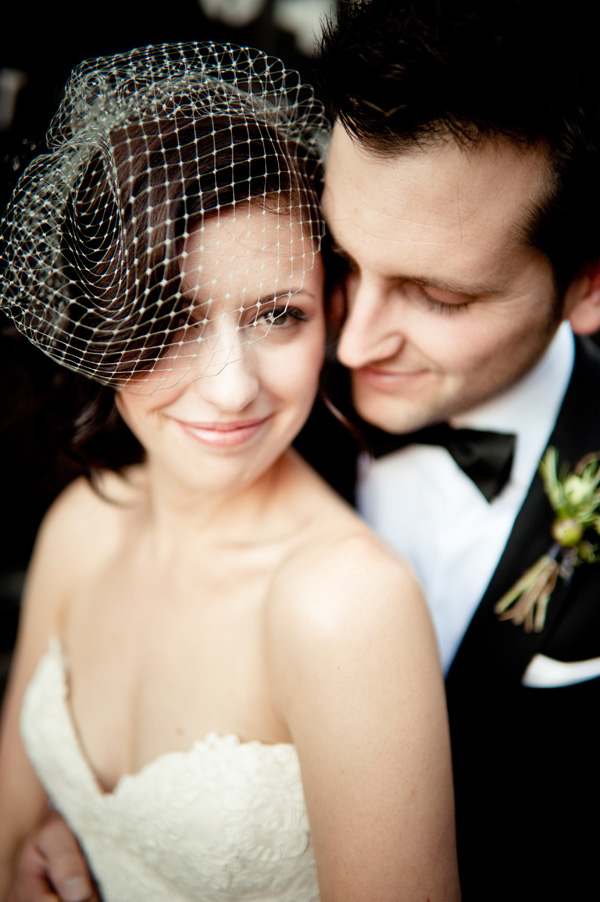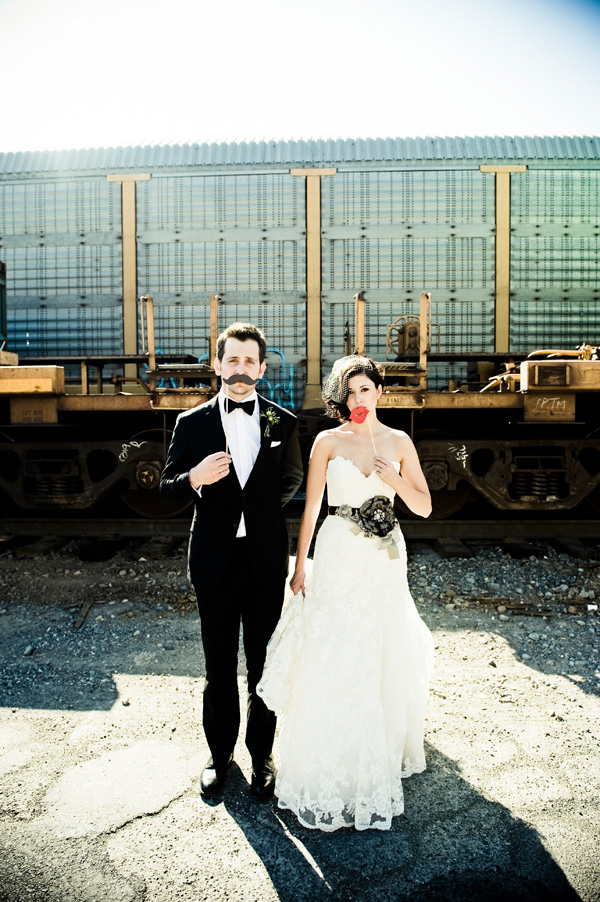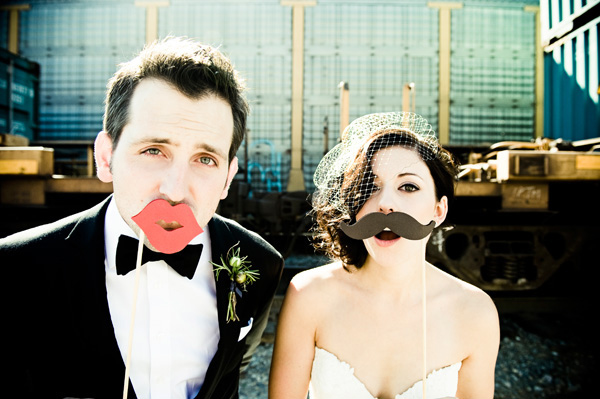 Junebug: What did you enjoy most about working with Laurel McConnell?
Ashley and Chad: Laurel is a great director who takes charge without being controlling. Always smiling and laughing, she made us feel comfortable on a day full of nerves and expectations. Honestly, our photo sessions were the least stressful and most relaxed moments of our day. Even more important, after the wedding was over and we finally saw the shots, we were completely blow away. She completely nailed our individual styles as well without any direction on our part – Chad's "James Bond" style and Ashley's classic elegance.
When we explained our industrial wedding inspiration, Laurel went scouting right away to find the perfect setting for our wedding portraits. She found a hidden gem in the midst of train tankers and cars, and she brought additional props to add to the fun. We were so grateful to work with Laurel not only for her fantastic eye and creative genius; but also for her incredible sincerity in capturing our special day!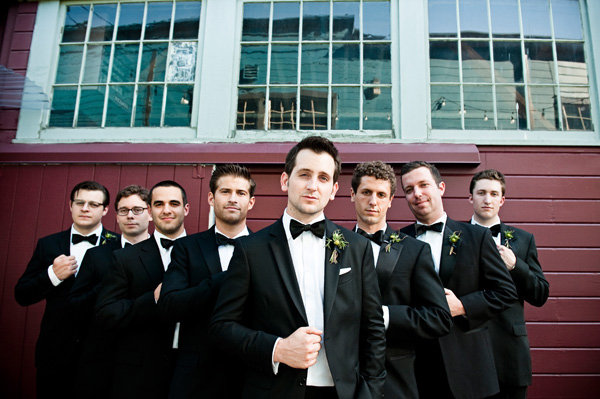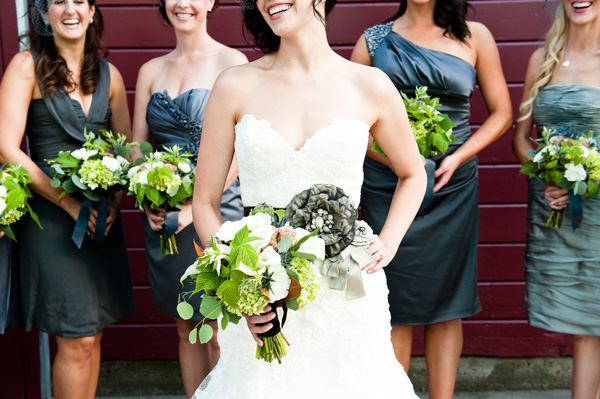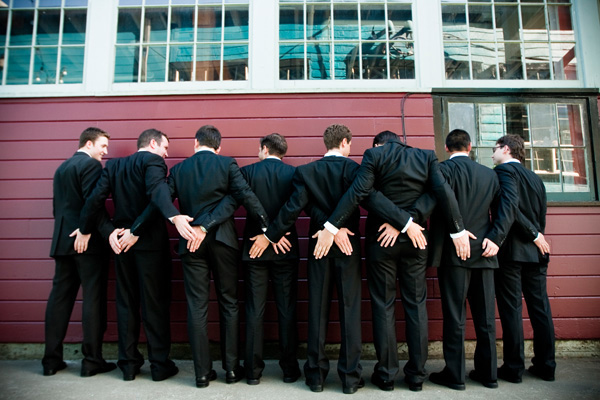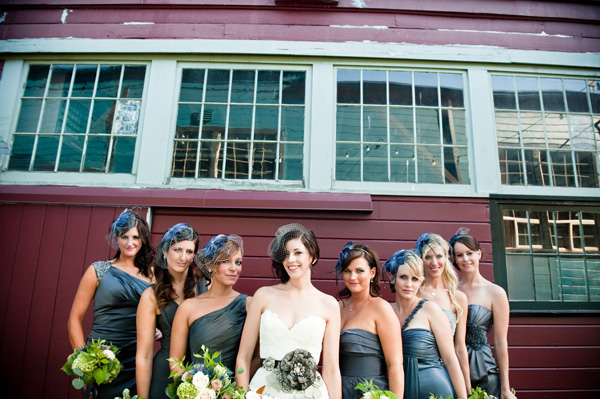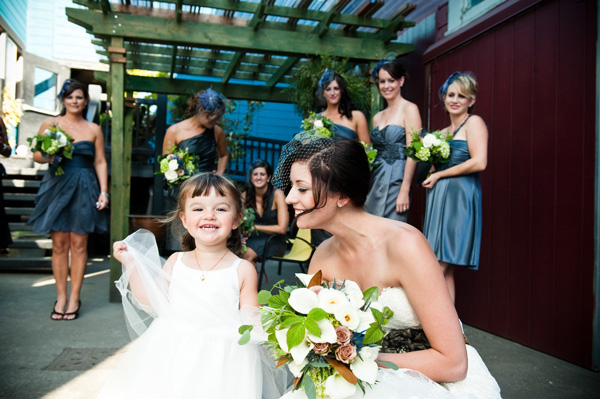 Junebug: Is there anything else you would like to share with us about your wedding?
Ashley and Chad: The evening was full of surprises. The groom had food poisoning but somehow made it through the whole evening without anyone but the best man knowing! The bride surprised the groom – a self-confessed space nerd – with a custom groom's cake of the solar system consisting of two tiers of carrot cake with nutty cream cheese frosting covered in black fondant, a painted milky way across the tiers, and edible planets that rotated around the cake. The groom surprised the bride with a video that he edited together of childhood footage culled from old video tapes, cell phone video from our courtship, and the proposal that he secretly taped.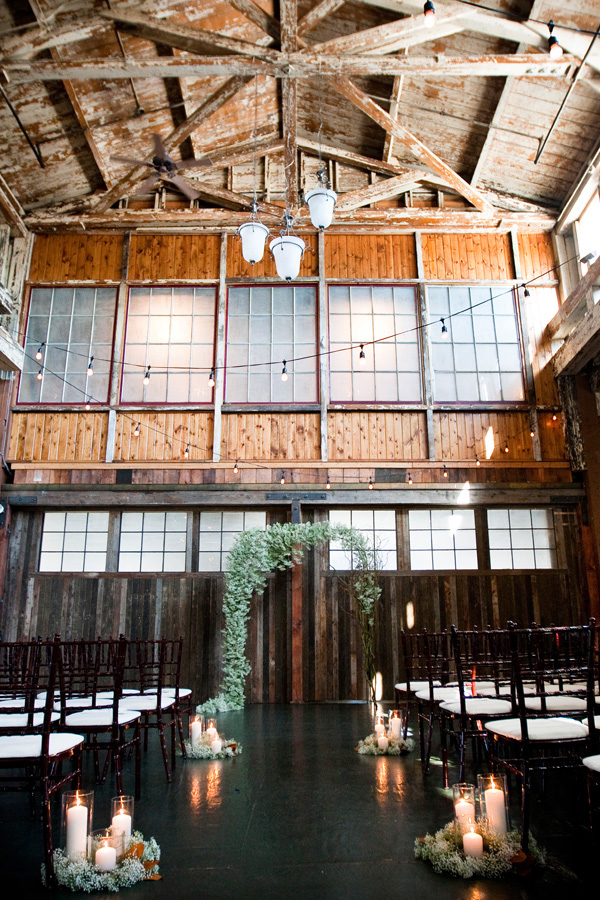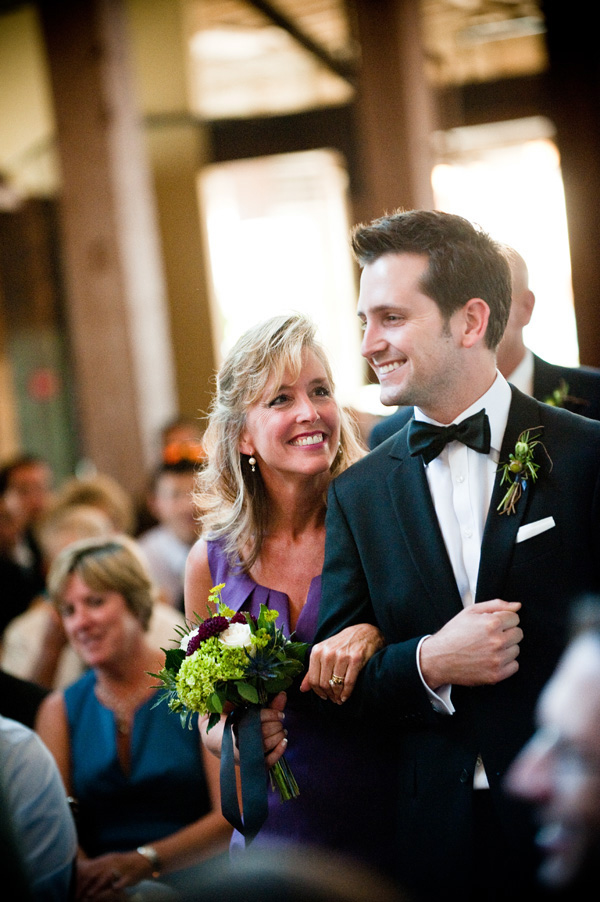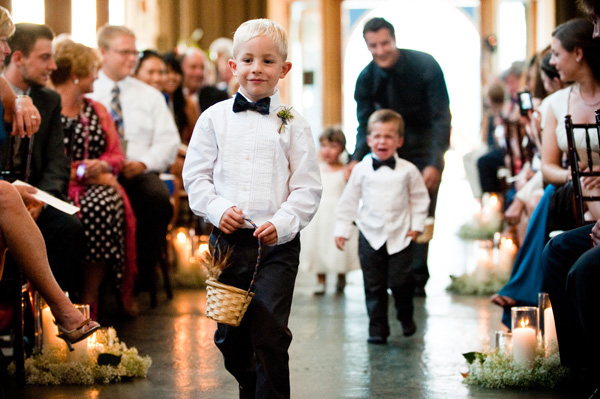 The Photographer: Laurel McConnell
Junebug: How did you approach this particular wedding and what did you most want to capture during shooting?
Laurel: We couldn't WAIT for Chad and Ashley's wedding day. After a year of being on board with the planning team, we knew it was going to be visually inspiring (I mean, the groom's cake ROTATED!!) and that we'd be scurrying around capturing all sorts of fun, meaningful, and unique details. That day was like Christmas for us photographers. Knowing that Chad is a creative sure didn't lessen the amount of pressure, but really pushed us to strive for thorough coverage and amazing portraits. They allowed me an incredible amount of freedom with locations, poses, and time, so we made it happen and just had fun along the way.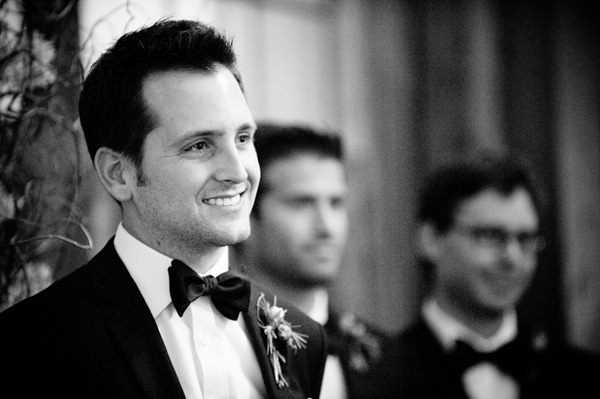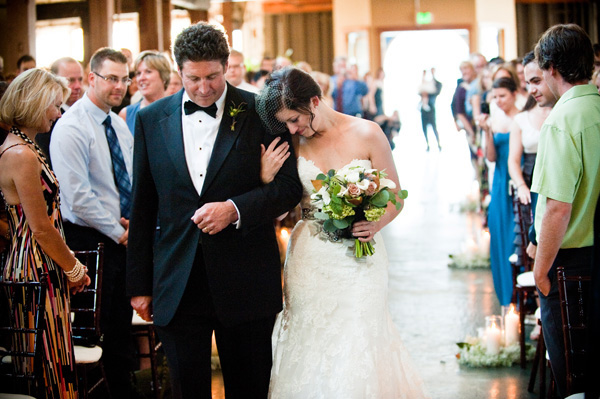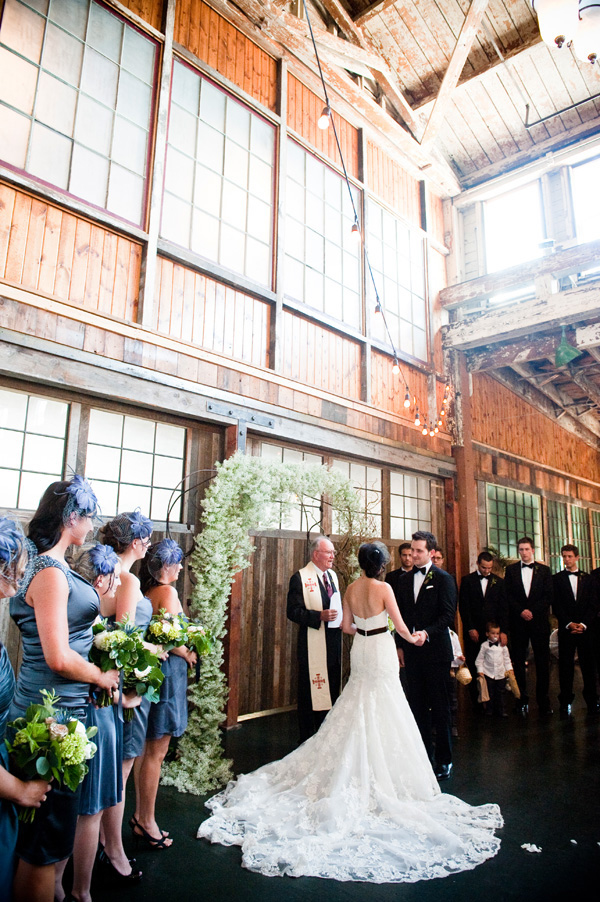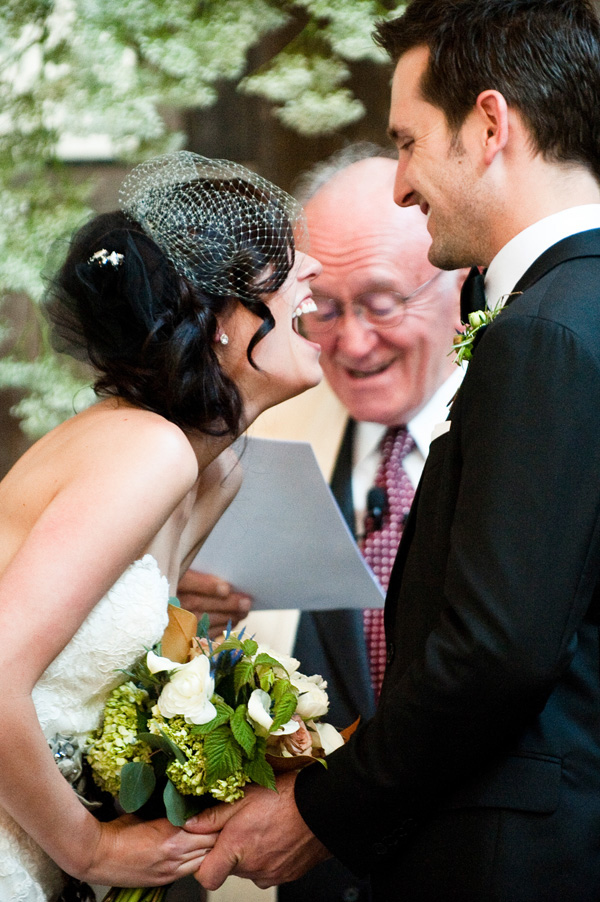 Junebug: What was the most fun part of this wedding for you to photograph?
Laurel: Hands down, the portraits. This is my favorite part of most weddings, and shooting with Ashley and Chad was not only inspiring, but really fun. Their style was stellar. They don't take themselves too seriously, so the mixture of romantic moments, silly moments, and glamorous ones kept us totally entertained and wanting more!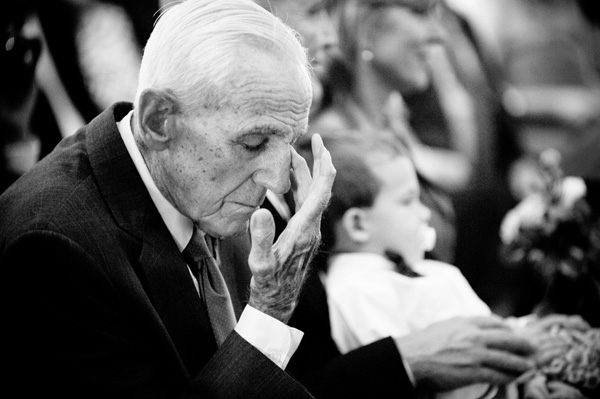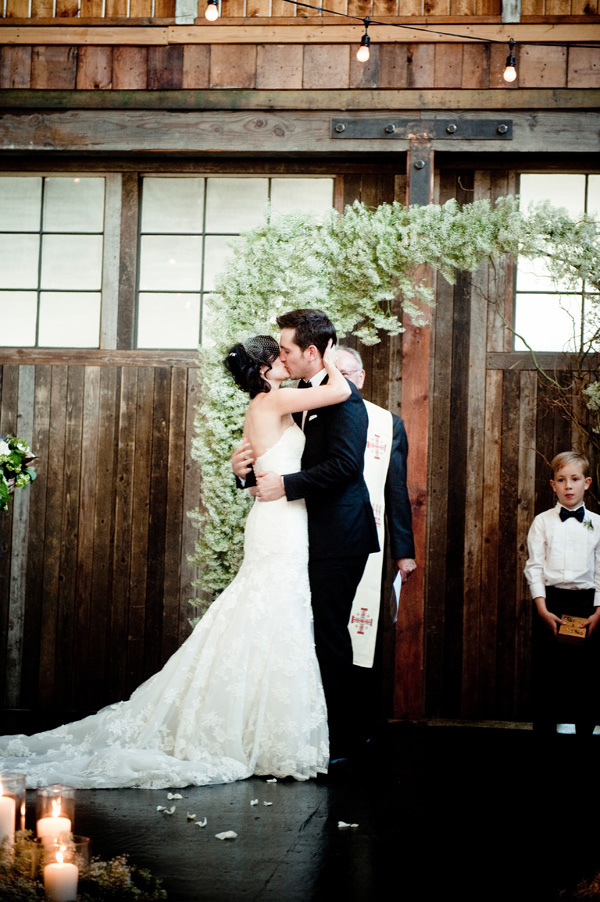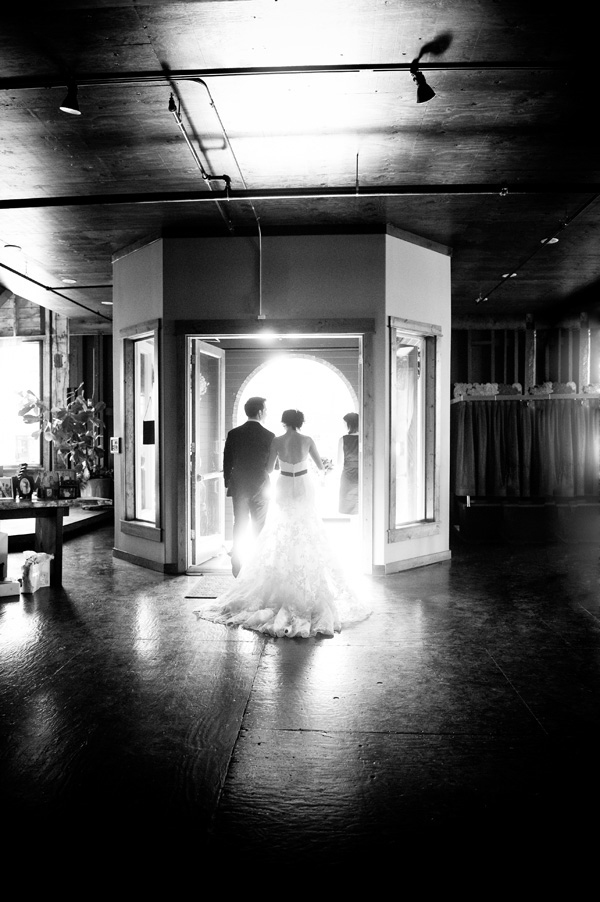 Junebug: How did the locations available to you affect the type of images you shot and how you shot them?
Laurel: The venue is set in a very industrial part of the city, with no shortage of railroad tracks, abandoned buildings, and colorful loading docks. A few weeks before the wedding, I took a trip to the neighborhood to scout out some specific spots that would be easy to get to on the wedding day (oh, those heels that the girls wear!), inspiring and unique (not the same ol' grungy door, if you know what I mean), and didn't involve trespassing (I can't very well photograph the wedding if I'm sitting in jail, ha!). Our favorite location, the corridor of black tank cars, proved to be even better than we had imagined on the day of the wedding, so we spent the most time there. It fit really well with some of the style elements of their wedding- old school industry, travel, and romance. The ceremony and reception venue, Sodo Park, is a really fun space to shoot in, although can be challenging since there aren't many surfaces to bounce light off of. The ambiance is really charming. We really tried to showcase the beauty of the warm, rustic warehouse by shooting lots of wide images that incorporated the romantic lights, green glass panes, and beautiful beams.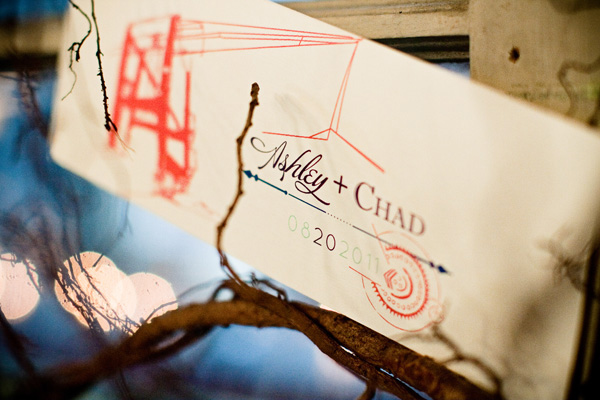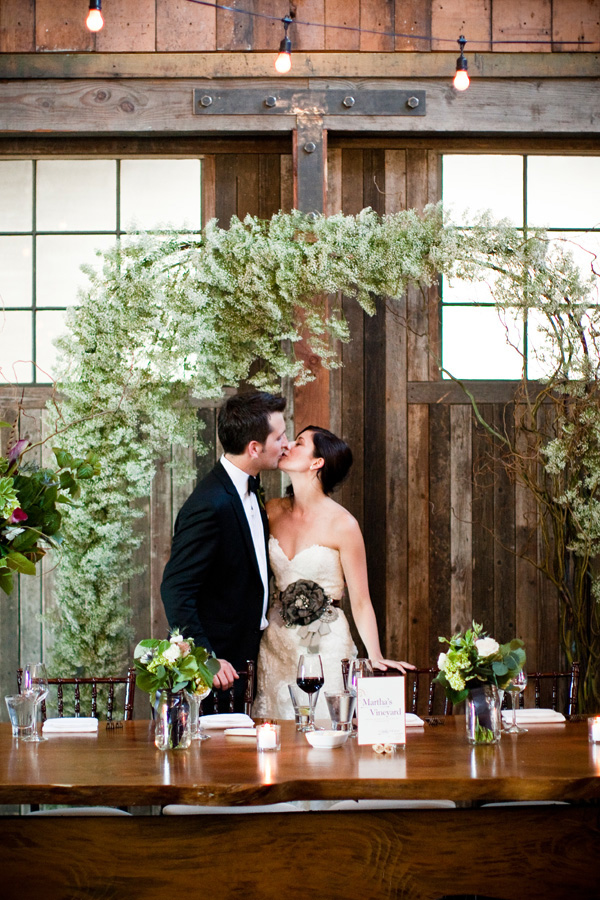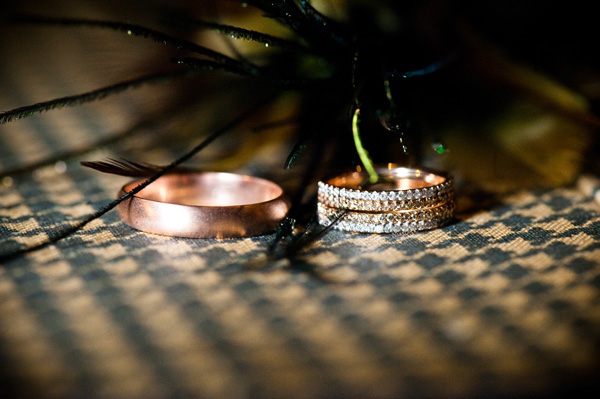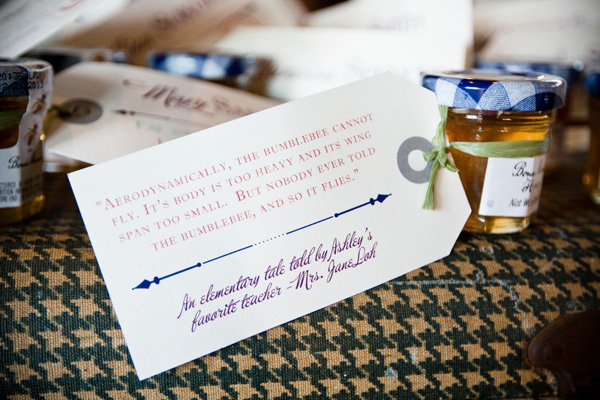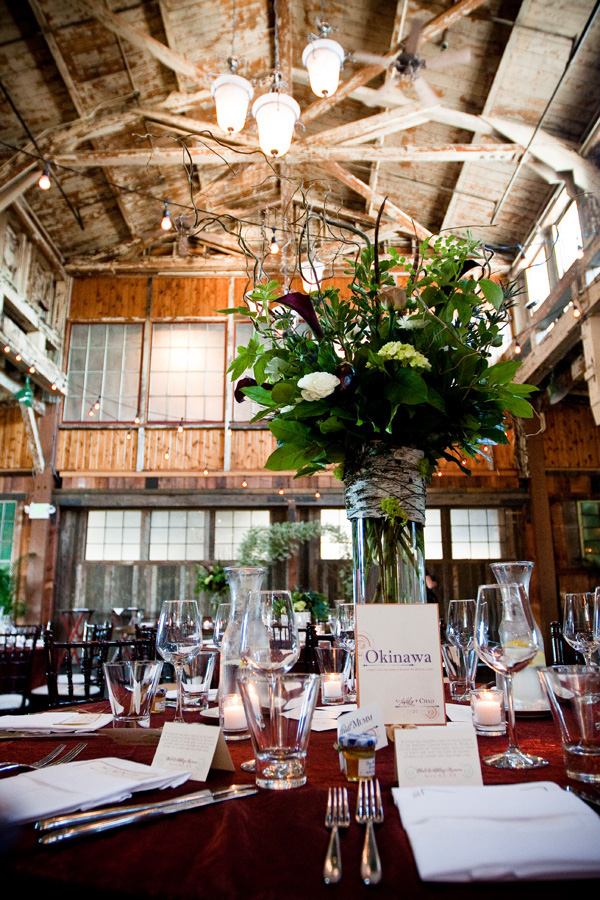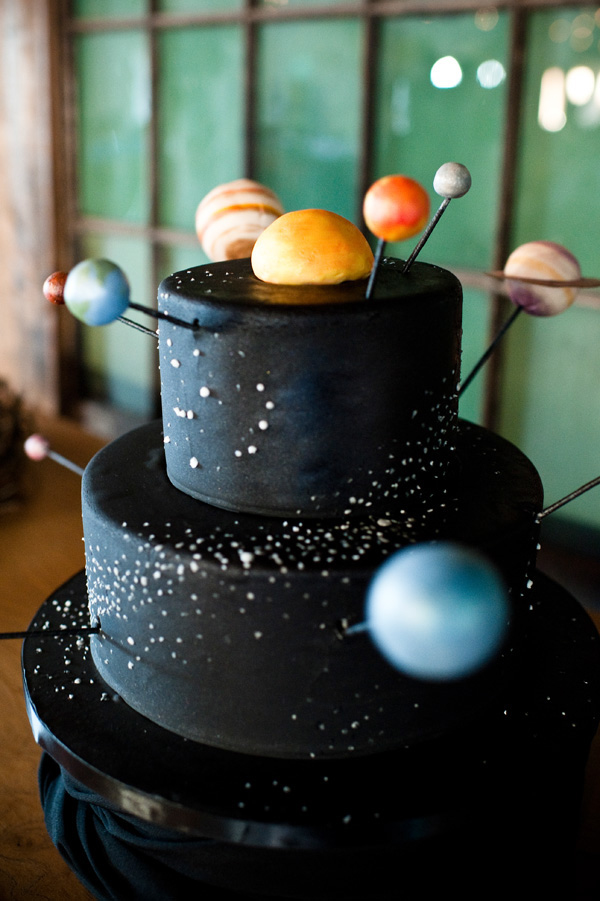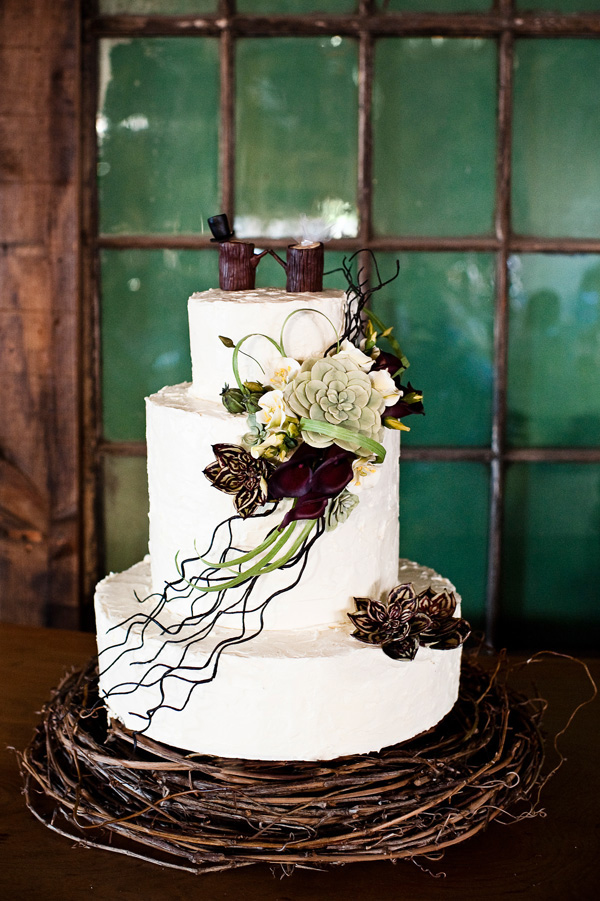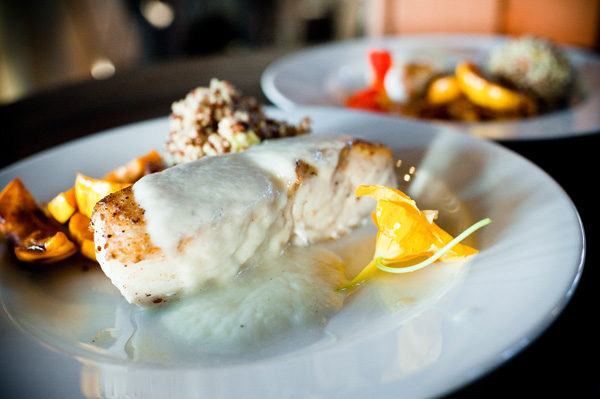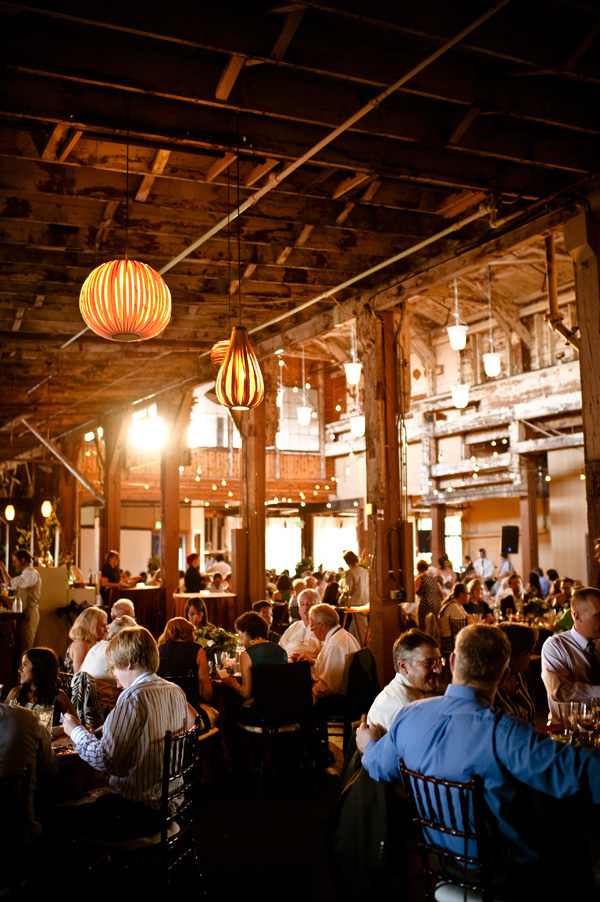 Junebug: Were there any special locations you were able to choose that made for really great images?
Laurel: Those black trains! When we originally scouted them, it was during a work day so we couldn't really get a feel for the light and space because cars were parked in front of them and the area was bustling with commercial industrial activity. When we arrived on the scene the day of the wedding, the area was deserted and in open shade, and the reflective black trains actually helped shape the light and tell a story.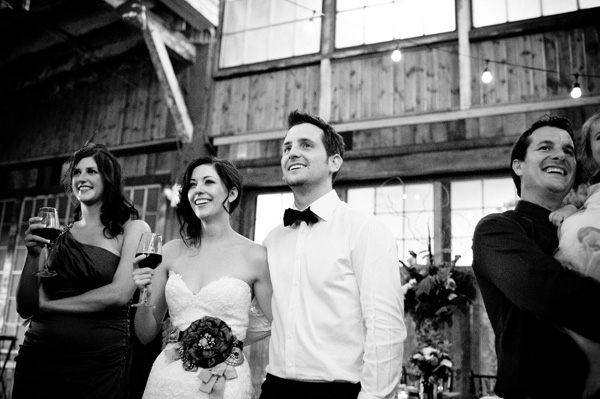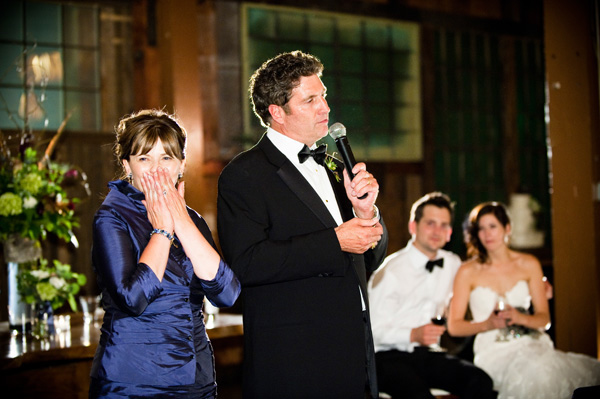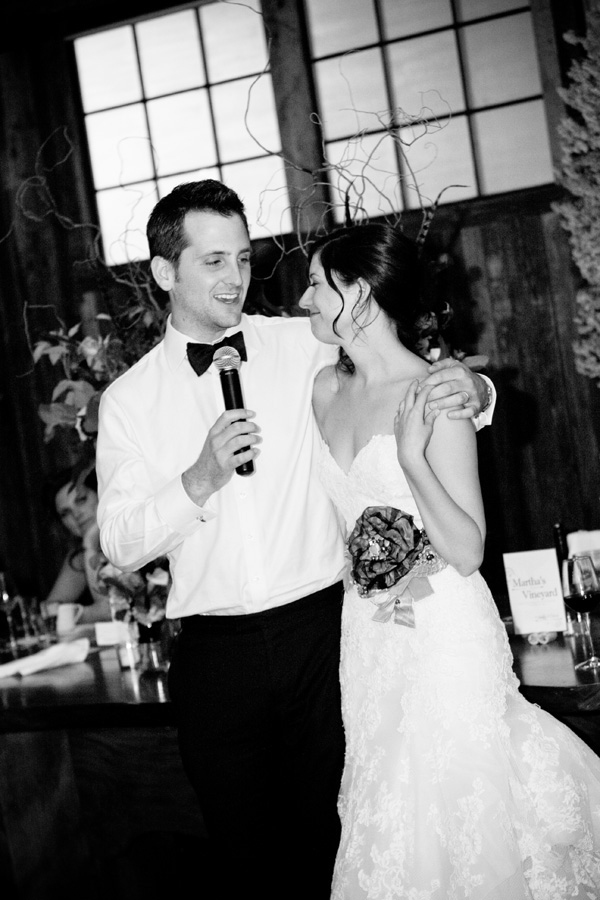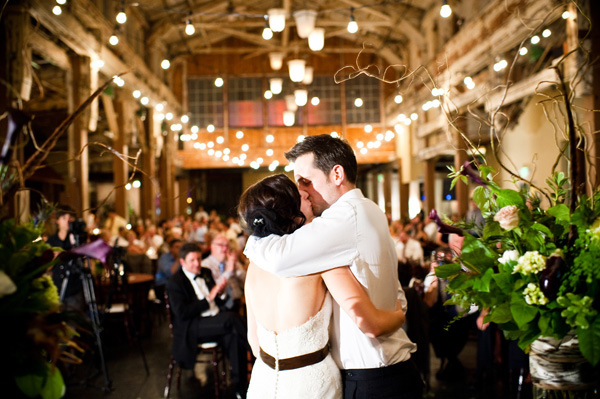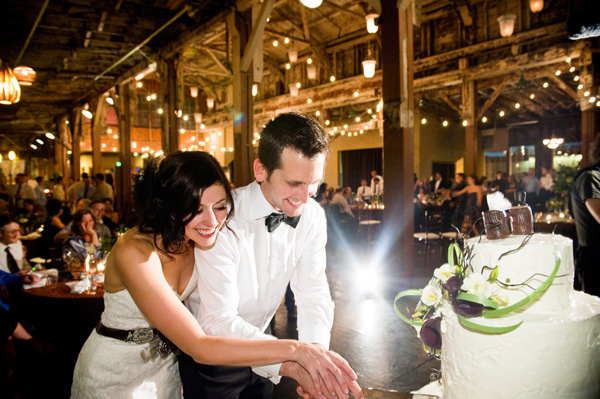 Junebug: What kind of equipment did you use while shooting this wedding?
Laurel: This wedding was mostly documented with my trusty Nikon D3, Nikon 24-70mm, Nikon 34mm 1.4, Nikon tilt-shift PCE-45mm , Nikon 70-200mm, some Nikon SB-800's (SB-900 is the new model), and lots of Quantum battery packs (a must have for reception photography!),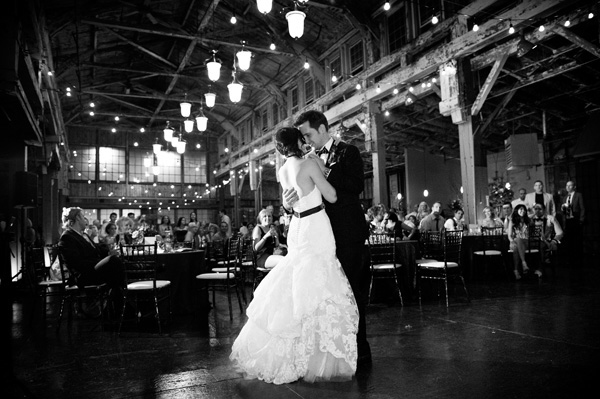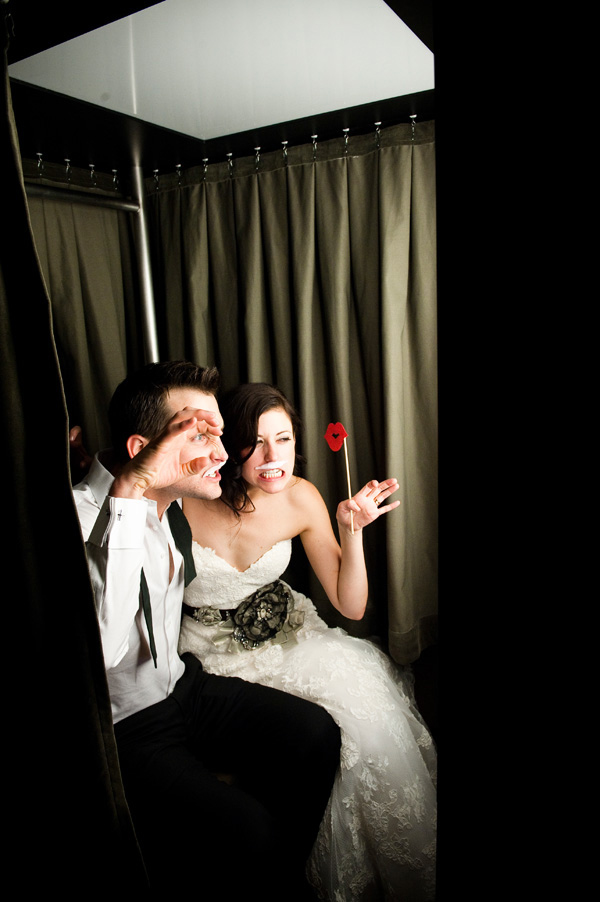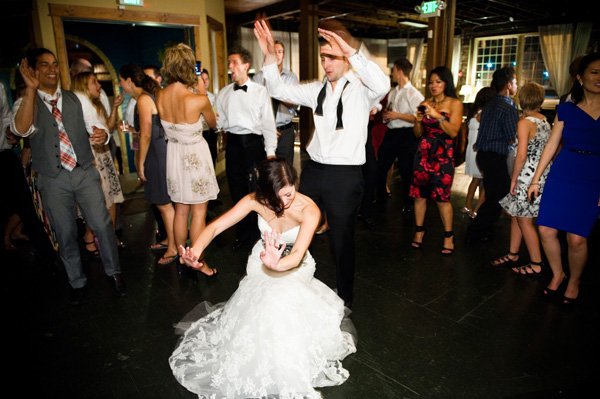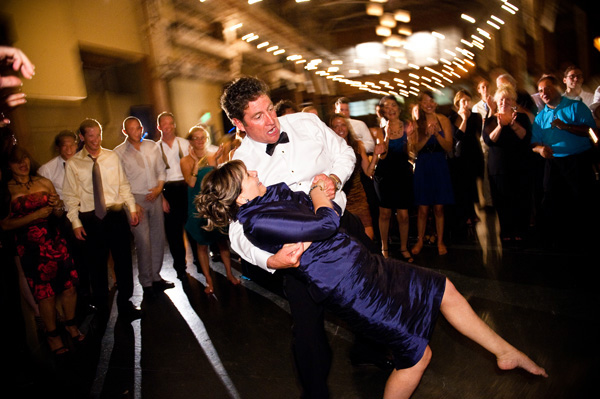 Thank you so muc