As we all know, life loves to throw us curve balls, often when we least expect them. Well, life threw a doozy of a curve ball to couple Erika and Chip when Hurricane Irene arrived right in the middle of their New York wedding day! I'd say Erika and Chip are superstars for handling a tough situation with such grace, humor and joy, and for not letting a little natural disaster stop them from focusing on what was most important – celebrating their love and commitment to each other, rain or shine! I hope you enjoy their story and fantastic images from photographer Ryan Brenizer as much as we have!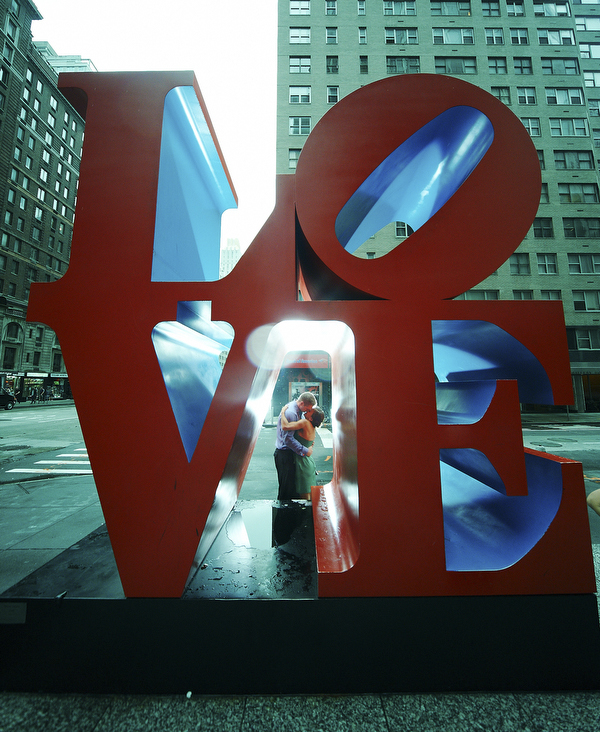 The Newlyweds: Erika and Chip
Junebug: What were your most important goals in planning your wedding?
Erika and Chip: We wanted our ceremony to be from the heart; we chose Chip's brother-in-law as our officiant and we wanted to make sure the ceremony was very personalized. The goal for the reception was great food and great music. We wanted everyone to have a blast dancing and enjoy themselves.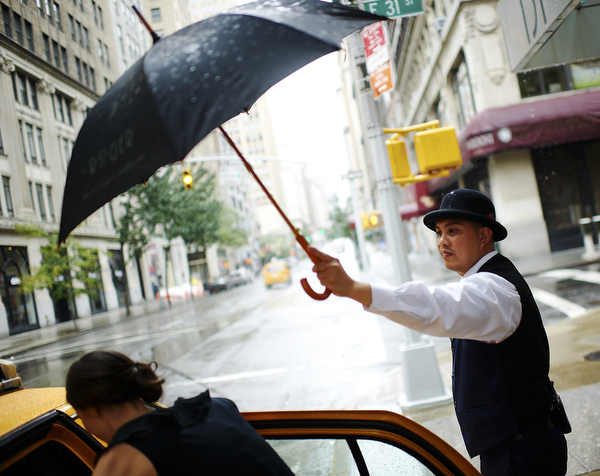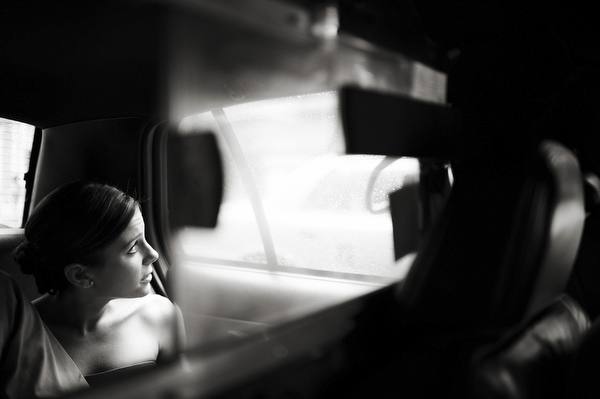 Junebug: How would you describe your personal wedding style?
Erika and Chip: Simple, classic and elegant. We didn't want to do anything trendy and look back to say "what were we thinking?" We had a black and white theme to the wedding – bridesmaids were to wear floor-length black crinkled chiffon dresses and the men were to wear classic black tuxedos. All of the flowers would be shades of white and the reception would have tons of candles.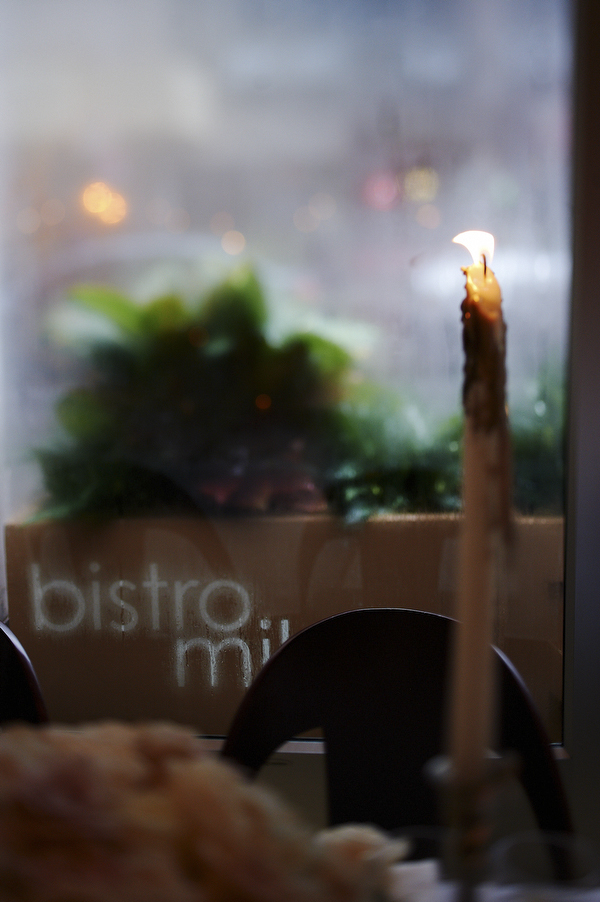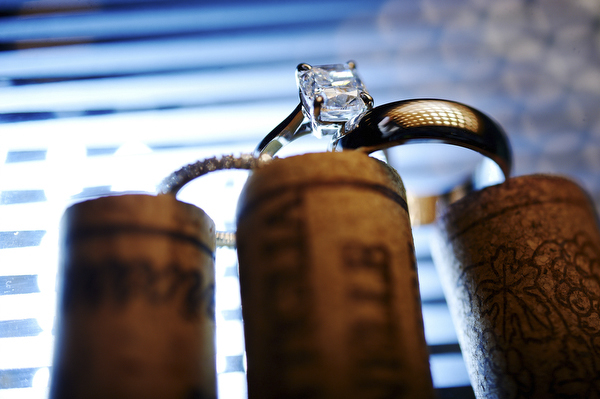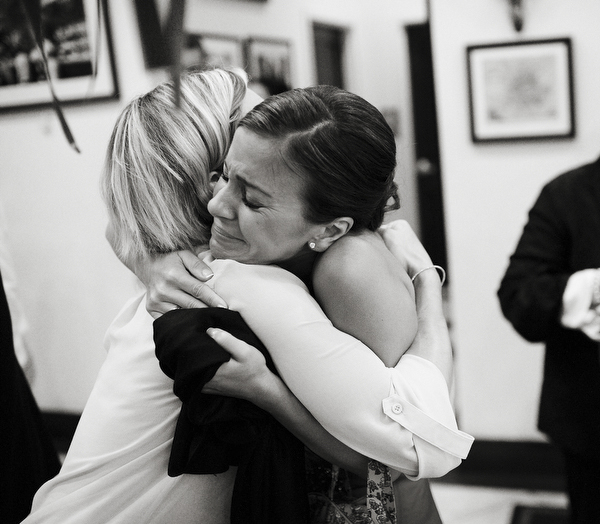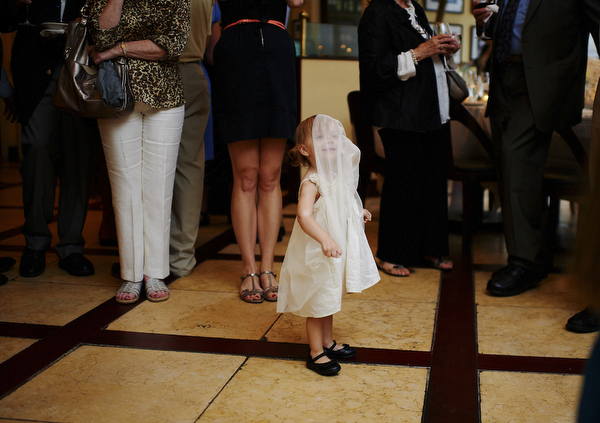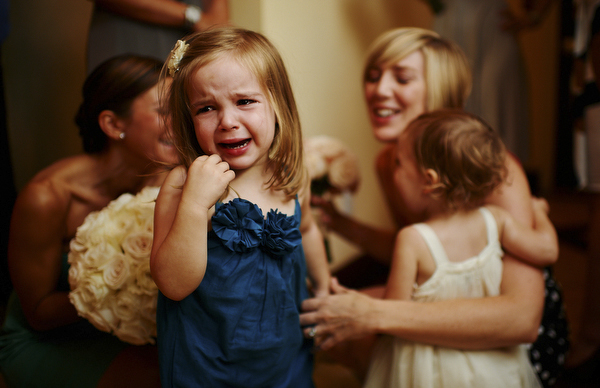 Junebug: Where did you hold your wedding and reception, and why?
Erika and Chip: We initially picked the Brooklyn Botanic Gardens as it has an enchanted feeling – a beautiful garden in the middle of the city. We wound up getting married at Bistro Milano as it was a couple of blocks from our florist and she was able to deliver the flowers – the subways were shut down!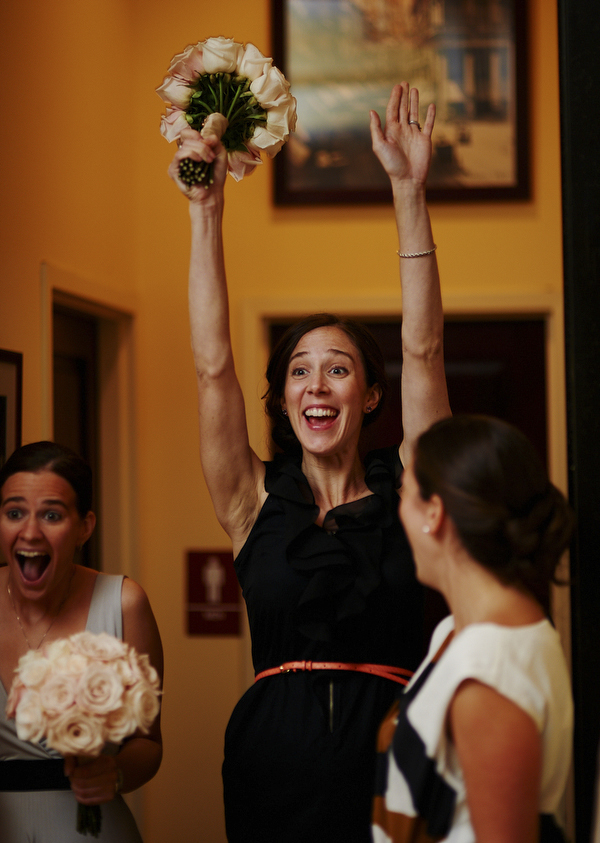 Junebug: What three adjectives describe your wedding best?
Erika and Chip: Spontaneous, heartfelt, unique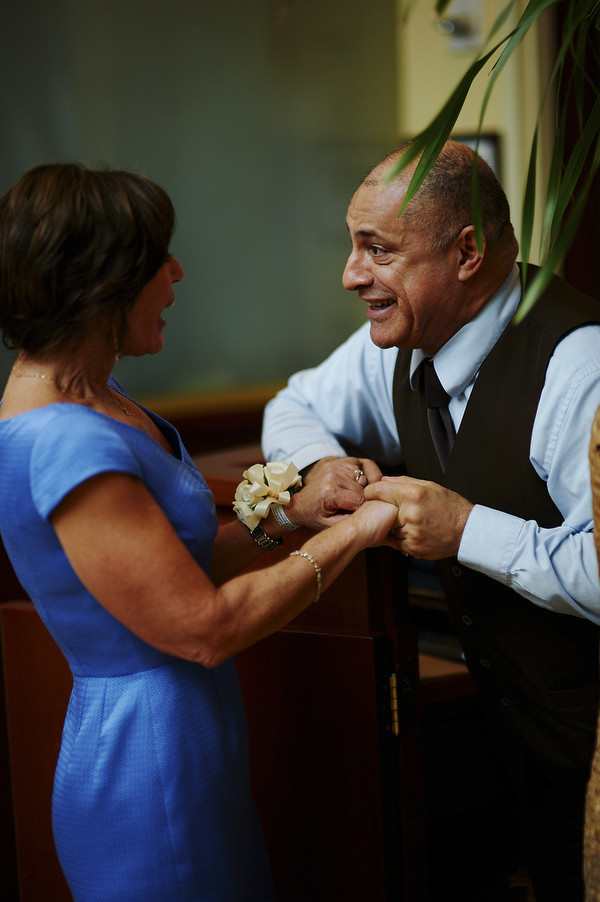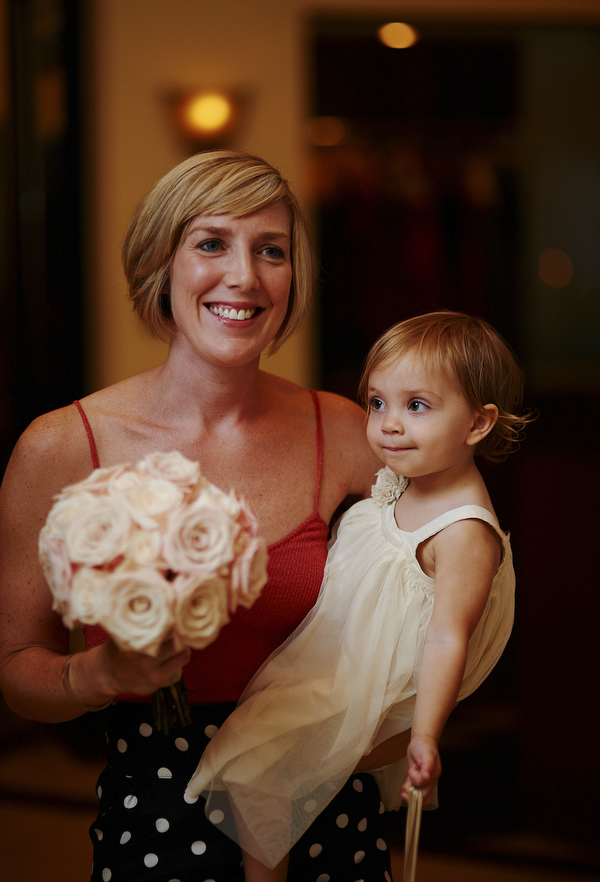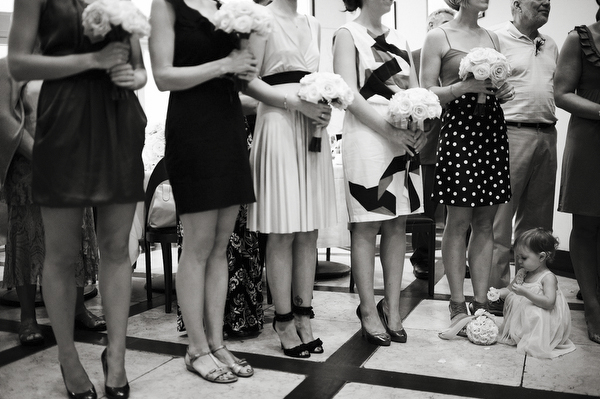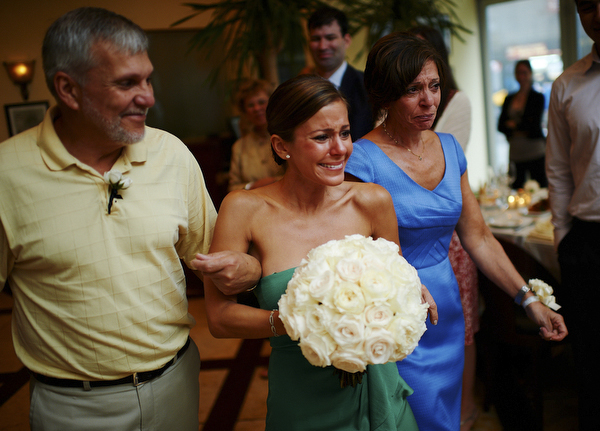 Junebug: Tell us more about your hurricane wedding adventure!
Erika: It was the night of the rehearsal dinner when the wedding really started to unravel – the guest list kept shrinking, my make-up artist had canceled, and there were news reports saying the Long Island Expressway might be closing tomorrow meaning my family wouldn't be able to attend the wedding. Before going to bed that night, Chip told me that we were getting married tomorrow, hurricane or no hurricane, big wedding or no wedding at all. That we could get married in our hotel room. That all he cared about was having me as his wife tomorrow. We had our Reverend (Chip's brother in law) and we had our family – and that was all we needed. A moment like that puts weddings in perspective – as much as I have dreamed about this fairytale wedding, the most important part was finding the person I was meant to be with and that we were getting married (I realized this often gets lost in planning a big production of a wedding!).
Around ten the morning of our wedding, we were forced to cancel the big celebration; the Brooklyn Botanic Gardens were shutdown along with the rest of the city. We decided to go ahead with a mini-party for those who did make it into the city. I don't think any bride could imagine having to cancel her wedding; an event that took seventeen months to plan was canceled in about thirty-five minutes. Hurricane Irene had caused over half of our 160 guests to cancel. After three days of non-stop stress and watching the weather channel, the big day ended before it even began. Chip and the bridal party frantically called restaurants all over Manhattan to find a place for our mini-party. Little did we think that finding a place to hold an event would be this difficult – with Mayor Bloomberg shutting down public transportation, all of the restaurants followed and were closed. The city that never sleeps seemed to be going into hibernation! We cannot thank our florists enough for what they did – not only did they find the location for our mini-party, but they also brought over all of the bouquets and boutonnieres, two big urns for the ceremony, and six centerpieces with our candles. They transformed a regular restaurant into a mini-version of our grand wedding. My dad was able to pick up our cake from the Brooklyn Botanic Gardens (my family loves desserts) so we could serve it at our mini-party. Everyone was able to have huge slices of this amazing cake (and our hotel staff was lucky enough to get the leftovers…and there were lots)! Our wedding was nothing like we planned, but it is a day we will never forget.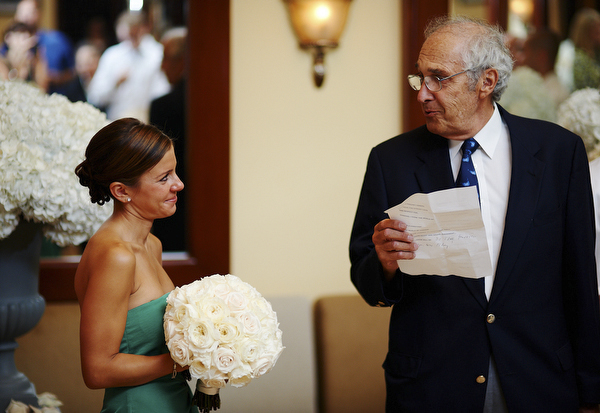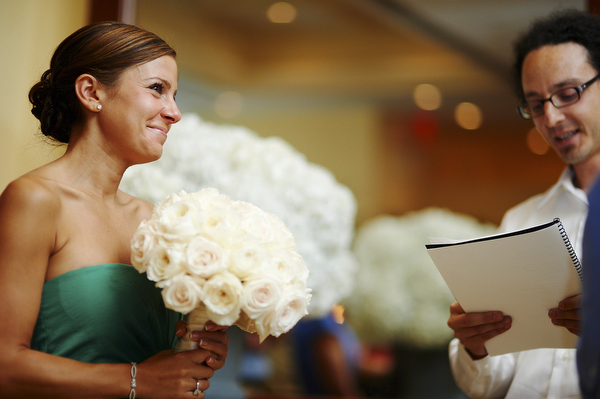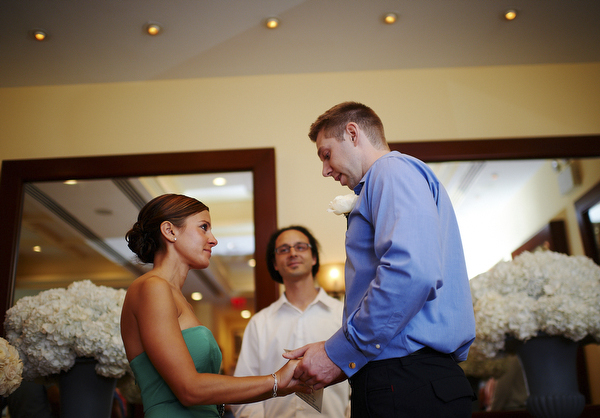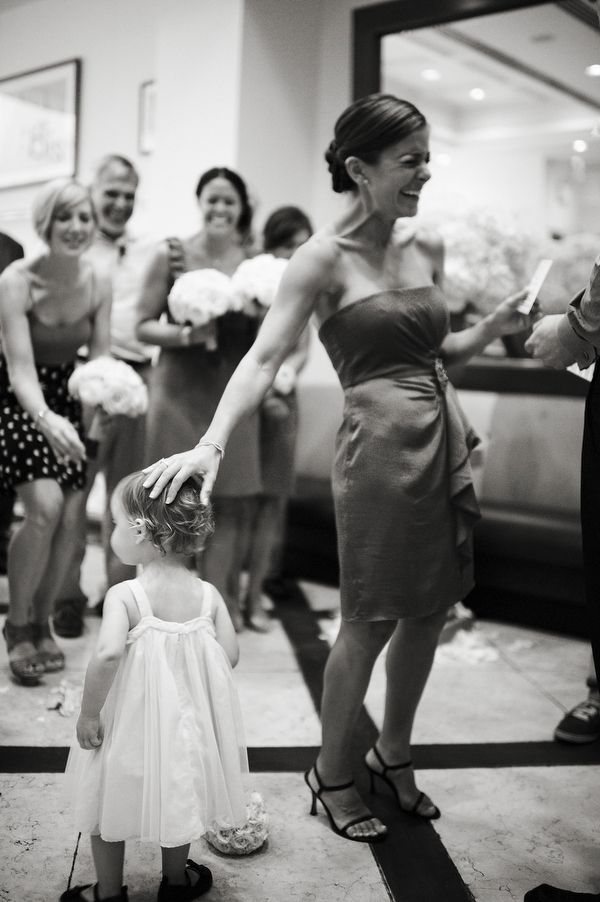 Junebug: What were you looking for in a photographer?
Erika and Chip: We wanted someone who would capture moments, not just portraits. We really wanted a photographer who was able to capture the little looks that typically go unnoticed.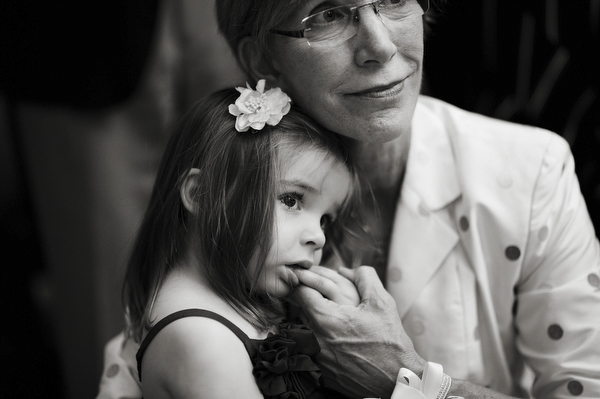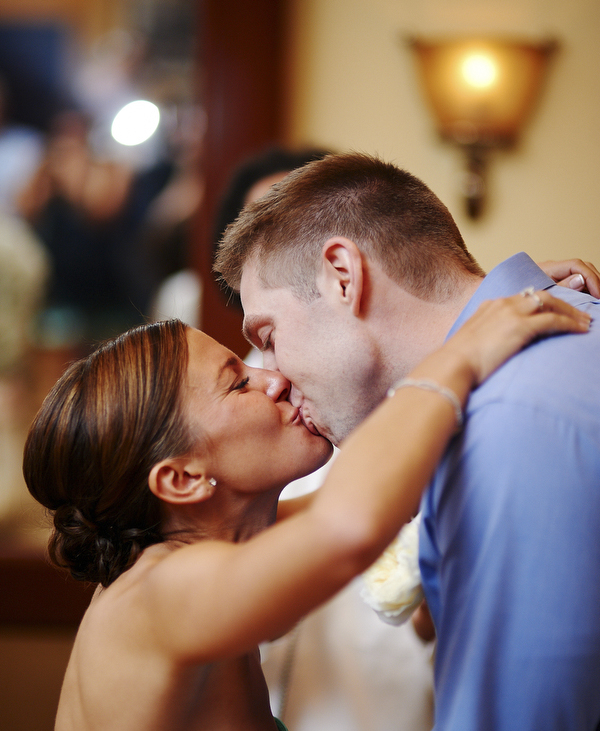 Junebug: What specifically drew you to Ryan Brenizer and his imagery?
Erika and Chip: Erika's friend worked with Ryan in their June 2010 wedding. The night of Mary and Mike's wedding, Ryan posted a slideshow of the day and we were blown away with what we saw. Not only did he capture the moments, he created these beautiful works of art. When we met with Ryan a couple of weeks later, he showed us full weddings he shot (not just a small highlight reel). As we watched the slideshow of two people who we have never met, we were moved to tears by how beautiful the photos were – we felt the emotion of the day and he told their wedding story using his pictures. It was incredible how Ryan was able to capture people's feelings in his work.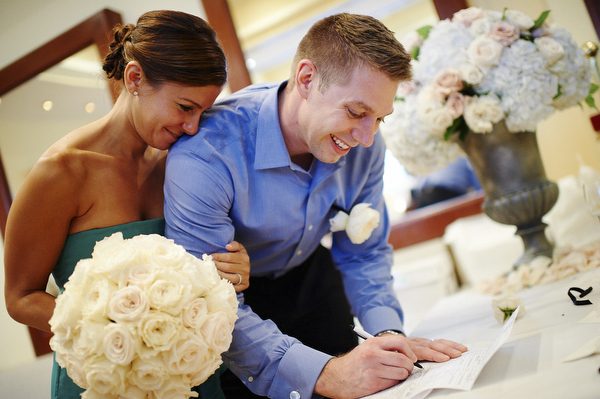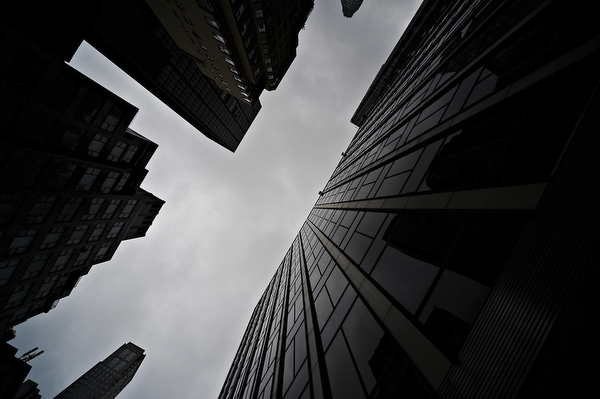 Junebug: What did you enjoy most about working with Ryan?
Erika and Chip: Ryan is not only an incredible photographer, he is an incredible person. When so many of our vendors were being difficult when we had to cancel our wedding due to Hurricane Irene, Ryan was amazing. When we asked him to shoot our quickie wedding, he said yes without hesitation. He didn't question how he could get there even though the subways weren't running. He showed up with a smile on! Ryan also understood our personalities – we are a couple that will joke around and poke fun at each other (so much so, that when we met with another photographer, he was about to give us contact for a divorce lawyer!) – and Ryan just fit in with us. It is a pleasure to work with him.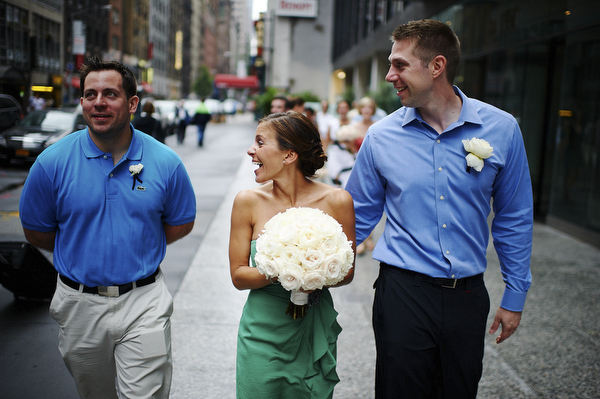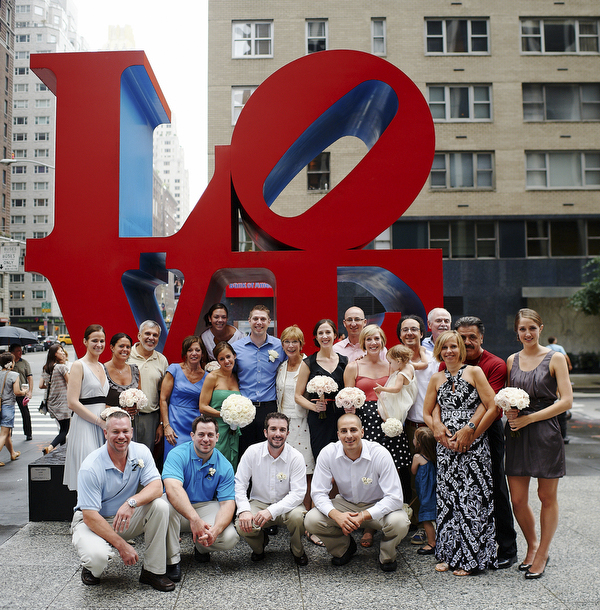 More on working with Ryan: In terms of Ryan as a photographer, 30 seconds on his blog and you will see why we hired him. He possess a talent that is unlike anything we have seen before. When most people would look at a glass building for what it is, Ryan sees a masterpiece. His visions can't be seen by the normal person's eye and when you see the masterpieces he creates, you are just amazed. Even with a hurricane approaching and knowing we would have to move all pictures inside, we knew we would have a beautiful wedding album. We were very lucky on a super stressful day to not have to worry about having pictures. Ryan is just so talented that you don't have to stress if your pictures will come out well, you only have to worry how you are going to select a handful to display in your home. We fully stand by our initial impression that Ryan is the best at capturing the moments, the story, and the feeling of the day – the whole family cried when we first saw our pictures!
After working with Ryan for our engagement shoot and wedding, we could never imagine having anyone else shoot our "wedding redo." In August 2012, Ryan will be journeying to Boston (our new home as of May 2011) to capture our "Wedding Redo – 1 year vow renewal" at the Boston Public Library, where we can finally have the big celebration we dreamed about! Our friends and family have become equally obsessed with Ryan and his amazing work. We can't wait to work with him again!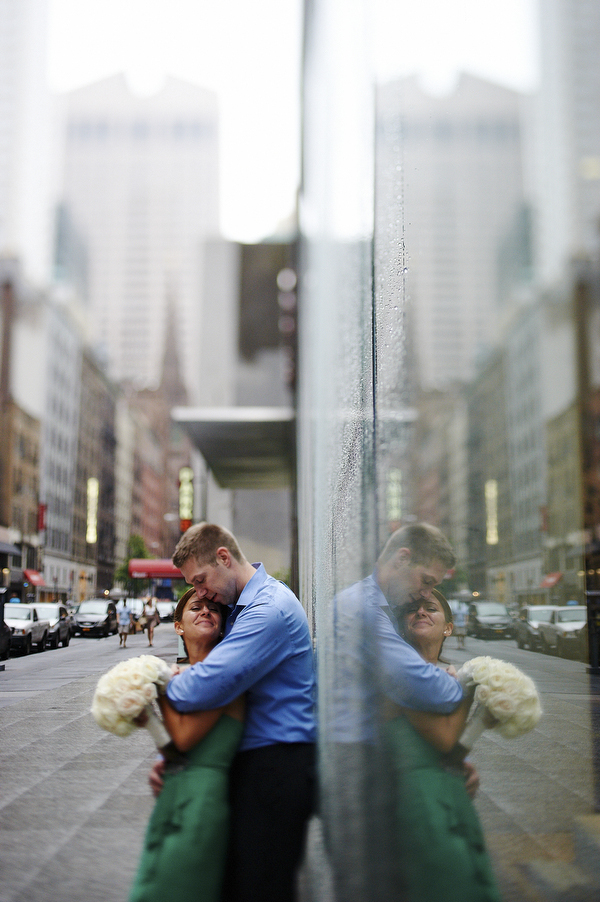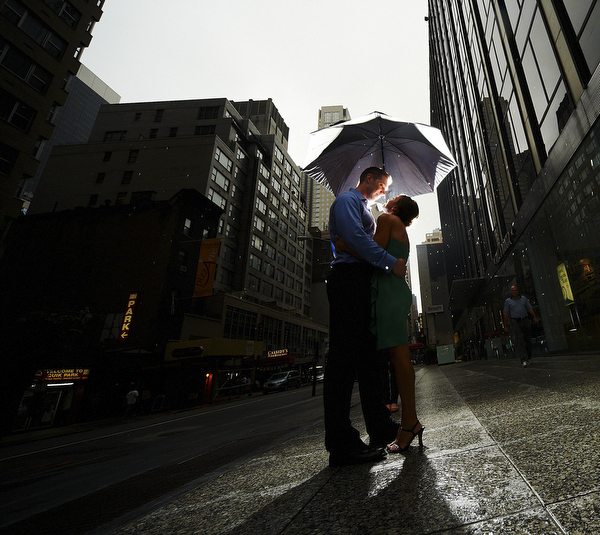 The Photographer: Ryan Brenizer
Junebug: How did you approach this particular wedding and what did you most want to capture during shooting?
Ryan: My background is as a journalist, and I tend to treat weddings as assignments more than preconceived art pieces. I knew how funny and sarcastic Erika and Chip were, and how gorgeous their venue was, but I always try to be open to surprise so I can tell the story of the day as it unfolds. My hope is to give a very different and personal feel even to weddings at the same venue or with similar traditions.
Of course, on this day we had a bigger surprise than most. Erika called me that morning to let me know that the wedding would not be at the Brooklyn Botanic Gardens due to Hurricane Irene and the shut-down subway system making it impossible for most of her guests to be there. Instead, the wedding was moved to a midtown Manhattan restaurant close enough to their florist that they could hand-deliver all of the gorgeous flowers. It had taken them almost two years to plan the original wedding, and now they had to re-plan it in two hours.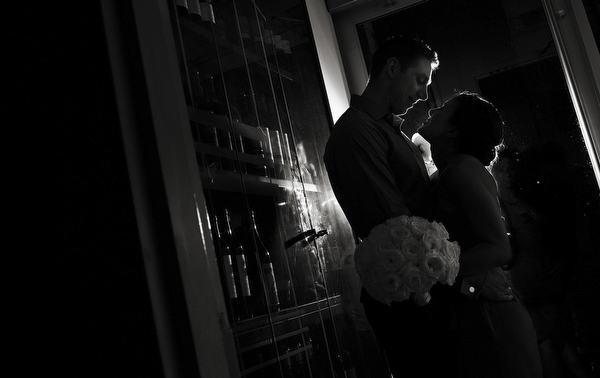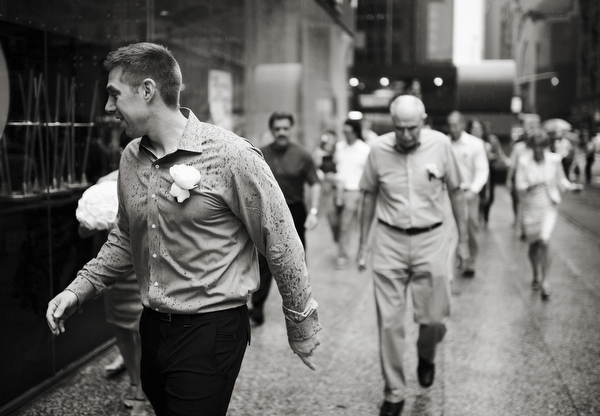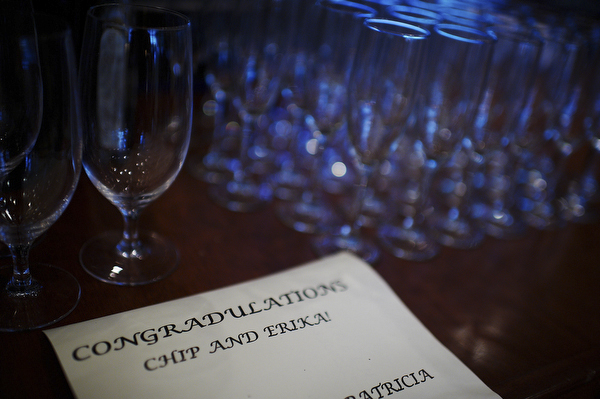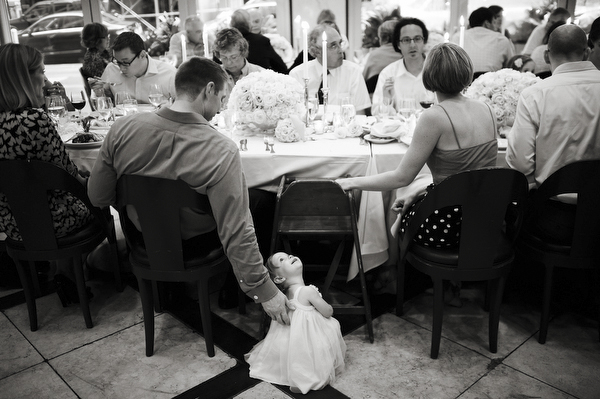 Junebug: Besides the obvious reasons, were there any special photographic requests from the couple that made this wedding especially exciting creatively or personally?
Ryan: I suppose this day was exciting in the terms of the old Chinese curse "May you live in interesting times." My heart ached for them and the turmoil this storm had caused, but I bill myself as two things to my couples – a story-teller and a problem-solver – and this was certainly a time to put both of those to the test. She wanted to know if we could make it to the wedding despite the weather – of course. We walked there and back, actually – an advantage of Manhattan's size – but I would have figured out whatever it took to get there.
They planned right from the start to have the big party later, so there was no wedding dress, no tuxes, just the close friends and family who had been able to make it, and in some ways that made it even more emotional and beautiful than most weddings. One of the things I love about weddings is that people's emotions are right on the surface, and on a day like this they were electric.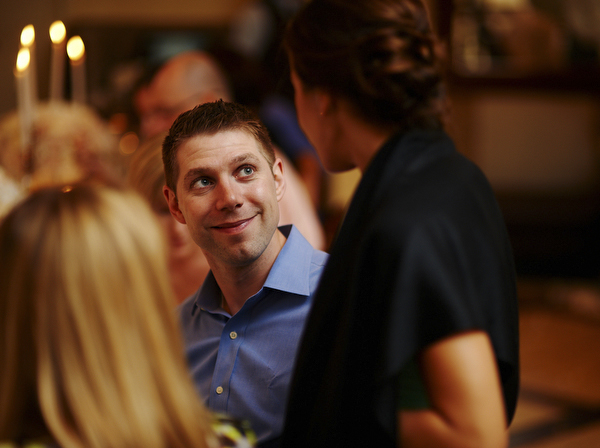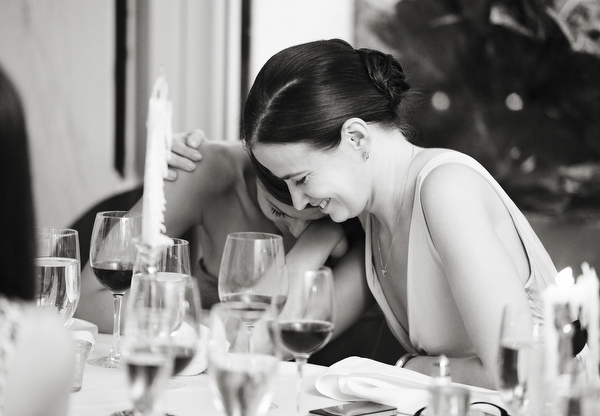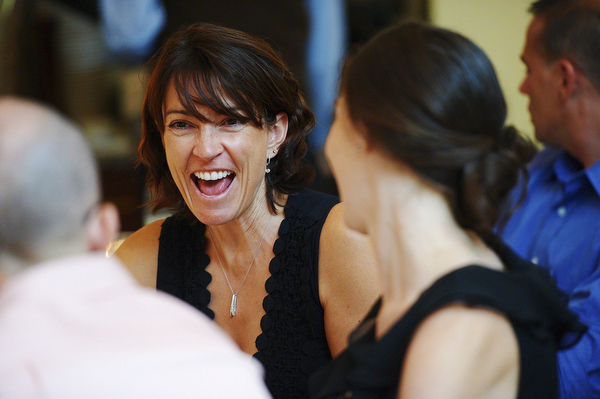 Junebug: What was the most fun part of this wedding for you to photograph?
Ryan: I knew from the start that the most fun thing about this wedding would be Erika and Chip themselves, and the weather didn't change that. During our meeting and engagement shoot they had me laughing non-stop, and their good-humor prevailed through the weather and the hassles. They've been working with me to re-schedule the big ceremony at a time when I am available, which is always a huge honor for a photographer.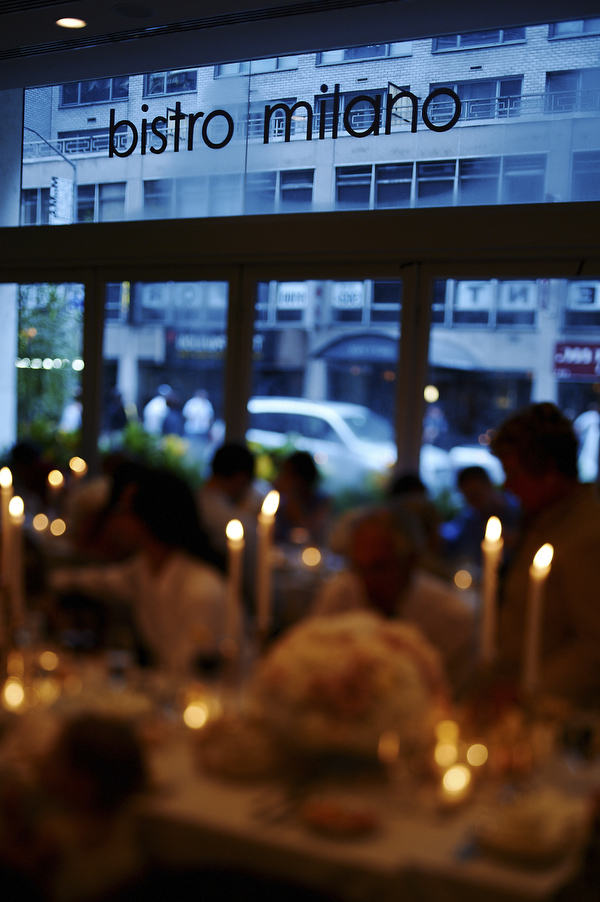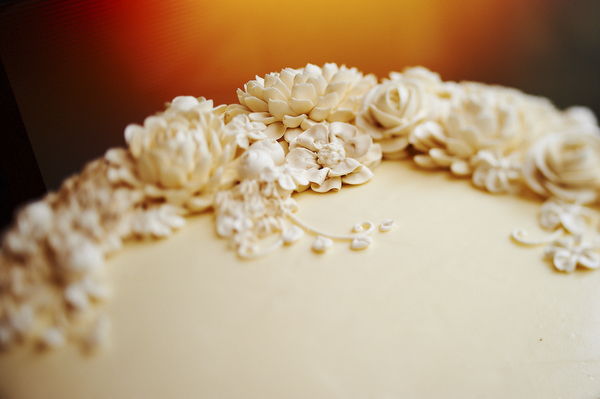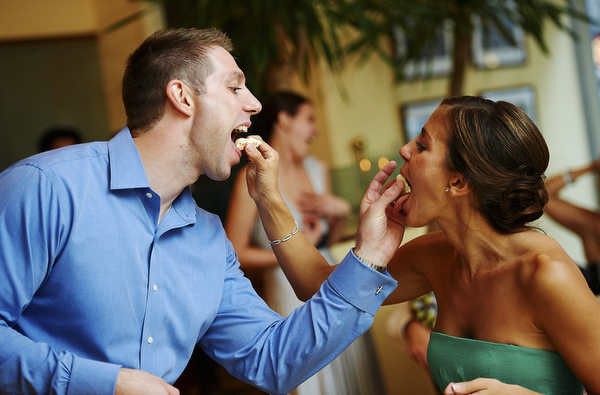 Junebug: What kind of equipment did you use while shooting this wedding?
Ryan: My standard packed bag, which is two Nikon D3s's, three SB-900s and pretty much every professional lens Nikon has ever made. The lenses actually used, in rough order of usage, were the 35mm f/1.4, Sigma 85mm f/1.4, 45mm tilt-shift, 70-200 VRII, Sigma 12-24mm and the 24mm f/1.4.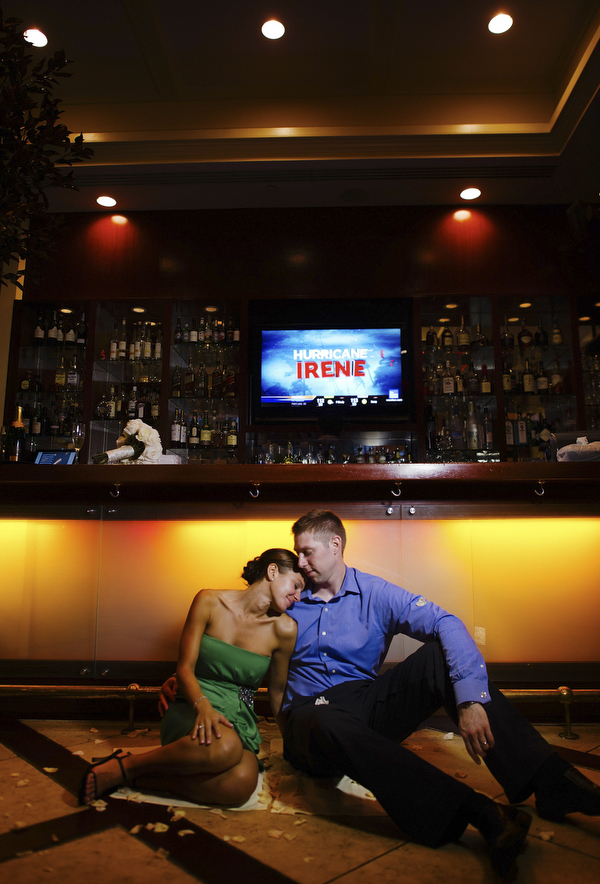 Thank you for sharing your incredible wedding story with us Erik, Chip and Ryan! What an experience!
To learn about all of the wedding professionals Erika and Chip worked with, be sure to visit their page in our Real Wedding Library!
To see more of Ryan Brenizer's work check out his website, blog, and Junebug Member Brochure!