I've got the travel bug! I'm heading off to New York tonight to visit some amazing wedding businesses and friends (more reporting on that next week, I promise!) and all this packing and travel prep has got me thinking about you lucky soon-to-be-weds out there planning your honeymoons. If you're looking for honeymoon inspiration and incredible destination suggestions, Blair recently wrote a fabulous feature for 425 Magazine and our own Groombug section about the 25 Most Romantic Locations on Earth, and let me tell you, it will get you itching to pack that bag and get out the door! Check it out…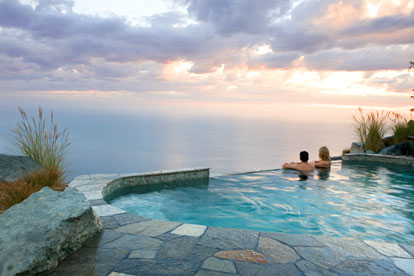 Gorgeous bedrooms, sensuous bathrooms, spectacular scenery, exciting activities, exquisite cuisine, and a feeling of secluded privacy are just a few of the features that make great destinations into outstanding honeymoon getaways. After all, honeymoons are first and foremost romantic adventures and no matter where they happen, the best ones have two things in common – beauty and a healthy dose of hedonism. With that in mind, here are Junebug's picks for the 25 most outstanding honeymoon destinations around the globe. Choose the spot that's perfect for the two of you and revel in romance!
Situated along a dramatic shoreline the serene One&Only Palmilla is a masterpiece of stunning Old World Mexican architecture and natural beauty. Pristine beaches combine with swaying palms trees and blooming vegetation to offer a romantic paradise unlike any other, where you'll find world renowned customer service ready to sweep you away to honeymoon bliss.
Super secluded with breathtaking accommodations, The St. Regis Punta Mita is a slice of heaven for the luxury-loving, privacy-seeking couple. With two Jack Nicklous golf courses, never-ending white sand beaches and world-class cuisine, this majestic resort promises a memorable, romantic experience.
.
Comfortably opulent and aesthetically divine, Hacienda San Angel is a hidden jewel in Puerto Vallarta's crown. 5 villas that are all linked together (one of them previously owned by Richard Burton), comprise an unparalleled choice of accommodations in a city full of history and romance. Viva Amour!
in lush tropical gardens on 1,500 acres of pristine tropical paradise, featuring stunning ocean views from every room, a first-class restaurant, and a guest to butler ratio that will make you feel like a movie star. Enjoy access to the air conditioned beachfront gym, lighted tennis courts, horseback riding, and an unparalleled array of other activities and amenities.