Our work is our passion and for that we are eternally grateful. Ever since we met on the first day of fine art photography school, we've been fast friends and creative collaborators. It's been our pleasure to work side by side for more than 10 years to support the beauty, emotion and artistry in the wedding community, first as wedding photographers, and now as co-founders of Junebug Weddings. We believe in kindness, integrity and distinctiveness, and we strive to encourage our readers to find and celebrate their own personal wedding style.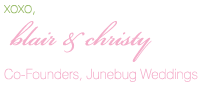 In the last six years Junebug Weddings has become one of the most popular, trend-setting and well-respected wedding
brands in the world, and we are truly honored to promote the very best wedding professionals available anywhere. Without a doubt, we owe our success to the valued relationships we have with our members and readers.
Blair deLaubenfels - Co-Founder and Member Relations Director
Blair@JunebugWeddings.com | @JunebugBlair

A published wedding author and sought-after public speaker, Blair excels at building relationships between couples and professionals in the luxury wedding market while ensuring that the Junebug Weddings Hotlists are the most trusted recommendation lists in the world.

Christy Weber - Co-Founder and Executive Editor
Christy@JunebugWeddings.com | @JunebugWeddings

With an innate sense of style and a passion for dynamic imagery, Christy sets trends in the wedding industry with her award-winning content. Responsible for catapulting Junebug to the top of the wedding editorial field, she is a dynamic public speaker, author and expert on website style and usability.

Sarah Sawers - Photo Editor and Assistant Editor - Photobug
Sarah@JunebugWeddings.com | @JunebugSarah

Sarah is an extremely creative fine-art photographer with a BFA from the University of Washington, and a passion for supporting the arts community. She brings her highly trained eye to our Photobug blog and to visuals across the Junebug Weddings website. Sarah loves working with our members to ensure that their promotions are innovative, authentic, and of the highest quality.

Emily Flynn – Member Relations Administrator
Emily@JunebugWeddings.com | @JunebugEmily

A graduate of the University of Washington with a degree in Communications, Emily supports the many facets of our sales and marketing team. Her keen attention to detail and positive, upbeat personality serve to create a seamless customer service experience for members of Junebug Weddings.

Amy Roberts – Marketing & Social Media
Amy@JunebugWeddings.com | @JunebugAmy

As our Social Media and Marketing Assistant, Amy is dedicated to connecting with our readers and promoting our members' amazing work. With her degree in Journalism from the University of Arizona, and her experience as an editorial writer, she excels at crafting innovative marketing campaigns, giveaways and special projects that get the Junebug community excited.

Kelley Healey – Billing and Bookkeeping
Kelley@JunebugWeddings.com

Ensuring the seamless flow of business transactions, Kelley provides quick and thorough membership support to our clients. A graduate from Reed College, she has a background in the Arts/Photography and thrives on creating flawless organizational processes and exceeding our member's expectations.

Kim Bamberg – Co-Founder and Creative Consultant
Kim@JunebugWeddings.com | @Junebug_Kim

As a Creative Consultant for the Junebug Weddings brand, Kim lends her artistic talent and vision to special projects and strategies. Kim co-founded Junebug Weddings alongside Blair and Christy, and now works full time as a wedding photographer with her husband Adam as La Vie Photography.
Special Thanks:
To Travis Andersen for our logo and promotional materials
To the staff of MediaPlant for their website design and direction
To Jennifer Jolley, lawyer extraordinaire
To Christy Weber's mother, sister, and Nana who can spot typos a mile away
To Mindy Weiss, Elizabeth Messina, Rebecca Grinnals, Jim Garner, Cassandra Santor, Monique Lhuillier, John and Joseph Photography, Shannon Lassen, and an endless list of wedding professionals who have supported us all along the way
To all of our guys, who love us even though we work seven days a week, and talk about Junebug ALL the time - xoxo